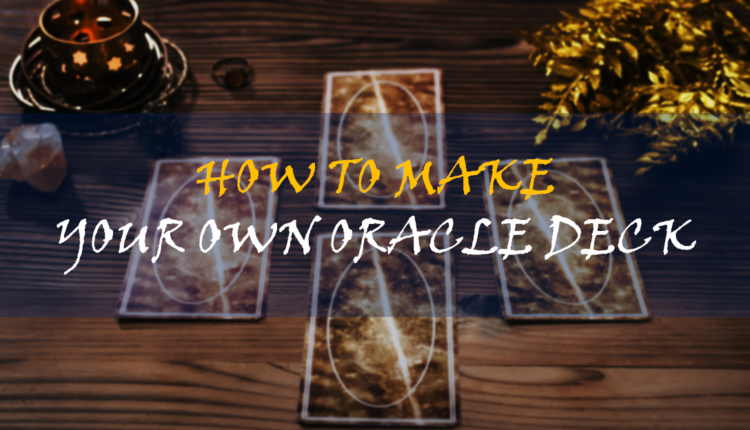 How to Make Your Own Oracle Deck Efficiently
There is nothing better than you own an Oracle deck created by yourself. In Western countries, almost all Reader have made their own Oracle. A lot of people who have thought to create their own cards will be very difficult and need a lot of experience. However, you may be very surprised to learn that to form an Oracle set is not so many requirements. Learn how to make your own deck and the notes around it.
I. Overview of making your own Oracle deck
1. Definition about making Oracle Deck
It is understood to be "make your own Oracle deck" – make an Oracle yourself. In fact, this is just an interesting trend originating from Kristen – who made the Oracle cards and founded a class to teach her own Oracle (class is called Over The Moon Oracle). This movement is done day by day and all the emotions experienced during that time are the suggested information to make each card. After a month, you have completed a deck of your own.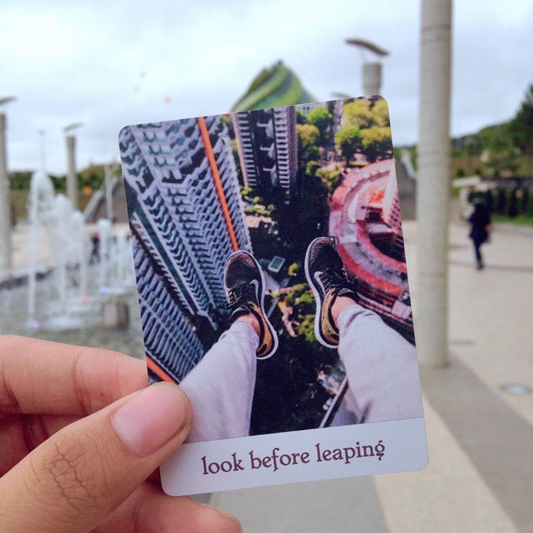 Later, this term was used more commonly. Multiple Reader or psychologists have made their own set of Oracle to cater to everyday needs. The self-made Oracle decks are always more unique than the ones created by manufacturers because of the following characteristics:
The self-made Oracle deck brings the energy of personal spirit: The difference is that things are not like anyone or any deck of cards. Everything from images, knowledge, ideas depends on the creator of the deck
The self-made Oracle deck has lots of interesting knowledge: Everyone has a different point of view so the created Oracle sets are also separate. It contains new and interesting knowledge exploited from the perspective of its creator.
The self-made Oracle deck is more respectful: The difference between self-made decks is that all stages are created by your creativity, without anyone's intervention. So it is the result of the dedication and effort in a long time.
2. What does the formation of making your own Oracle deck mean?
The appearance of the term "make your own Oracle deck" has created many changes in the concept of Oracle. Normally, people think that Tarot or Oracle are "divine" prophets and if there is no strong ability or sense, they cannot be used. But actually, you don't need to own those things to use these decks. The important thing is the spiritual connection with them.
The essence of Oracle is "lighter" than Tarot. With Tarot cards, you almost have to grasp almost all the knowledge related to the content and meaning of each card combined with psychics. However, Oracle decks give users a sense of closeness because knowledge is anything in this life (opinions, thoughts, feelings, and ways of evaluating things).
Over a long period of time, people gradually realized that each individual in this life is the descendant of the god. Inside you have your own characteristics, personalities, and abilities. From the above, making a personal Oracle set will be an interesting experience. You do not need to worry about the comments of the world but just put all your heart to create your own Oracle cards. Self-confidence with knowledge of life can help create something separate. Just make your own Oracle deck immediately. Anyone can do it on their own.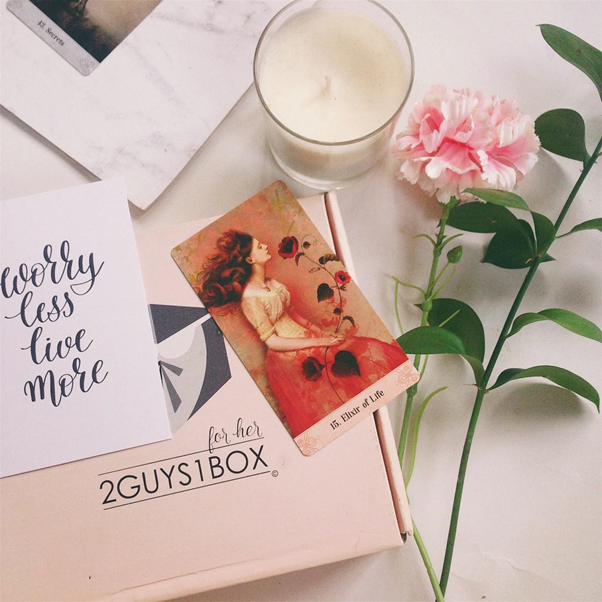 The distance between people and Oracle is gradually removed. Cards are no longer supernatural and sanctifying. Oracle decks are simply a prophetic tool that can help you connect with messages from the Universe and listen to what gods want to teach in life. From those things, you live better for the present and know how to love yourself better. Thoughts will transform in a positive way to help everything in life point to the good. It is extremely great to make your own deck. It makes all prejudices about Oracle nearly broken. This is really a very positive signal for us who are passionate about this science of spirituality.
Related Article: How to use Oracle Card Efficiently
II. Distinguish the concepts of self-made Oracle deck
Self-made decks are usually divided into two categories: The "Auth" deck and The "Handmade" deck.
1. The concept of the "Auth" deck
The "Auth" deck – is derived from the word "Authentic". A deck of cards is considered "Auth" when they belong to an official production unit (this unit may be a printing publisher or a research representative on Tarot/Oracle).
The authentic deck also belongs to one or more authors. Normally, any deck has yet been published will have a lot of participants creating it. It is easy to imagine that there is a book author and a painting author. In addition, there are people who design cards, people who put up books, etc. There is an Oracle deck that their manuals are written by many people. In general, the overview of knowledge and images belongs to a representative.
2. The concept of the "Handmade" deck
The handmade deck is the complete opposite of authentic for printing and representation. Instead of having a manufacturer representative, the handmade deck will have a representative who is the one who made the deck, introduce, advertise and do business (if any). In terms of image, design, guidebook and printing are also handled by the person who made the deck. They will do all the steps themselves. If they are not good at a certain aspect, they will find another person to support them (most notably about writing books). Overall, the handmade deck is personal, no copying, borrowing or pirating of others.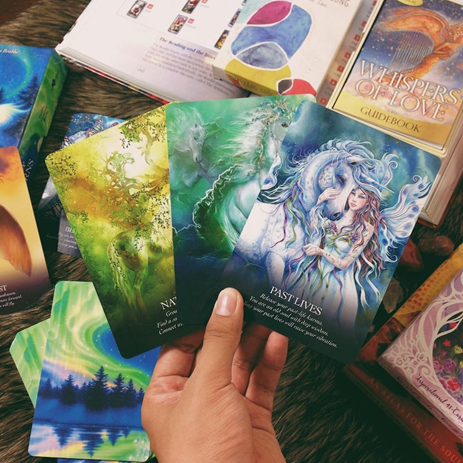 The authentic Oracle deck and the handmade deck are about the same overview in terms of the meaning of each card. The difference lies in the origin. The authentic one is essentially the same as the handmade, but it has been tuned to quality, full of accessories and meticulously printed. Basically, manufacturers are always looking for and choosing cards made from reliable authors, with in-depth knowledge. Because of these things, readers' trust in the authentic decks will often be higher.
The "Handmade"Oracle deck is not necessarily made up of people with in-depth knowledge of psychology (psychologist or prophet). There could be an experienced reader or a person who likes to bring his knowledge to make a deck of cards. The person who makes the "Handmade" deck can be a perfectly normal person. They often don't give their ideas to producers to do business (some may not be eligible to be published).
Despite the difference, The "Auth" deck and the "Handmade" are still considered works of art created by passionate people with the genre of prophecy. They always want to use their knowledge of useful things. All Oracle decks are created by any method, the spiritual value they bring to the user is immense.
3. The concept of the "Fake" deck
The set of fake cards is a way to describe a deck of cards created entirely by images, content from other people's products and claiming to be an intellectual product produced by itself. We will easily identify a set of fake cards when they are traded in the online market or images on social networks. Even though it looks very similar to the "Auth" deck, there will still be different characteristics:
The quality of printing paper: Surely you will feel the quality of printed paper of the "Fake" deck is often very bad. In contrast to the "Auth" cards printed with high-quality paper, these products have "cheap" materials. Everything makes users feel uncomfortable when using.
The quality of the image: Even if the printing quality is good, the image will still show its shortcomings. The most obvious feature is the unclear image like the "Auth" deck. A copy never reaches the same quality as the original image.
Printing method and external design: Some decks are plated with gold on the edge or printed in a special way (there are lines on the cards, color on the details of the deck, numbering on the images, …) to avoid forms of unauthorized copying. "Fake" cards never get the sophistication in every detail of the image.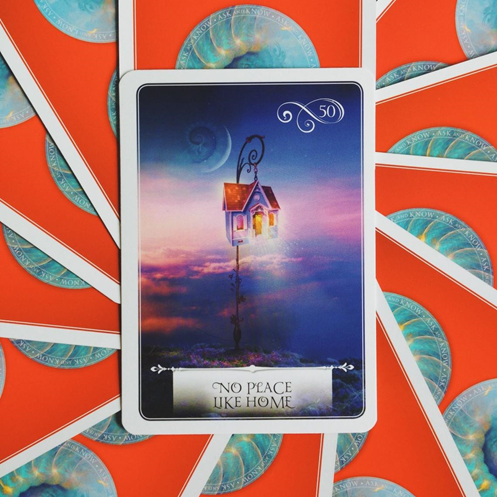 The self-made decks are a respectable product because it is all the ideas, effort and knowledge of their creators. Don't judge negatively that self-made products are like the "Fake" deck out there. You should change your mind to understand the true value of the "Homemade" deck.
III. Create a plan to make your own Oracle deck
1. Take Notes:
The first thing to make your own deck is that you need to take note everything, such as answering questions:
What is your original idea?
How do you like the image?
What is the purpose of using Oracle?
Which style of Oracle do you like?
Do you plan to sell your Oracle deck?
The main thing to note is that you should write down all your thoughts and don't miss any ideas. Let all the most specific information be listed in a complete book. Because in the process of implementation, you will not remember all the things that were previously thought
2. Draw a detailed diagram of the implementation plan
The plan is only in the form of an idea, so the information is often messy. This is the time you need to arrange all your notes in an orderly and systematic way.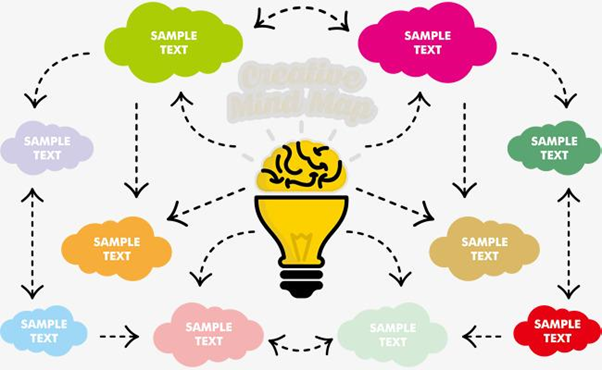 The drawing of the implementation plan can reappear in many ways:
Drawing on paper: If you can draw a plan on your own, do it on paper. Choose A4 paper when you intend to hang on the wall. If you want the diagram to look really big, you should choose to paint on larger types of paper like A0 paper or Roky paper.
Drawing on a laptop: You can draw with computer software like Mind Map or Microsoft Visio. In addition, Photoshop is also an appropriate tool to design a plan. Although the software has the nature of information technology, we really want to be useful in designing a plan by the image.
If you don't like drawing, just write down the blueprint. This step is effective only to give themselves a more thorough inventory and inspired to start everything goes smoothly. Things you write/draw in the plan table includes ideas, themes, purposes, size, form, image, and guidebook. In addition, you should cultivate more knowledge, determine the execution time.
The information in the plan table is really necessary because:
Idea: The main platform of the deck. 
Themes and Purposes: What is your Oracle post set for? How many threads will appear in the image? What is the purpose of using the Oracle deck?
Size and Form: How big is your deck? Do you use special printing? How is the deck made of paper material?
Image: What is your orientation for your deck? How will the image be shown? (graphic style, manga, nature, etc)
Guidebook: What time will you complete the book? What information will you put in the book? (author information, deck information, card meaning). How many pages in the guidebook?
Cultivate knowledge: What knowledge do you need to learn to create the perfect oracle deck?
The execution time: What period of time do you have to perform all stages? When can you complete making your own deck?
Once you have a specific plan, the next step is to do it. Sometimes, even though you've mapped the plan is complete, the preparatory phase is not over yet. There are many things you need to do to avoid risking or losing inspiration in the future
3. Looking for inspiration
Spirit is the most important. You have to keep full of enthusiasm so you don't get discouraged. It is time to demand courage: dare to accept unfortunate problems if they happen. Once you are determined to do the Oracle deck, be patient. This is also the time to practice trying to get everything you want.
4. Schedule a plan and risks
After you have found the inspiration came with the implementation plan, start re-arranging all the information from the previous 3 steps and schedule for implementation :
What time do you want to start?
When will you finish everything?
How will the plan be changed when risks occur?
What is the worst case? What will you do to fix that?
Scheduling will help you systematize what you need to do. If something changes, keep thinking of another alternative. You should avoid arbitrary work because it will be easy to change your mood. That means that laziness can absolutely happen.
5. Updated frequently
There are no plans that are 100% smooth. In the process of implementation will be at risk, so at any time you must avoid that problem by updating the information when there is a change. If you have other ideas that are expected, update the entire plan. Information changes such as semantics, images should also be updated in the plan. This will help your thinking be renewed continuously if something goes wrong.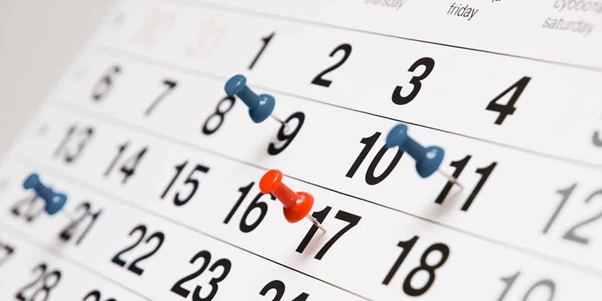 6. Seek support from highly qualified people
Your plan will not be perfect if it only belongs to the category of your knowledge. Sometimes the opinions of others, especially those in the profession, are very beneficial for creating an Oracle deck. Look for suggestions for all your plans. This will make you more multidimensional. In addition, listening to other people's opinions will contribute to expanding knowledge as well as experience to implement the plan in a complete way.
Sometimes planning will not be as long as this article. Some people have almost gathered what is needed to making an Oracle deck. The thing to do now is to start deploying things as quickly as possible.