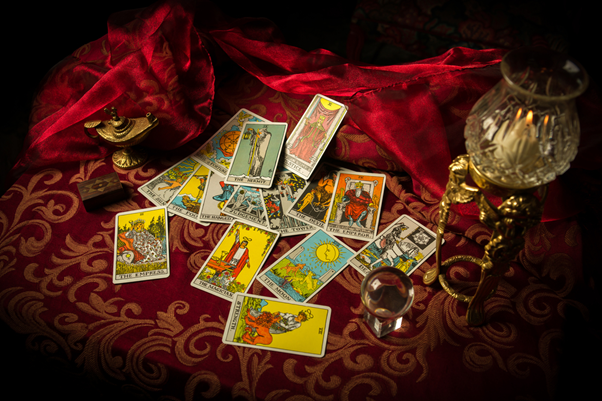 Career Tarot Reading in Minor and Major Arcana
At some point in life, we reach a threshold where work and career are no longer satisfying and exciting. Every day we drag ourselves out of bed just to go to work and pray for the weekend to come quickly. We wish that the extra effort will be paid off. What do you think if things will not happen that way?
It is still possible for you to get the job you want with a little support from Career Tarot reading. Here are 7 useful ways to help you get a perfect job and career suggestions through Tarot cards.
7 ways to get the job you want through Career Tarot reading
1. Discover your true passion
What do you really like to do? What would make you maintain the spirit of work even when others go home already or it is bedtime? What do you like to share with your friends?
To discover where your true passion is, draw three Tarot cards. You should focus on each card individually, then combine them together to find out what will blow the flame of passion in you. If needed, you can draw one more guide-card, which will help you to turn your passion into reality.
2. Identify your strengths and fields of development
Determining your own strengths and fields of development will be a key to help you to open the door leading to success. You need to develop your strengths and be aware of the field you want to develop yourself.
You can draw two cards for each topic and an additional card to blend these elements together. At the same time, let's take note when there is an appearance of any reversed cards in the field of your own development. Maybe, this is the character you have not discovered yet. You should find a way to promote it because this is a bright spot that will support you a lot later.
3. Set up a plan to find a job
You can apply Career Tarot reading to support yourself in planning. Firstly, draw three Tarot cards to thoroughly understand what you need to do to identify the job that suits you. Let's pay attention to these cards because they may include information regarding how to find jobs through different channels such as direct recruitment at companies, online recruitment or through personal relationships.
For example, the Three of Cups or Queen of Wands represents social relationships; the Hierophant or Three of Pentacles implies professional organizations; the Three of Wands suggests looking for jobs through online channels or opportunities to work abroad while the Emperor advises you to go to headhunters.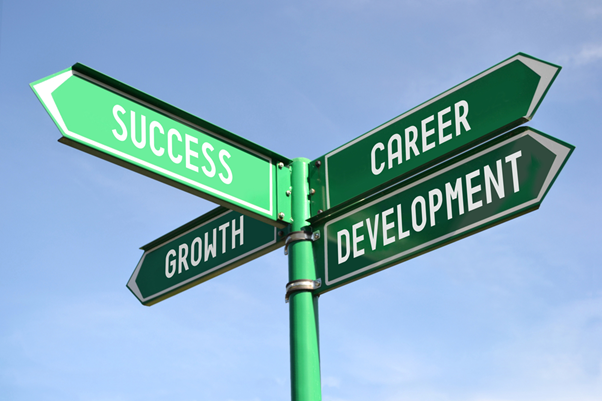 4. Determine where you will find the best opportunity for yourself
By using Career Tarot reading, you can find many things, such as the type of company, business field or personality of the boss that best suits you. Let's draw another card for each of the above factors or you can add more elements yourself. You will clearly define your career picture.
5. Master your interview
Before starting the interview, you can refer to the previous information with Career Tarot reading, you will know what you should prepare, what to do, what to avoid, the qualities or skills that employers are looking for or ways to express yourself. You should also draw another Tarot card for an overview of the interview and what you need to pay attention to during that interview.
6. Select potential employers
If you already have a few opportunities in hand, this is the right time to identify where potential employers are and the advantages and obstacles that they bring. You can draw three cards for each potential employer, representing advantages, difficulties, and results. At the same time, draw a card that represents the overall advice, which will help you to make the best decision.
7. Week forecast
If you want to use Career Tarot reading for the purpose of predicting the future, draw a card representing the next week. Through this method, you will realize when is the right time and when the opportunity comes to you. Even if you cannot draw the Ace of Pentacles yourself, consider the other cards and the messages they bring, then determine what you need to do each week. You can use this as a kind of prediction to improve your ability to read Tarot cards.
See more: 78 Tarot Cards Base On Rider Waite Tarot Deck
Career Tarot suggests with 78 cards
1. Career Tarot suggests in Major Arcana
Fool: work in an electric factory, technology or electricity, work in social media.
Magician: do business, computing, telephone, Internet, communications industry.
High Priestess: work on conflict resolution, librarians, psychic, nuns, detectives, historians, psychologists, endocrinologists.
Empress: works in beauty, fashion, and art industry, housewife/maid, healthcare.
Emperor: leadership, private enterprise, work in government, the head, jobs for men.
Hierophant: work in industries with a long tradition like working in the church, religion, the organization of beliefs, schools, research and accounting books.
Lovers: work with partners and work in pairs, business, publishing, advertising and communicating with people; collect information and inspirational work.
Chariot: censorship, security, audit, network, software, transportation.
Strength: occupation related to animal care and/or human care, public recognition, dentist, human resource.
Hermit: writing, editing, evaluating data, telecommunications, computing, software, postal, transport, electronic equipment, teachers, physicians.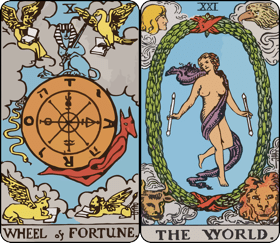 Wheel of fortune: public speaking, short-term business shops, restaurants, work in the start-up phase of a business, casino, investor (long-term).
Justice: works in law or is involved in the order, health or fitness, work in financial institutions, do teaching jobs, especially when it is connected to the World Tarot card.
Hanged man: works in the pharmacy, creative work, magic, art, music, and psychology.
Death: work in the army, tax inspectors, career counselors, preside over the funeral, financial advisors, insurance brokers, consultants, industry related to other resources.
Temperance: anthropologist, physician, psychic, mediator, humanitarian, work in the news industry and often go away.
Devil: work in information technology, negotiation, private, agriculture, mining, and business.
Tower: work in the army, dismantle, conflict resolution, control anger, highly competitive and high emotional pressure jobs.
Star: public service, internet, music and film industry, the entertainment industry, technology.
Moon: night work, detective, magician, artist, data collection from the branch system.
Sun: leader, storyteller, outdoor work, work with many people.
Judgment: recruitment, creative work, political career, judge, manager.
World: work in government, land resources, natural resources, rules, regulations, overseas career, education.
2. Career Tarot suggests in Minor Arcana
Many Ace cards appear in a Career Tarot spread talking about new beginnings. You know what you want (Ace of Swords), have a new idea (Ace of Wands), have deep spiritual links (Ace of Cups) or have business opportunities (Ace of Pentacles).
Ace of Wands: expertise in using tools, handicraft, firefight. biotechnology, forensic science, technology, jobs for men, farm work.
Ace of Cups: expertise in beauty, hotels, creative, artistic work and spiritual work, jobs for women.
Ace of Swords: expertise related to contracts, legal issues, courage, and intellectual labor; army and police; jobs for men.
Ace of Pentacles: expertise in business, health, property.
Many Two cards in a Career Tarot spread show negotiation, diplomacy, and caring for everyone.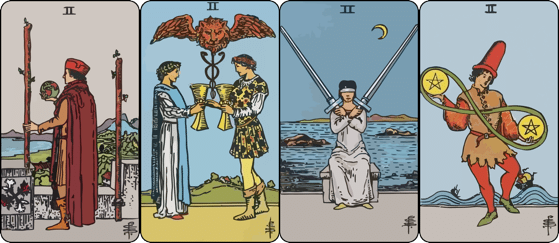 Two of Wands: leader, justice and intellectual labor; industry involve planning and negotiation.
Two of Cups: expertise in hotels, wine taster, counselors, physicians, care and treatment services.
Two of Swords: expertise related to legal issues, conflict, mediator, hairdresser.
Two of Pentacles: expertise related to the ability of literature and using talent, multitasking, game and gambling, artists and actors, receptionists.
Many Three cards in a Career Tarot spread represents the media, creative and television work.
Three of Wands: freelance work, writers, artists or inventors, commercial and business.
Three of Cups: hotel, beauty industry, creative work, party organization and wedding, travel, army, social work.
Three of Swords: cardiologists, surgeons, butchers, psychological counselor.
Three of Pentacles: skilled workers, architects, designers, construction workers, jobs that require dexterity.
Many Four cards in a Career Tarot spread implies work in business, education, project management, and art.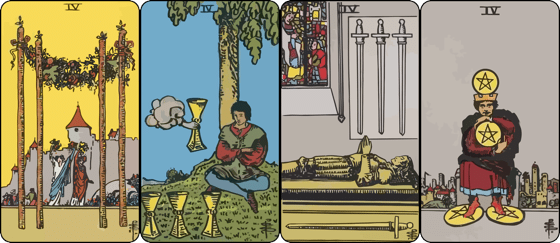 Four of Wands: event organization, property investor, hostess, designer, gardener, florist.
Four of Cups: administrative work, assistant, bar staff, waitress, care service, counselor, announcer.
Four of Swords: administrative work, legal, healthcare, tourism, acupuncturists, massage therapists.
Four of Pentacles: specialized in building commercial, business, accounting, investor and Department of Defense.
Many Five cards in a Career Tarot spread talk about transportation, travel, manufacturing, detective or police.
Five of Wands: competitive jobs, talent seekers, employees, sports-related jobs, manual labor, desk work.
Five of Cups: bartender, reception, adviser.
Five of Swords: work in the army, police, damage management, security, inspection.
Five of Pentacles: charity work, healthcare, social work.
Many Six cards in a Career Tarot spread show work related to management, private and in the entertainment industry.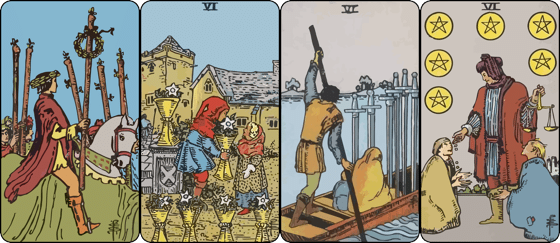 Six of Wands: build community, work on successful projects, accredited jobs, mediation, and arrangements.
Six of Cups: historians, inspectors, work with children, work at home.
Six of Swords: scientists, jobs that require a lot of movement, problem-solving.
Six of Pentacles: actors or people working in entertainment, teaching, charity, mortgage brokers.
Many Seven cards in a Career Tarot spread talking about work related to law, computing, sports, and entertainment.
Seven of Wands: teaching, writing, management, politician, protective work.
Seven of Cups: a person who can do many different types of work but not necessarily very competent at any of them (jack of all trades and master of none), people doing errands, career advice, advertising staff.
Seven of Swords: transport (on land), spy, jobs that require high security, psychology or military.
Seven of Pentacles: works that are often delayed, unpaid work, farming or gardening.
Many Eight cards in a Career Tarot spread implies that you can do a lot of things in many areas, especially business.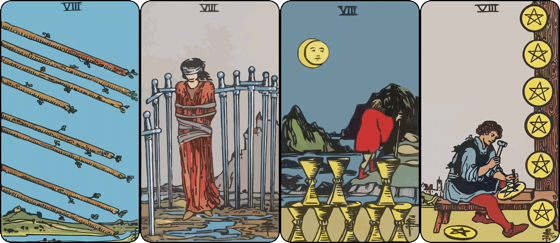 Eight of Wands: marketing staff, jobs related to news, media, aviation, tourism, reception.
Eight of Cups: retirees, jobs that are unfinished, spiritual, follow dreams, find new paths in the spiritual and artistic world.
Eight of Swords: jailer, research on language, therapist, emergency.
Eight of Pentacles: train and study, apprentice, trade jobs, have the ability or passion that has just been discovered.
Many Nine cards in a Career Tarot spread show work related to leadership, humanity, and justice in society.
Nine of Wands: expand in the field of art and expertise, protective work, related to tariffs, firefight, fitness coaches.
Nine of Cups: you can achieve what you want in your career.
Nine of Swords: work related to the spirit, people working at night.
Nine of Pentacles: people with talent who can succeed unexpectedly, administrative work, project management.
Many Ten cards in a Career Tarot spread show spiritual work.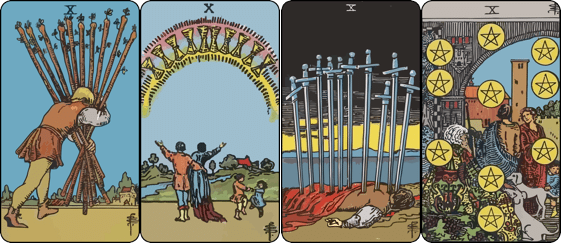 Ten of Wands: you have too many projects at a time, overwork, new contracts, being required to do more.
Ten of Cups: colorful work, famous people, often appear in public, investors, traders.
Ten of Swords: acupuncture, care for people with disabilities, preside over the funeral, forensic research.
Ten of Pentacles: retail trade, business, trading, property investment, retirement, the insurance broker.
Page cards in a Career Tarot spread show new beginnings and news.
Page of Wands: creative work, social activists, community projects, youth work.
Page of Cups: psychology, creative work, singers, poets, artists, working with young people.
Page of Swords: use talents and skills learned at a young age, communication, information, spy, and telesales.
Page of Pentacles: students, apprentices, internships, new jobs, pursue a new business idea, work requires practicality, pay attention to details.
Knight cards in a Career spread show movement and change in work.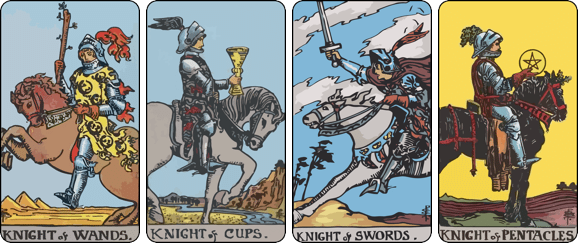 Knight of Wands: outdoor work, travel, emergency staff, drivers, competitive jobs.
Knight of Cups: writers, poets, musicians, healthcare providers.
Knight of Swords: soldiers, jobs that need a lot of activities, war correspondents, doctors, hackers, game developers.
Knights of Pentacles: work by habit, business, feel the need to change.
Queen cards in Career Tarot spread indicates stability in work and the balance between work and family.
Queen of Wands: teachers, leaders, entrepreneurs.
Queen of Cups: physician, counselor, psychic.
Queen of Swords: lecturers, professors, managers.
Queen of Pentacles: business woman, manager, carer.
King cards in a Career Tarot spread speak of professionalism and confidence in work.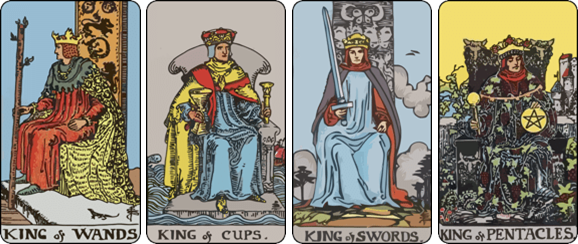 King of Wands: leadership positions in private and financial businesses.
King of Cups: doctor, CEO or senior manager.
King of Swords: chef, surgeon, lawyer, a professional.
King of Pentacles: middle management, business owner.
Career Tarot reading is not only a great assistant but also a tool to help Tarot users/readers to find out their strengths and suitable industries. It is possible that the above results are only relative to some individuals, but for those who pursue spiritual schools as well as those who learn about Tarot, these are useful information that supports their beliefs, future choices, and future directions.
For those who have yet to find a compatible career and want to rely on Tarot to make choices, this could be a way for you to identify the hidden potentials and strengths that have not been exploited.