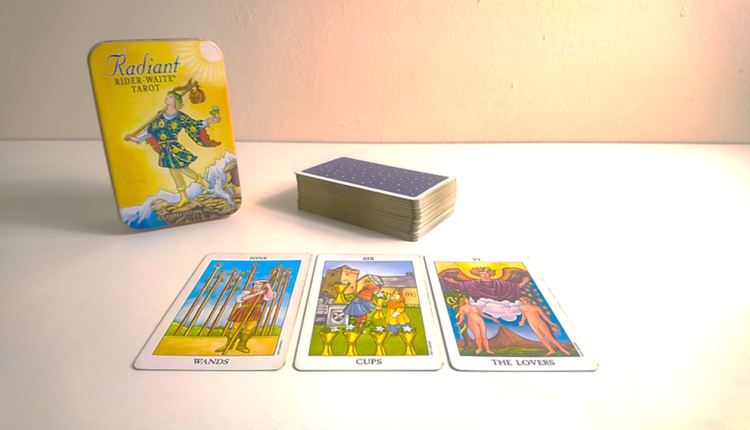 78 Tarot Cards base on Rider Waite Tarot Deck
A standard Tarot deck consists of 78 cards divided into two parts, the Major Arcana and Minor Arcana. The Arcana word is a plural of Arcanum which means "deep mystery." For medieval alchemists, Arcanum is a mystery of nature. Tarot cards are, therefore, a collection of "mysteries" that make the foundation and explain our world.
The 22 cards in the Major Arcana are the center of the deck. Each of these cards represents some common aspects of human experience. Major cards are special because they open up complex and deep reactions. The images on the Rider-Waite deck evoke association because they combine the system of mystical symbols with recognizable images and circumstances.
While the Major Arcana represents common topics, 56 cards in the Minor Arcana bring these topics into practical areas to show how they work at daily events. Minor cards represent related issues, activities and emotional states that create circumstances in our daily lives.
The interpretation of each card in the table below will give you a deep and complete understanding of the 78 Tarot cards, thereby making the reading become easier. At the same time, you will also have basic concepts to combine cards together in a Tarot spread, making interpretation more effective and coherent.
Major Arcana Rider Waite Tarot Deck
Major Suit
Minor Arcana Rider Wait Tarot Deck
Wands Suit
Cups Suit
Swords Suit
Pentacles Suit
Where to buy Rider Waite Tarot deck
| | |
| --- | --- |
| Rider Tarot Deck | [Set] Rider Waite Tarot Book +Deck |
| | |
11 steps to interpret a Tarot card with Rider Waite Tarot Deck
For simple questions that need a not-so-complicated answer, drawing a Tarot card that directly answers that question is much simpler and less time-consuming than a complicated and lengthy spread.
At the same time, practicing drawing a card to answer a simple question is also the most effective way to help readers remember the card.
Step 1 – Shuffle, draw a card, and place it face-up on the table.
Step 2 – Begin by reading the name of the Tarot card aloud. You can say "This card is Queen of Swords"
Step 3 – If the card you are reading belongs to Major Arcana, discuss everything you know, including the pattern and the powerful lessons that Major Arcana represents. This helps to recall the stories and legends associated with each card.
Step 4 – If the card is in the Minor Arcana, summarize what you know about this suit. The Wands, for example, are often associated with spiritual matters, while the Cups are emotional, the Swords are intellectual, and the Pentacles are material.
Step 5 – Look at the number attached to each Tarot card. It may indicate that the problem is developing at an early, mid, or late stage.
Step 6 – Pay attention to the color scheme of each card. What mood does that color convey? What is the main color? What do they add to the meaning of the card?
Step 7 – Then describe the shape or character in the card. Describe their clothes, posture, expressions, attitudes. Imagine what they would say if you could hear them.
Step 8 – Look closely at the character in the card, and describe the scenery around the character. Look for meaningful images and signs in the background of the scene around them.
Step 9 – Since you read each Tarot card one by one, your eye may be drawn to a single image or symbol. That image may remind you of a word, phrase, or expression. It can create an image or a visual landscape in your mind. It can make you feel hot, cold, or elicit emotional reflexes. In fact, a Tarot card can activate one of your senses: seeing, hearing, touching, smelling, and even tasting. Now, let's put your reaction into words simply. Don't worry if it is wrong or right, just express all your impressions of the card.
Step 10 – Once you start speaking, don't doubt yourself. Just go with that flow and continue to describe the flow of consciousness. Maybe random words and phrases will pop into your head. Say them out loud several times, even though it doesn't make much sense. That is because the Tarot cards sometimes communicate with us through puns and punchlines. For example, you could say "Sun" (The Sun Tarot card), but the querent may hear "son", and this would make the perfect message. At any level of meaning, expressing your impressions will help you evaluate each card, and you will even surprise yourself with the accuracy of your perception and intuition.
Step 11 – Interpreting Tarot cards is a process that requires concentration. If you feel stuck, especially when you are interpreting for someone else, ask that person what the card image means, and which sign seems to be the most significant. You don't have to pretend to be a fortune teller or a Tarot reader if you're not. Even if you have a sixth sense, it is much easier to ask for the basics first than to try to know the truth intuitively. When you look at the cards at the same time, you will realize that your querent has a pretty good sense of the omens in their life through images and physical signs appearing on the cards.