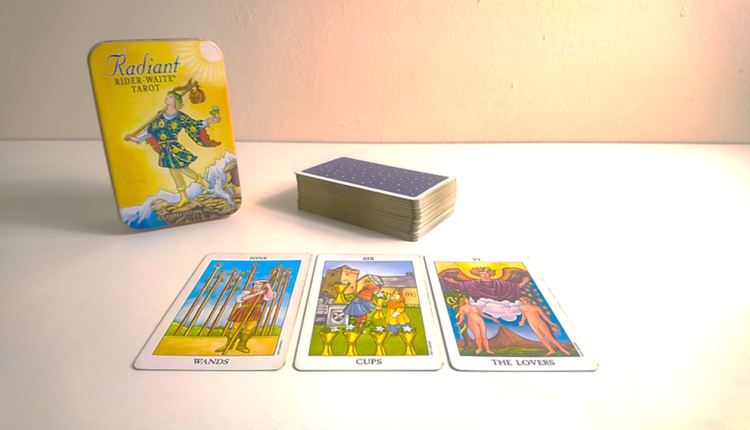 78 Tarot Cards base on Rider Waite Tarot Deck
A standard Tarot deck consists of 78 cards divided into two parts, the Major Arcana and Minor Arcana. The Arcana word is a plural of Arcanum which means "deep mystery." For medieval alchemists, Arcanum is a mystery of nature. Tarot cards are, therefore, a collection of "mysteries" that make the foundation and explain our world.
The 22 cards in the Major Arcana are the center of the deck. Each of these cards represents some common aspects of human experience. Major cards are special because they open up complex and deep reactions. The images on the Rider-Waite deck evoke association because they combine the system of mystical symbols with recognizable images and circumstances.
While the Major Arcana represents common topics, 56 cards in the Minor Arcana bring these topics into practical areas to show how they work at daily events. Minor cards represent related issues, activities and emotional states that create circumstances in our daily lives.
The interpretation of each card in the table below will give you a deep and complete understanding of the 78 Tarot cards, thereby making the reading become easier. At the same time, you will also have basic concepts to combine cards together in a Tarot spread, making interpretation more effective and coherent.
I. Major Arcana Rider Waite Tarot Deck
Major Suit
II. Minor Arcana Rider Waite Tarot Deck
Wands Suit
Cups Suit
Swords Suit
Pentacles Suit
III. Where to buy Rider Waite Tarot deck
| | |
| --- | --- |
| Rider Tarot Deck | [Set] Rider Waite Tarot Book +Deck |
| | |
IV. The Formation of the Rider Waite Smith Tarot Deck
One of the Tarot decks voted with the best design and most widespread use today is Rider Waite Smith (RWS). RWS cards have been famous for over 100 years because of their close, creative strokes, simple and impressive image systems, and symbols. Furthermore, the deck's popularity is due to the fame of the deck's godmother, painter Pamela Colman Smith. Much of the occult community and creative world know Smith as the one who set the standard for the illustration of all modern Tarot decks. However, very few people know about the nomadic and turbulent life behind her works of art.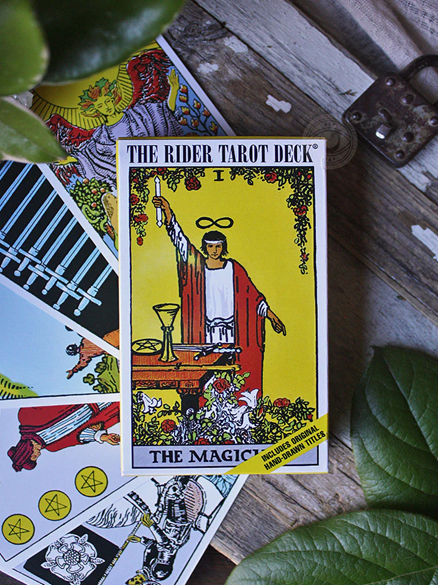 Pamela Colman Smith (1878-1951) was born in London to a family of a Jamaican mother and a white American father, so she was attached to Jamaica and the city of Manchester throughout her childhood. During high school, Smith was nicknamed Pixie and was sent by her parents to the Pratt Institute School of the Arts in New York City. Smith was highly appreciated for her ability to break out of design frameworks. Her drawings are strong yet gentle, definitive yet dreamy. It can be said that her art style is extremely personal and creative.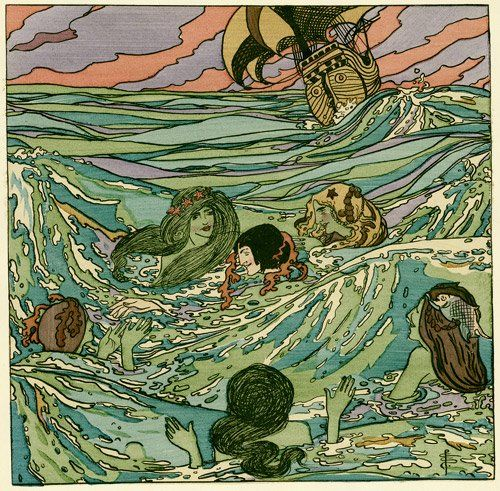 In the middle of the early years of the twentieth century, despite her natural talent trained in the artistic environment, she still endured social derision due to her pursuit of a single life, working and roaming everywhere while almost all young women of her same age were married and chose to live as a housewife.
One of Smith's notable career milestones was her collaboration with poet William Butler Yeats as an illustrator for his poetry collection. Thanks to that chance, in 1901, Yeats introduced Smith to his friends in the Hermetic Order of the Golden Dawn, a gathering of illustrious and influential mystics of the time. There she encountered the mystic Edward Waite, and in 1909, Waite formally commissioned her to work on the artwork for a new Tarot deck he wanted to create. With a passion and knowledge of occultism, Waite wanted a new look for the Tarot deck and needed a qualified artist to do it with him. And he chose Smith.
In the early years of the twentieth century, Tarot cards were illustrated only on the Major Arcana cards. In the 1490s, only the Sola Busca deck owned by a wealthy family in Milan was fully illustrated and detailed. Therefore, Waite suggested that Smith should take the Sola Busca deck as inspiration. This is also the reason why we see many similarities between these two decks.
Building on a basic idea from the Sola Busca deck, Smith developed more visuals for Waite's deck, especially the Minor Arcana cards that had not been illustrated before. Instead of focusing solely on a certain group of images such as groups of Cups, Pentacles, Wands, or Swords, Smith incorporated more human figures to create a rich tapestry of mystical symbols, establishing the gold standard for modern Tarot decks. Smith's earliest images were drawn from her favorite watercolor, which was described as opaque, mixed with natural colors and binders, diluted with gouache, and often used in advertising pictures.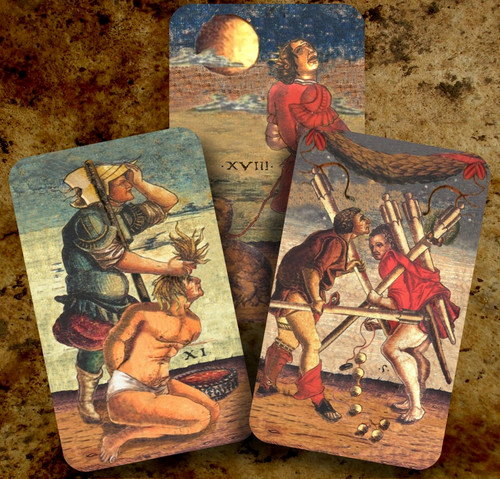 The result was a collection of 78 cards published under the trade name Rider Waite Smith Tarot, a combination of Rider&Sons publisher, occultist Edward Waite, and artist Pamela Colman Smith. To date, with more than 6 million Rider Waite Smith decks published and countless other Tarot decks born based on her original designs, Smith remains an endless source of inspiration for those who are using Tarot to enrich everyday life.
1. Reviews of the Rider Waite Smith Tarot Deck
Tarot itself is a fairly simple game. The instructions, with each card in its place having a specific purpose, are simple and easy. Over time, the cards can begin to really convey meaning, asking us to look more deeply into our motives, while pushing ourselves in the right direction.
Each of Smith's drawings suggests enough of Waite's key phrases – the theological meanings of the cards – that the pure novice can guess at a glance at the image. Take for example the Nine of Swords. The image, on a completely black background, has nine parallel swords behind a figure, sitting up from the blanket on the bed while putting her hands on her face. This desolate image suggests that something wakes him or her (many of Smith's characters are androgynous) in the dead of night. Is it anxiety or fear, or both? People look at the card and sympathize that we have all had sleepless nights thinking, the past cannot be changed, or that the present is confusing. You can see this on the card without seeing Waite's accompanying text.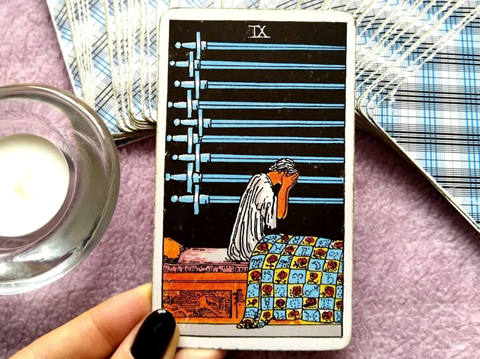 A complete newcomer to Tarot, if asked to describe the emotion the card creates might not come up with these exact words, but the meaning is certainly obvious. And so does every card, even those that depict more abstract thoughts and feelings. It is this harmony of the minds of Waite and Smith that created the deck most of us today refer to as the "Tarot".
Unlike other forms of divination which will predict your future or your destiny, Tarot simply helps you find the right direction. The Tarot deck is a tool for awakening intuition, reflection, problem analysis, decision clarification, self-awareness, spiritual development, and meditation. The Tarot cards will help you access the hidden world, get in touch with everyday problems, discover yourself and see more clearly the realities of your life.
There are 2 types of Tarot cards, namely 22 Major Arcana (or Trumps) and 56 Minor Arcana cards, including 40 Pip cards and 16 Court cards. The Major Arcana cards depict metaphors of The Fool's journey to enlightenment. The Pips represent the typical contexts and emotional states of everything that happens in everyday life. The Court cards often represent the network of relationships and the people in life we meet every day. The Minor Arcana cards are divided into 4 suits which are Wands, Cups, Swords, and Pentacles.
2. The Purpose of the Symbols in the Rider Waite Smith Tarot Deck
The authors who have contributed to the creation of the system of visual symbols in the Tarot, in general, and the RWS standard, in particular, have worked seriously. They all seem to be the type who prefer to listen to their heads over their hearts, as evidenced by the fact that it is almost impossible to find any humor in the images of the original decks. Information about these symbols is a tool to help you connect with your deck. Tarot is an esoteric, historical and artistic discipline, and the symbols in the Tarot deck are its own language, helping users to connect and understand the message the cards are trying to convey.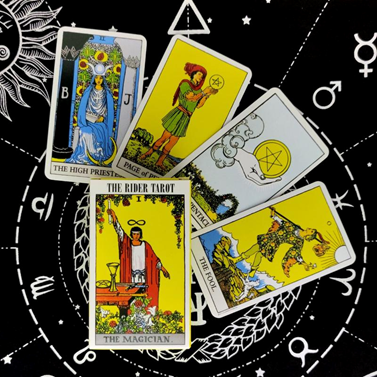 Each deck is a special construction made up of symbols. They have two main purposes. First, they guide you to look deep inside yourself, which leans on the spiritual side. At the same time, it will help to point out the right path leading to your own spiritual journey. Maybe this is not important to you right now, but surely at some point, when you want to wake up, these instructions will be very necessary. Second, they provide practical and useful guides to the user, from rare critical issues to even everyday situations.
The journey inside each Tarot deck, especially the RWS, is created to remind all of us of the process by which a person, as well as the world, is created and developed. Therefore, Tarot also works for everyone, not only for the owner of the deck.
V. The Mechanism for Interpreting a Tarot Spread
For those who are using or interested in Tarot cards, especially beginners, the hardest part is interpreting the cards. Most online documents today only give the "description" or "meaning" of the cards with some vaguely general definitions. And sometimes finding out the information when spreading the cards is only rough or general according to intuition.
An image and its story form a symbol, and the Tarot can be viewed as a book of symbols. As A. E. Waite wrote in The Pictorial Key to the Tarot: "The true Tarot is symbolism; it speaks no other language and offers no other signs." Or as Willian Gray stated in Magical Ritual Methods: "Magical symbols are fundamental concepts for energy-exchanges between very different levels (or "worlds") of living."
Tarot is also simply a set of games, so you can use it to entertain yourself or friends to help reduce stress after tiring working hours. And maybe a surprise from the cards tells you that love or a certain job is budding in the future. Tarot is often spread by readers at coffee shops, parks, cool places, and relaxing, pleasant spaces. It is also very suitable for giving spiritual advice to any of the respondents. In the Tarot world, the RWS deck has existed and developed for a long time because of the close association of images and visual meanings.
VI. 11 steps to interpret a Tarot card with Rider Waite Tarot Deck
For simple questions that need a not-so-complicated answer, drawing a Tarot card that directly answers that question is much simpler and less time-consuming than a complicated and lengthy spread.
At the same time, practicing drawing a card to answer a simple question is also the most effective way to help readers remember the card.
Step 1 – Shuffle, draw a card, and place it face-up on the table.
Step 2 – Begin by reading the name of the Tarot card aloud. You can say "This card is Queen of Swords"
Step 3 – If the card you are reading belongs to Major Arcana, discuss everything you know, including the pattern and the powerful lessons that Major Arcana represents. This helps to recall the stories and legends associated with each card.
Step 4 – If the card is in the Minor Arcana, summarize what you know about this suit. The Wands, for example, are often associated with spiritual matters, while the Cups are emotional, the Swords are intellectual, and the Pentacles are material.
Step 5 – Look at the number attached to each Tarot card. It may indicate that the problem is developing at an early, mid, or late stage.
Step 6 – Pay attention to the color scheme of each card. What mood does that color convey? What is the main color? What do they add to the meaning of the card?
Step 7 – Then describe the shape or character in the card. Describe their clothes, posture, expressions, attitudes. Imagine what they would say if you could hear them.
Step 8 – Look closely at the character in the card, and describe the scenery around the character. Look for meaningful images and signs in the background of the scene around them.
Step 9 – Since you read each Tarot card one by one, your eye may be drawn to a single image or symbol. That image may remind you of a word, phrase, or expression. It can create an image or a visual landscape in your mind. It can make you feel hot, cold, or elicit emotional reflexes. In fact, a Tarot card can activate one of your senses: seeing, hearing, touching, smelling, and even tasting. Now, let's put your reaction into words simply. Don't worry if it is wrong or right, just express all your impressions of the card.
Step 10 – Once you start speaking, don't doubt yourself. Just go with that flow and continue to describe the flow of consciousness. Maybe random words and phrases will pop into your head. Say them out loud several times, even though it doesn't make much sense. That is because the Tarot cards sometimes communicate with us through puns and punchlines. For example, you could say "Sun" (The Sun Tarot card), but the querent may hear "son", and this would make the perfect message. At any level of meaning, expressing your impressions will help you evaluate each card, and you will even surprise yourself with the accuracy of your perception and intuition.
Step 11 – Interpreting Tarot cards is a process that requires concentration. If you feel stuck, especially when you are interpreting for someone else, ask that person what the card image means, and which sign seems to be the most significant. You don't have to pretend to be a fortune teller or a Tarot reader if you're not. Even if you have a sixth sense, it is much easier to ask for the basics first than to try to know the truth intuitively. When you look at the cards at the same time, you will realize that your querent has a pretty good sense of the omens in their life through images and physical signs appearing on the cards.