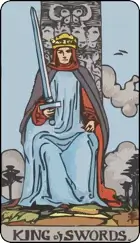 King Of Swords – Rider Waite Tarot Deck
I. King of Swords Rider Waite image description
The King of Swords sat on his throne, his right hand holding a sword and his left hand on his lap. He wore the ring on his left finger to symbolize power and responsibility. The King wore a long blue costume which is a symbol of spiritual understanding and a purple cloak which is a symbol of compassion combined with wisdom. The rear part of the throne is decorated with butterflies (transformation), crescent moon and an angel. The clear blue sky with a few clouds represents mental clarity. The trees stand still, reflecting the King's strict judgment.
The personality of the King of Swords is the combination of positive energy between the Air element of the Swords suit and the dynamic/extrovert concentration of the King. He is an intelligent man who can receive and work with all kinds of information. As a master of reasoning and logic, he analyzes any problem easily. He can give a quick solution and explain them transparently to others.
In a chaotic situation, he solved problems and clarified everything, so they could continue. He has sharp eloquence and mind. He is always honest and reliable and would resolve any situation fairly and submissively. When asking for an assessment, he can help to make fair and impartial decisions. He is a man of integrity and lives up to his highest moral standards. He encourages others to follow him and in that way, they often live up to his direction and expectations.
II. King of Swords Tarot Card Meaning
Clever, Analytical, Speak fluently, Equal, Morality.
Clever
Comfortable with the world of wisdom;
Think creatively;
Grasp information quickly and perfectly;
Inspired and stimulated through ideas;
Skillfully conduct research;
Knowledgeable.
Analytical
End the feeling of embarrassment and mental confusion;
Apply reason and logic;
Talented with games and intellectual challenges;
Solve complex problems easily;
Experienced in debates;
Understand the matter quickly.
Speak fluently
Fluency in language and speech skills;
Convey the idea successfully;
A mood maker;
The spokesperson of the group;
A wise writer and orator.
Equal
Provide honest and insightful assessments;
Understand and respect every aspect of the problem;
Pay attention to the truth and justice;
Observe the situation under the carefree eyes;
Fair and objective.
Morality
Be a conscientious/moral leader;
Encourage high standards;
Against lies and dishonesty;
Always do the right thing with the conscience;
Live according to the highest principles of yourself.
III. King of Swords Upright Card Keywords
clear thinking, intellectual strength, power, truth.
Words and Keywords
Truth, control, balanced judgment, fair decision, analysis, professionalism, intelligence, innovation, ambition, self-assertion, authority obligatory, clear discrimination, improvisation, objectivity, rationality, fairness, rules and order, expertise, fascination, cooperation, prudence, good advice, coherent thinking, sharp mind, the power of analysis, diplomatic talent, lofty ideals, the power of the will, commitment, specialization, reason dominates over emotion, not care about other people's feelings.
Introduce
This card often represents a strong, powerful and righteous man in your life. On the other hand, if this card does not represent any real person, you may be tempted to think about how things affect you personally. You should consider the feelings of others before taking action.
Overview
Overall, the King of Swords is a sign of an extremely powerful source of energy. You cannot change the mind of a man in your life or make him do what you want. You may need a major change in your behavior, thoughts, and expectations. Do not do anything out of your reach.
Work
A man in your current work environment may make you feel uncomfortable by the way he behaves or talks but the truth may be that you are too sensitive. He is just doing his job. If you are looking for a job, the person who will hire you may be a man and you will have to impress him at every level to get that job. Be aware of your limits, do not be too rushed to upset others.
Love
In terms of love, The King of Swords may imply that a man with strong opinions can play a certain role in your relationship. If this man is the person who loves you, it means that you will have to accept him for who he is, and whether you are male or female, you will treat your partner best by promoting the feminine part towards you. However, do not suffer if you are abused. This man may be stuck between his nature and overcoming his limits. You should know to protect yourself.
Finance
This King card says that you need to understand and face the reality of your financial situation. You will not solve anything if you keep hiding or ignoring everything. The card also encourages you to be generous with others even if you are not ready. The reward you receive will be more than the value you give.
Health
King of Swords tells that if you are having unclear symptoms, be aware that doctors (especially if they are Western doctors) will suggest better testing methods. You should provide yourself with enough knowledge before entering the doctor's office and work well with the treatment courses offered by your doctor or therapist.
<< Read More >> King of Wands – Rider Waite Tarot
Mentality
Faith values must make sense to you in terms of spirit to make you feel connected to establish them. You can immerse yourself in spiritual awareness and practice by actively seeking new sources of information and understanding. You should try new things, even one Tarot spread that you do for yourself sometimes helps you feel better. The practice of positive meditation is also helpful at this time.
Situation and advice
A decision you are waiting for will be fair and impartial. A smart professional can give you reasonable advice about work or the law. You can have a cold and overly intellectual way of doing things except for mild emotions and methods involving others. Currently, you have many unique abilities. You want to break the archetype and free yourself from stereotyped restrictions. You need to consider whether you ignore your feelings and may be afraid to start an intimate relationship with others or not. Other people may feel you are rejecting their opinions.
Human
Militia, politicians, a leader, authorities, lawyers, doctors, judges, a referee, an expert, a government official, a man who will fight for your sake, a moral authority who is less interested in emotional and personal problems, an intelligent man who loves to study and research about invisible facts, a person with expertise in Social Science or Communication.
IV. King of Swords Reversed Keywords
manipulation, tyranny, abuse.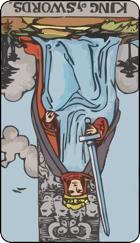 Words and Keywords
Exploitation, an unfair decision, prejudice, grandeur, sarcasm, selfishness, cruelty, dishonesty, planning, poor judgment, suspicion, accusation/conviction, suspicion, stubborn attitude, manipulation, tyranny, desire for power, legal problems, threats, sadism, revenge, violence, aggression.
Introduce
The King of Swords reversed often represents a man who is strong and has a righteous opinion in your life. He is particularly unwilling or uncomfortable with new ways of doing things, so it will be difficult to make him open to any kind of change.
Overview
In general, this King card is a sign of a fiercely powerful source of energy, whether this card represents a real man in your life or not. You will need to accept that you cannot always change anyone's mindset, so sometimes, the best way you can expect is to compromise. Using violence to push or bully others to make they change their minds will not help at all, in fact, this can cause side effects.
Work
It is possible that there is a man in your work environment might be repressing instead of saying things that will be useful to him. If you are looking for a job, as well as the upright meaning, this card implies that your employer can be a man and you will have to impress him at every level to get that job. You should emphasize your understanding of traditional rules and the importance of complying with workplace principles.
Love
In terms of love, the reversed King of Swords may imply a man with strong opinions can play a certain role in your relationship. He may be very strict with any mistake. Just like the meaning of the upright card, if this man is your lover, you will have to accept him for the way he is. You should show your feminine side in this relationship but do not endure being abused. This man may be confusing between his nature and exceeding his limits. You should protect yourself, do not accept the dishonest character from this man.
Finance
In terms of finance, this reversed card tells you that it is important to consider carefully your financial situation. You can easily realize that you have made a mistake before. If you cannot face your problem yourself, just ask for help. You will be very excited about what you find out.
Health
Maybe your healthcare professional or your doctor is not open enough to listen to what you say and may suspect your description of symptoms. It will be very good if you keep the documents or records. However, in general, it is your responsibility to support yourself and you can change to another therapist if necessary.
Mentality
The King of Swords reversed implies that you may need to think carefully and logically about some spiritual information that is coming at this time. Maybe a spiritual leader is doing something beneficial to his organization (that person can be a man or a masculine woman). Besides, you should trust your instincts and intuition. You do not need to accept everything even the advice of a trusted spiritual advisor.
Situation and advice
You may be being treated unfairly. Someone can cheat or threaten you through cruel punishment. You may be exploiting other people. Your sarcastic comment may hurt someone close to you. You can also be hurt by other people's words. You may be the victim of an unfair judgement in a lawsuit.
Human
The cruel; a man who is ruthless, suspicious, sarcastic, hateful and cruel; a bully, someone who is bribed with power, someone who is too cautious; a cold, dangerous, violent, or unfair man; a cunning and aggressive person.
In a Tarot spread, the King of Swords requires you to act like him. For example, tell the truth, think of a solution, communicate well, or judge fairly. This card also represents a man or woman acting like him or an atmosphere of reason, honesty, and high standards. He tells you that his energy is meaningful to you at this moment. Let yourself be inspired by this King in any form that he appears in your life.
<<Other King Cards>> King of Pentacles – Rider Waite Tarot