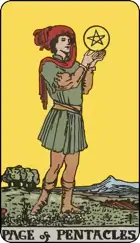 Page Of Pentacles – Rider Waite Tarot Deck
I. Page of Pentacles Rider Waite image description
The Page of Pentacles shows a young man, standing alone in the middle of fertile land. There was a lush forest of fruit trees behind him, promising a plentiful harvest. He walked slowly and did not know anything about the surrounding area. He focused on nothing but the gold coin in his hands. The sky is bright and everything is going very well on the path leads to his future success.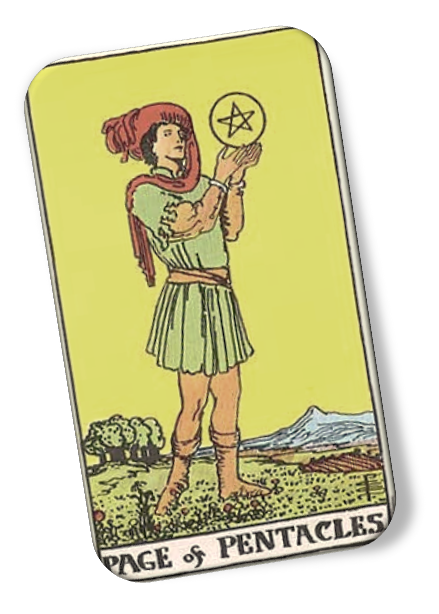 In Tarot court cards, The Page is a card of new beginnings, inspiration and early stages of a creative project. Pentacles correspond to the element of Earth in Alchemy. Therefore, the fact that the Page treasures the gold coin shows an awareness, appreciating the value of money not only physically but also about the related needs such as health, food, and clothes.
The Page of Pentacles is the one who gives you the message about material opportunities. He turned real opportunities into material wealth, prosperity, security and stable achievements, which are excellent qualities of the Pentacles suit.
It can also represent a child/an adult who is young at heart or the person who correlated with you regarding stability, trust, commitment, safety, and material needs. Sometimes, this Page card implies that your current situation is full of material enjoyment. At times like this, you should feel free to enjoy comfortably the treasures that relate to your health, skills, and assets. Live as you have never lived before.
II. Page of Pentacles Tarot Card Meaning
Influential, Reality, Prosperous, Trustworthy.
Influential
Put plans into practice;
Create discipline for the material world;
Use your body;
Experience the nature;
Obtain tangible results;
Act according to your dreams;
Carry out events.
Reality
Offer practical solutions;
Use what is in hand;
Find a useful solution;
Use common sense;
Stop daydreaming;
Handle things by yourself;
Focus on what works.
Prosperous
What you need is coming to you;
Your material wealth increases;
Development and expansion;
Get rich;
Step outside and reap success;
Look for completeness;
Guaranteed.
Trustworthy
Recognize that the solution is within your reach;
Have faith in others;
Adapt to uncertainty;
Accept the words of others;
Prove yourself reliable;
Keep the promise;
Build the level of trust.
III. Page of Pentacles Upright Card Keywords
demonstration, financial opportunities, new job
Words and Keywords
Text messages, good news about money and finance, willingness to learn, school and education-related events, slow but steady processes, patience, persistence, thriftiness, responsibility, realism, frugality, kindness, determination, materialism, love of nature.
The beginning of a stable foundation, persevering development, open-minded, realistic goals, well-researched information, start a new business career, methodology, opportunities to increase income, beneficial changes, internships, scholarships, documents, contracts, agreements, news about children.
Introduce
The Page of Pentacles, in some aspects, maybe a card about boredom. You properly have an urge to say or do something to lift up the mood. But instead, you should spend your energy on other better purposes. Excitement and joy can be created in many ways.
Overview
In general, this card represents a great energy source that will support you when you feel bored and unable to accomplish your job. It can give you the focus, energy, and financial resources needed to pursue a boring or uninteresting task. Remember not to put efforts reluctantly, otherwise, you will taste the failures.
Work
The Page of Pentacles may imply that you have a lot of work to do while you have too little time. In general, the news about work is fine, though you may feel overwhelmed and uninterested. Let things progress slowly but surely. If you need help to get things done, do not hesitate to ask.
Love
If you are in a committed relationship, this card may be a sign that your relationship lacks a bit of romance. It is a call to you and your lover to take question quickly and discuss with each other. You need to be very honest about your feelings to create change and improve this relationship.
If you are alone and feel as if you do not have the opportunity to meet the right person, consider carefully what you are holding in your heart. You may still have feelings for your ex-lover and may need to let go of old memories before you can expect things to be better.
Finance
In terms of finance, the Page of Pentacles implies the rewards and achievements that you will receive by working well and diligently. However, this is not the time to invest riskily or do something unrealistic. On the contrary, it is time to give an honest assessment of the value of the skills and efforts you have spent. If you are not paid or get what you deserve, this may be the time to make a change. You should know how to invest wisely instead of wasting money.
Health
Any health problem present at the moment is a consequence of emotional disorder. You deserve to be concerned and say what you need. However, you should ensure that any symptoms related to your health will be properly and appropriately evaluated by a qualified health care professional. If they say there is no problem with you, then consider more about mental and emotional states. Most of the time you still hold the key to abundant health and vitality.
Mentality
If you are feeling mentally unstable, then Page of Pentacles means a good time to consider what can inspire you such as things you are enjoying, interested in and experiencing or things you want to discover. Make sure you leave the old path and try new ones. Let's create for yourself energy and enthusiasm. You should look for people with the most positive and optimistic mental awareness you know and say things that encourage them. You will learn a lot of useful things.
Situation and advice
You may soon have a chance to make money or start a new project or business. Your scholarship will be recognized. Your deepness, practicality and hard work will be rewarded. From a small starting point, the process is slow but steady. You may receive a letter or message that affects the process of events. If you are about to sign a contract, read the entire manuscript thoroughly. You should be careful with every word you say or write down. You may be involved in some type of research with a high level of focus on details and a lot of paperwork. Education can help you at this time. The Pentacles card refers to paying attention to physical and physical needs.
Human
A young man who is calm, thoughtful and considerate; an open-minded person, college students, scholars, people who cherish the good things in life, people who are willing to learn, a nerd, an introvert, a trusted friend, someone that you can trust, people who work hard; realistic, responsible and sensitive people; dedicated and kind person, nature lover, researcher, diligent person, a young man who gained great achievements in terms of education and material, secretary, scribe, a devoted and responsible youth; people related to commerce and trade.
IV. Page of Pentacles Reversed Keywords
lack of progress and lack of planning, focus on short-term goals
Words and Keywords
Unexpected costs, bad news, bureaucracy, letters causing anxiety/sadness, delay/obstruction in negotiations, mediocre, carelessness, ingratitude, financial problems, difficult things with a contract, conservatory, irrational, boredom, indifference, rebellion, lack of common understanding, repeat the mistakes of the past.
Introduce
The Page of Pentacles in reverse brings the message that you need the concentration. You may be easily distracted at the present time. Try your best to do one thing at a time and keep your mind focused on the right places/areas.
Overview
In general, this card may imply that you either have to work harder to avoid your energy and mind being diverted to unfavorable things or allow yourself a little rest and escape from the daily tasks. You can spend a long vacation on weekends to restore the energy needed to get back to your daily routine efficiently if possible.
Work
The Page of Pentacles reversed card may indicate that you will have to perform a huge workload that can completely "bury" you. If you get into this situation, seek help in any way you can instead of trying to avoid. Requesting help anyway is better than not completing what you need to do. You cannot do everything by yourself even if you think you have the ability.
Love
You may find yourself have a crush on someone when this card appears, even if you have a cohesive, happy and stable relationship already. You should think about the best solution for that situation. If you lack honesty with your partner, someday you may lose him/her forever. You need to rekindle the passionate flame of love if you want to maintain your relationship. If you are single and have feelings for someone when this card appears, in general, none of you are ready to start a relationship with the other. But it will be fine, you just need to have a little sense of humor and patiently wait for the next happenings.
Finance
You may feel as if you are adventurous and betting on your situation rather than being truly responsible for your finance. You should try to manage the situation so that it is always under control and you can bear all the responsibilities involved. Do not invest more than you can afford. Remember that the lottery is not an investment strategy. You should set limits for yourself.
Health
With the Page of Pentacles reversed, it is likely that you will easily accidentally injure yourself when entertaining. Remember to keep your mind clear and rational at the moment, then you will be fine. Unless you are an abstainer, you need to be very careful with alcohol or stimulants when this card appears. If you get drunk, you will be able to cause minor wounds for yourself. Keeping your mind focused is the key point.
Mentality
This reversed card can mean a feeling of boredom in terms of both spirit and daily life. You should think about the inspirations from discovering facts like whether between people in history and modern people like you have any mental connection or not, the reason why and what you can learn from that. You can also experience new methods such as reading books that you would never read normally. There are billions of interesting things in this life, just search!
Situation and advice
Page of Pentacles implies that you may encounter difficulties because you do not read the manuscript carefully. There may be problems with bureaucracy or delay/hindrance in negotiations.
Unexpected financial news is also likely to happen. It is the time to use your intellectual instincts and common knowledge to avoid repeating mistakes in the past. You should consider the problem thoroughly instead of relying on superficial knowledge. You may receive annoying letters or calls. Focusing too much on your own business can cause problems.
You may not be able to see the whole situation just because you care too much about the details. Small health problems can also happen.
Human
The problem of children, a young man who is unable to learn, unrealistic people, ungrateful people; people who are angry, jealous and stuck; short-sighted and selfish people; a moody and sad young man, person who only has superficial knowledge, someone who is extravagant, someone who does not appreciate you, people with OCD (Obsessive Compulsive Disorder), wasteful people, weak kids, people who refuse or get angry with good advice.
In a Tarot spread, the Page of Pentacles implies a new beginning that promises richness, prosperity, affluence, full of trust or the opportunity to make dreams come true. When you see such an opportunity, take it right away.