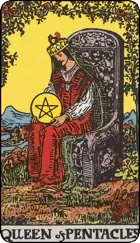 Queen Of Pentacles – Rider Waite Tarot Deck
I. Queen of Pentacles Rider Waite image description
The Queen of Pentacles depicts a lone woman sitting on a throne carved with fruit-tree, goats, angels, and other symbols of physical success and pleasure. The trees above and below her feet were always fruitful. She held a gold coin with a pentagram inside which is a symbol of material wealth. There was a rabbit in the lower right corner jumping out from the bush, was a symbol of reproduction and fertility.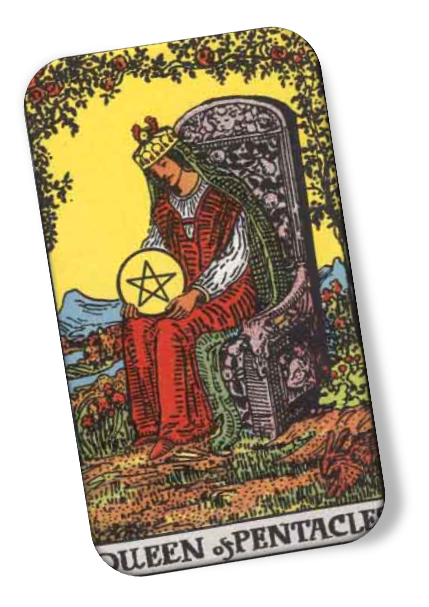 The feature of the Queen of Pentacles is a combination of the positive energy source belongs to the Earth element of the Pentacles suit with introverted qualities of the Queen. No one else is considerate and thoughtful like her. Her greatest wish is to take care of others and to ensure they are happy and safe. Her home is always full of children, pets, trees, and friends. She is generous and selfless for all people and all creatures. She always solves daily problems in a logical and practical way and does not have much time to prepare perfect plans or other things.
If there was anything to do, she would only care about completing it without causing any impact on others or unnecessary problems. If necessary, she will do it very quickly and finish the task in the most urgent situation. There are qualities that emphasize the rationality and reality radiating from her. She is always loyal and very consistent. Because she is a reliable person, others always put their trust in her. When you are hurt or need help, she will calm your fears and share your troubles.
II. Queen of Pentacles Tarot Card Meaning
Nurture, Noble personality, Rationality, Resourceful, Reliable.
Nurture
Give love and support;
Create a warm and safe environment;
Make people feel better;
Respond to the natural world;
Ability to cultivate well;
Love children and animals.
Noble personality
Ready to do anything for others;
Tenderness;
Always open and happy;
Give away many things comfortably;
Generosity and altruism.
Rationality and reality
Handle the problem frankly;
Allow others to be themselves;
Undemanding and down-to-earth;
Apply practical and simple plans;
Appreciate all the senses.
Resourceful
Know how to use anything in hand;
Dexterity and flexibility;
Create huge success from little things;
Overcome all obstacles;
Discover what is needed.
Reliable
Always keep secret;
Loyal and consistent;
Can manage in a hurry;
Keep faithful to others;
Keep the word.
III. Queen of Pentacles Upright Card Keywords
practical, simple, safe, mother
Words and Keywords
Organization, fertility, prosperity, sensuality, love of nature, hospitality, sharpness, abundance, ownership, luxury, responsible, resourceful, good business sense, stable work, good things in life, safety, creativity, wealth, common knowledge, confidence, nurture, emotional maturity, strong knowledge, stable foundation, have a gift for cultivation, a beautiful house or environment, take care of the physical and emotional needs of others, manage money well.
Introduce
The Queen of Pentacles, like every other Court cards, often represents a person in real life. These cards can also be a sign of great impacts on our lives. The energy of this card usually carries female prototypes, warmth, family, and motherhood.
Overview
This card may imply that you will spend time, money, and energy for your family to make it a more comfortable and peaceful place. This is good advice, as long as you do not fall into debt for these purposes. Many people will come to you to be enlightened and ask for your advice. You will be able to help them if you are ready. This is when you can gain many achievements.
Work
Your work seems to be very progressive. There is a certain woman who can play an important role in your career. She will be your ally at work. If possible, you can bring some items from home to work. This helps you feel that the working environment is as comfortable as home, so you can work more efficiently.
Love
In terms of love, the Queen of Pentacles is a card about femininity and orientation, especially for those who currently do not have the long-term commitment with others. You should make yourself ready to receive instead of chasing love. When the right time comes, love will knock on your door and you do not need to do anything else. Be optimistic and keep in mind that you deserve to be loved.
Finance
This is a great sign when considering the financial and monetary aspects. Your prosperity and financial adequacy will most likely increase. Do not be afraid to spend a sum out of the total amount you earn. Saving is necessary, but it is equally important to enjoy life when you can. You should share what you have if possible.
Health
In terms of health, the Queen of Pentacles is an offer to spend more time and space to focus on yourself first, from which your health will truly improve. If you constantly spend time and space for others instead of prioritizing yourself and your needs first, your health will soon be threatened. You should know how to balance everything.
<<< read more >>> Queen of Cups – Rider Waite Tarot
Mentality
This Queen tells you that you must have faith in yourself. Although you may not see spiritual things in a way that others see, your belief system is your own. When it comes to spiritual life, it is important to listen to others, but ultimately we are the ones who make our own decisions. If other people do not understand your decision, that is simply their problem.
Situation and advice
This card signals success in business and financial matter. A realistic and sensitive approach will bring a stable process. The Queen of Pentacles can refer to fertility or pregnancy. This is the card of multiplying material and happy feelings. You may have a deal with a sharp businesswoman or you can take conservative and practical measures for your own business.
Human
Businesswoman, the good organizer, the woman who wallows in sensual pleasures; rich, the sharp, talented and creative woman; someone who treasures good things in life, a realistic-minded woman with business acumen, a sensitive financial manager.
Someone who minds the business of others, people who work hard for material achievements, helpful friends, team members, the female sponsor, the philanthropist, suppliers, women who like to show their wealth.
IV. Queen of Pentacles Reversed Keywords
the imbalance in work and family
Words and Keywords
Speculation, irresponsibility, lack of common knowledge, stagnation, oscillation, suspicion, selfishness, shortsightedness, sense of power, buy luxury things, trouble about money, self-conceit, self-control, gluttony, financial recklessness, laziness, dependence, fear of failure, insecurity, self-doubt, lack of motivation, waste, poor financial management, ostentatious, overly passionate.
Introduce
The Queen of Pentacles reversed reminds us to maintain simple and good things in life. You should treasure joy from simple things such as sunset, children's laughter, a delicious meal, etc. This will help you maintain your concentration.
Overview
Usually, the Queen represents a woman who can play an important role in your life in some way. However, when appearing in reverse, this card will often tend to create motivational sources for life that we need to pay attention to, especially aspects related to family and the meaning of family to you.
Work
In terms of work, you should try to remember the thing that makes you feel comfortable when working, even the smallest details. The only thing you can control or enjoy in your working environment is your attitude. If you cannot feel the interest in work directly, consider whether you can bring excitement to your colleagues around you or not. It may be a way to help you find satisfaction when you decide orientation associated with your work in the near future.
Love
In terms of love, even in the reversed position, this Queen card still tends to be feminine. This card is a call to focus your attention on family life, whether you have a long-term relationship with someone or not, and thus you can significantly improve your love life. If you are alone and on a journey to find true love, it is especially important to remember that you have to devote your time and mind to building a "place to rely on". The Queen of Pentacles also advises you to prioritize and love yourself before everything else.
Finance
This reversed card gives a warning that you may fall into the desire to spend too much on your family. A warm and comfortable home can be formed without money. It is love and invisible energy resources that are necessary to turn a place into a real family. Do not just consider financial aspect in this matter.
Health
The Queen of Pentacles reversed is a sign that you are probably trying to meet the needs of others instead of spending more time and space for yourself. No matter how busy you are, you can certainly arrange the time for yourself, even if only for a few minutes a day. You need to make sure you love yourself first so you can work effectively, maintain a good health foundation, and give love to those around you.
Mentality
When drawing this card in reverse, you should consider building some mental measures or rituals at home to enrich and improve your spiritual life. It could be anything like arranging a separate place for meditation or contemplation, starting a habit of journalizing or even taking note of gratitude (writing down one or two things that you feel grateful for daily life). This will help you create positive things about your mental aspects at the present time.
Situation and advice
Queen of Pentacles reversed means an unfortunate and conceited woman may be causing trouble. You or someone around you may be overly concerned about the appearance rather than the valuable things. Greed or financial irresponsibility can cause difficulties. Maybe, you do not have enough money to reach your goal. Your fear and self-doubt can lead to feelings of insecurity and hinder your progress.
Human
The stingy woman, the insecure and unstable woman, the frightened, the glutton, someone who receives but gives away very little; someone who is lazy, skeptical, unreliable, lacking motivation, feeling insecure, and ignoring his/her responsibility; useless person, wasteful person, someone who does not have the common knowledge, the fame-seeker, the gold digger, the woman who shows off  her wealth without caring about what others suffer.
In a Tarot spread, the Queen of Pentacles wants you to think and feel like her. This card can also represent a man/woman who has the same qualities as her or a warm, trusting and safe atmosphere. She tells you that her special energy will mean a lot to you at this moment. Let yourself be inspired by this Queen under any form of her appearance in your life.
<<< Other Queen >> Queen of Swords – Rider Waite Tarot