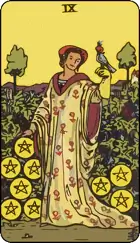 Nine Of Pentacles – Rider Waite Tarot Deck
I. Nine of Pentacles Rider Waite image description
The Nine of Pentacles shows a mature woman walking in the middle of a vineyard. The luxuriant bunches of grape and gold coins represent the good achievements of all our wishes. The falcon peacefully perched on her left-hand which symbolizes wisdom and self-control. There was a big house in the distance that was probably her. It can be said that the peace and satisfaction expressed in this card are the results of your long-term efforts.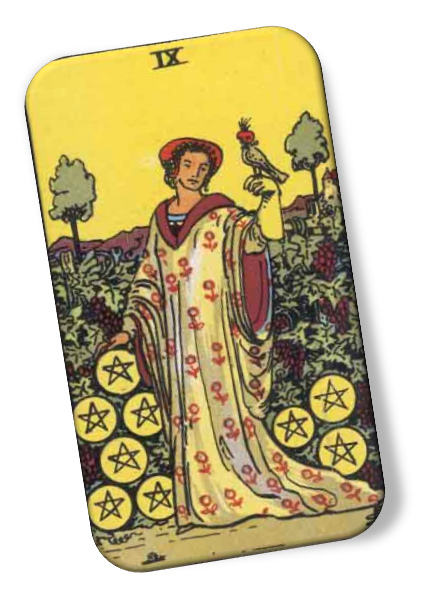 The woman on the Nine of Pentacles card is strolling leisurely around her garden. She definitely is an elegant and polite lady, so the fact that there is a trained bird of prey on her left-hand is an inappropriate detail. Falconry is not a normal hobby for a noble lady, but this is the key to describe the special nature of this card.
On the other hand, this card represents all the most elegant, intellectual and civilized things. Art, music and other forms of beauty are fields that contribute extremely special roles in our material life (Pentacles). The currency present on the card tends to lie on the ground. That image represents a message that even though it is important to take care for life, we do not always necessarily have to focus on the mundane trivial matter. We can enjoy the noble things of life.
The Nine of Pentacles can also be a sign of discipline and self-control. This woman is enjoying a cultural life because she has mastered her moral instincts. The image of the bird of grey symbolizes all the dark and unruly thoughts in human nature. In fact, the dark sides of each individual can only serve well when they are under controlled and ordered. Sometimes, this card is a call for you to show restraint and self-control if you want to achieve the highest effort. You may be sacrificing but what you get will be worth the trade-off.
This card also represents independence. Sometimes, you have to trust your ability to deal with situations. You need to solve problems by yourself instead of asking others to do it for you. Our elegant woman has made it. She had faith in her own persistence and determination, and now she is enjoying all the good things that life brings.
II. Nine of Pentacles Tarot Card Meaning
Discipline, Self-reliance, Subtle.
Be disciplined
Perform self-control;
Show restraint;
Control impulse;
Sacrifice to achieve the goal;
Stick to a program;
Carry out plans carefully.
Self-reliance
Resolve the situation alone;
Act on your own;
Use your own resources;
Do it all by yourself;
Want to be alone;
Feel that your way is the best.
Subtle
Have a comfortable lifestyle;
Avoid being indecent and immoral;
Well-conducted and diplomatic;
Seek high intellectual activity;
Enjoy a pure life;
Remember the elegance;
Enjoy leisurely time.
III. Opposite and Support Tarot cards to the 2 of Pentacles
Opposite cards
Empress – perceptive of mundane things;
7 of Cups – undisciplined, spoil yourself;
3 of Pentacles – teamwork, work with others.
Support cards
Chariot – self-control, discipline;
7 of Swords – rely on yourself, act on your strength.
IV. 9 of Pentacles Upright Card Keywords
grateful gratitude, luxury, self-sufficiency, supreme success
Words and Keywords
Self-control, attainment, money, success, material comfort, leisure time, achievement, harvest, self-esteem, happiness, pleasure, elegance, prosperity that comes from the previous effort, advantageous of real estate and property, inheritance, manna from heaven, dividends, ownership, refurbishment, material safety, extra income.
Satisfy, use your talents and potential wisely, take good care of yourself, benefit materially, independently, love nature and animals, enjoy the outdoors, gardening, care about the environment, solitary.
Introduce
The Nine of Pentacles is one of the positive and encouraging signs in the Pentacles suit. This card may imply that your financial concerns are over and that everything, in general, will be better than you think. You can enjoy this good energy and share your prosperity as well as happiness with others.
Overview
This card speaks of happiness and success, considering both your material and spiritual life. You can be proud of many things and expect the best will happen. You will be in a position to help those less fortunate than you. You should focus not only on the materialistic aspect but also on the spiritual one.
Work
If you are looking for a job, the Nine of Pentacles may be a sign that you have the opportunity to find a better job than you expect. Even if you already have a job, you can still expect a higher position, both in terms of working conditions and salary regimes. There will be many things you feel grateful for.
Love
This card is a great card about love. If you are in a relationship with someone, you can expect your relationship will advance to a new level in terms of intimacy and joy. If you are looking for love, this card tells you that there is a new person who can create a deep and meaningful relationship with you is about to appear.
Finance
Maybe, you want the fruits of labor (money) without having to do put effort or work hard. You should take the time and effort to assess your financial situation and carry out plan/goals/methods for what you want. Money does not grow on trees.
Health
The Nine of Pentacles is a very encouraging card about health. You will feel full of vitality, hope, and optimism about the future. If you are waiting for health diagnosis results, be assured that those results are likely to be very positive. The normal way of thinking will also have an impact on your health so let's think positive as much as possible.
Mentality
You must be feeling overwhelmed with peace and happiness. You feel your self-esteem is higher than ever and that is a good thing. In your current position, you will become the advisor/counselor for others and share the spiritual knowledge you have accumulated so far.
Situation and advice
This card describes a woman enjoying beautiful things in life while visiting her garden alone. She is reaping the fruit of using her talents and potentials smartly. The Nine of Pentacles represents a desire for financial security and promises of physical comfort and material benefits.
The management of real estate or assets is gaining momentum. Outdoor activities bring lots of fun. The plan to upgrade and redecorate the house goes smoothly. When this card appears in the spreading, we should review how we spend our time alone.
Human
The wife, an independent and self-employed person, a person who cares about the environment and protects other creatures; a person who is charming, beautiful, skilled, talented and has business skills; a smart asset manager; people who spend a lot of time alone.
V. 9 of Pentacles Reversed Keywords
overinvest, financial failure
Words and Keywords
Sufficient financial profits, unwise decisions, dependence, loss, deprivation, waste, theft, hasty decisions, foolish action, entanglement, consequences of those wrong choice, guilty conscience, illegal money, pollution, property or land trouble, financial failure, trouble with animals or pets, property burden.
Introduce
The reversed Nine of Pentacles is generally a good sign, however, it also warns that you should at least focus on disciplining rather than allowing yourself to be excessively self-indulgent. Life has a lot of pleasures but you will also need to constantly work hard to maintain those things. Do not oversleep on the victory for too long.
Overview
Although you have many things to be proud of and hope for, you still have to do what needed and make sure your goals and plans are clear and specific. If you are not sure what to do next, ask for advice from someone you trust. Always think positive.
Work
If you are looking for a job, the Nine of Pentacles card will tell you that you need to make sure that you are disciplined and following the right method. Once you meet that requirement, an appropriate/suitable job will come quickly. If you already have a stable job, make sure your boss and superior recognize your hard work. Do not let yourself be distracted at work at this time.
Love
The Nine of Swords reversed card tells you that if you are looking for love or want to find success in relationships, you cannot just sit there and expect the results to come. Action and initiative in your intentions are essential. You should always get ready to talk and listen to your lover and/or potential partner. Love is not something turns you into a perfect person but you will be the one that perfects yourself.
Finance
When assessing your financial situation, you also need to consider your prosperity in other terms such as health and family. You need to include those factors in the process of analyzing your financial situation. Considering a more materialistic aspect, this card also predicts that your financial cycle can also be improved. You will receive the reward you deserve if you work hard. You should also share what you have if possible.
Health
Like the upright meaning, the Nine of Pentacles reversed is an encouraging card in terms of health. In order to be truly healthy, you still have to do what needed and control everything in your capacity, such as eating properly and exercising regularly. If your inner side tells you that you need a doctor's advice (or advice from another health professional), trust your intuition and follow it.
Mentality
This reversed card shows that you have the ability to develop a strong spirit but you are lacking in inspiration to take advantage of many opportunities to act. You should do what you can in your ability; even a little time of research and meditation can bring you important and positive thoughts that are worth your effort.
Situation and advice
The success that was built on a shaky foundation is about to collapse. You may suffer the consequences of your mistakes or bad behavior. You should be cautious about shady transactions that can sacrifice your integrity. There may be property problems. Perhaps, your pet needs your attention.
Human
A person who has a guilty conscience, poor managers.
In a Tarot spread, the Nine of Pentacles may imply an interest in these areas. It also signals that you may need to cut off things that are indecent or offensive to others, instead, look for the most perfect.