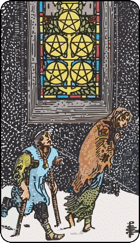 Five Of Pentacles – Rider Waite Tarot Deck
I. Five of Pentacles Rider Waite image description
Five of Pentacles, just like the other number five cards, depicts adversity. On this card, there is a poor couple walking in the snow with the background is the stained-glass window of a church. The church is a symbol of optimistic spiritual resources, helping people who are not able to help themselves. The man is on crutches because he is crippled and the woman tries to keep her body warm with a thin shawl. Both seem to be living in poverty.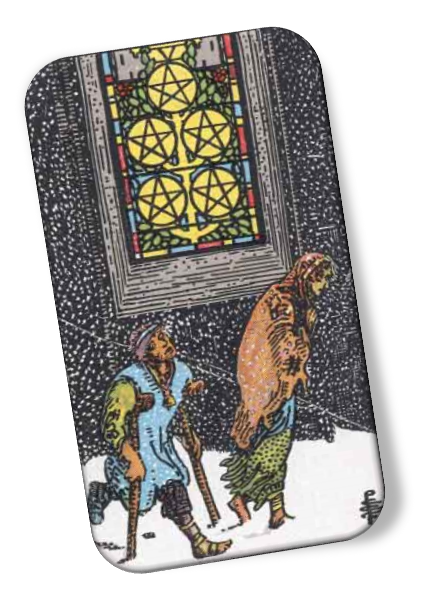 Two characters on the Five of Pentacles card are miserable, hungry, tired, sick and poor in the cold winter. What they are experiencing makes us feel as if the minimum needs of life are not even met. Those who have a prosperous and fortunate life may never have experienced such a situation, but we can still feel clearly the suffering. Obviously, when our basic demands are not met, it is no different from pain.
This card also implies a step backward on material and financial aspects. There is one thing for sure, your life will become very burdensome if you lack money or do not have a good job. When we struggle to meet our own basic needs, all other problems will become even more serious. Even if we have a comfortable life, we are still a little insecure and afraid that someday, the misfortune will sweep away what we have struggled to achieve so far.
The Five of Pentacles can also carry the message of denial, rejection or disapproval. People are individuals in a collective, who know how painful it is to be rejected by the community. We want to be engaged with others not only to satisfy our own emotional nature but also to find mutual support. Rejection can also become a difficult physical experience.
It also implies a mental shortage. According to the window in the card, it was possible to guess the two people walking silently were outside of a church. Apparently, the peace was in their reach, but they could not see it. The church is a place that clearly symbolizes our soul. People are born to enjoy the fullness of all areas of life but sometimes, we forget that it is an obvious human right. Whenever you fall into a predicament, always remember that it is just momentary. You should look for places that will keep you stable in terms of spirit, welcome you and at least offer you a safe shelter.
II. 5 of Pentacles Tarot Card Meaning
Difficult times, Poor health, Being denied.
Experience a difficult time
Encounter material difficulty;
Loss of job/income;
Feel insecure;
Overcome hard times;
Demand is not met;
Work hard to meet the basic needs of life.
Poor health
Feel depressed and tired;
Do not care about yourself;
Do not care about your body and your needs;
Being at the edge of danger;
Receive medical care;
Abuse of the body.
Being denied
Lack of support;
Being slammed the door right in front of the face;
Fall into difficult circumstances;
Being boycotted;
Being removed;
Endure alone;
Being unapproved.
III. Opposite and Support Tarot cards to the 5 of Pentacles
Opposite cards
Strength – strength, toughness;
Temperance – good health;
Sun – strong vitality, power;
6 of Wands – honor, recognition;
7 of Pentacles – material rewards.
Support cards
Tower – difficult time;
10 of Wands – work hard to meet your basic needs of life, hard times;
5 of cups – denial, lack of support, being unapproved;
3 of Swords – rejection, separation, lack of support.
IV. 5 of Pentacles Upright Card Keywords
isolation, insecurity, anxiety, financial loss, poverty
Words and Keywords
Loss, frustration, unfortunate, trouble, unemployment, arduous, proletarian, miss something, feel abandoned, financial tension, resources run out, talent is wasted.
Legal settlement, lack of trust, fail to pursue spiritual values, ignore gifts of faith, loneliness, despair, moral degradation, health problems.
Introduce
The Five of Pentacles may indicate the moment when life becomes insecure. It is important to remember that you can always find help whenever you need it, from both tangible and intangible sources. Although you may feel lonely, you still have the ability to change your status.
Overview
In general, this card represents the feeling of abandonment in the cold night as if you are the only one suffering while everyone else in the world has everything. You should be aware that everything is not as you think. You should take advantage of what you have and also remember that a wise person will know how to ask for help from outside.
Work
In terms of work, there are two possibilities that either your current job is a burden or you cannot find a job and your mind is stuck in a deadlock. You do not need to confine yourself to an unhealthy or unfavorable situation. Believe in yourself and the Universe (Destiny) that every change and improvement can happen. You do not need to do everything by yourself. If you want a new job position, talk to the people involved. Things will gradually improve, just keep hanging there.
Love
In terms of love, the Five of Pentacles is not a sign of happiness. Maybe, you are falling for someone who does not treat you right. It is possible that you should stop feeling for that person. Apparently, this card evokes a feeling of abandonment in the cold. In this world, there is more than one person who can match you, share with you all bitterness, sweetness, and maintain a long-term relationship with you. When love comes at the right time and with the right people, it will grow in a good way. You should expand your mental horizon in a positive direction. You deserve to be loved!
Finance
You may experience a feeling of losing money. You should carefully consider what things, skills or circumstances you may have missed. If you need financial help, make a request. The current time is just momentary. You just need to make sure you are getting good and effective advice.
Health
Other stress factors may be making your minor health problems become serious. You need to make sure that you can evaluate everything (even if you have neither a lot of money nor health insurance, there are always appropriate treatments as long as you are consistent), and try your best to control each issue one by one. Meditation and relaxation are the keys to improving your health.
Mentality
In fact, there are no difficulties/advantages that exist forever, especially if you are going through a difficult period to which Five of Pentacles refers. You should also keep your mind on the fact that we all have connections and allowing others to help you is also giving them (and giving you) a chance to receive joy and blessing. You should not insist on doing everything alone. Things will get better if you have faith.
Situation and advice
You may feel yourself being treated coldly. You may be financially stressed and may be falling into hard times. If your financial status is stable, you will realize that money cannot buy love. You may be biting off more than you can chew. At this point, it is the time to get rid of useless spending and other restrained situations in life.
This card shows the possibility that you are wasting your talents. In terms of career/business, the Five of Pentacles warns you to avoid risks due to the loss of money. A legal situation can lead to financial loss. Concerns about practical difficulties are preventing you from seeking spiritual guidance and mental comfort. If you ask about the relationship, it probably will not last long.
Human
The poor, the lonely, people who are broke.
V. 5 of Pentacles Reversed Keywords
recovery after the financial loss, mental poverty
Words and Keywords
(+) Spiritual awareness, improve working conditions, restored faith, better health, out of poverty/unemployment.
(-) Unemployment, failure, disadvantages, despair, money problems, extremely poor, serious deprivation.
Introduce
The Five of Pentacles reversed can be a sign of a stage where you are about to switch from a sense of insecurity to safety. Whether the cause is because you have realized that the time has come or because you have started to see new good prospects, this is still a positive move.
Overview
In general, this reversed card is the message that the previously abandoned feeling in the upright card is passing. Your confidence is now gradually being recreated. You should believe in every reason that makes you feel more comfortable.
Work
You may gradually leave the feeling of being stuck in work-related problems. New opportunities may suddenly appear within your reach. Let's go ahead with all your confidence and do not be hesitated. The dark period has stayed behind, so think positively and pursue what you want and need.
Love
In terms of love, Five of Pentacles reversed implies that you are probably feeling something is holding you back for a few unclear reasons. You suddenly feel more open to the relationship. Although there is a possibility of getting hurt, you will find yourself miraculously be loved more. If both of you have made a commitment, your relationship may become more intimate and satisfied. The only problem that this card points to is the thought of "us against the world" need to stop.
Finance
Concerns about financial issues are gradually removed. Something happens that makes you feel more comfortable. You just need to pay attention to what needed and do not hesitate to ask for help or support.
Health
You will feel better in terms of physique without a specific reason. Worrying too much about your health does not bring you any benefits, in contrast, makes the situation worse. You should think positive and have confidence that the improvement of your health will continue to be maintained. It is important to support your own health by eating healthily and exercising reasonably if possible.
Mentality
As life improves, you will gradually realize that you believe more in the Universe and the Supreme. You should be grateful for the good things you get and for the good people in your life. You can share the spiritual gifts that you have been given, even small things like sharing a meaningful story from your childhood. Let's give more.
Situation and advice
In the positive meaning, the Five of Pentacles implies the period of poverty and deprivation at the upright card has come to an end. Your health has improved. Problems related to money, income, and business began to disappear.
In the negative meaning, the difficulties at the upright card become heavier and more persistent.
Human
People who stand up from difficulties.
In a Tarot spread, the Five of Pentacles can represent a few shortcomings, first of all, poor health. When we do not have enough vitality and physical strength, we cannot overcome the challenges in life. This card may be a sign that you are somewhat distracted in meeting your basic needs. You are gradually neglecting the mission of meeting yourself good physical health, let's find out and try to fix this problem as soon as possible.