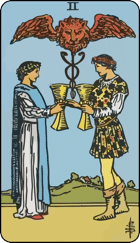 Two Of Cups – Rider Waite Tarot Deck
I. Two of Cups Rider Waite image description
The Two of Cups depicts a man and a woman exchanging glasses in a setting like a wedding and the scepter of Hermes is placed among them. The scepter was used from ancient times as a symbol of doctors and physicians, balance, health, the spouse (uniformity of opposite aspects), moral standards, protection and Cosmic energy. On this card, the scepter is a positive message for new partnerships and shows that with honor, respect and balance, the relationship will bring rewards. It may also indicate that you are engaging with another party to facilitate treatment.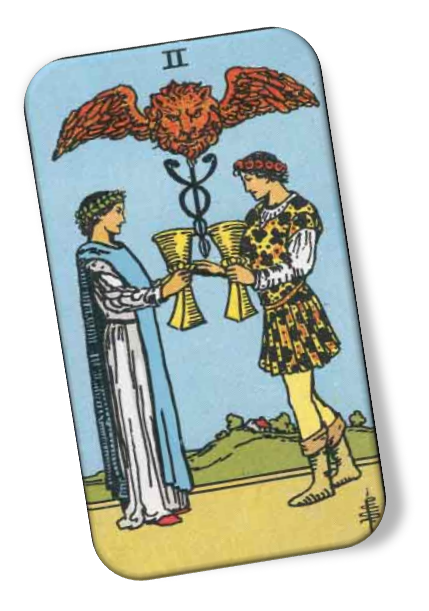 At the top of the scepter is the head of the lion which is a symbol of passion and energy of fire. It shows that maybe two people are sexually attracted to each other, although they are not showing it on the outside. The two snakes lift the scepter high to represent the darkness and the light as well as their existence in each of us.
To understand the Two of Cups, all you have to do is look at the picture of the card. A man and a woman are staring at each other, ready to drink up. This is a very romantic and sexually suggestive image. The energy between them can almost be seen and felt. This card shows the beauty and power created when two people come together. This is a card for those who are in love, and, in fact, this is a Minor Arcana card that carries an equivalent meaning to the Lovers in many ways.
It also has a deep meditative meaning. Whenever two resources are in harmony, there will be a possibility of cohesion, a link will be formed. This card can represent a combination of two entities – people, groups, ideas, or talents. If the Two of Cups appears in a single spread, it suggests you find connections in your life, especially in personal relationships. This is not the time to live separately or to stand outside, but it is time to get along with everyone and work together as a partner. If you are in the midst of a conflict, look for the "armistice" agreement and the opportunity to forgive and be forgiven. If you are struggling with two choices, find ways to reconcile them.
II. Two of Cups Tarot Card Meaning
Connectivity, Armistice, Attraction.
Build a connection
Join with others;
Celebrate a marriage or unity;
Strengthen the friendship;
Establish a partnership;
Work together;
Share;
Help and get help;
See the similarities.
Call for an armistice
Heal a relationship;
Resolve opposing opinions;
Let the past pass;
Come to a satisfactory agreement;
Declaration of peace;
Forgive and forget.
Aware of the attractiveness
Recognize a growing ties;
Accept your preferences;
Allow yourself to be manipulated;
Move forward;
Feel a positive response.
III. Opposite and Support Tarot cards to the 2 of Cups
Opposite cards
Hermit – need to be alone, lonely;
5 of Wands – dissent, on the outside, no peace;
4 of Cups – only interested in myself, alone;
5 of Cups – split the relationship.
Support cards
Lovers – united, married, connected;
Temperance – connect, work together;
10 of Cups – kinship, family relationship, connection.
IV. 2 of Cups Upright Card Keywords
love consolidation, collaboration, attraction, relationships
Words and Keywords
Sharing, warmth, charisma, early stages of a harmonious relationship, romance, love story, happy atmosphere, exchange for each other, relationship, friendship, fair partnership, a business deal, giving and receiving equity, cooperation, reciprocity, kindness, affection, the end of hostility, insight, emotional equilibrium, harmony, marriage.
Respect each other, find common things, reconcile, commit in a relationship, purely ideal love, sign a contract or agreement, engagement, I love you.
Introduce
The Two of Cups shows the beauty and power created when two become one. It reflects balance, mutual respect, and harmony in the relationship. Not "me", but "we", and both parties are focused on a favorable outcome for all or both sides will win.
It usually refers to the normal love relationship, but that is not the only meaning of this card. At the same time, it implies balance, friendship, joy, and sharing.
Overview
This card usually points to a relationship based on mutual attraction and romantic tendencies. It reflects the clear exchange, nourishment, support and sincerity of emotions coming from romantic relationships. It represents the love that is nourished, creative, focused, inspirational, and fulfilling. In a spreading, this is usually a good start to a new relationship in which you will experience deep understanding, harmony, and love between two souls. The seed has grown into a tree of respect. Kindness and thoughtfulness will link your two hearts together with the feeling of being together.
Generally, this is a card carries the message that things are likely going well. You will feel more loving, caring, and satisfied than usual.
Work
The Two of Cups shows you are appreciated for your ability, you will feel more comfortable in the work very clearly, even if you do not like your job anymore. If you are looking for a job, it seems like you will find it soon.
Love
This card represents true love, balanced relationships, responsibility and most of the thing we often desire when it comes to love and relationships. Anyway, that does not mean "no matter what", your relationship/love will remain strong. It only shows the background, the real factors, the stability and the potential for true love as well as the glamorous existence. And if you are looking for love, then relax, love is about to knock on your door.
Finance:
In terms of finances, this card implies balance and fairness. You are not too rich but for now and for the foreseeable future, you will find that at least you will have more than enough to "fulfill your obligations". And that is just the beginning.
Health
If you are facing a health problem, then you may need to find a therapist, a person you trust, and a good collaborator. They will help you heal the disease. The Two of Cups is also a good omen when it comes to health – you should also keep a positive attitude, which is very important (and supportive) to become better.
Mentality
You may feel the energy of yourself and the Universe become as one. This is one of the cards that represents the chakra and the gate that connects to the heart. You will feel the love with everyone and everything more than usual. Share that good source of energy, because the world always needs more love.
Situation and advice
At first glance, the Two of Cups has the same message as the Lovers. However, the energy of the Two of Cup is slightly weaker than the Lovers. While the Lovers is a complete reunion of two people, this is a union which is less mature and stable as it shows and can break down over time. So, for now, maybe the harmony of it is strong, but can it last forever? Only two people who are related can decide this.
This card shows the continuation of a harmonious relationship. If a dispute arises, you can find common things and compromise between opposing views. This is also the time to cooperate and negotiate with others. There may be solutions to problems or reconciliation. You can decide for yourself to sign a contract or a binding agreement.
If you ask about the relationship, Two of Cups promises harmony, understanding, friendship, and romance. Engagement or marriage can happen. There is a spirit of cooperation throughout the working environment. A thoughtful gift is being prepared.
Human
A Couple, a partner, a friend, a lover, a colleague.
V. 2 of Cups Reversed Keywords
break up, the imbalance in relationships, lack of harmony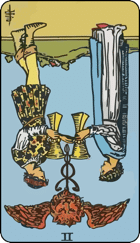 Words and Keywords
Refusal, separation, disillusionment, termination of partnership, cancellation of a contract or a binding agreement, confused relationship, lack of compassion, unrequited love, the departure of a loved one, distrust, unfaithfulness, quarrels, misunderstandings, disagreements, contradictions, indifferent attitudes, giving and receiving unfairly, a broken agreement, disharmony, resentment, hatred, controversy, argument, injustice, divorce, not easy to split up, separation is a silent suffering, I hate you.
Introduce
With the Two of Cups reversed, you will have trouble establishing a loving relationship or relationship with a new partner because of a lack of trust or unfinished business in the past. You do not like to open your heart and express true feelings, leading to isolating yourself from the surrounding people. Your gestures and behavior have become too cautious and awkward.
Overview
This reversed card may indicate a break-up or lack of harmony in a loving relationship or partnership. Both may not understand each other, leading to the tension in the relationship. Since then, both will be dishonest with each other and have trouble communicating as well as easily misunderstanding each other.
In the upright, the Two of Cups is a very good card, which speaks of balance and bonding. Conversely, it says that you are under the other person's control, just as the partner think they are better than you or their opinions are more important.
Work
When you get this card in reverse, you may find that suddenly you do not like your job as much as before, and you may feel uncomfortable as if your colleagues are behaving in the opposite ways to you. Do not panic. This is probably a transient phase. But if the current job does not suit you, then you may need to start thinking about making a change. You should believe in your instincts.
Love
In general, you will need to make sure that you do not pay too much attention to love to forget about other factors in life. If you get this card when you have a problem in a relationship, it may be time to forgive and forget about the past. Let's start over.
Even if your relationship is progressing smoothly, this reversed card shows that it is not the feeling of the heart but the appearance. To be easy to understand, this relationship does not seem to last.
Finance
The Two of Cups reversed usually indicates the balance and fairness associated with the money. If you are having money problems, try looking at your relationship status with the people you work with. Is there something you can do to improve your relationships? If you can realize that, you will probably improve your cash flow.
Health
If you are facing a health problem, this reversed card may indicate a need for you to consider your feelings about allowing others to help you. You may need some healing, but it may be hard for you to get help. In general, this Cups card is still a good omen when it comes to health. Keeping a positive attitude is very important right now.
Mentality
This is the time to look at the emotions of the energies of the universe as well as the emotions of yourself. The Two of Cups is one of the cards that represents the chakra and the gates to the connection of the heart. You should look for your joy, your happiness, and share it for everyone. No one can do these things for you except yourself.
Situation and advice
You may be bothered by leaving the person you care about. There may be cases of broken trust, repudiation, cautious attitude, hurt feelings or unpredictable partnerships. The atmosphere is not harmonious around you. Some people are upset by selfishness and the controversy is sure to happen. One side always gives and the other side only receives.
Human
The old partner, people who lose the trust of others, people who always get but not give.
Usually, the Two of Cups Tarot card is welcome in a spread, but it can also be a warning. The energy of this card is very attractive. If you have been with two people in love, you will understand. They create a world of their own, completely separate from those outsides. "Two people make friends, three people make a crowd". Make sure that the pairing trend does not create a sense of lack of harmony in your situation.