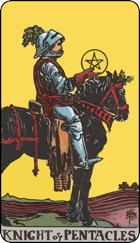 Knight Of Pentacles – Rider Waite Tarot Deck
I. Knight of Pentacles Rider Waite image description
The Knight of Pentacles represents the work, effort, and responsibility after the Page of Pentacles has set its dreams. This Knight sat on a large horse in the middle of a field. He holds a coin in his hand and his eyes reflect thought and consideration. Knight always takes the necessary effort to fulfill his dreams. He is building the foundation for his dreams and goals.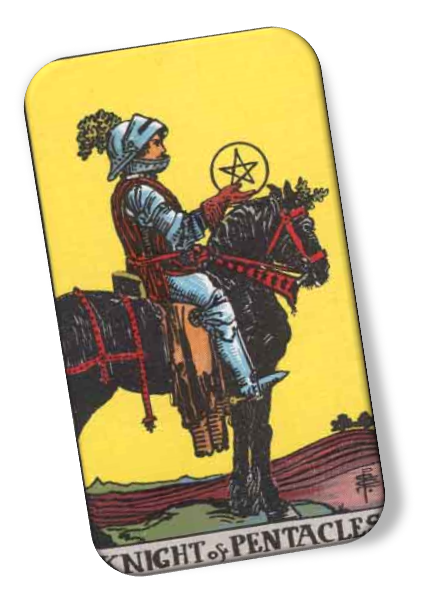 On the positive side, Knight once he has made up his mind taking action, he would not give up. He persistently pursues his goal and has great endurance and ability to devote as a diligent warrior. He completes each job to the final detail. Besides, he is careful, never neglected, always realistic, and says no to the false promises.
On the negative side, the Knight of Pentacles is somewhat stubborn and slow. He has no sense of humor. He always gives first priority to work, tends to lack flexibility and easily obsesses by small details, is stubborn when making mistakes, refuses to give in even if he is not right, and will never admit that he is wrong. He does not like change or risk and his views are often negative
If the meaning of this card does not fulfill you, you need to be careful. You should restrain yourself if you are spending too much; be confident and do not give up if you are pursuing something; be more diligent and complete all deadlines if you are often distracted and get behindhand in your work. Let this Knight take you into the world of his caution and steadfastness.
II. Knight of Pentacles Tarot Card Meaning
Consistent – Headstrong, Caution – Unadventurous, Painstaking – Obsessive, Reality – Pessimistic, Diligent – Hardworking.
Consistent – Headstrong
Persistently pursue a goal – Stubborn and headstrong;
Not giving up – Stick to the position;
Stand firm against opposing pressure – Have your own plan;
Stand firmly in the chosen direction – Refuse to listen to the reason;
Maintain personal values – Refuse to compromise.
Cautious – Unadventurous
Check many times – Too reserved;
Pre-check every possibility – Miss the opportunity due to hesitation;
Handle slowly and carefully – Test new things reluctantly;
Enjoy a safe and familiar path – Develop each step safely;
Cautious and careful – Afraid of risking.
Painstaking – Obsessive
Interested in every detail – Do not know how to stop;
Meticulous – Too picky;
Fix all mistakes – Want everything perfect;
Never work half-heartedly – Lack of flexibility and coercion;
Painstaking – Consistently seek perfection;
Complete what has started – Do not just accept reality.
Reality – Pessimistic
Willing to look at the truth – Focus on errors;
Face the truth – Think of others as dreamers;
Not being tempted by false hope – See the negative sides instead of false positives;
Evaluate the situation in a straightforward way – Boring view;
Predict the problem – Kill a project right from the start.
Diligent – Hardworking
Focus on work – Excessively focus on work;
Hardworking and diligent – Can become fierce;
Create double productivity – Think that enjoyment is a waste of time;
Handle chare dynamically – Make others do too much;
Forget the feeling of fatigue – Forget the joy of living.
III. Knight of Pentacles Upright Card Keywords
effective, habitual, conservative, methodical
Words and Keywords
An important event related to material matters, new experiences, business travel, assurance, dependence, patience, perseverance, prudent measures, unexpected sources of money or income, hard work, practice, ritual, wise awareness, profoundness, trustworthiness, safety, methodical work.
Pay attention to details, caution, calmness, kindness, seriousness, loyalty, maturity, consideration, work orientation, animal and nature lover, enjoying the simple pleasure, the propaganda, slowly but surely, time heals all wounds, better a neighbor near than a brother far off.
Introduce
In Rider Waite tarot deck, The Knight of Pentacles implies messages that are often about money and finance. When this card appears, you are more likely to receive the news you are waiting for which are good ones (but not the kind that says you win the lottery). This is a card about reality.
Overview
This card reminds us to focus on the matters of the physical world and the ordinary areas of life. There is a saying that "Practice makes perfect". Thus, this Knight card asks you to review and consider the ways you are using to solve your problems.
Work
This is not the time to offer alternative methods instead of the usual ones to solve your task. If you are looking for a job, this may be a good sign that the position you need is coming to you. However, you should also pay attention to participating in interviews and make sure you impress your employers with your credibility and consistency because they do not like employees who do not take things seriously.
Love
In terms of love, Knight of Pentacles implies the responsibilities and obligations of each party in a long-term relationship. Love is not always about passion and romance. True love will include the willingness to work together to overcome challenges and build a strong foundation. If you are looking for a lover, this card is a clear sign that you need to change your old way of thinking and action if you want to meet a new person. You need to trade something to get what you want.
Finance
When this card appears in terms of finance, it tells you that you will soon have more money in various forms, such as getting a raise, winning a lottery, inheriting property, etc. Anything can happen. However, you still need to work hard and do not invest more than you can afford.
Health
Regarding health issues, the Knight of Pentacles implies that your greatest problem is pessimism. You should consider whether you get enough sleep, do exercise moderately, and eat enough nutrients or not. Let's take it one step at a time. That may be a way to improve your life which you can adapt and maintain for a long time.
Mentality
In terms of spirit, you may suddenly find yourself being overloaded without a specific reason. You can try to control each problem at a time. You are halfway through a period of mental change when this happens. Keep in mind that you change to become better.
Situation and advice
This card advises you about opportunities, issues related to work, property or financial security. You may be about to have a new or unexpected source of property. Money can come from many sources. A building or long-term business will reach a new level of profit. A slow but sure process leads to success. Your hard work will pay off. A faithful friend may be able to help you or you may have to help others.
You may have business trips. The issue of property and real estate is progressing well. If your question is about starting a family, the Knight of Pentacles shows desire and fertility. If it represents the aspect of your personality, you may be more interested in tangible results than the feelings of others. If you ask about love, you can expect a stable and safe relationship with a trusted lover.
Human
People who are sensitive, devoted and reliable; accountants, financial managers, traders, craftsmen, mechanics, people working in the industry, engineers, mathematicians, business travelers, landowners, people who are tolerant and diligent, patient people, hard-working people, serious and methodical people.
Someone who has a career orientation and does not care about the feelings of others, a loyal friend, someone who perseveres towards the goal, who loves nature and animals, veterinary physicians.
IV. Knight of Pentacles Reversed Keywords
lazy, depressed, feeling stuck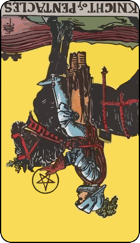 Words and Keywords
Greed, trouble about money, hindrance in business, non-transparent financial transactions, dead ends, stupidity, hardship, lack of inspiration, laziness, stubbornness, boredom, blandness, carelessness, nonsense, irresponsibility, waste, avarice, lack of planning, dullness, lack of progress, haste, stagnation, obstacles, impatience.
Energy is dispersed, depressed, dissatisfied, indifferent, weakness, complacent, timid, overly conservative, reject emotional risks.
Introduce
Even though you may be feeling a sense of laziness, lethargy, and lack of excitement about what is going on in your life, there is one important thing you need to know that you are the only one who can change yourself. Let's learn new things, open your heart and think about the changes (but of course, do not exchange good things for bad changes).
Overview
Knight of Pentacles reversed implies that it is important for you to change yourself. You should try new thing, study or research some other aspects, meet new people or pursue a new hobby, but do not lose the good things that you have.
Work
Regardless of whether you are employed or self-employed, this Knight card will be a message to remind you that you need to be focused, diligent, and careful about every aspect of your work. If you neglect or reduce enthusiasm for a task for any reason, it may cause loss or damage to your work. Always pay attention!
Love
The Knight of Pentacles reversed may imply that you are feeling a little bored with the current relationship. You can try to have an honest conversation with your lover. Almost no one has the ability to understand what others think, so speak out the request for what you want and need. If you are looking for love, this is not the time to "rest". You should give signals to those who are potential and allow yourself to have fun. No one but you can make your life more interesting.
Finance
At the very least, if you work hard and complete the assigned tasks, your financial situation will be stable. Do your best with what you have in hand. In addition, this is not the time to invest riskily.
Health
The Knight of Pentacles reversed indicates that your health will be significantly improved as long as you carry out what needed, such as proper nutrition, moderation of exercise, getting enough sleep. You should not play thrilling games or extreme sports when this card appears.
Mentality
Although the meaning of this card is more related to work and physical aspects of life, you should know that there are many things in life besides work. You should take the time and space to explore other aspects of yourself. Let's talk to people who are knowledgeable about spirituality and consider meditation.
Situation and advice
You are feeling depressed and reaching a deadlock. Maybe, you are too conservative or following methods that are no longer effective. If you ask about the financial aspect, money-related events are currently hindering. Maybe, you are being paid less or are demanding too little benefit for what you are doing. Most likely you are bored with meaningless life and relationship. Your indifference and boredom are preventing you from enjoying life.
Human
Hardworking people, idiots, hoodlums, jobless people, people involved in dishonest financial transactions, people who leave hard work for others or refuse to work, irresponsible people that might involve bad debt, people who are rushing and making mistakes; people who are greedy, taking advantage of others and vulgar; people who are different, lack of inspiration and complacent.
In a Tarot spread, the Knight of Pentacles's caution can be related to the situation of you, someone else or the overview. You need to ask yourself whether this Knight's energy will be useful to you or will hurt you. If the meaning of this card corresponds to your current situation, balance is necessary. You should consider whether you are too perfectionist, working too hard, or refusing to listen to the reason or not. If so, this may be the time to change.