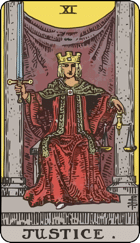 Justice Tarot Card Meanings
The Justice Tarot is influenced by the Libra and the card number is eleven. She sits in a chair, wearing a red robe, holding a sword in her right hand and a balance in her left hand. The crown has a small square that represents logical thinking. we can notice the hook of the gown she was wearing. The square symbolizes the law, the circle of protection and the eternal state of unity in all of us.
Swords has two blades which are able to slice in many directions, representing justice. It also implies victory. The sword in her right hand represents a logical and orderly system of thinking which is needed to enforce fairness. The balance on her left hand – the intuitive hand, shows that logic must be harmoniously balanced by intuition. The white shoe that emerges from her cloak reminds us of the mental consequences of her actions. The purple cloth hanging behind her shows sympathy and the gray pillars represent the constraints of the material world.
The detailed description of Justice Tarot card
On card number eleven, there is the image of the Justice Tarot card. One hand holds the balance of justice, and the sword ruling on the other hand.
This character evokes a very serious feeling which is an atmosphere in a court. This card addresses all legal issues but is not limited by only the law. The court is where the judgment and the decision is made. The legal system is a formal arena where people discover the principles of justice – fairness, impartiality, and truthfulness.
Sometimes, this is the signal to do what needs to be done. It's time to take responsibility. The past will always haunt you until you realize the mistake and correct it. You will need to consider everything carefully and make important decisions about the future.
Keywords related to the Justice Tarot card: Justice, Responsibility, Decision, Cause-Effect.
Detailed meaning of the keywords of Justice Tarot card
Respect justice
Focus on fairness;
Behave on ethical principles;
Concerned about the rule of law;
Make sure to be honest;
Seek justice;
Unbiased;
Try to do the right thing.
Take responsibility
Arrange the things that are owed to others;
Dare to take responsibility;
Get to know the truth;
Acknowledge the self-involved;
Take control of the situation;
Do what needs to do.
Prepare to make decisions
Consider every aspect of the problem;
Prepare for future progress;
Balance all elements;
Decide the right way;
Decide when there is enough information.
Understand the cause-effect
Accept the results you create;
See the way we create the situation;
Recognize the law of cause and effect;
Understand what is reasonable;
Link events together.
A few opposite Tarot cards to Justice Tarot card:
2 of Swords – hide from the truth, hide from the responsibility;
5 of Swords – do not work properly;
7 of Swords – hide from the responsibility.
A few support Tarot cards for Justice Tarot card:
Emperor – justice, rule, law;
Judgment – decide, accept past actions/mistakes;
10 of Wands – take responsibility;
9 of Swords – regret the past, admit mistakes;
7 of Pentacles – know your present, decide the future.
Upright meaning of Justice Tarot card: justice, righteous, honesty, cause and effect, rule
Words and Keywords
Legal issues, equilibrium, harmony, balanced recovery, fairness, arbitration, neutrality, impartiality, maintain proper balance, order being restored, accountability, integrity, conscientiousness, careful selection, conscience review, state of balanced consciousness, mental strength, rationality, fair results, right decision.
The clear view, the interference of the law, the necessary decision to maintain justice, law and order, trial, judgment, deal with law, litigation, contract, binding agreement, settled, an apology, consensus divorce, power to enforce justice, virginity, balance and weight, justice will triumph, step into my shoes!
Introduce
Justice Tarot card is the embodiment of the law of cause and effect, which states that every event, every human being is linked together. It's important to remember that not everything you face comes directly from your actions, which may be due to someone that you care about, and this can be difficult and challenging when you have to deal with the consequences that you have caused before. Do not blame yourself unnecessarily.
Overview
This card evokes the desire to seek justice, balance and harmony. Do your best to make a balance and rationality, including the way you think and treat yourself. If you are directly involved in a judgmental situation, there is a high probability that everything will be resolved well.
Work
In terms of work, the Justice Tarot in the upright means that you should make sure that your work and life are in the right place. If you focus too much on one certain aspect, you will lose balance. For most people, some aspects are easier than others, so make sure the other ones are well taken care of. Balancing is a necessary standard for moving forward.
Love
If you are wondering whether you and your partner are going to be together, the answer will be no. In the future, if you are alone, you may soon have a serious relationship. Be clear for what you want from a relationship, then you will soon get it.
Finance
Justice Tarot card implies that this is the time to play with the opportunities. Normally, when this card appears with the finance issue, it can mean that the godsend will come to you. Even if you do not take part in any business venture, it's possible that the money you do not expect will come. That is very good. Use it wisely.
Health
You should focus on balance in life and living in the present. Moderation is not something that is only for monks, but it is essential for a healthy and independent life. You may be out of balance – especially if you have a health problem, seek treatment. You have the ability to do that.
Mentality
Feel the existence in the present. Do you feel connected with the earth and the people around you? Do you feel that you belong to this world? Balance, again, is something to keep in mind. Choosing a comprehensive view of life will help you hold things.
Situation and advice
Justice Tarot card appears when you need to consider a variety of factors to make an informed decision. This card warns you that you need to think carefully and wisely before making the final decision. It is a card of calmness and balance. You will have to look at your conscience and consider other people's views well before making a moral choice. The highlight here is the issue of fairness.
This also shows that you are involved in legal proceedings in the near future. Legal issues will proceed in a fair and disinterested way. Justice will eventually win, especially if the upright major Judgment also appears in the spreading. Equitable results can be obtained through the support of an impartial third party. If someone has done something wrong with you, you will soon be able to get an apology. If you have acted unfairly, you will face the consequences.
Human
Arbitration, lawyer, judge, witness, legal entity, court, the decision maker, apologist.
Meaning of Justice reversed: unfair, lack of transparency, dishonesty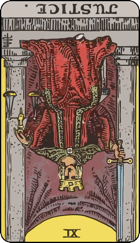 Words and Keywords
Treat unfairly, unfairly, justice is hard to reach, equivocation, lack of commitment, do not get what you deserve, lose balance, redundancy, loss, slander, not apologize for, wrong decision, injustice, unfair result, persistence, bias, prejudice, abuse, conflict, siding or taking advantage of others, not favoring any side of a problem, lose balance, neutral attitude.
Intolerance, legal issues, problems, illegal actions, bureaucracy, unequal judicial decisions, non-consideration, nepotism, separation, prolonged litigation, manipulation, peace at all costs, fighting, tending to offend other people's emotions, cruel and unusual punishment, taking the law into their own hands, abusing legal rights, lawlessness, self-confidence , the brutality of the police, bending the law,no excuse for the defense, I will never admit I was wrong
Introduce
Just like the upright meaning, the Justice reversed is the embodiment of the law of cause and effect, which states that every event, every human being is linked together. It's important to remember that not everything you face comes directly from your actions, which may be due to someone that you care about, and this can be difficult and challenging when you have to deal with the consequences that you have caused before. Do not blame yourself unnecessarily.
Overview
You are feeling that there is something wrong in life, maybe you're right. However, you may not be able to do much to change it, if so, try to learn to accept the truth and not being so hard on yourself.
Work
You may be treated unfairly. However, perhaps there is nothing you can do to change that. Objectively and scientifically minded about what is happening and do not let emotions overwhelm yourself. Pay attention to the balance of life and work. Over-emphasizing only on aspects will cause unbalance. Seeking advice before making a key decision. Things may not be okay. However, the solution may take time rather than simply run away from the present or antagonize the present situation. Slow down your reaction.
Love
Let's see how you are impacting this relationship. You may feel treated unfairly, however, things can not fall from the sky. How did you contribute to this situation? If you are looking for love, and you think you are ready for a long relationship, turn out it is your behavior which makes you can not have it. For example, if you are too busy trying to change your life to fit your lover, then maybe you need to respect and love yourself first before someone, who loves you, appears. Be modest and alert.
Finance
Justice reversed shows that this is not the time to take the risk. Be careful with money, especially cash, keep your mind on where it is, and who can get it. If you are waiting for help or financial advice from someone else, the high possibility is that you have to wait for quite a long time. Learn to be patient.
Health
This reversed card is similar to the upright, it is important to focus on the present and try to keep balance. Moderation is not something that is only for monks, but it is essential for a healthy and independent life. It's time to seek advice from experienced people and different therapists if you are having problems.
Mentality
No matter what happens and how unfair you feel, you should be alert and calm. Anger and desire to torture others will not help. If you find it too difficult to read, try to find the current Dalai Lama's articles, it will help a lot. Practicing the sympathy for yourself and for the world. Do not isolate yourself in torment.
Situation and advice
The Justice reversed tells you that what you truly deserve may be delayed. You may fall into a situation where you feel like you have been treated unfairly. Maybe you are the victim of a felony or you have falsely accused others. Someone who is involved in a decision about you may have prejudice. Your overconfidence or lack of certainty may be harming you. You may have to quit your job and make a certain decision to pursue your goals.
An authorized person may be abusing his power. An apology may have been made but not yet ready to be told. Do not go against the law yourself because there is only more injustice. You need to stop being neutral because of the fear of making others sad.
If you are involved in litigation or arbitration, the result may be costly or unprofitable for you (especially if the reversed Six of Wands appears during a spreading). If you are considering or in some way, you are judged, the results may not reflect what you really know, perhaps because of some unfair aspect of the situation or perhaps because you are not yet well prepare
Human
The slanderer, a person who discriminates or treats another person unfairly, who does not accept apologies for previous mistakes, seducer, the crowd, those who have neutral attitude, people with prejudice, blind judges, corrupt judges, bad secretaries, bandits, civil defense groups.
In Tarot spread, Justice Tarot symbolizes the realization that life is always fair. However, daily life with so many erratic things always makes us doubt this, this card reminds us that the balance always exists. When reading, it often appears when you have to consider what is right and what you deserve. This card also appears when you feel the effects of past mistakes or good behavior you have made.
We can see the similarities between this card and the Emperor. Both represent the order in the universe: the Emperor in the Order of the World while the Justice Tarot card in the Law of Cause and Effect.
More The Justice Cards from Famous Tarot Decks
1. The Adjustment Thoth Tarot
The Adjustment Thoth Tarot card contains different topics. It represents objective and clear perception, consciousness, making judgments judiciously, immortality, balance, and fairness. It also shows that we will get what we deserve.
<< See More >> The Adjustment Thoth Tarot Card Meanings
2. La Justice Tarot De Marseille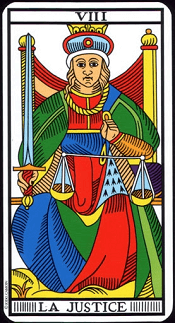 Justice – La Justice Tarot, the most approachable incarnation of the great female prototype the Moon (XVIII), will often represent the mother or pregnant woman. This card also opens up spaces for strong defensive reflexes.
<< See More >> La Justice Tarot de Marseillle Tarot Card Meanings
3. The Justice Shadowscapes Tarot
Justice Shadowscapes Tarot means balance, harmony, justice, accountability, measuring all aspects of a problem before making a decision, choosing with full awareness.
<< See More >> The Justice Shadowscapes Tarot Card Meanings
4. The Breakthrough Osho Zen Tarot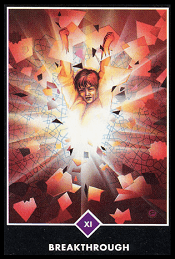 The Breakthrough Osho Zen is a great adventure in life to overcome an accidental breakup. It is the greatest risk as there is no guarantee that the breakup will become a breakthrough.
<< See More >> The Breakthrough Osho Zen Tarot Card Meanings 
5. The Stag Wildwood Tarot 
The Stag Wildwood Tarot is the king and guardian of the forest. He is half-human and half-animal, surrounded by greenery. His gaze is very steady and calm. He holds a shiny hatchet and a shield in his hand. 
<< See More >> The Stag Wildwood Tarot Card Meanings
6. The Justice Deviant Moon Tarot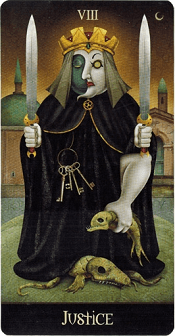 Justice Deviant Moon Tarot involves moral sensitivities and that gives rise to empathy, compassion, and a sense of justice. Since Solomon's time, this image has represented a standard for humane and equitable treatment of other living beings.
<< See More >> The Justice Deviant Moon Tarot Card Meanings
7. The Justice Linestrider Tarot
Justice Linestrider reflects your search for truth and represents the results of your actions and the consequences of your decisions. Justice in a Tarot spread shows how long it takes to make a decision.
<< See More >> The Justice Linestrider Tarot Card Meanings