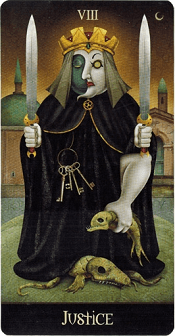 The Justice – Deviant Moon Tarot Deck
I. The Description of Justice Deviant Moon Tarot
The great Justice keeps the two swords in balance while controlling the capital. While this action may seem fair, downfall often occurs from the junctions of a righteous and idealistic society.
It will be a surprise for newcomers to the Deviant Moon Tarot or for readers who own traditional decks because this Tarot deck has turned the order of Justice. The number 8 should have corresponded with the Strength and Leo astrology, but with a bit of logic and looking at the explanation of the number 8, it is somewhat acceptable with this new order of arrangement.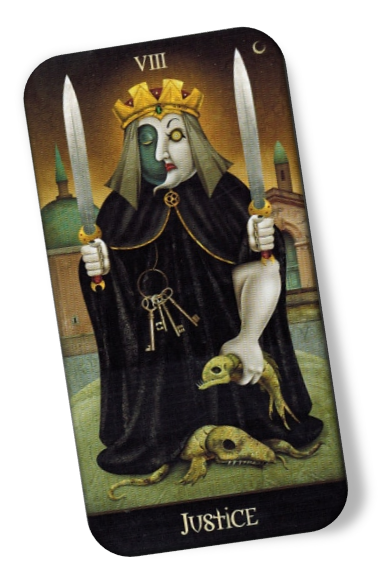 How you think is fair, do you believe in justice, do you believe in balance in this life? After each person's experiences in life, is the balance of life on your side? The chariot was born, and on the way to learn about that life, he began to learn the so-called justice in this life. That is why Justice comes in.
Did you notice Justice no longer has the article "The" in front of its name? Because the article "the" is only used to identify a subject, event, and thing. But no one can define justice. There must be no less than once you have felt injustice in this life.
Deviant Moon Tarot's way of speaking about this card is pretty plain. Balance is in Justice's hands. This person possesses 2 faces, dark moon and bright moon, and is the embodiment of evil and good. Neutrality is evident on the face. Justice cannot be said to be male or female, so the representation of both evil and good is even more plausible.
Justice Deviant Moon Tarot holds two swords in hand, reminding us of the previous Chariot card's analysis: two swords represent barriers. Before we act, we must overcome the barrier of justice and psychological benefits. On the sword draw 4 or 5 red circles, as the representative of Four of Pentacles or Five of Pentacles. The brief interpretation of the two cards is standing still, caution in action, solitude, and end in thought.
Can you see the skeleton and tails sticking out from the mantle? Do you believe that just one of the two swords falling will cut an arm off? The crown on the head represents supremacy, with a blue jewel in the middle symbolizing knowledge, vision, and love – the blue of the sea, the generosity, the vastness that Justice can reach.
The key hanging on Justice's clothes represents the opening or closing of power, knowledge, secrets, enlightenment, or hidden curiosity. Balance is shown even in the fact that the 4 keys are split in two: two of them are facing the same direction. Different lengths and forms show the individuality of each key. They are in the same cluster but open a different lock.
All Justice's features will be balanced and symbolic of symmetry but look a little closer, you will see that two sides of Justice's bodice are disproportionate. The badge in the middle of the chemise is a stylized symbol of "Triquetra" – which in the original meaning is "triangle".
This symbol is found in ancient stone statues in Scandinavia, ancient pagan goddesses, or German currency from the beginning. It is used in divine symbols and has a bit of Christian influence. A brief outline of the meaning of the triangle: the triangle is referred to as the symbol of gender, creativity, symmetry, illumination, ascension, expression, harmony, subjectivity, or absolute peak.
In the back of Justice is an image of a door with a lock. But whether the key on Justice Deviant Moon Tarot can open or unlock something, no one knows!
Going back to the final commentary: the meaning of the number 8. People refer to number 8 as a symbol of luck and money. According to the concept of Chinese culture, the number 8 is identical to the fortune, especially when paired with number 6. Many people believe that number 8 will bring them both financial and business benefits, many entrepreneurs own the phone number or license plate containing as many 8s as possible.
In the Tarot, the number 8 can be the symbolic combination of two zeros – The Fool, a vicious circle without an end, or a unified balance. The image is like a handcuff that ties everything together, justice has been enforced. Or ambition, direction, focus on results, and money is only used as a tool. A balance between misconception and building trust. Number 8 knocks on the door as prosperity comes to you. Anyway, it is also the synergy combination of money, benefits, and going in a good direction.
The corresponding astrology of Justice Deviant Moon Tarot card is Venus in Libra. The constellation Libra with an image of a scale and the white-gray land is the symbol of Venus.
II. The general meaning of Justice Deviant Moon Tarot
Keywords and extensions: Balance, Strong personality, Fair, Legal issues, Equilibrium, Harmony, Fairness, Arbitration, Neutrality, Impartiality, Accountability, Integrity, Conscientiousness, Careful selection, Conscience, State of balanced consciousness, Mental strength, Rationality, Interference of the law, Law, Order, Judgment, Litigation, Contract, Binding agreement.
Justice involves moral sensitivities and that gives rise to empathy, compassion, and a sense of justice. Since Solomon's time, this image has represented a standard for humane and equitable treatment of other living beings.
Usually includes the image of a fulcrum or scale that balances the need for competition with greater interest and a double-edged sword to symbolize the precision needed to make clear judgments, this card prompts us to be careful when considering these important details. It is a mistake to ignore or minimize anything related to this card. The law of karma is shown here – you reap what you sow.
III. The reversed meaning of Justice Deviant Moon Tarot
Keywords and extensions: Abuse, Divided into factions, Bias, Equivocation, Lack of commitment, Redundancy, Loss, Prejudice, Abuse, Conflict, Take advantage of others, Intolerance, Illegal actions, Bureaucracy, Non-consideration, Nepotism, Separation, Prolonged litigation, Manipulation, Peace at all costs, Tend to offend other people's emotions, Cruel punishment, Lawlessness, Self-confidence, The brutality of the police.
When Justice Deviant Moon Tarot card is reversed, the deeper meaning of this situation is being retained for reasons that only the Higher Power truly understands. Sometimes, the rational, general, plausible, and organic laws are overridden by a paradoxical higher-order number.
At such times, you will not be fully informed of what is going on. Wait, stay quiet, keep watching, and listen. Eventually, the chaos will resolve itself and the truth will be revealed.
IV. The guideline of Justice Deviant Moon Tarot
Justice Deviant Moon Tarot recommends listening carefully as others explain their stories and the roles they played. There is no need to provide feedback. Your role is to watch, observe, listen fully, and keep your wits as the story unfolds.
When you see people talking about themselves, your understanding goes beyond what you hear. Detailed inferences and clues will reveal the truth so that you can make an accurate and wise judgment.
Your life is a series of mental struggle days. The more decisions you face, the more difficult it becomes to balance things and make choices. Every decision is always in procrastination, sometimes you seem to be calm, but in fact, you are calculating too much so it is slow to make decisions.
In terms of property, material possessions belong to your spiritual self. You are quite uncertain and indecisive. You can easily fall into a state of delusion due to being praised by many people, easily leading to superficial actions.
Justice Deviant Moon Tarot implies that you do not have many opportunities in entertainment or traveling. Because of a hesitant and indecisive nature, you miss out on moments or your opinions are not supported by the crowd.
Your career is related to and affected by material. But you always have a conflict between individual interests and collective equity. You are quite confident and have a big ego in mind, your career progresses slowly but surely, instead of rapidly.
If you are involved in the law, the cause is problems related to personal feelings. Whether you are stubborn and headstrong, the people involved are sympathetic and forgiving or the close relationship between the two of you that will help you get through the hardships.
More The Justice Cards from Famous Tarot Decks
1. The Justice Rider Waite Tarot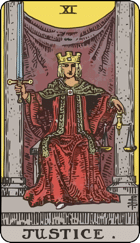 The Justice Rider Waite Tarot card is the embodiment of the law of cause and effect, which states that every event, every human being is linked together. It's important to remember that not everything you face comes directly from your actions.
<< See More >> The Justice Rider Waite Tarot Card Meanings
2. The Justice Shadowscapes Tarot
Justice Shadowscapes Tarot means balance, harmony, justice, accountability, measuring all aspects of a problem before making a decision, choosing with full awareness.
<< See More >> The Justice Shadowscapes Tarot Card Meanings
3. The Justice Linestrider Tarot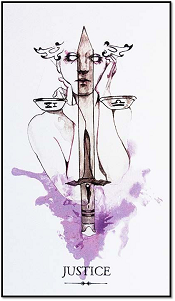 Justice Linestrider reflects your search for truth and represents the results of your actions and the consequences of your decisions. Justice in a Tarot spread shows how long it takes to make a decision.