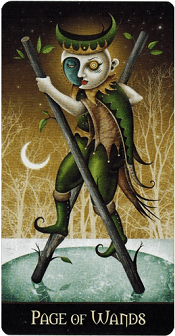 Page of Wands – Deviant Moon Tarot Deck
I. The Description of Page of Wands Deviant Moon Tarot
Walking on self-made stilts, the novice boldly crosses a frozen lake. Not a bit discouraged by the obvious dangers of what he is doing, he faces all the challenges of life with the optimism and abundant energy of youth. This apprentice in Page of Wands Deviant Moon Tarot is just like The Fool, though the stilts are tall and wobbly, he gleefully moves on.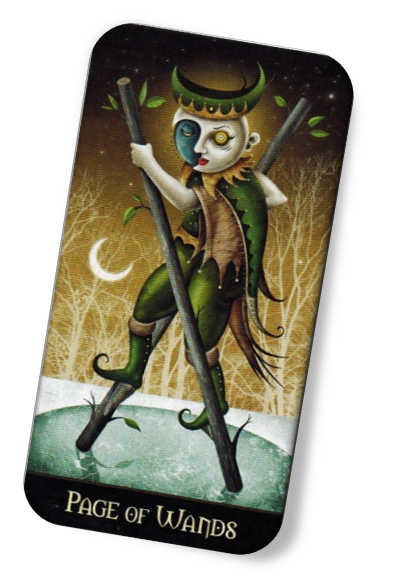 The frozen lake surface can be slippery and the wilderness can contain dangers, but that does not stop his journey to discover and explore new lands. He might fall over his boldness and mischief with his two stilts, or maybe he'll cross the forest smoothly in a creative way. New things always come with challenges, but they give us more than what we may lose.
It seems that this young man is always ready to welcome fresh beginnings and have faith in his luck. His green outfit speaks it out loud. Another interesting thing is that many cultures choose this green color to represent wisdom. The Egyptians believed that the wisdom Thoth led the soul to live on a green hill where life is eternal and wisdom endures. The Romans believed that green was the color of Mercury, a God who possessed a clever mind and agility. Green is also a combination of blue and yellow, so in green there are both cold and hot pigments, which are considered balanced – it makes perfect sense when looking at his stilts. With his dexterity and agility, Page of Wands Deviant Moon Tarot seems to be motivated to continue on the quest.
II. The general meaning of Page of Wands Deviant Moon Tarot
Keywords and extensions: Creative thinking, Finesse, Genius, Enthusiasm, Confidence, Brave, Discovery, Detection, The spirit of freedom, An important and exciting message, Courage, Dare, Recklessness, Optimism, Leadership, Initiative, Extroversion, Full of energy and determined, Competitiveness, Self-motivation, Resourcefulness, Inspiration, Loyalty, Fidelity, Encouragement, State of excitement, Fast response, Passion, Career change, A message that brings cheerful news, Physical exercise, Evoke the emotional flame inside.
Page of Wands Deviant Moon Tarot is like the Fool in that he has a free spirit and is a representative of change and new beginnings. He has a real passion for life, although his understanding of this world has yet to be fully developed. He is still not crushed by the burdens of the material world, can come and go as he will, and often encourages change wherever he goes. He is like a catalyst, inspiring innovations that seem unlikely in any situation.
Page of Wands Deviant Moon Tarot says that you are embracing a lot of creative inspiration and are just waiting for the opportunity to manifest or you are about to enter a new phase of life. It represents the creative spark that arises in you suddenly, and you begin to move towards a new imaginative vision. Hence, he encourages you to express yourself and your personality in a gentle and relaxed manner. Listen to your unconscious mind and do what your creativity tells you, even if you're worried about being alone in an unfamiliar place. With perseverance and a balanced viewpoint, Page of Wands Deviant Moon Tarot's immature desires can become a beautiful inventive vision, contributing to change the world.
Likewise, it says that you need to be active and spontaneous, but don't be too impulsive. Your enthusiasm impresses others, but if you become impatient or get angry or lose interest, you will put it all aside and waste time on your creative projects.
With Page of Wands Deviant Moon Tarot, you seem to give everything a chance. If you have enough energy and passion, you will take every opportunity to start a journey and wait for the result. You don't have to have a solid plan, it doesn't matter where you stand, just knowing that you're thrilled and excited and that's enough.
You enjoy the busyness and are always involved in different activities and projects. You enjoy the freedom to choose what you will do today, and hopefully, it will be distinctive from what you did the day before.
Oftentimes, the Page of Wands Deviant Moon Tarot is a messenger that brings you inspiration or unexpected news. It could be the birth of a child, a new idea, inspiration, or an opportunity in which you can join and change the world, such as a community project. Page's news is almost always positive and is welcomed as it is often associated with transformation and creativity.
Page of Wands Deviant Moon Tarot can also represent someone you know or someone who is about to enter your life. He is a trusted, beloved person who will do everything he can to help you. He comes to your life to make a difference, to help you see the world with a new perspective, and guide you towards a new approach. You might think Page of Wands is immature or childish, but he actually has a lot to teach you if you open your heart and listen to what he shares with you.
III. The reversed meaning of Page of Wands Deviant Moon Tarot
Keywords and extensions: Ambiguity, Poor choice, Lack of assertiveness, Pessimism, Lack of direction, Disturbing news, News reporting in a hurry, Refusal, Brief and cursory responses, Quick discussion, Objection, Impulsive decision, Broken heart, Unexpected information, Jobless, Being treated rudely, Seek negative attention, Exaggerated the importance of the self, Lack of energy, Frustration, Obstacle, Random thoughts, The boredom of relationship, Unrequited love, Distrust, Boastfully bragging, Rumor, Aggression, Illness, Disapproval.
The reversed Page of Wands Deviant Moon Tarot shows you have examined a few projects with no success. You have a new vision and start a new hobby or plan, with the belief that everything will turn out well, but soon you will find yourself on the wrong approach and the results are not as expected. You may have begun to realize that you are not really focusing on your goal and that is why you are not getting the results you want. Luckily, you haven't gone too far and can easily pull out of plans with limited results. Sometimes, setbacks can be helpful in experiencing new lands and discovering what's right for you.
The eagerness to start something new has been negatively affected by the complexity, obstacles, and oppositions, leaving you lacking motivation and indecision about the way forward. You panic and wonder if you can really carry out your design or just increases the burden
The reversed Page of Wands Deviant Moon Tarot can describe an immature person with a problem of self-image. This is a pessimist, who is helpless and always plays the victim. He/she never had anything good to say and always let people down. This person stifles your enthusiasm and confidence who is usually superficial, lazy, arrogant, uncooperative, impatient or unwilling to make the effort.
IV. The guideline of Page of Wands Deviant Moon Tarot
This archetype of Page of Wands Deviant Moon Tarot is a unique individual, a mismatch, often something bohemian, sure to be intrinsically independent. He or she requires little in the way of acceptance or approval. So important is this person's freedom that he/she would rather be a farmer among strangers than inherit a binding fortune. Don't be fooled by this humble appearance. This person is the future captain of the industry or the world leader, who is currently only an apprentice. You can view this card as a dauntless card.
Page of Wands Deviant Moon Tarot suggests that you cannot know how to promote communication until you have examined your environment. Your task might be to blend in with your surroundings so you can gather information and be clear about what's going on around you. Think of yourself as an undercover agent for the better. At the right time, others may recognize your role in the transition from division to unity. Right now, however, you are being asked to observe quietly from the sidelines.