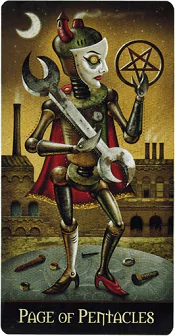 Page Of Pentacles – Deviant Moon Tarot Deck
I. The Description of Page of Pentacles Deviant Moon Tarot
The scholar thinks about an ancient coin he has found in a pile of scrap. He shaped himself out of similar fragments and understood the value of such an important discovery. What he is concentrating on is the gold coin in his hand. The sky is clear under the moonlight and everything is doing very well on its way to future success.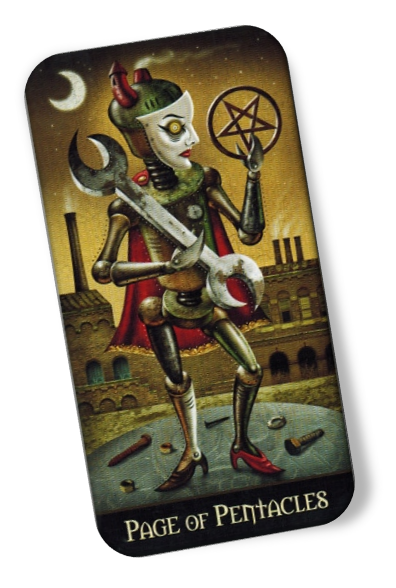 The Page is the card of new beginnings, inspiration, and early stages of a creative project. The Pentacles corresponds to the Earth element in Alchemy. Therefore, the image of Page of Pentacles Deviant Moon Tarot cherishing a gold coin in his hand shows an awareness and appreciation of money not only in terms of material but also in its related needs such as health, food, clothing.
Page of Pentacles sometimes represents a young person with a passion for business. This person dreams of getting prosperous and pursues his own business idea by learning new skills and applying them to himself. Page of Pentacles Deviant Moon Tarot is young yet has enthusiasm, dedication, and a strong sense of responsibility.
It can also represent a child or a grown-up who is young at heart or the person who interacted with you regarding determination, dependence, responsibility, security, and material needs. Sometimes, this Page indicates that your current situation is full of physical possession. At times like this, you should feel free to experience pleasantly the treasures that relate to your well-being, abilities, and assets. Live your life as if you have never lived before.
II. The general meaning of Page of Pentacles Deviant Moon Tarot
Keywords and extensions: The young scholar who is eager for learning, Creative thinking, Demonstration, Financial opportunities, New job, Good news about money and finance, Willingness, School and education-related events, Slow but steady processes, Patience, Persistence, Thriftiness, Responsibility, Realism, Frugality, Kindness, Determination, Materialism, Love of nature, The beginning of a stable foundation, Persevering development, Open-minded, Realistic goals, Well-researched information, Start a new business career, Methodology, Opportunities to increase income, Beneficial changes, Internships, Scholarships, Documents, Contracts, Agreements, News about children.
Page of Pentacles Deviant Moon Tarot speaks about dreams and wishes in the physical world. You can embark on a new project or get exposed to a new learning experience. The Page is a sign of enthusiasm and a focus on pursuing a goal. Therefore, this card encourages you to create a clear plan and take action to achieve your dreams and goals. Think carefully about all plans. You need to focus on the feasibility of the proposed project and not blindly chase after unreal ambitions. This is the time to start acting on ideas you have incubated for so long.
Page of Pentacles Deviant Moon Tarot also suggests that you grow and expand your business to create future prosperity and wealth. Identify clearly the resources you have on hand to be able to make the most practical plan.
This Page wants to know everything. He prefers knowledge, skill, and wisdom. Therefore, this card indicates that success will come to you after you have mastered your new talent and set your goals. You need to consider doing research and improving your skills so that you can advance your career to the next level.
You may soon have a chance to make money or start a new project or business. Your deepness, practicality, and hard work will be repaid. From a small starting point, the process is slow but steady. If you are about to sign a contract, read the entire manuscript thoroughly. You should be careful with every word you say or write down. You may be involved in some type of research with a high level of focus on details and a lot of paperwork. Education can be your best resource at this point. Page of Pentacles Deviant Moon Tarot suggests paying attention to environmental and physical needs.
Page of Pentacles Deviant Moon Tarot can signal both positive and negative things in a Tarot spread. More specifically, in a relationship spread, it says that you and your partner will need to focus more on something. However, both of you should also note that it is important not to stress over and take things too seriously. The things that you should pay attention to are the happiness of the other person, developing your relationship in the long run, and improving your disadvantages.
In this card, the Page of Pentacles is staring intently at the coin in his hand. Oftentimes, Pentacles often reminds us of material factors and personal interests. Trying to strengthen your relationship is a remarkable endeavor, but spotting the weaknesses of your partner and trying to manipulate them is absolutely not recommended! Anyway, this is still a good card as both of you will work hard to achieve a certain goal.
III. The reversed meaning of Page of Pentacles Deviant Moon Tarot
Keywords and extensions: People who are opposed to new ideas, Rebellious youth, Conservative, Lack of progress and planning, Focus on short-term goals, Unexpected costs, Bad news, Bureaucracy, Letters causing anxiety and sadness, Obstruction in negotiations, Mediocre, Carelessness, Ingratitude, Financial problems, Difficult things with a contract, Conservatory, Irrational, Boredom, Indifference, Rebellion, Lack of common understanding, Repeat the mistakes of the past.
The reversed Page of Pentacles Deviant Moon Tarot shows your way of doing things that are clogged up because you did not plan properly, or became lazy, complacent, and lost your goals. You also dream about new goals without taking any action to effectuate them. Consider your goals as well as the motivations that drove you in the beginning.
It also points out that you are focusing on immediate pleasure and temporary desires, not long-term goals. You will need to overcome material temptations and work towards things that will make you truly happy.
Likewise, you find it difficult when trying to implement a plan or an idea. Every time you try, it seems like everything goes to a dead end. You will feel frustrated because you think you will never be successful and unintentionally lose confidence in your talents and abilities. If that is the case, just relax, loosen and return to your inner roots and values to energize yourself.
Page of Pentacles Deviant Moon Tarot in reverse can mean a feeling of boredom in terms of both spirit and daily life. You should think about the inspirations from discovering facts like whether there is a mental connection between ancient and modern people or not, and also the reason why and what you can learn from that. You can likewise experience new methods such as reading books that you would never read normally. Research and discover many new things in this vast universe, you will find meaning and purpose for your life.
The reversed Page of Pentacles Deviant Moon Tarot advises that you should not be suspicious or resist the urge to assist others. You may feel like you are being coerced or serving a role you do not want. Perhaps you are in doubt about the outcome of your efforts. The reality is that you have to work to make ends meet and you must develop substantial skills in a profession before it can free you. Be disciplined, harness your will and your talents.
Unlike the upright card, Page of Pentacles Deviant Moon Tarot in reverse signals losing focus on the relationship. Maybe a huge argument that has erupted between you and your partner comes from hidden problems that both have not foreseen. Emotionally, it shows that your partner has completely given up hope in the relationship with you, or maybe in the reversed case, you are too depressed and feel meaningless when continuing to work on this relationship. Take a break, reassess both of your efforts, if you feel completely not worth it, then it is time for everything to end for a better start.
IV. The guideline of Page of Pentacles Deviant Moon Tarot
Page of Pentacles, in some modern Tarot decks, is referred to as a Princess. The energy of this card involves learning about compound interest and abundance. Her attention is focused on learning the laws of nature related to natural synergies.
Whether the learning is about growing vegetables, the stock market, or cultivating new medicines in the lab, this Page wants to understand the basic mechanisms that support result generation and abundance.
You can see this person in the position of the flight attendant or subordinate partner, but that is just the present appearance. That humble and peaceable attitude will soon disappear, as her/his sense of mastery increases. By learning from the examples of those around him/her, the successful and the unsuccessful cases, he/she is formulating a game plan that will lift him/her out of obscurity and make him/her succeed on him/her own accord. He/she just needs to gather the necessary education and experience, which he/she is doing right now.
Page of Pentacles Deviant Moon Tarot recommends that you do research into your chosen field seriously, accumulating scholarly knowledge plus any training experience that you can learn. Listen to the stories of others, both their successes and failures and let yourself be inspired by their conscientious efforts.
Use all kinds of ways. See if you can find out why their experiments carried out the way they did, and what you can do differently could change the results. Indulge in the hunt for the missing pieces missed by your seniors. Remember that the beginner's mind is an open channel for intellect. Let that openness guide you and you will instinctively penetrate the core of the problem.