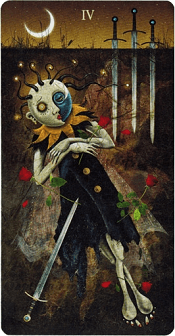 Four Of Swords – Deviant Moon Tarot Deck
I. The Description of Four of Swords Deviant Moon Tarot
The girl lying underground in Four of Swords Deviant Moon Tarot is dreaming again. The images of her dream illuminate the tomb and cause four roses to bloom. Three swords plunge into the ground to mark the place where she rests. The other sword is buried beside her. Rest, acceptance, recovery are the content of the Four of Swords. The girl lay still underground in a very peaceful and relaxed way.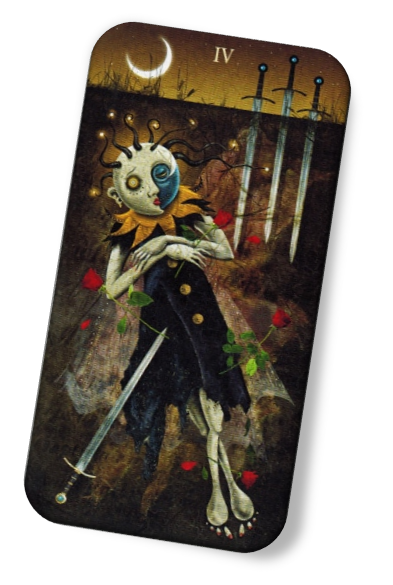 In Christian art, the red rose used to express pain, but it was also heaven. It is possible that the three swords that are firmly penetrated on the ground are the Three of Swords Deviant Moon leading to this damage requiring recovery. It is calmness, stability, and seeing things according to the properties of the Earth element that will be the cure for this problem. Another special point is that there is a sword buried with her, the new sword in this card. The sword points directly at her as a reminder that this rest is only a temporary delay for the next encounter.
II. The general meaning of Four of Swords Deviant Moon Tarot
Keywords and extensions: Renewable energy, Rest, Withdraw, Exile, Reversed thinking, Meditate, Recovery, Passivity, Relax, Take a break, Need to innovate, A period of slowing down, Restore health, Time out, Calm, Relieve stress, An expected holiday, Inactivity, Form a new group, Retreat, A necessary vacation, Solitary, Pray, Reflection, Reassessment, The calm before the storm, Medical examination, Peaceful surroundings, Go to a completely different place.
Four of Swords Deviant Moon Tarot shows a time of rest and recovery from trials. After that, you can continue the challenge again. Meanwhile, it creates a new challenge – keep quiet and lie still. This is the time to build mental strength. Meditate and spend a lot of time enjoying the peaceful atmosphere. You need to replenish your strength and spend a lot of time thinking about spirituality.
Four of Swords Deviant Moon Tarot is a reminder that after every crisis and every new challenge, there is always a time of recreation and contemplation. Stress after stress will cause people, even the toughest of all, to collapse. A short break allows you to recharge, focus, and get ready for the next challenge. Holidays should be used wisely for body healing and psychological rehabilitation.
Four of Swords Deviant Moon Tarot is also a sign that you can stop worrying, loosen your defenses, and unwind from the surrounding chaos. At this point, a truce is in place and you can get peace of mind without fear of being attacked. However, note that a ceasefire agreement does not mean peace. Four of Swords shows the challenges that will return to your life as soon as you are ready to face them, so make the most of this quiet time to rest and remember that troubles still persist there.
This card shows that this is a time to pause at some tough times, related to separation, family relationships, financial and health anxiety, stress and conflict. This is also not the time to make a decision, especially when you are most vulnerable.
Four of Swords Deviant Moon Tarot advises you to retreat. You need to be calm to deal with your situation and temporarily distance yourself from others to listen to your thoughts and feelings. Following the painful loss of Three of Swords, Four of Swords advises you to take some time to evaluate your life. Loneliness is bothersome yet necessary to regain your energy and spirit. It also strengthens your inner strength and confidence. Withdraw from pain, conflict, and distractions, and free from stress and anxiety. Think about it all and find a real change.
In a practical sense, you should take some time away from your current circumstances to reflect on and assess your progress. This is a good time to look at your priorities. Evaluate everything after each milestone, think about what you did well or not, and what you need to change in the future. Stop thinking after each major challenge strengthens your chances of succeeding in the future.
III. The reversed meaning of Four of Swords Deviant Moon Tarot
Keywords and extensions: The new life force, Go back to life and the everyday happenings, Act, Restless activity, Exhaustion, Lack of progress, Do not have time to relax, Continue to act, The rest time is over, A request to act, Return to work, Healing, Restore previous responsibilities, Make yourself busy, Illness, Isolation, Grievance, Withdrawal, Resentment, Rejection, Banishment, Loneliness, Lack of thinking, Problems at work, Dismissal, Opposition, Strikes, Boycott, Riots, Imprisonment, Exile, Exclusion, Unpleasant surroundings.
The reversed Four of Swords Deviant Moon Tarot shows that you feel like working non-stop and want to do everything at the same time. Even if your body is wailing that it needs rest and relaxation, your mind keeps pushing you forward, trying to complete a long list of tasks. You will collapse or become stressed, so it is important to take a break.
At this point, you are trying to avoid contemplating or meditating on a problem because you are too worried about its consequences. You need to return to the energy of the Three of Swords and face the pain that clings to your heart. You need to experience pain as it prevents you from moving forward. Once you get used to it, the pain is no longer as unpleasant as before.
The reversed Four of Swords Deviant Moon Tarot suggests that while solitary contemplation can be a great pleasure, it should be balanced with appropriate interpersonal communications. Isolating in this situation can, in some cases, be counterproductive. Help or advice may need to be sought for energy-efficient intervention. Try to have enough human contact, preferably with therapy or at least some kind of support, so that if you are caught in a position of emotional pain, you will have a safety net.
The reversed Four of Swords Deviant Moon Tarot also represented stagnation and lack of action, leading to disappointment. For example, a long-term marriage that is no longer progressing causes mental and emotional emptying. You need to get rid of this situation and get back to it when the flow of energy is smoother.
Similarly, the reversed Four of Swords Deviant Moon Tarot shows you are feeling frustrated with the lack of progress and change in your life. Everything just froze or did not improve the way you wanted. Part of the reason is your passivity. You have chosen to sit there whining and upset rather than getting down to the business.
IV. The guideline of Four of Swords Deviant Moon Tarot
Four of Swords Deviant Moon Tarot sends the message to take time out, give up worldly worries and retreat to a sheltered peaceful place away from the hustle and bustle. Our own visionary mission or pilgrimage to our centers allows us to contemplate our roots, our values ​​, and our goals. Here you will see your place in the flow of time.
Four of Swords Deviant Moon Tarot highly encourages you to keep your own advice in this situation. There may be too much fear and hostility in the environment for you to be heard. Maybe your ideas are not mature enough or you are not ready to hear from others. If you spend more time contemplating, you can successfully ignore the emotional work and prejudice of others. At the moment, take a close look at the events within. The time for sharing will come later.