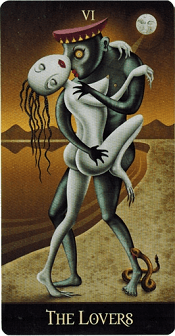 The Lovers – Deviant Moon Tarot Deck
I. The Description of The Lovers Deviant Moon Tarot
The two lovers in this Deviant Moon Tarot card squeeze each other in a passionate hug, a desert lake is embracing them. The moon shines a mesmerizing light on them. A snake throws its venom at them. Love is an emotional thing and you cannot grasp it. It is when the heart belongs to us but someone else holds it. But in the Major Arcana, it is present as an indispensable part of this life. Regardless of the meaning or image of the card, just think of love as simple as it is. But dig deep into the matter, we will see it as a relationship, an emotional connection between two people.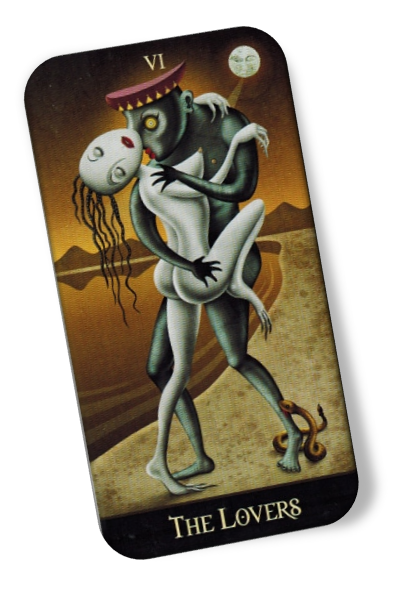 This topic is probably too popular because each reader will have his or her thoughts, or be influenced by the opinions of others. In the old days, with traditional conception, love is for two people: a man and a woman, but today it is necessary for each of us to change that viewpoint. In some traditional Tarot decks, such as the Waite Rider Tarot – there is an appearance of a third woman.
With previous interpretations, this person may be a god of love or, in a more practical way, is the image of a matchmaker – who has an impact or a witness for this love.
Or as in the Marseille Tarot, it is an image of a man and two women. It is said that one is his mother and has an influence on him in his relationship with the young woman. Or the intervention of a third person in this relationship. The card can also be seen quite simply, it is the man who is hesitating in his choice, or immersed in a romantic relationship with both women.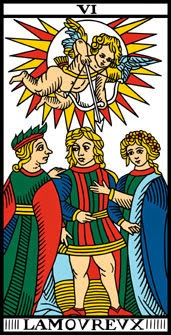 Returning to The Lovers Deviant Moon Tarot card, all variations are eliminated. This is the sixth card in the Major Arcana. Find out what the numbers mean, it is more complicated than you might think. The point is 6 = 3 + 3, which is two times 3. The number 3 represents stability – like a trivet. Number three gives you a triangle while number six gives you hexagons or simply two rotating triangles, which is a perfect structure and too hard to break. As two addicted lovers, it is difficult to separate.
In the Greek interpretation of numbers, the number six represents duality. That is why this card is called two lovers. It can be love between male and female, male and female, or female and female, as long as they love each other.
The Mountain image represents stability and masculine nature. Water is the presence of a woman, softness, and tenderness. Those images are also depicted in The Lovers Deviant Moon Tarot. That love holds two people together, inseparable, as fascinated as the color of the card itself.
The light of the moon is just enough to enlighten and paint the beauty of the couple. They are so passionate that they do not even know the presence of the snake. This reminds us of the Fool – he is so immersed in the joy that he ignores the pain of being bitten by the poisonous fish. Here is an immersion to the point of neglecting the bloodshed.
The snake symbolizes seduction, enchantment, magic, and extreme poison. It evokes the deep immersion of suffering. Love can ease external pain. On the other hand, it can also slowly kill yourself. The Lovers in astrology corresponds to Saturn in Gemini.
II. The general meaning of The Lovers Deviant Moon Tarot
Keywords and extensions: Love, Passion, Romantic, Harmony, Meet again, Relationship, Sharing, Trust, Duality, Lust, Important decision, Crossroads, Challenge, Temptation, Being challenged, Review an important relationship, Marriage, Bondage, Cohesion, Tree of life.
Although it has been romantically reexamined for meaning in several modern decks, The Lovers has traditionally been a reflection of the challenges of choosing a mate. At a crossroads, one cannot go both ways. The images on this card in the different decks are more diverse than most because we have had so many perspectives on sexuality and relationships across cultures and centuries.
Classically, this card's energy reminds us of the real challenges posed by romantic relationships, with the main character often portrayed in the act of giving an either-or choice. To make a higher ideal often requires sacrificing the lower option. The path of pleasure ultimately leads to distraction from spiritual growth. Personality satisfaction eventually gives way to a mental call as the soul matures.
Modern Tarot decks tend to portray a sense of romantic love with this card, showing Adam and Eve at the Eden gate when everything is still perfect. This interpretation depicts humanity before its demise and can be thought to imply a different kind of option – the choice of evolution over perfection, or the choice of personal growth through relationships – rather than imagine where everything falls into the perfect position and can be taken care of without effort.
III. The reversed meaning of The Lovers Deviant Moon Tarot
Keywords and extensions: Separation, Conflict, Lack of consistency, Freedom at all costs, Impatience, Refusal of an important choice, Bad decision, Changeable, Treachery, Lack of maturity in love, Hedonism, No strings attached, Marital problems, Uneasy and unhealthy relationships, Health problems, Illness, Irresponsibility, Hatred, Indecisiveness, Opposition, Quarrel, Dissent, Isolation, Blind love, Promiscuity.
The Lovers in reverse may indicate that you are going through a divided situation because you have an interest awarded to the opposition. You cannot resolve this until you have your dual standard.
Acknowledge the resistance you feel, instead of continuing halfway or with unspoken resentment. In an important area of your life, you should not just go along for harmony.
IV. The guideline of The Lovers Deviant Moon Tarot
The Lovers Deviant Moon Tarot recommends that you should research your options and make the wisest choice. Carefully consider your long-term benefits. There is no judgment of what you choose to retain in the immediate range of possibilities. Just looking at choices that create dissatisfaction and disappointment.
Get ready to make some compromises, then stick with the last ones you made. Trust your intuition with your sharp intelligence and once you have made a choice, do it with confidence.
Two pluses for your life according to the Deviant Moon Tarot card: life is full of emotions; stability and sensitivity always bring happiness.
Regarding property, the most abundant thing is sentiment, so the property is only that much. Property is not in the hands of lovers but entertainment areas.
Trips are not important to you. Maybe you have the opportunity to frequently go on unexpected business, so going or staying becomes normal for you. You are easy to improvise and cope with trips, but you are also tired and indifferent whether the destination is attractive or not.
Your career is mentally supported keeping you strong. Although you are a bit conservative when faced with conflicting opinions, this accomplished your goal. You build on your friendships based on long-term bonds. Money or finance is not the concern of your friends in the relationship with you, especially after enough time to trust.
More The Lovers Cards from Famous Tarot Decks
1. The Lovers Osho Zen Tarot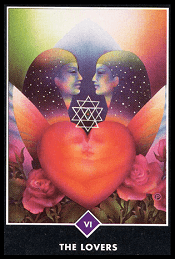 The Lovers Osho Zen Tarot is built on the foundation of freedom, not hope and need. The wings of love would take us so far to where cosmic love exists and we will experience everything together.
<< See More >> The Lovers Osho Zen Tarot Card Meanings
2. The Lover Rider Waite Tarot
The Lovers Rider Waite can bring you to the crossroad where you have to choose between morality and conscience. This article also shows your personal values.
<< See More >> The Lovers Rider Waite Tarot Card Meanings
3. The Lovers Linestrider Tarot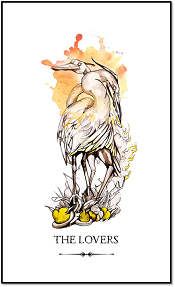 The Lovers Linestrider is one of the most complex Major Arcana cards. They represent communication, co-workers, and love in both a common sense and an alchemical/universal sense. 
<< See More >> The Lovers Linestrider Tarot Card Meanings