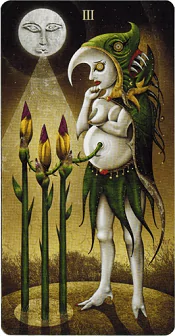 Three Of Wands – Deviant Moon Tarot Deck
I. The Description of Three of Wands Deviant Moon Tarot
On a hill, there is a woman about to be a mother standing patiently and waiting for the three trees to bloom. Determined to focus her energies on the development of this new life, the woman reflects on the journey that has brought her to the present moment. From a distance, the moonlight shines a light like silver breath to nourish the buds.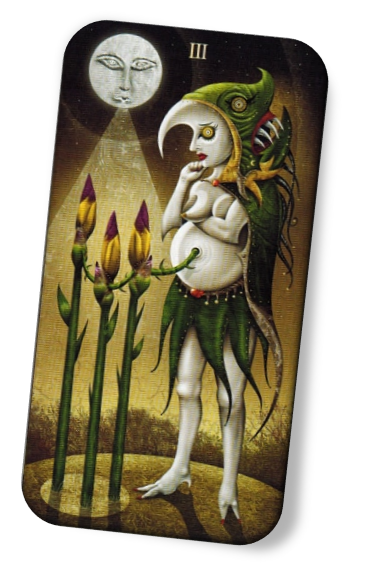 The Three of Wands Deviant Moon Tarot can be said to be a continuation of the Two of Wands card. The seeds that are planted day by day have grown in the silver moonlight. If in Rider Waite Tarot is the image of a man with three sticks looking far away in the direction of the boat, in Deviant Moon, the figure stares at the three trees in front of her. A rather important detail is that there is a link between the woman's abdomen and the three trees as if any problem on one side will affect the other, whether it is good or bad.
This clearly shows that your chance and your luck is coming, but it is created by you and it is yours, not relying on some supernatural being. Three of Wands Deviant Moon Tarot's misguided and deceived moonlight is giving off a dim light that seems to confuse and disturb anyone. The wistful face and hand movements clearly explicate that confusion and disturbing. But fortunately, this woman is standing in the moonlight, so that action is the one who is planning, calculating, thinking about the risks and difficulties that are and will be encountered.
This Deviant Moon Tarot card declares the plans and opportunities that have progressed, but the more it progresses, the more closely related to your interests it will be and it is also easy to go astray. The thing to do is to try once to see the problem as an outsider, calm down to think, prepare, and deal. Perceive like an outsider.
II. The general meaning of Three of Wands Deviant Moon Tarot
Keywords and extensions: Impatiently waiting for the fruits of labor, Think about the effort, Early stages of achievement, First reward, Employment, Opportunity, Higher abilities, Professional development, Improved status, Competitiveness, Competency, High standards, Expertise, Satisfaction, Advancement, Recognition, Approval, Enhance social status, Honors, Certification, Progress, Learn new things, Confidence.
Three of Wands Deviant Moon Tarot indicates that your plan is in progress and that you are beginning to look at the opportunity to expand your plan and capitalize on your future potential. Everything is going as consistently as expected thanks to solid planning and the constant drive to survive.
Three of Wands shows the opportunity to broaden your horizons through research, travel, entrepreneurship, and learning. You need to be more aware of the opportunities that exist around you right now because they may be better than you think. You can look at the best opportunities and know that they're waiting for you outside of your current world, so now is the time to express your ambitions. See what you can do to open the doors for yourself and develop those opportunities. They can also be either changes or challenges that lie ahead and involve broadening your horizons as well as entering new territory.
Likewise, this Deviant Moon Tarot card is about embracing changes and applying them to a long-term perspective. It shows you are in power and in control of what happens around you. As such, this is a card of foresight and seeking greater opportunity. Set a strategic vision and aspire to surpass your current limits. Now is the time to believe your vision and be confident that you will achieve it. Have the courage to step into new lands.
Three of Wands also describes the journey. This card encourages you to dream about where you want to travel and what you will explore along the way. You will go to a distant country, and after that, have a chance to grow and learn many new things. This is a great card when it comes to opportunities. It supports you to be courageous and to trust yourself in order to enhance who you are.
III. The reversed meaning of Three of Wands Deviant Moon Tarot
Keywords and extensions: Unable to think creatively, Distributed concentration, Separation,  Dysfunction, Suspicion, Delay, Losing interest, Lack of activity, Wrong direction, Overwhelm, Disillusion, Uncontrol energy, Undiscovered potential, Difficulty in the partnership, Cancellation, Disagreement, Failure negotiation, Invalid, Self-deprecation, Excessive pride, Unfocused, Overuse of money or power, Property troubles, Bad news, The non-progressive.
The reversed Three of Wands shows that you have attempted to embark on a journey of self-fulfillment, but are unable to fulfill your goals. Maybe you have encountered a few crashes and delays on your way. You feel frustrated, and assume you wasted your time in the first place. Failure doesn't mean that you don't have abilities, but simply that you haven't had success. They help you grow and be your better self.
You may also be having trouble implementing your plan and feel anxious because things seem to be overwhelming for you. You lacked foresight and could not spot obstacles as soon as they did arise or were unrealistic about the risks associated with your plan. Break down your plans to make them easier to manage and more realistic. Evaluate every risk to anticipate the challenges you face, and then create back up plans to avoid or minimize those risks.
In a business spread, the reversed Three of Wands Deviant Moon Tarot reveals a lack of cooperation, wasted effort, delay, or external obstacles in the commercial venture. You are dealing with a business partner or a business that is not in your favor in terms of interests. You run the risk of being betrayed for your business purposes. It is also possible that deliveries or production are delayed, especially if you are relying on overseas investment. Outside help is needed but also be mindful of other people using you.
In a relational spread, the reversed Three of Wands Deviant Moon Tarot points out that you two are incapable of pursuing each other's long-term goals. Your partner may want to expand his/her world by traveling between regions or countries, but you don't want to do so. This becomes a huge problem for your relationship. You both need to talk to each other and come to a compromise.
Likewise, the reversed Three of Wands Deviant Moon Tarot says that you shouldn't keep a distant relationship. If you have tried before, now you will realize that you have wasted your time. You are wary of the limitations and negative consequences associated with such a relationship, and find out that you are more suited to being closer to someone. You don't want to get to know someone who travels all the time, especially on business trips, because that means they won't be around as often.
IV. The guideline of Three of Wands Deviant Moon Tarot
Three of Wands Deviant Moon Tarot represents an inner balance that allows you to feel more optimistic about new attempts to which you commit or want to commit. This card represents the energy one needs to embark on great adventures and complete noble (and paid) deeds.
Three of Wands Deviant Moon Tarot recommends acting quickly and forcefully on an idea or desire that you are feeling. It suggests perfect timing, capture the right moment, and react to your instinct or intuition. Every fiber of your being says that this is a great opportunity, even if the people around you are not so convinced. There is nothing to lose when taking risks, this is a great moment in the growth of your business.