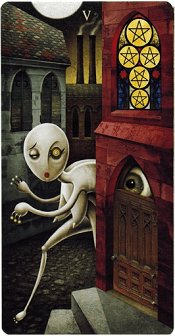 Five Of Pentacles – Deviant Moon Tarot Deck
I. The Description of Five of Pentacles Deviant Moon Tarot
In the Five of Pentacles Deviant Moon Tarot, there is a woman whose dignity has been misguided and walks through the narrow city streets. She cannot find any comforting shelter but hiding among the industrial buildings of the city.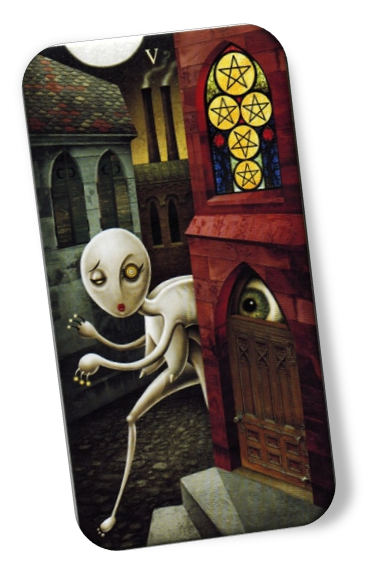 On the tower's stained-glass window are five gold coins from which she is about to find hope. One eye watches her from the door as she creeps away. There are factors of shame and humiliation here. She may have used to do what she knows is wrong.
 She does not have anything to cover herself nor a friend's whereabouts to move in. She is naked and homeless. You may feel too vulnerable and exposed to your current circumstances. You may be afraid to ask for help, especially if you are sensitive to being watched or judged. The message of the Five of Pentacles Deviant Moon Tarot is to overcome fears and to access help when you need it without fear of retribution.
As Pentacles is related to "value", we often think of money. But it is also about self-worth: it is hard to feel good about yourself when you are in trouble, financially or not. The Five by Pentacles Deviant Moon Tarot could mark a period of financial adversity, such as seeing your earnings get organized or your resources dwindling as a result of unreasonable costs.
II. The general meaning of Five of Pentacles Deviant Moon Tarot
Keywords and extensions: Isolation, Insecurity, Anxiety, Financial loss, Poverty, Physical difficulties, Homeless, Poor, Lost soul, Frustration, Unfortunate, Trouble, Surplus, Arduous, Proletarian, Miss something, Feel abandoned, Financial tension, Resources run out, Talent is wasted, Legal settlement, Lack of trust, Fail to pursue spiritual values, Ignore gifts of faith, Loneliness, Despair, Moral degradation, Health problems.
Five of Pentacles Deviant Moon Tarot is about a period of financial hardship, poverty, and adversity. It shows you have suffered a significant financial loss or even a failure. This card manifests different aspects of unhappiness and deprivation, including failure, starvation, illness, unemployment, and loneliness. If you are having trouble, don't worry, the people around you are always ready to help you. There is always a solution and there is always a way out. Open your eyes and see the road ahead, or close your eyes and let the inner light guide you.
Usually, the cause of financial problems is related to personal emotions – greed leads to destruction, anxiety makes mistakes, possessions cause separation. If you keep focusing too much on the matter, you will lose the development of your soul. You may become wealthy for a while, but lose everything if you don't learn anything.
On a subconscious level, the Five of Pentacles Deviant Moon Tarot can point to difficulties in your finances or relationships. If money is the main driving force in life and a measure of self-worth, you will feel anxious that you will lose everything you can buy with money.
In addition to looking at your actual financial situation, you should also pay attention to your attitude toward money such as concerns around you about capital and wealth. Are you worried about never having enough or not having faith in your ability to build a prosperous life?
In a world where success depends on financial wealth, the loss shown in Five of Pentacles can be a blow to your self-esteem and sense of self-worth. This loss can happen in many ways but although the cause may be an external influence, this card reflects that the loss is something you bought yourself. This loss of wealth is often accompanied by a mental loss.
Five of Pentacles Deviant Moon Tarot can also talk about a time of desolation and feeling rejected. You may be disqualified from an event and isolated by others. You are in desperate need of support and comfort from people who really care.
You may feel yourself being treated coldly. You may be financially stressed and maybe falling into hard times. If your financial status is well-built, you will realize that money cannot buy love. You may be biting off more than you can chew. At this point, it is time to get rid of worthless spending and other restrained situations in life.
Five of Pentacles Deviant Moon Tarot shows the possibility that you are wasting your talents. In terms of career/business, it warns you to avoid risks due to the loss of money. A legal situation can lead to financial loss. Concerns about practical difficulties are preventing you from seeking spiritual guidance and mental comfort.
III. The reversed meaning of Five of Pentacles Deviant Moon Tarot
Keywords and extensions: Prospects improve, Better times, New job, Recovery after the financial loss, Mental poverty, Spiritual awareness, Improve working conditions, Restored faith, Better health, Out of Poverty, Unemployment, Failure, Disadvantages, Despair, Money problems, Extremely poor, Serious deprivation.
The reversed Five of Pentacles Deviant Moon Tarot points to ending hard times, especially if you have recently suffered a major financial or job loss. You can find new sources of income, a new job, or someone who will help you so you can move forwards on your own feet. You may begin to feel good in life and start to regain your confidence. In the end, you might find a way out of your financial troubles and your hopes are building up.
Inversely, the Five of Pentacles Deviant Moon Tarot can sometimes show the existence of a lonely interior and a lack of spiritual joy. It reflects a time when you felt isolated and alone, even when surrounded by many people. You may feel like you are missing something that you cannot reach out. Go back to the Four of Pentacles and realize that you have put too much into material possessions and neglected spiritual joy.
The reversed Five of Pentacles Deviant Moon Tarot suggests that you should scrutinize the situation and get rid of possible frauds. Perhaps you are being deceived or you are deceiving others. Maybe a part of you is so eager to believe in fairy tales or rescue fantasies that you have failed to check the fine print or the credentials of a savior. It is time to start asking challenging questions. If you cannot do that, then you cannot be successful in this situation.
As life improves, you will gradually realize that you believe more in the Universe and the Supreme. You should be appreciative of the great things you get and the good people in your life. You can share the spiritual gifts that you have been given, even small things like sharing a meaningful story from your childhood. Let's give more, you will feel more rewarded than you think.
IV. The guideline of Five of Pentacles Deviant Moon Tarot
Five of Pentacles Deviant Moon Tarot is a card of desire and satisfaction, embodied in the classical traditional decks of flattery and empty promises. This card represents both the seducer and the seduced. There is undeniable excitement in the appeal of the opposites; we all had fun moments of magnetism with a stranger. However, if promises are made only for short-term satisfaction with no intention of pursuing, or attraction emerges when competing for more fulfilling relationships, the outcome in the long term will not be worth pursuing.
The emergence of a strong relationship does not always work, so don't put anything of real value at risk before infatuation. Since it is Pentacles, this can be related to business as well as entertainment. Try to get rid of the effects of glamor from your thoughts.
In English decks, like the Rider-Waite Tarot, the terrible freezing outside a light-filled church warns of the painful outcome of bad choices, rather than focusing on tension of choice.
Five of Pentacles Deviant Moon Tarot recommends creating contract deals with people around with similar interests. In this situation, there is a power of quantity. Focus on and create a bold plan for future goals and decide how to invest in their success. This Five of Pentacles values teamwork and the mutual benefits that a combined effort can bring.