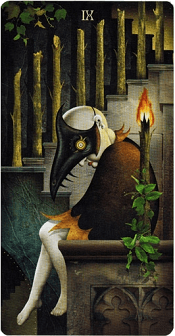 Nine of Wands – Deviant Moon Tarot Deck
I. The Description of Nine of Wands Deviant Moon Tarot
The masked young man is trapped in an underground maze trying to escape. Sitting on the rock, he thinks about the possibility of surrendering to the current hopeless situation. Eight wands mark the possible path to the exit. Another wand illuminates his determination not to give up.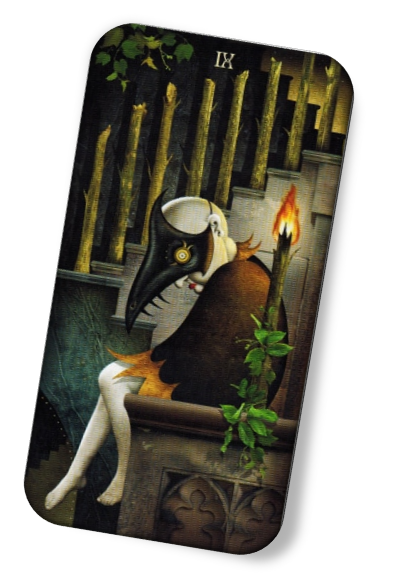 But if you look closely at the view of Nine of Wands Deviant Moon Tarot, it seems that this young man is not trapped at all. We don't know whether he wears a mask because he was forced or wanted to be, temporarily out of the turmoil of the current situation and didn't want anyone to find out about him. The staircase next to him is formed by eight wands, but he doesn't care.
All he does is sit still, meditate, reflect, or fall into a sleepless dream. Only one wand next to him gives off light – also his guide wand in the dark tunnel. And only this wand is surrounded by a fine green vine, symbolizing great vitality and lucidity. The current situation of stuck and darkness is not the end, there will always be light to guide the way, all you need to do now is stop for a moment and ponder the better direction and plan, the light will never turn off if there is will and determination.
II. The general meaning of Nine of Wands Deviant Moon Tarot
Keywords and extensions: Pause in between trials to meditate, Call for willpower to keep fighting, Hope, Courage, Perseverance, Faith, Resilience, Fight for yourself, Activate someone's defense, Strengthen, Protect yourself, Shield old wounds, Guard, Territorial integrity, Must be overcome the final challenge, Alert, Precautionary attitude, Physical strength, The ability to recover from illness, Healthy immune system, Disease or infectious diseases, Available conflict, Protection of individual rights, Inner strength, Determination, Durability, The necessary delay, The final belt.
Nine of Wands Deviant Moon Tarot shows that you are about to finish a project or task but at the last minute due to a challenge or a setback. You have the motivation to overcome all difficulties, even though it seemed impossible at the time. You are about to achieve success, don't give up now! This card is a sign of hope and encouragement that if you stand firm and strong against trials, you will achieve your goal. These trials are just waves of great predawn darkness.
Nine of Wands Deviant Moon Tarot is the ultimate test before you reach the final success. You feel like you've reached your limit, but don't worry, you have your skills and determination. With strength, courage, and ability, you will win. After overcoming the last hurdle, you will enjoy your victory and decompress.
Nine of Wands Deviant Moon Tarot says that you will be discouraged easily. You will continue to be opposed by hidden enemies and your interests will be shaken. Even in the face of such adversity, when you feel tired and in pain, you need to be patient and cautious. Rest assured that things will prosper in the end if you persevere. And remember, if you don't succeed the first time, try again.
You have had reversals and experiences, so now you have confidence from others, and from yourself. The turning point will come when you can leave the past behind and open up your mind about the future. Once you have learned from past experiences, you will not suffer any more losses.
At times, Nine of Wands Deviant Moon Tarot even speaks up of a risk-free approach. You need to anticipate the worst and be especially careful to avoid negative consequences from affecting your plans. You need to be on the lookout for any potential obstacles or opponents that might get in your way.
III. The reversed meaning of Nine of Wands Deviant Moon Tarot
Keywords and extensions: Procrastination, Obstacles cannot be overcome, Give up, Lack of motivation or will, Insecure, Defensive, Hesitant, Paranoid, Lack of defense, Not speak up for yourself, Loss of rights, Inadvertently, Weak position, Dizziness, Cowardice, Illness, Injury, Defenselessness, Erosion, Impractical, Refusal to compromise, Suspicion, Danger, Fear of being considered weak or helpless, Feeling overwhelmed, Adversity, Unrealistic plan, Difficulty, Obstruction, Lack of preparation, Unstable position, Lack of initiative, Refusal of protest, Stubbornness, Rigidity, Hesitation, Loss of possession, Poor health, Loss of status, Unfair play.
The reversed Nine of Wands Deviant Moon Tarot shows that you can hesitate to make a long-term commitment. You feel overloaded with work, and the responsibility weighed down on your shoulders or lack of support from those around you. You may also lack the essentials, such as finances, skills, or time, to deal with the person who creates the above challenges. As such, you are doubtful to make any commitments due to the fear that your responsibilities will get overwhelmed.
You may feel insecure and need to defend yourself. The boundary you set around you is now becoming a prison, locking you in with your habits and behaviors. Relax with past disappointments and feelings of resentment. Try to let it all go.
The reversed Nine of Wands Deviant Moon tarot asks you not to make assumptions or to hastily judge. Go back to the Eight of Wands – embracing every aspect of life. Follow the flow and release the pressures that are weighing you down. A vacation can make you feel better, and regain lost energy.
Occasionally, reversed Nine of Wands Deviant Moon Tarot can indicate extreme paranoia or even schizophrenia. You may feel as though you are constantly under attack or being observed. Usually, this is a sign of an internal fear, not an actual outward threat. Seek mental advice or help.
IV. The guideline of Nine of Wands Deviant Moon Tarot
Nine of Wands Deviant Moon Tarot usually indicates a need for rest, take the time to heal, and win. While it can be difficult to do, this card will cause you to leave the field to reach brand-new teammates. Unleash any attachment you may feel right now in a leadership role.
While it is good to dedicate all you have to something or someone meaningful to you, adultery and martyrdom are bullied. Rest for a while. No one can fault you now.
With the Nine of Wands Deviant Moon Tarot, you did all you could to bring the situation to a successful conclusion. All potentialities have been depleted and all available creative energy has been put to use. This can be a great time to release your worries and enjoy your time off. There is nothing more to bring to the quest unless you regenerate and restore the energy you have put into the righteousness.