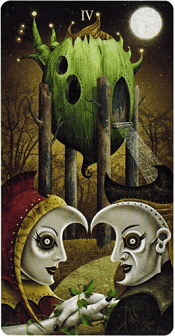 Four Of Wands – Deviant Moon Tarot Deck
I. The Description of Four of Wands Deviant Moon Tarot
On the card, there is a couple, arm in arm, walking towards their new home. Four large wands play a role as the foundation of the house while creating strong support for this couple to build a life together.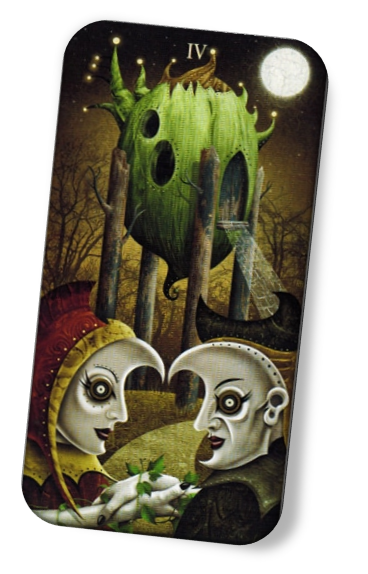 Four of Wands Deviant Moon Tarot is a beautiful card that surely readers will smile when drawing it in the spread even though this deck has many ghostly drawings – a card of goodness, blessing, couples, and dreams. Yet the author still gives some advice and notes to you through this card. The image of the stair leading up to the house, the shape of the building, and the four pillars are the things you need to pay attention to.
This card gives great advice for couples. At first, you may feel that you and your partner really understand and are born for each other. The path of love is smooth and stable in the early stages of the relationship. After the passionate flame of love has stopped burning enthusiastically, especially as you get closer to a long-term commitment or marriage, the path will be steeper and more fragile. Your steps will become harder and thoughts of a bounded future hold you back.
This makes sense as that steep road leads to the house looks like a giant cocoon. There are 4 pillars supporting the house, although large and solid, among all the Deviant Moon Tarot cards that have good meanings in the Wands suit (Two of Wands, Three of Wands, Four of Wands, Six of Wands), only Four of Wands has the image of crumpled pillars and looks like they are eaten by termites. The house and the pillars will only stand firm with regular maintenance and repair. Likewise, love is the sweet fruit of the beginning and the slowdown of later stages, it is also the time when two sides sacrifice a bit of personal freedom to attach and care for each other regularly.
II. The general meaning of Four of Wands Deviant Moon Tarot
Keywords and extensions: Stability, Solid foundation, Marriage, Family Life, Celebration, Harmony, Community, Harvest, Development, Peace, Achievement, Commemorative events, Satisfaction, Blessing, Security, Success, Bonding, Accomplishment, Improvement, Prosperity, Enjoyment, Praise, Productivity, Wealth, The pursuit of creativity, Contentment, Happiness, Vacation, Relaxation, Possible love, Honeymoon, Reward, Midterm, Mature, Bar Mitzvah ritual.
Four of Wands Deviant Moon Tarot heralds celebration, good times, a happy family, and good news. In arithmetic, number 4 represents stability and a solid foundation, and with Four of Wands, you are enjoying a time of happiness and stability. This card shows a sense of harmony and balance as well as fulfillment, and therefore represents times of peace and joy in life. All are the results of extraordinary efforts in the face of difficulties and challenges. Four of Wands is one of the most active in the Tarot in general and indicates luck, satisfaction, and well-being.
With the Four of Wands Deviant Moon Tarot, this is the perfect time to enjoy with family and friends and to celebrate the great time you all spent together. Usually, this card reflects a vacation you take with your family and take part in a celebration. Alternatively, it could be as simple as inviting your best friend over to an intimate dinner and having a few glasses of wine. It usually refers to marriage, engagement, childbirth, birthday, graduation, or another type of celebration that marks a special milestone.
If you've worked on a project, you'll hit a milestone which is worth celebrating. You've completed an important phase of the project and can feel very proud of what you've done so far. Four of Wands Deviant Moon Tarot signals a time of joy and satisfaction in life and shows and a goal achieved and a new vision is beginning to open up.
It is also closely related to the home environment, you can embark on improving or decorating your home. Recently, you may have purchased a new home or are on the verge of looking for a new home and are ready to settle in with your new environment.
Four of Wands Deviant Moon Tarot signifies peace, harmony, and reconciliation. You might find a refuge from the turmoil of life, perhaps by meeting someone new in a romantic setting or finding a new place to live and stay away from it all. If you've ever experienced a disagreement with others, now will be the time to make a peace proposition and focus on creating harmony in the relationship.
This card encourages you when things seem too challenging. It is a reminder that almost everything in life doesn't come easy, and so when you make a milestone, be proud of everything you've achieved. Likewise, it represents transferring to another stage; moving from past mistakes and finding peace, acceptance, and happiness.
III. The reversed meaning of Four of Wands Deviant Moon Tarot
Keywords and extensions: Unsafe family life, Unstable love, Divorce, Strong disagreement, The process of transition, Success comes with a higher price than expected, Pause, Difficulty, Gratitude, Inhibition, Criticism, Bad service, Frustration, Intolerance, Short-sighted, Narrow-minded, Excessive conservation, Refuse to come out of the shell, Restrict, Disapproval, The problem with the property, The need to protect one's success.
The reversed Four of Wands Deviant Moon Tarot shows a lack of harmony or inscription in your home. There can be tension between family members or loved ones, and you find yourself trapped in that stuffy atmosphere. This makes you feel uncertain about the relationship and what you can or cannot depend on. You may also go through a transition in family life and feel a similar tension.
Likewise, your home situation becomes more and more unstable. There is an external threat to the peace and happiness inherent in your home. For the time being, your immediate concerns are settled, but the long-term problems still cannot be resolved. Depending on how you plan your life, it may be better to move in/out during this time to resolve the pressing problem.
While the upright Four of Wands Deviant Moon Tarot reflects stability, the reversed one can indicate you're going through a transition period, and things are becoming unpredictable and threatening. You may experience a lot of changes in your life, such as changing jobs, moving houses, or neglecting a relationship. You know this is a significant transition to take, but it can leave you feeling unbalanced and insecure about the future.
In an overview, the reversed Four of Wands Deviant Moon Tarot contradicts a person who does not intend to seek a long-term relationship but is always willing to invest time and affection during the first stage. Fear of commitments is what prevents him/her from wanting to be immersed in true love.
IV. The guideline of Four of Wands Deviant Moon Tarot
Four of Wands in this suit is a collaboration card, usually symbolizing a couple who have created something beneficial and lasting together. Chances are, they'll make a contribution to the future – a business, a hospital, a theater, or a university. They represent the founders of future communities that will grow around their inspiration. Teamwork is key.
It takes time to build a big vision, and others with big ambition and talent must be attracted to it in order to fulfill their potential. What we see here is the startup team, the founders whose vision is fully committed to designing blueprints and laying foundations. This cooperation is the archetype for any society or group in which the whole is greater than the sum of the parts.
Four of Wands Deviant Moon Tarot supports your well-made evolutionary ideas. Use your charisma and strength to attract like-minded souls so you can dramatically increase your sphere of influence – the more people you reach, the better.
Your enthusiasm energizes your vision, which is thriving with possibilities. As you more freely share what's in your mind and heart, others will see themselves in your vision, so you naturally receive approval, support, assistance, and abundance. In your own way, you are addressing a common need.