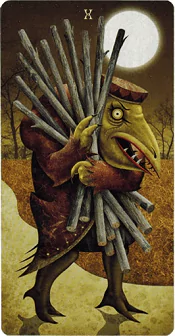 Ten of Wands – Deviant Moon Tarot Deck
I. The Description of Ten of Wands Deviant Moon Tarot
On Ten of Wands Deviant Moon Tarot, there is an overburdened worker on his way home from a long day at work. Despite the hard work, he is still able to manage that heavy workload.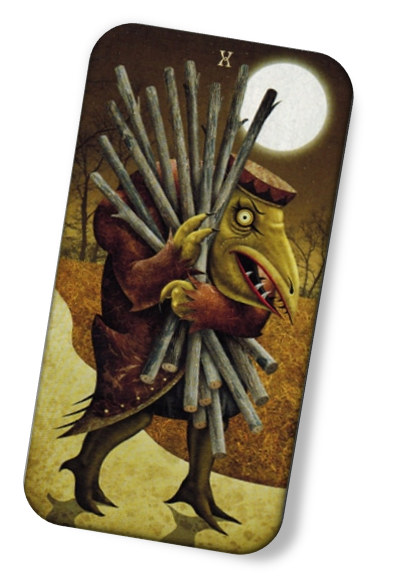 The ten sticks seem heavy and long, and the muscular man must have tried his best to hold them all with both hands. He walks down a deserted path and the moon is the only light to shine the way for him. It is already dark and the others must have gone home long ago to rest. Ten wooden sticks are cut and trimmed meticulously, evenly, and thornless, proving that he is very careful and hardworking, putting in a lot of effort to get his work done even if it's difficult and time-consuming. It can be that he is trying to stay longer to fulfill his duties or maybe he is a workaholic, completing the work of tomorrow or someone else.
Hard work and taking responsibility are valuable, but working equivalent in your ability and taking time off should also be considered. Your hard work and quiet efforts will pay off, sooner or later. No one knows the persistent endeavors of the worker in Ten of Wands Deviant Moon, only the moonlight is the witness above. But he doesn't seem tired, alone, or wants to give up. As long as you know what you're working on and striving for, once the results are shown, no one can deny your potential.
II. The general meaning of Ten of Wands Deviant Moon Tarot
Keywords and extensions: Repression, Bear the burden but still can manage it, Excessive stress, Responsibility, Hard work, Stress, Achievement, Pressure related to work, Superposition, Determination, Contain too much, Inability to delegate, Overload, Loneliness, Rigorous project, Burden nuisance, Strive for success, Anxiety, Oppress, Obsessive behavior, The temptation of power, Work is above all, Maturity in the relationship, To accept the unpleasant results of one's actions, Eyes bigger than one's stomach.
The number 10 represents completing a cycle, and so with Ten of Wands Deviant Moon Tarot, you've completed a cycle after a period of struggle. In the end, you are reaping your rewards after investing so much hard work and effort. You've completed a creative venture, fulfilled a dream or a key goal, and now have to deal with lingering consequences.
However, Ten of Wands Deviant Moon Tarot shows that even once your goals are met, responsibility and commitment continue to weigh on your shoulders. You are determined to continue to fulfill the responsibilities you have set for yourself, to ensure continued success. The problem is that these responsibilities can become overwhelming and you are suffering. This is like business owners creating a thriving industry but having to work 70-80 hours a week to meet the needs of their employees. The inspiration and creativity associated with the original vision are gone, and things quickly get tough. Therefore, let go or put down some responsibilities to enjoy your life.
Ten of Wands Deviant Moon Tarot reminds us of the burdens we are carrying. We have spent too much and tried to make it all happen. As such, this card advises you to stop and reflect on your current work as well as your lifestyle. Evaluating activities or tasks is important, as they relate to your broader goal. You have to manage your schedule or create prioritized methods to spend your time on significant tasks. Your goals should be more effective and allow yourself to rest and relax when needed.
Ten of Wands Deviant Moon Tarot also means that you are being suppressed by outside forces. You are overworked, exhausted, and overburdened. At this point, you are carrying so much work that it is difficult to handle it all. While trying to get things done, you feel overwhelmed with the responsibilities and after-hours activities. You need to stop working for a while. Otherwise, your time, energy, and working speed will be drained. When that happens, any commitment becomes tension.
III. The reversed meaning of Ten of Wands Deviant Moon Tarot
Keywords and extensions: Loss, Unable to maintain stability, Treacherousness, Hide from responsibility, Get out of stress and pressure, The burden is put down, Entrusted work wisely, Misuse of talents, Arrogant ambition, Overload, Delay, Failure, Unrequited work, Stuck with trophies on hand, Suspicion, Unfair burden, Jealousy, Deceit, Exhaustion, Self-imposed obligation, Blaming responsibility, Want to over control the lives of others, Offend someone, Abuse, Be in troubles by things which are not worth it.
Lack of perspective on your life can impair your progress. The reversed Ten of Wands indicates that you are struggling to get a prospect on the situation. Besides, lack of objectivity can reduce your visibility and make it all come to an end.
The upright Ten of Wands Deviant Moon Tarot reflects that you have too much of a burden. On the contrary, reversed Ten of Wands points out that the things you are carrying are unnecessary. If you feel overwhelmed by the current circumstances, find different ways to reduce the load. Can you assign certain tasks and responsibilities? Are you worried about unrelated or irreversible issues? Don't become a martyr, instead, be more realistic about your abilities.
If you're going through a challenging time, reversed Ten of Wands Deviant Moon Tarot says you'll get through this soon and will feel relieved.
You are proactively recognizing activities that are not beneficial to you and start to free yourself from unwanted responsibilities. You might even be disposing of old clothes or selling out old furniture, to clear the clutter and simplify your life. This is a great time to rearrange and prioritize any issues. Sometimes, the reversed Ten of Wands Deviant Moon Tarot implies that you are avoiding responsibility and making it even more challenging, causing others to take the consequences from you.
IV. The guideline of Ten of Wands Deviant Moon Tarot
Ten of Wands Deviant Moon Tarot represents a great endeavor, a haunting commitment to a quest that demands all you have. With this card, you have to do whatever is necessary to complete your tasks – nothing can be allowed to interfere.
Look beyond the challenges, setbacks, disappointments, and frustrations you tend to see more easily. When you awaken your high-minded inner child, you will renew your daily life with a joyful purpose.
Ten of Wands Deviant Moon Tarot advises you to remember the true, simple heart of youth and all the idealism it holds. Now might be the time to dig deep into yourself and identify your purest, healthiest impulses. As you do this, allow your optimistic and honorable side to see what's genuine in the world.