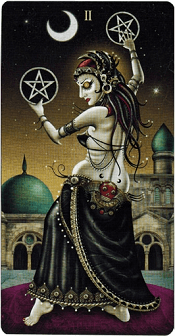 Two Of Pentacles – Deviant Moon Tarot Deck
I. The Description of Two of Pentacles Deviant Moon Tarot
In Two of Pentacles Deviant Moon Tarot, a Gypsy woman is performing a strange ritual under a crescent moon, balancing two silver coins in her hand. Her movements are smooth and flexible like a liquid. Although when looking at the appearance, she does not spend too much energy or have any difficulty performing the dance, in reality, they are the result of intense practice and concentration.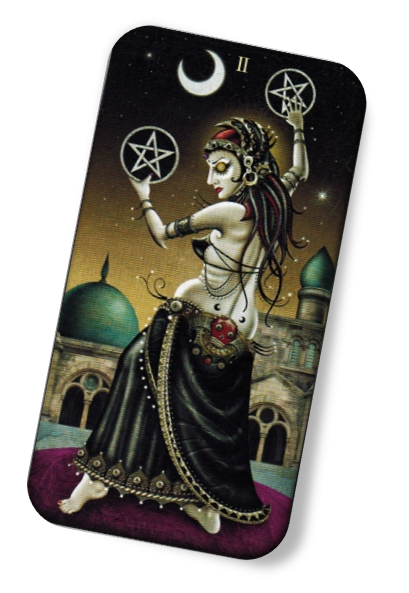 The light of the moon is the balance between the two pentacles in her hand. Pentacles related to secular realms and concerns. So you can find yourself in this juggling trajectory.
The idea of ​​one arm supporting the other in Two of Pentacles Deviant Moon Tarot is quite interesting. With this card, you do not want to put all your eggs in one basket as your risk of going empty-handed is considerably high. It is best to keep some of your options until you are clearer on which direction you want to go.
In Two of Pentacles, the perception represented by the Water element is swept away by conflicting concerns. While Ace of Pentacles signifies the start of a new project, Two of Pentacles Deviant Moon Tarot outlines the need to balance important areas of life such as family, friends, as well as physical, wisdom, spirit, and happiness. This card shows the equivalence between the above opposing choices and interests. Life is constantly changing, but if you can create an equilibrium and harmony between the above requirements, you will achieve the desired satisfaction and prosperity.
II. The general meaning of Two of Pentacles Deviant Moon Tarot
Keywords and extensions: Strive for balance and harmony, Solve many situations, Stability, Adaptability, Time management capabilities, Balance many obligations at the same time, Dilemma, Multitasking, The allocation of resources, Support the creativity, Skillful manipulation, Multiple responsibilities, Good news, Gifts, Change your career or environment, A new relationship, A new beginning, A movement that changes your life, A trip, Everything changes; Easy come, easy go; Rob one's belly to cover one's back, Go with the flow.
Two of Pentacles Deviant Moon Tarot serves as a reminder to try to arrange concerns related to family, friends, work, finances, and new challenges and friends properly. You need to be clear about your priorities so that you can invest your time and energy appropriately. You are extremely busy and can be distracted by work, so prioritize activities that are essential and manage your time carefully.
Two of Pentacles Deviant Moon Tarot reminds you to focus on the broader goals in life while ensuring that your daily tasks are carefully planned. This card is about time and financial management. Make sure your bills are paid on time as well as clearly write down your appointments. It reminds you that keeping a daily schedule in mind is just as important as pursuing broader goals in life.
At times, Two of Pentacles Deviant Moon Tarot can indicate future problems and dilemmas. Obstacles will appear and interfere with what you pursue in your life. You will feel anxious if you do not adjust your priorities and manage your time more effectively. This card implies that you are trying to solve many problems at the same time. Perhaps, you no longer enjoy your work as before because it has now become an obligation. You are trying to please others but forget about your needs. You must know how to divide your time wisely. The financial situation is unstable and you need to balance it.
It is obvious that your business must have a hard time when starting. You are disoriented and trying to rob the belly to cover the back. The amount you want is impossible but there will be an alternative one. You need to share resources with your business partner.
Similarly, Two of Pentacles Deviant Moon Tarot predicts change. Flexibility and adaptability to circumstances are essential. You have to focus on the problem, stay flexible and well informed, constantly seek new opportunities, and change the path you are on in the best possible direction.
III. The reversed meaning of Two of Pentacles Deviant Moon Tarot
Keywords and extensions: Cannot maintain balance in life, Priority set incorrectly, Disorganized, Chaos in financial status, Unstable, Unbalanced, Wasteful, The solidity, The uncompromising, Sadness, Restlessness, Hesitation, Debt, Unwise spending, Poor financial management, Inadequate efforts, Complications, Lack of concentration, Bad news, Opposition, Discouragement, A trip that is postponed or canceled, Loss of self-control, Division, Abuse of trust, Corruption, The eyes are bigger than the stomach, Slavery.
In your everyday life, the reversed Two of Pentacles Deviant Moon Tarot signals that you are extremely occupied and at times trying your best to manage your activities and commitments. You may also experience financial management and check payment problems. The pressure makes it easy to overwhelm you with your responsibilities. Therefore, this card encourages you to be more systematic and planned in your daily work.
The reversed Two of Pentacles Deviant Moon Tarot can clearly indicate that you avoid handling daily tasks and family commitments. You are investing most of your time at work, neglecting your family or love partner. Additionally, this card in reverse also shows that you find it too difficult to manage your finances. Now is the time to outline a reasonable budget.
In a relationship Tarot spread, the reversed Two of Pentacles Deviant Moon Tarot advises against making commitments, especially when things are getting tense or uncertain about the future. Do not carry too many plans such as having a boyfriend at this stage or making any financial commitments together. You are trying to keep up with your work and commitments at this point and distract attention from your relationships. Know what you really need and want at the moment and see if it is really worth focusing on other unnecessary engagements.
You need to lessen the workload and focus on a certain task at a time. On the contrary, you manage your finances ineffectively due to unwise spending and the excessive use of credit rationing. You have trouble getting paid at the present time. It seems to be challenging, so you have to be flexible and force yourself to follow the situation. You should consider your goals thoroughly and make sure you have the necessary determination and skills before doing anything else.
IV. The guideline of Two of Pentacles Deviant Moon Tarot
Two of Pentacles Deviant Moon Tarot traditionally features a young man juggling, with two coins balanced in an eighth pattern, or just the coins without the youth – one heads up, the other tails – both flipping in the air. Apparently, until a coin drops, the final call cannot be made; There is much more to learn before a decision can be made about the appropriate action.
This card advises you to be patient, so don't allow yourself to rush. Image number eight is a symbol of immortality and eternity. Its message is: "There is no need to rush. You have all the time needed to resolve this problem, no matter how things are up now." The implication in this scenario is the idea that changes are happening, but you would do better if you stay calm until more information becomes available. Everything changed at a time like this.
Two of Pentacles Deviant Moon Tarot advises you not to pick anything definitive for the moment. Give yourself a little more time to categorize your feelings and any mixed messages you might get from others. Ask yourself: Is all the truth available? Or is the coin still flying in the air? There is no need to make a decision or take action too soon. Only act when you can do so with a united heart and mind.