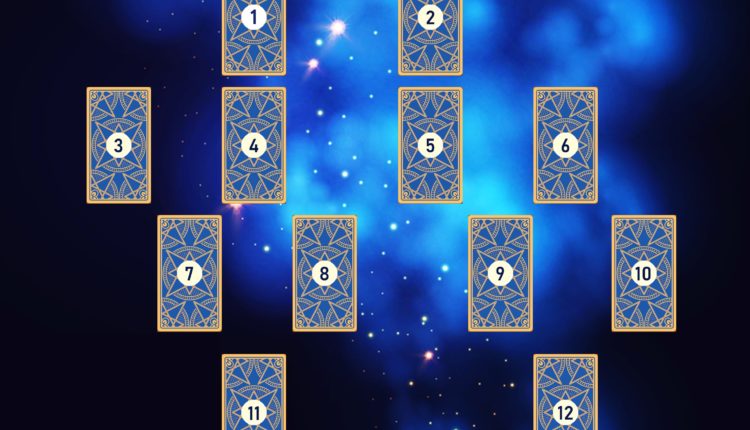 Common Oracle card spreads
Beginners always find it difficult to start finding connections with gods when using Oracle. Choosing the right way to spread the cards can be the first thing to note. The following article will guide you to the common ways in the Oracle card spreads.
1. Analyzing a relationship in love
This is one of the Oracle card spreads that include all 7 cards. There are 5 main cards arranged according to the five-pointed star shape. Starting from card number 1 is placed at the top of the star, then drag down to position 2 at the star's leg. The next card will be sorted from left to corresponding positions 3 – 4 – 5 with the right wing – left wing – the star's right leg. Position number 6 is located at the center. Finally, to end with the card located at the 7th position outside the star.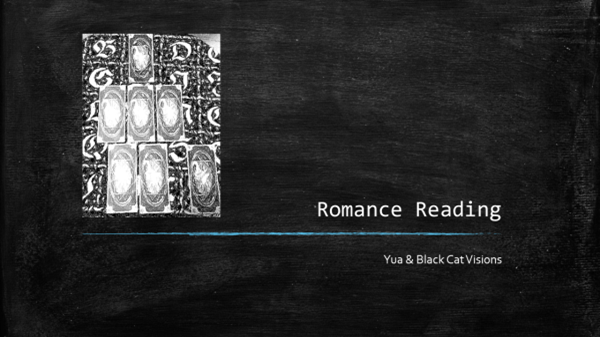 Detailed description:
#1: The essence of the person you love in a relationship;
#2: Provide additional data in the past related to this relationship. How did this love story take place?
#3: What is the emotional relationship at the present time?
#4: Development dimension of the relationship in the future.
#5: Issues to overcome in order to develop better relationships with your lover.
#6: The result of the relationship.
#7: The advice for you at this time.
SEE MORE: How to use Oracle efficiently
2. Love Triangle Oracle Card Spreads
This is one of the Oracle Card spreads which is derived from Tarot's spread of the same name. It is used to be able to consider in general whether an emotional relationship is in an unstable state or has no developmental direction. Unlike Tarot, the way to spread cards in Oracle will not develop it into multiple cards (Tarot uses 10 cards but Oracle will only have 6 cards applied).
The reason for this difference is because of the nature of Oracle always wants people to focus more on their own orientation. If Tarot Cards spread too much emphasis on the person you are in love or relationship binding, Oracle will aim to understand the feelings of the soul. This will also help strengthen the spirit of the person in question and let them find a solution for themselves.
Detailed description:
#1: Triangle top – Relationship status.
#2: Second row – First position from left to right – Describe you in the relationship.
#3: Second row – Second place from left to right – Describe your lover in the relationship.
#4: Third row – The first position from left am- Advice for yourself.
#5: Third row – Center – Advice for the relationship.
#6: Third row – Last position – The result of this relationship.
3. Does the person I love secretly care about me?
This source of spreading comes from the same spread in the Tarot. It was first introduced in 365 Tarot Spreads book written by Sasha Graham. Spreading this message is used to consider the relationship of people to ask and whom they love. If applied correctly, it will show you how much the opponent has the percentage of sympathy.
Oracle cards will provide information about whether the person you are interested in is caring or responding to your feelings. If you are feeling confused about your feelings and worries about whether love is being answered well, please stay calm. Spreading this message may explain those questions. To maintain the nature of the problem, you should not change the question as well as the number of cards.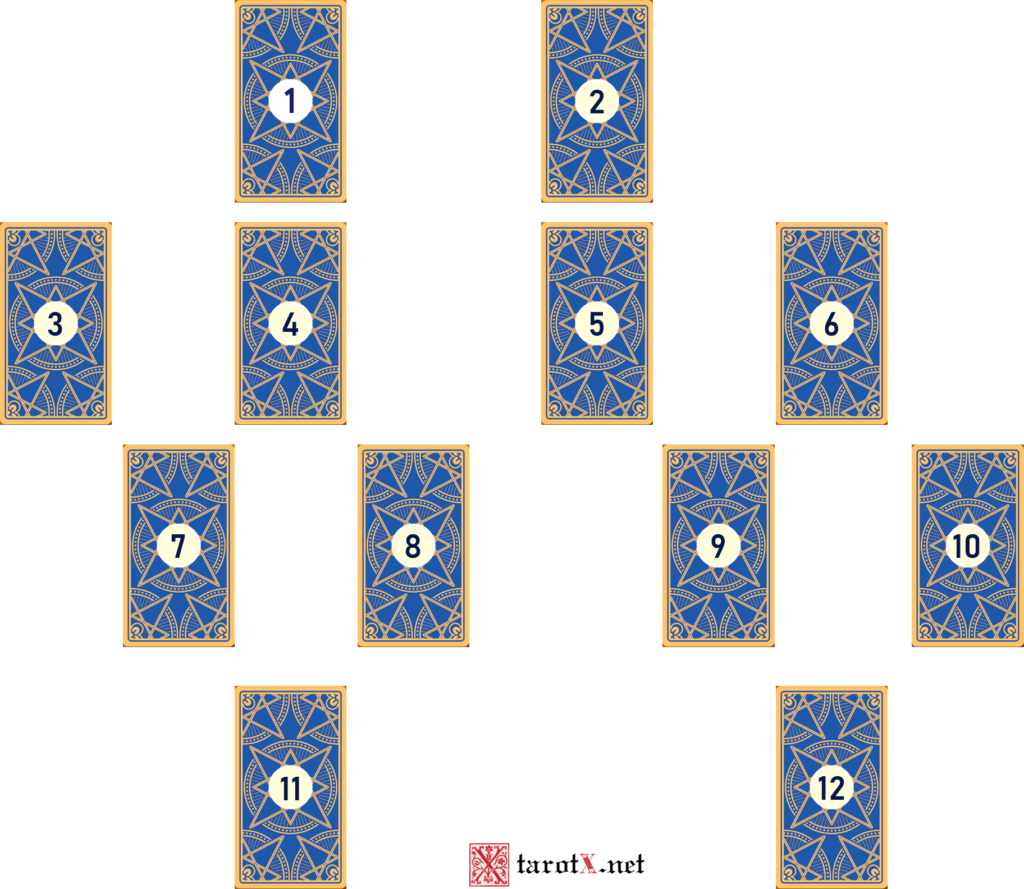 Detailed description:
#1: Me
#2: That guy
#3: What does his/her body language say?
#4: Are his/her eyes looking at me?
#5: Does he/she like to communicate with my body?
#6: Does he/she treat me differently than everyone else?
#7: Does he/she care about what I like?
#8: Does he/she feel embarrassed near me?
#9: Does he /she care about me?
#10: Should I determine the relationship?
#11: Do I have to suffer in this relationship?
#12: Is this love worth my risk?
4. Unilateral relationship
The unilateral relationship in love is probably the most frustrating. It always creates a feeling of fatigue for anyone who is in this situation. If you let love move forward, it doesn't seem to be any foundation to help things grow happily. When you move to the back, the self must accept suffering. If the person you love secretly doesn't know, it may not be tiring.
But there are some unclear relationships that will cause a lot of pain, especially those who overwhelmingly love. You may be stuck and suffering because of a unilateral relationship. So, let Oracle cards help you find a way to free things.
Detailed description:
#1: Representing women in relationships.
#2: Representative for men in a relationship.
#3: The result of the relationship.
5. Expressing Love with Oracle Card Speads
The format of this spreading the cards was created by Emerald Lotus Divination. It was originally used for the Tarot. However, sometimes the reader's experiences feel that it is consistent with Oracle cards. The way to spread Oracle cards in this form is born to meet the need to improve your ability to connect with people (mostly emotional, love). It carries messages to guide us on how to learn to love the most right way and become a perfect lover. Open your heart and be ready to enter a romantic love relationship.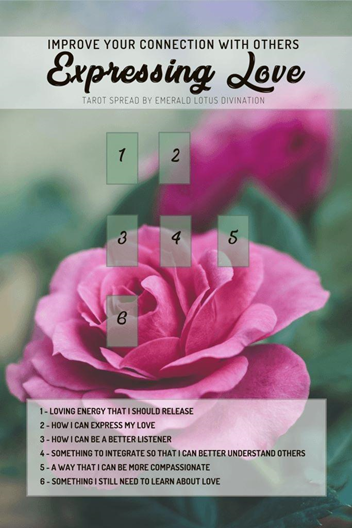 Detailed description:
#1: Loving energy that I should release
#2: How I can express my love
#3: How I can be a better listener
#4: Something to integrate so that I can better understand others
#5: A way that I can be more compassionate
#6: Something I still need to learn about love
6. Orienting health by color in Oracle card spreads
This is a way to spread Oracle cards to identify someone's health problems through color. In addition, it is the best way to understand which chakra in you is working very well and working very weak. You should understand that these things will lead to ongoing problems in psychology and affect internal and external health. Being aware of a health condition, people can gradually find directions to improve energy sources through a variety of ways. Oracle's spread about this form should use 2 different decks. The second deck has the right to choose freedom as long as it has to involve chakras or gems to have a clearer orientation to health.
Detailed description
#1: Your strengths (Which chakra is working best?)
#2: Your weakness (Which chakra is the most restrictive?)
#3: Tips/ orientations to improve health. (use a different deck of cards)
7. Oracle card spreads based on the number of questions
The easiest way to solve problems in your mind is to give a certain number of questions and create a turn to spread the cards own way. This approach was developed based on the spread Freestyle. However, this way of spreading Oracle cards also has its own rules.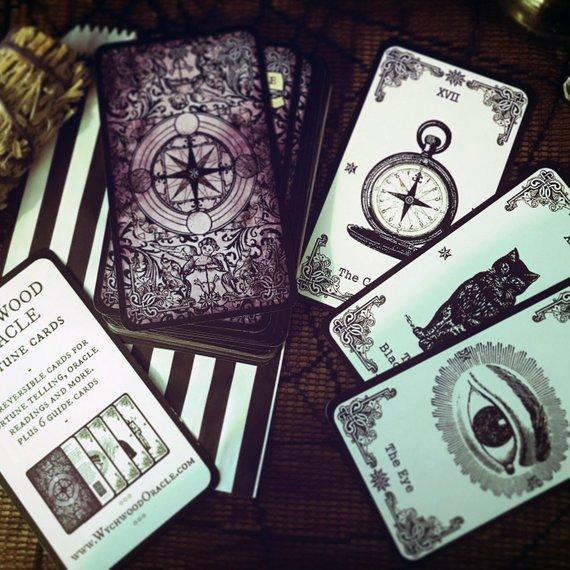 Questions must be related to the main issue: The questions you ask must focus on the main issue. It is the time for the functional mind so you must clearly identify where the problem is and ask. When explaining the meaning of Oracle cards, you will see the message given close to the question.
Questions should be linked to a meaningful story: Discrete questions will not help you solve the encountering problem. It will turn spread Oracle's cards become meaningless. You should arrange all related questions together to fulfill your goals and increase the ability to receive the message of the Gods.
If it is too simple to spread Oracle's cards, there is no need to pay attention to these two things.
8. Oracle card spreads based on the knowledge of yourself and the deck
This is an interesting way to create the new Oracle card spreads because it relies on accumulated self-knowledge. It will help you not get lost when identifying difficult or easy levels. Remember that your knowledge is very diverse. One thing seems very easy to absorb with this person while others are difficult. So, the main point of the problem bases on your knowledge to achieve an overview and the number of messages contained in Oracle cards.
Creating this Oracle card spread is based on your general knowledge. In addition, you should also consider the meaning of the Oracle deck. If you can use the deck of cards for most problems, maximizing it will not have too many obstacles. But if it has a special way to use it, you really need to pay attention to whether to create a new spread to use.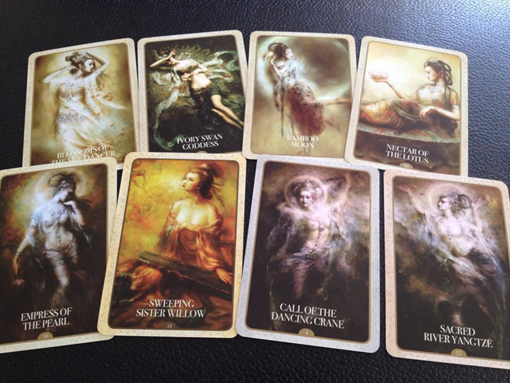 Another example is when you practice the Oracle card spreads with the Kuan Yin. This is a very sacred deck and extremely different from the current common ground. If you think this deck is normal and can be used for multiple topics, it is false. The Kuan Yin Oracle set focuses on initiation and helps you learn how to Meditate + Pray. All messages are oriented to enlighten, self-direct and understand themselves. Then, if you want to create a new spread, you must know its knowledge. Everything will be simpler if you still maintain the spirit and energy of Kuan Yin Oracle.