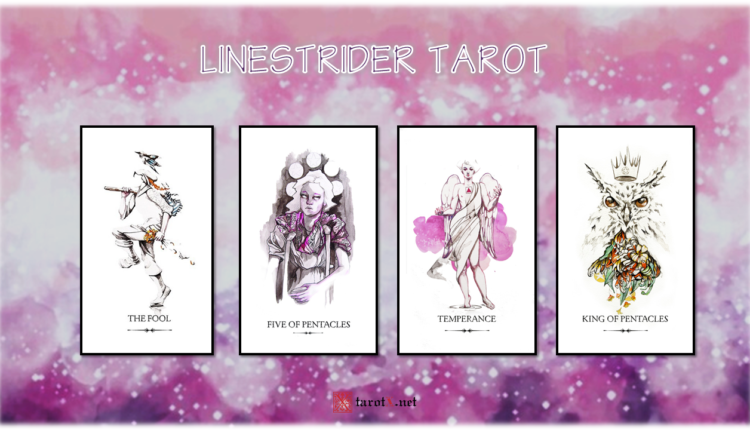 78 Linestrider Tarot Cards Meanings – Siolo Thompson
I. Introduction and review Linestrider Tarot Deck
The Linestrider Tarot, illustrated by Siolo Thompson and released by Llewellyn Publications, is a 78-card deck of travelers between two worlds – whose lives span both worlds, ideas, mental states, or reality.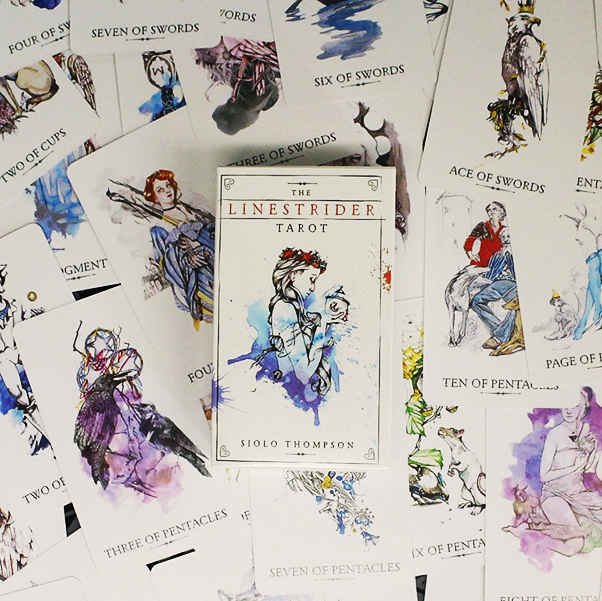 This deck of cards refers to that concept, combined with the traditional Rider-Waite Smith standard (RWS), creating delicate, minimal, and appealing cards. In folk, there is a margin that separates the visible world from the invisible world on many levels, and Linestriders are magical people who live those lives or gather knowledge from both sides of the line or the edge. Linestriders tour through the routes that separate ideas, discipline, mental state, world, and reality.
With the stable basis of the Rider Waite-Smith Tarot deck, the Linestrider Tarot both expands and reduces the look of the classic Pamela Coleman Smith deck. Human figures appear in only half of this deck while the rest are animals, fulfilling the roles commonly performed by humans in many standard RWS decks. With an unusual sensuality and sensitivity, artist Siolo Thompson described humans as mysterious and dreamy, and animals are wise and intelligent creatures.
This is a 78-card tradition-oriented Tarot deck, with 22 Major Arcana cards and 56 fully illustrated Minor Arcana cards. The Major cards remain the old title and the four Minor suits are Wands, Swords, Cups, and Pentacles. Court cards include Page, Knight, Queen, and King as usual.
The card size is 7 x 12 cm – the standard size of a regular Tarot deck. The deck weight is well-made and hand-fitted. The card is quite heavy-handed but flexible, has a smooth edge and a light shade. Linestrider Tarot deck has quite meticulous images, delicate and elegant colors. The work is a bizarre mix of minimalism in many respects such as watercolor, comic style, subtle pencil brush strokes; realism, and symbolism.
The image on the card has an open and blank background; close-up images seem to be simple with a layer of watercolor and pencil that create clever symbols that are consistent with the lower stimulus-center-space-threshold image.
I. Origin of the Linestrider Tarot Deck
Major Arcana Linestrider Tarot Deck
Minor Arcana Linestrider Tarot Deck
1. Wands Suit Linestrider Tarot
2. Cups Suit Linestrider Tarot
3. Swords Suit Linestrider Tarot
4. Swords Suit Linestrider Tarot
II. The beauty style of Linestrider Tarot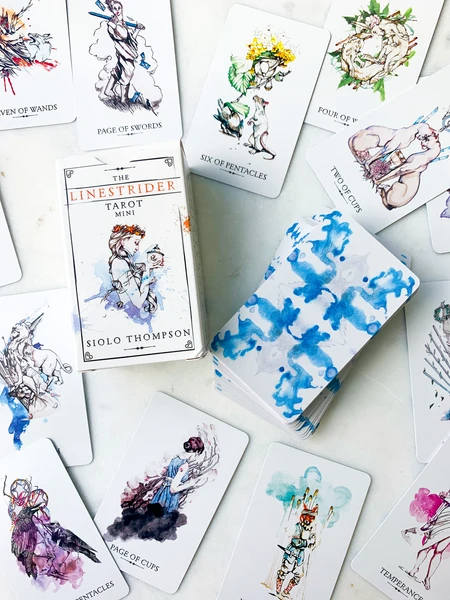 The author's palette is quite diverse: many white, sepia and gray are the main colors to define the image. Details are added in a wide spectrum of colors: fiery vibrant red, orange, yellow, pink and pale lavender, succulent green, navy blue. The illustration is in the center of the card surrounded by white space, forming a wide border in each image. The design on the back of the card is Rorschach-like watercolors surrounding a light gray owl which can be seen in reverse.
Linestrider Tarot is a skillful combination of color and detail in each unique watercolor stroke. Minimalism with gentle and attractive images on each card brings the readers to the line between two opposing worlds: magical mystery and logical science. Get ready for a dreamy yet realistic adventure through Linestrider Tarot's charming colorful dance.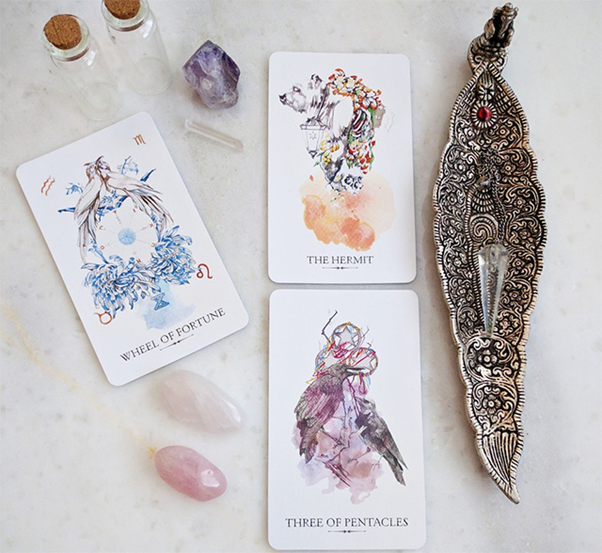 The 274-page Linestrider's Journey guide book written by the author is accompanied in the large white box with pictures printed from the deck and card information. The chapter 'About The Deck' explains the concept behind the Linestrider Tarot, revealing the inspiration for the concept of Linestriding. A bit of a shortened autobiography by Siolo Thompson is also featured.
The chapter 'Handling the Deck' guides advice-seekers on how to use and preserve the deck, and whom readers allow to touch the deck. This tutorial introduces some interesting information about reading cards, including techniques like Highlighting Aces and The Tower's effect on reading cards, as well as a small discussion on reading reversed cards. An additional chapter on a 3-card spread, a 5-card spread, and an astrological spread; as well as arithmetic and plant messages.
Each card has a black and white print and a detailed description of the deeper meanings of the illustrations and symbols. The meaning of interpretation is for both upright and reversed cards. Although these meanings are only within the limits of common interpretation, they are still knowledgeable, perceptive, and subtle. Each chapter ends with a list of small messages: the Major Arcana contains astrology, arithmetic, and plants. "Associated Birthdays" replaces Major Arcana's arithmetic message. The book ends as a graceful appreciation to the new owner of the deck from the creator of the Linestrider Tarot.
III. Who is the Linestrider Tarot for?
This deck is absolutely stunning, imaginative, and fine-tuned. If you are in need of a deck that does not obsess over details but gives you space to draw your vision, the Linestrider Tarot deck is perfect for you. If you love watercolor or fine art in general, then take a closer look at Linestrider Tarot. If you are looking for a deck with an all-animal emblem, this deck is worth checking out. Tarot readers who have some experience or professionals can easily master and be satisfied with it. However, beginners may want to reconsider this deck.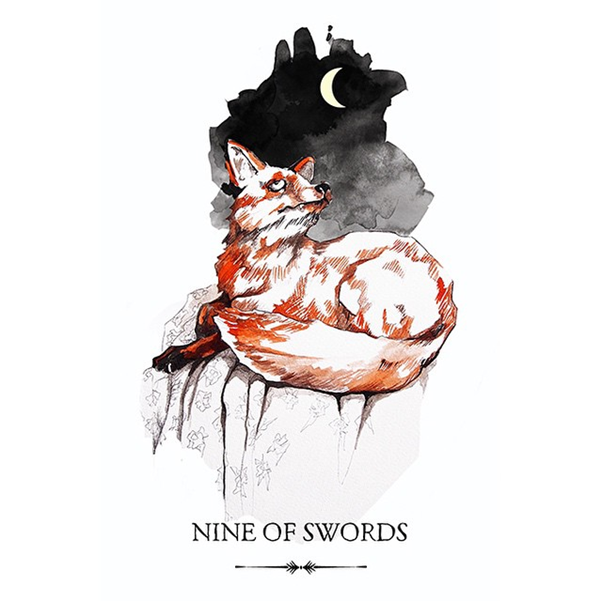 This deck can be read in reverse, very closely to the RWS standard and if there is a card that is slightly different from the standard, the author will explain carefully in the companion. Some typical card combinations are also featured in the guidebook, which is a very valuable document for newbies. But that does not mean that novice readers to Tarot will digest this deck easily.
Compared to other animal Tarot decks like The Badger's Forest, Tarat Tarot, or Wildwood Tarot, the animals in the Linestrider Tarot are drawn in a much more charismatic and vivid way. Their expressions are as lifelike as real humans and they not only have expressions but also exude aura – something that is extremely difficult to pull off.
You will not feel that Linestrider is a completely wild and thorny world like Wild Unknown Tarot, but a miniature "population" or "community" with different types of "people", which makes the relationship spreads are not too strained like other animal decks.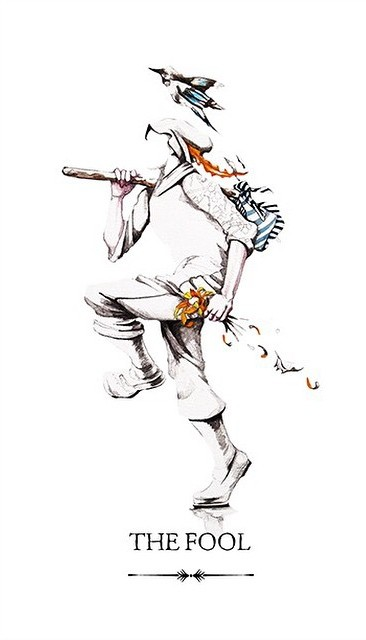 The rare downside of the Linestrider Tarot is probably that it does not evoke a real space and a fully authentic world because it has too little background detail. There are many Tarot decks that portray a world that readers can clearly grasp.
For instance, Nicoletta Ceccoli's world is the subconscious of a child, Fountain is the vast and slightly cosmic chilling world, or Delphi is a complicated human society in ancient Greece. The Linestrider Tarot is more about symbolism than scenery.
Each card focuses on drawing characters and herbs, has no background and color, so readers will not perceive the taste, light, and sound, but can only understand a little character's emotions, actions, posture. Of course, this is a trade-off for minimalism, but it can also be a minor hindrance to your hunch when you interpret the cards unless you are familiar with iconic-oriented Tarot decks.