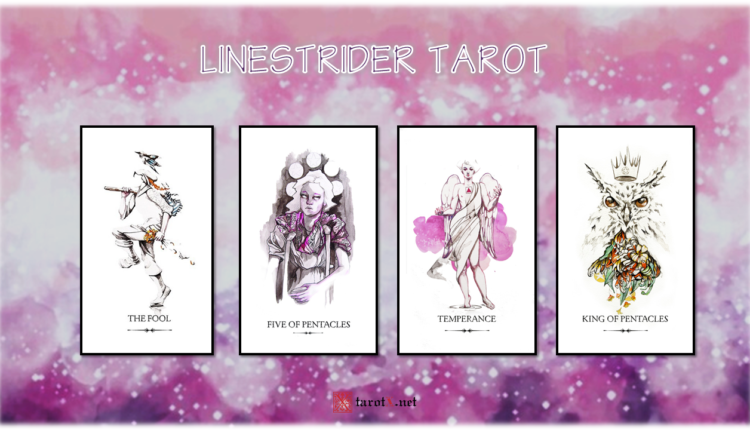 78 Linestrider Tarot Cards Meanings – Siolo Thompson
I. Origin of the Linestrider Tarot Deck
Major Arcana Linestrider Tarot Deck
Minor Arcana Linestrider Tarot Deck
1. Wands Suit Linestrider Tarot
2. Cups Suit Linestrider Tarot
3. Swords Suit Linestrider Tarot
4. Swords Suit Linestrider Tarot
II. Introduction and review Linestrider Tarot Deck
1. Overview of the Linestrider Tarot Deck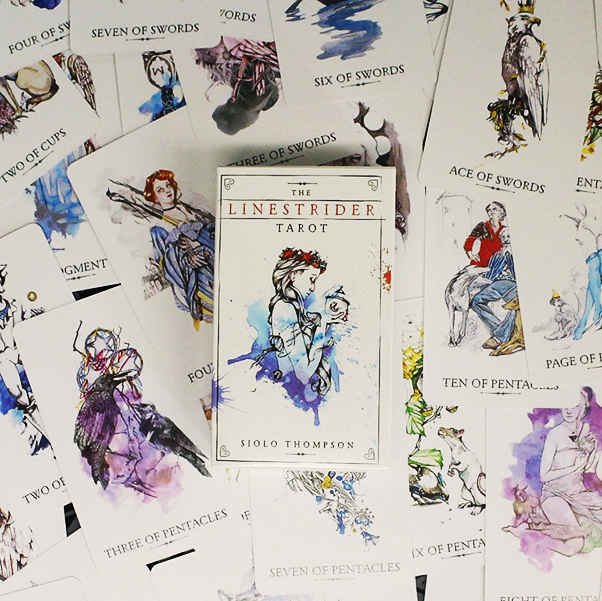 The Linestrider Tarot Deck is a unique and visually captivating tarot deck that has gained popularity among tarot enthusiasts. With its whimsical and evocative artwork, it offers a fresh interpretation of the traditional tarot symbolism. Here is an overview of the Linestrider Tarot Deck:
Artistic Style: The Linestrider Tarot Deck stands out for its delicate and intricate linework, which gives the illustrations a sense of movement and fluidity. The artwork is often described as ethereal, dreamlike, and enchanting.
Deck Structure: The Linestrider Tarot Deck consists of 78 cards, following the standard tarot structure. It includes 22 Major Arcana cards and 56 Minor Arcana cards divided into four suits: Wands, Cups, Swords, and Pentacles.
Symbolism and Imagery: The deck incorporates a blend of traditional tarot symbolism with contemporary elements. The illustrations feature a wide range of imagery, including animals, plants, landscapes, and mythical creatures. Each card carries its own symbolic meaning, inviting users to explore their personal interpretations.
Intuitive Readings: The Linestrider Tarot Deck encourages intuitive readings and personal connections with the cards. The imagery and symbolism provide a rich tapestry for intuitive exploration, allowing readers to tap into their intuition and insights during readings.
Emotional Depth: The Linestrider Tarot Deck often evokes a sense of emotion and depth, offering a nuanced and introspective reading experience. The artwork and symbolism can evoke feelings of wonder, curiosity, introspection, and empathy, allowing users to delve into the depths of their own psyche.
Versatility: The Linestrider Tarot Deck can be used for various types of readings, including general guidance, self-reflection, spiritual exploration, and creative inspiration. Its versatility makes it suitable for both beginners and experienced tarot readers.
The Tarot Deck is praised for its alluring illustrations, distinctive take on tarot iconography, and its capacity to elicit strong emotions. It presents a novel viewpoint on conventional tarot archetypes and invites users to go into their inner world and receive insightful readings.
This deck of cards refers to that concept, combined with the traditional Rider-Waite Smith standard (RWS), creating delicate, minimal, and appealing cards. In folk, there is a margin that separates the visible world from the invisible world on many levels, and Linestriders are magical people who live those lives or gather knowledge from both sides of the line or the edge. Linestriders tour through the routes that separate ideas, discipline, mental state, world, and reality.
With the stable basis of the Rider Waite-Smith Tarot deck, the Linestrider Tarot both expands and reduces the look of the classic Pamela Coleman Smith deck. Human figures appear in only half of this deck while the rest are animals, fulfilling the roles commonly performed by humans in many standard RWS decks. With an unusual sensuality and sensitivity, artist Siolo Thompson described humans as mysterious and dreamy, and animals are wise and intelligent creatures.
This is a 78-card tradition-oriented Tarot deck, with 22 Major Arcana cards and 56 fully illustrated Minor Arcana cards. The Major cards remain the old title and the four Minor suits are Wands, Swords, Cups, and Pentacles. Court cards include Page, Knight, Queen, and King as usual.
The card size is 7 x 12 cm – the standard size of a regular Tarot deck. The deck weight is well-made and hand-fitted. The card is quite heavy-handed but flexible, has a smooth edge and a light shade. Linestrider Tarot deck has quite meticulous images, delicate and elegant colors. The work is a bizarre mix of minimalism in many respects such as watercolor, comic style, subtle pencil brush strokes; realism, and symbolism.
The image on the card has an open and blank background; close-up images seem to be simple with a layer of watercolor and pencil that create clever symbols that are consistent with the lower stimulus-center-space-threshold image.
2. Review of the Linestrider Tarot Deck
The Linestrider Tarot Deck has garnered considerable attention and acclaim within the tarot community. With its enchanting artwork and unique interpretation of tarot symbolism, it offers a fresh and captivating approach to divination. Here is a comprehensive review of the Linestrider Tarot Deck:
Artistic Beauty: One of the standout features of the Linestrider Tarot Deck is its stunning artistic beauty. The delicate linework and intricate details create a visually mesmerizing experience. The artwork has a whimsical and ethereal quality, drawing the viewer into a world of magic and symbolism. The use of color and composition enhances the overall aesthetic appeal, making it a delight for both tarot enthusiasts and art lovers.
Symbolism and Interpretation: The Linestrider Tarot Deck presents a unique interpretation of traditional tarot symbolism. While it maintains the core meanings of the cards, it adds a contemporary and imaginative twist to the archetypal imagery. The deck's creator has skillfully infused each card with symbolic depth, allowing for nuanced readings and exploration. The symbolism often evokes a sense of mystery, inviting users to delve deeper into their subconscious and tap into their intuition during readings.
Intuitive Readings: The Linestrider Tarot Deck is well-suited for intuitive readings. The evocative imagery and fluid linework provide a rich tapestry for intuitive exploration. The deck encourages readers to trust their instincts and connect with their own inner wisdom when interpreting the cards. It empowers users to explore their personal associations and interpretations, fostering a deeper and more personal connection with the deck.
Emotional Resonance: The Linestrider Tarot Deck has a remarkable ability to evoke emotional responses. The artwork captures a range of emotions, from joy and hope to sorrow and introspection. This emotional depth allows for profound and meaningful readings that resonate with users on a deep level. The deck's ability to tap into the emotional landscape of the human experience adds a layer of depth and authenticity to readings.
Versatility and Accessibility: The Linestrider Tarot Deck is versatile and accessible to a wide range of users. Whether you are a beginner or an experienced reader, the deck offers guidance and inspiration. The intuitive nature of the artwork makes it easy to connect with the cards and derive insights. The accompanying guidebook provides helpful explanations and interpretations, making it accessible for those new to tarot or the Linestrider Tarot specifically.
Limitations: While the Linestrider Tarot Deck offers a rich and evocative reading experience, it may not be suited for those who prefer traditional tarot decks or seek a more conventional interpretation of the cards. The unique artistic style and interpretation may require some familiarity with tarot symbolism or a willingness to explore new perspectives.
The Tarot Deck is a visually enchanting and spiritually evocative tarot deck that offers a fresh take on traditional tarot symbolism. Its artistic beauty, intuitive nature, and emotional resonance make it a valuable tool for personal reflection, guidance, and creative inspiration. Whether you are a seasoned tarot reader or a curious beginner, the Linestrider Tarot Deck invites you to embark on a journey of self-discovery and divination.
II. The beauty style of Linestrider Tarot
1. History and Background of the Linestrider Tarot Deck
The Linestrider Tarot Deck has a fascinating history and background that contributes to its unique charm and appeal. Understanding the origins and influences behind the deck provides valuable context for appreciating its symbolism and artistic style. Here is an analysis of the history and background of the Linestrider Tarot Deck:
Creation and Inspiration: The Linestrider Tarot Deck was created by Siolo Thompson, an artist and tarot enthusiast. Siolo Thompson drew inspiration from various sources, including her love for nature, mythology, and the tarot tradition itself. Her artistic vision and passion for storytelling converged in the creation of the Linestrider Tarot Deck, resulting in an innovative and visually striking interpretation of tarot symbolism.
Artistic Evolution: Prior to the Linestrider Tarot Deck, Siolo Thompson developed her artistic skills and style through various mediums, including painting, illustration, and tattoo art. These influences are evident in the deck's aesthetic, which showcases her talent for intricate linework and the ability to capture the essence of emotion and movement.
Tarot Tradition: The Linestrider Tarot Deck is deeply rooted in the rich tradition of tarot symbolism. While it incorporates traditional tarot archetypes, it also offers a fresh perspective and personal interpretation. Siolo Thompson's understanding of tarot symbolism, combined with her artistic prowess, allowed her to infuse each card with depth and meaning, creating a deck that resonates with both experienced tarot readers and newcomers to the practice.
Cultural and Mythological Influences: The Linestrider Tarot Deck draws inspiration from a diverse range of cultural and mythological sources. It incorporates elements from different mythologies, folklore, and natural symbolism. This blending of cultural and mythological influences adds a layer of depth and universality to the deck, making it accessible and relatable to individuals from various backgrounds.
Modern Interpretation: The Linestrider Tarot Deck reflects a contemporary interpretation of tarot symbolism. It embraces the evolving nature of spirituality and personal growth, inviting users to explore their own intuitive understanding of the cards. This modern approach allows for a fluid and personalized reading experience, encouraging users to connect with the deck on a deeper level and find relevance in their own lives.
Impact and Reception: Since its release, the Linestrider Tarot Deck has gained a dedicated following within the tarot community. Its distinctive artwork, thoughtful symbolism, and intuitive appeal have resonated with users seeking a fresh and imaginative tarot experience. The deck's impact extends beyond traditional tarot readings, as it has been celebrated for its artistic beauty and used as a tool for meditation, reflection, and creative inspiration.
The Linestrider Tarot Deck has a colorful past that adds to its appeal and importance. Siolo Thompson's artistic ability, in-depth knowledge of tarot symbolism, and a variety of influences have helped to create a visually arresting and spiritually meaningful divination tool in the form of the deck. The Linestrider Tarot Deck is evidence of both the continuing value of creative expression and the ongoing development of tarot traditions.
Linestrider Tarot is a skillful combination of color and detail in each unique watercolor stroke. Minimalism with gentle and attractive images on each card brings the readers to the line between two opposing worlds: magical mystery and logical science. Get ready for a dreamy yet realistic adventure through Linestrider Tarot's charming colorful dance.
2. Creator and Influences behind the Linestrider Tarot Deck
The Linestrider Tarot, illustrated by Siolo Thompson and released by Llewellyn Publications, is a 78-card deck of travelers between two worlds – whose lives span both worlds, ideas, mental states, or reality. Exploring the creator and influences behind the Linestrider Tarot Deck provides valuable insight into its origin and the inspiration that shaped its distinctive qualities.
Here is an in-depth look at the creator and influences behind the Linestrider Tarot Deck:
Siolo Thompson: Siolo Thompson is a multi-talented artist known for her intricate linework, ethereal aesthetic, and creative storytelling. Her artistic journey spans various mediums, including painting, illustration, and tattoo art. Drawing upon her diverse artistic background, Siolo Thompson embarked on the creation of the Linestrider Tarot Deck as a means to combine her passion for art and tarot.
Artistic Evolution: Siolo Thompson's artistic evolution greatly influenced the visual style of the Linestrider Tarot Deck. Her exploration of different artistic mediums and techniques provided a foundation for her distinct linework and attention to detail. The evolution of her artistic style over the years ultimately culminated in the creation of the Linestrider Tarot Deck, which showcases her ability to capture emotion, movement, and intricacy in her illustrations.
Nature and Mythology: Nature and mythology serve as significant influences in the Linestrider Tarot Deck. Siolo Thompson draws inspiration from the natural world, incorporating elements such as animals, plants, and landscapes into her artwork. This connection with nature infuses the deck with a sense of harmony, balance, and reverence for the natural world. Furthermore, mythology and folklore from various cultures play a role in shaping the symbolism and storytelling within the deck, adding depth and universal themes to the cards.
Tarot Tradition: Siolo Thompson's deep appreciation for the tarot tradition is evident in the Linestrider Tarot Deck. While she offers a unique interpretation and artistic expression, the deck still remains rooted in the fundamental principles and archetypes of traditional tarot. Siolo Thompson's understanding of tarot symbolism allows her to craft cards that resonate with the core meanings while introducing a fresh perspective and personal touch.
Intuition and Personal Connection: The Linestrider Tarot Deck encourages users to tap into their intuition and establish a personal connection with the cards. Siolo Thompson's own intuitive approach to art and tarot is woven into the fabric of the deck, emphasizing the importance of individual interpretation and exploring one's own relationship with the cards. This focus on intuition and personal connection sets the Linestrider Tarot Deck apart and offers users a deeply personal and meaningful tarot experience.
Siolo Thompson, the creator of the Linestrider Tarot Deck, brings her artistic talent, intuitive approach, and diverse influences to create a truly unique and captivating tarot experience. Her artistic evolution, deep connection with nature and mythology, reverence for tarot tradition, and emphasis on personal connection have all played a role in shaping the distinct qualities of the Linestrider Tarot Deck. Siolo Thompson's creative vision has left a lasting impact on the tarot community and continues to inspire tarot enthusiasts and artists alike.
The author's palette is quite diverse: many white, sepia and gray are the main colors to define the image. Details are added in a wide spectrum of colors: fiery vibrant red, orange, yellow, pink and pale lavender, succulent green, navy blue. The illustration is in the center of the card surrounded by white space, forming a wide border in each image. The design on the back of the card is Rorschach-like watercolors surrounding a light gray owl which can be seen in reverse.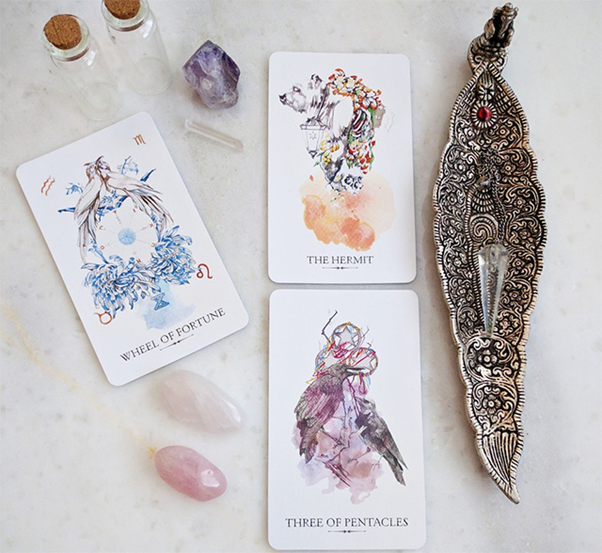 The 274-page Linestrider's Journey guide book written by the author is accompanied in the large white box with pictures printed from the deck and card information. The chapter 'About The Deck' explains the concept behind the Linestrider Tarot, revealing the inspiration for the concept of Linestriding. A bit of a shortened autobiography by Siolo Thompson is also featured.
The chapter 'Handling the Deck' guides advice-seekers on how to use and preserve the deck, and whom readers allow to touch the deck. This tutorial introduces some interesting information about reading cards, including techniques like Highlighting Aces and The Tower's effect on reading cards, as well as a small discussion on reading reversed cards. An additional chapter on a 3-card spread, a 5-card spread, and an astrological spread; as well as arithmetic and plant messages.
Each card has a black and white print and a detailed description of the deeper meanings of the illustrations and symbols. The meaning of interpretation is for both upright and reversed cards. Although these meanings are only within the limits of common interpretation, they are still knowledgeable, perceptive, and subtle. Each chapter ends with a list of small messages: the Major Arcana contains astrology, arithmetic, and plants. "Associated Birthdays" replaces Major Arcana's arithmetic message. The book ends as a graceful appreciation to the new owner of the deck from the creator of the Linestrider Tarot.
III. Who is the Linestrider Tarot for?
This deck is absolutely stunning, imaginative, and fine-tuned. If you are in need of a deck that does not obsess over details but gives you space to draw your vision, the Linestrider Tarot deck is perfect for you. If you love watercolor or fine art in general, then take a closer look at Linestrider Tarot. If you are looking for a deck with an all-animal emblem, this deck is worth checking out. Tarot readers who have some experience or professionals can easily master and be satisfied with it. However, beginners may want to reconsider this deck.
This deck can be read in reverse, very closely to the RWS standard and if there is a card that is slightly different from the standard, the author will explain carefully in the companion. Some typical card combinations are also featured in the guidebook, which is a very valuable document for newbies. But that does not mean that novice readers to Tarot will digest this deck easily.
Compared to other animal Tarot decks like The Badger's Forest, Tarat Tarot, or Wildwood Tarot, the animals in the Linestrider Tarot are drawn in a much more charismatic and vivid way. Their expressions are as lifelike as real humans and they not only have expressions but also exude aura – something that is extremely difficult to pull off.
You will not feel that Linestrider is a completely wild and thorny world like Wild Unknown Tarot, but a miniature "population" or "community" with different types of "people", which makes the relationship spreads are not too strained like other animal decks.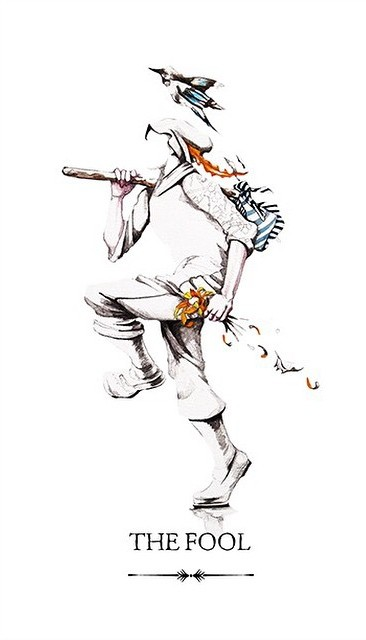 The rare downside of the Linestrider Tarot is probably that it does not evoke a real space and a fully authentic world because it has too little background detail. There are many Tarot decks that portray a world that readers can clearly grasp.
For instance, Nicoletta Ceccoli's world is the subconscious of a child, Fountain is the vast and slightly cosmic chilling world, or Delphi is a complicated human society in ancient Greece. The Linestrider Tarot is more about symbolism than scenery.
Each card focuses on drawing characters and herbs, has no background and color, so readers will not perceive the taste, light, and sound, but can only understand a little character's emotions, actions, posture. Of course, this is a trade-off for minimalism, but it can also be a minor hindrance to your hunch when you interpret the cards unless you are familiar with iconic-oriented Tarot decks.