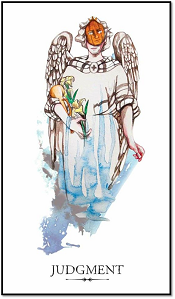 The Judgment– Linestrider Tarot Deck
I. Keyword by Judgment Linestrider
Rebirth, fulfillment, good news, awakened enlightenment, progress.
II. Meaning of Judgment Linestrider
The Judgment Linestrider depicts an angel holding a trumpet, and in this version, it is the lily trumpet. The angel blew a horn of awakening. You need to reevaluate your life. Maybe this is the time to find new ways of life. You may feel called to change your life or open your heart to new possibilities.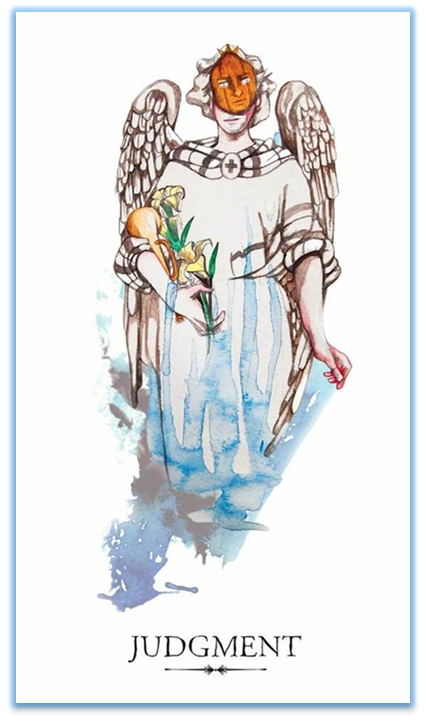 The author draws this character wearing a mask; images of transformation and pardon, removing your "mask" and old lifestyles, and a renewed discovery of your true self. Judgment speaks of an understanding, realizing that you are not living up to your full potential or that you can do better than others. This card calls for a period of reflection and self-assessment.
III. Judgment Linestrider in a Tarot spread
When spreading cards, there are many interesting combinations to accompany Judgment Linestrider. When Judgment and the Lovers or Two of Cups go together, a relationship or partnership has the potential to last forever (marriage, living together, a limited liability company). When combined with the Tower, a big decision will soon happen and it will transform your current life stage and that decision is almost out of your control. For instance, a spouse decides to file for divorce or a business partner decides to leave you.
On the negative side, Judgment Linestrider shows that distrust or self-reflection has become more of an obstacle than helping you progress. Reassess yourself and your actions critically, but watch out for hesitation or other opinions. Self-criticism can sometimes be devastating. Remember the things you have done, and inventory the good stuff as well as the bad ones. Evaluate, plan, and move forward.
In a Tarot spread, Judgment Linestrider has a special meaning. Whatever happens around you, a push, a call from within, makes important changes. Change can refer to something tangible and immediate, or the whole way one sees life – depending on the other cards and the theme of the spread. What is important is the call. In fact, that person has changed; old situations and old ego have disappeared. The problem is whether to realize it or not.
Judgment Linestrider in reverse may indicate that the person wished to answer the call but did not know how to do it. Usually, it only goes to those who try more to decline the call, out of fear of agnosticism. In fact, there can also be many rational reasons why the person should not follow the path of change: lack of money, lack of preparation, or lack of responsibility. Judgment, whether upright or reverse, also implies that all barriers are just excuses.
When the reversed card appears, the arguments prevail; that person remains in the grave. The word "Judgment" means the reality of life has changed. The only choice is to follow.
In terms of work, Judgment Linestrider is an important card. At work, you are being watched. Be cautious during this time because your hard work will pay off well. On the contrary, if you are distracted, you will miss the opportunity to be selected by the superior. If you are starting a new job or a new project, then you need to pay attention to everything, even the smallest detail. Because if you make a mistake, all effort will be destroyed.
In terms of finance, if you are waiting for money or a financial decision from loved ones or superiors, everything will come very quickly. However, maybe things will not go your way. If you are going to sign a business contract, things are going in a positive direction and will bring you money. In the case that your money increases rapidly or you get involved in a crime during this time, you can get in big trouble or even pay a particularly high price. Be careful.
Regarding friends and associates, Judgment Linestrider shows a sincere interest in the friendship. However, it also shows stubbornness. On the other hand, your suggestions for others to be better, but expressed in sharp, stinging words like the sting of a scorpion, will sometimes cause both of you to get hurt deep inside. If you do not heal in time, in the long run, the relationship will collapse. Regarding colleagues, you should be careful about the word of mouth related to the relationship around. Remember, for now, silence is golden.
Regarding your family and relatives, the card reminds you during this time, you should avoid arguing with the older members of your family. Because you may be angry and upset and say things that hurt your loved ones. Stay calm, and listen, and then present your problem in an orderly and convincing way. In the opposite case, there should be a certain tolerance for those who are younger than you. The card also heralds the bitter words among relatives in the coming time.
IV. Message of Judgment Linestrider
Under the sun we see a life filled with spiritual light. This realization of eternal truth frees us from delusions and fears, so we now feel, as if there is a call from deep within, an urge to fully immerse ourselves in our hearts and minds and the wonders of life in each entity.
This call comes from both inside and outside of us because one of the Sun's effects is to break the artificial boundary between our internal experiences and the outside world. We hear our deep ego calls as if every cell of our body is filled with a chorus of joy. At the same time, we realize that that call comes from some force greater than any particular life.
The idea of ​​Judgment as a call to a resurgence towards a greater existential meaning actually appears much in everyday situations. Sometimes in life, a person may come to a crossroads, where every decision leads to great changes. And sometimes, that person feels that his heart has made a decision, it is only for his perception to go with the flow and follow with the right actions. Ways of believing and thinking are "out of date", old situations have "died" even when we have not paid attention.
Most versions of this card feature an angel and rising mortal bodies. The Rider deck emphasizes more mountains as the background. Waite calls those mountains "abstract thinking". The implied phrase says that immutable truth beyond finite intelligence comes from ordinary means. Humans always assign personal meanings and opinions to all events, so the phrase "ordinary means" is meant to describe the meanings that people attribute to or perceive after experiencing events or being exposed to the world. Those meanings turn into personal intelligence.
One of the basic characteristics of morality is the inability to comprehend anything with just one pure sense. We are bound by the short lifespan and by the fact that all knowledge comes mostly from the senses. In modern physics, we know that scientific studies can never accurately build a picture of reality because observers are always part of the universe they are observing. At the same time, each person's thinking and perceptions about life are influenced by past experiences. Like Platonic ideas, "Abstract Thinking" is the perfect sense.
We achieve "Abstraction" by immersing ourselves in the water of "Nothingness" to rise up after attaining liberation from discrete knowledge. Death is disintegration. At that stage, the ego is dying, and the Major card emphasizes the fear of giving up that self. By this stage, all delusions of separation have been dissolved, and the emphasis no longer lingers on death but on the resurrection.
We call this card Judgment because, like Justice, it involves letting go of the past as a way of transcending the past. To Justice, experience and reactions are personal, based on past actions. Here comes a call from a force greater than the ego itself, and Judgment is not merely the meaning of personal life but also the true nature of existence, in such a way that both you and all living beings are part of it.
The Chariot with invisible psychological laws is number 10; Judgment is the number 20 – 10 times 2 is 20. Through the functioning of the last line, we reveal the hidden intelligence of the High Priestess, so we can now understand the hidden inner mysteries in the Chariot.
The card above Judgment is the Lovers and in the Rider deck, it is also drawn with an angel. However, in the Lovers, the angel appears only in a moment of a brief experience of great truth thanks to the solvent which is love.
But in Judgment, the angel looks down from the clouds to summon us. In the traditional version of the Sun, we see the final example of a calico pattern starting with the 5th and 6th cards 5. The extremes of life have come together to shape a new reality in such a way that each child is a combination of parents and completely new things.
V. Corresponding Associations of Judgment Linestrider
Astrology: Scorpio, Cancer;
Arithmetic: 20, 2;
Plants: Goldenseal root, Mexican marigold.\
More The Judgment Cards from Famous Tarot Decks
1. The Judgment Rider Waite Tarot Deck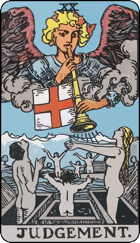 The Judgement Rider Waite Tarot shows some of naked men, women, and child rising from their own graves, their hands extended toward Archangel Gabriel who is blowing the trumpet above them. 
<< See More >> The Judgement Rider Waite Tarot Card Meanings
2. The Great Bear Wildwood Tarot Deck
The Great Bear Wildwood Tarot Card is located in the winter solstice on December 21. The element of this card is Earth. The Great Bear is associated with the image of the dark sun, guarding the gate between death and revival. The card also holds the secret of rebirth and healing.
<< See More >> The Great Bear Wildwood Tarot Card Meanings
3. The Judgement Shadowscapes Tarot Deck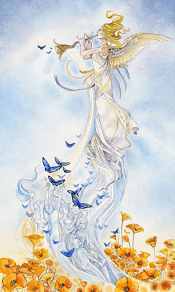 Judgment Shadowscapes Tarot is a card of results, this card gives decisions about life's problems and relationships. It often appears when your life is about to go through big changes. Sometimes, it is the transition in a relationship or the beginning of work after hard days.