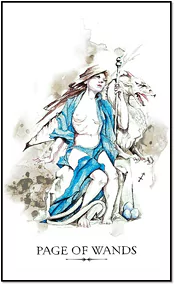 Page of Wands – Linestrider Tarot Deck
I. Keyword by Page of Wands Linestrider
Energy, youth, new beginnings, loyalty, messengers, hard work, innocence, new erotic adventures
II. Meaning of Page of Wands Linestrider
The Page of Wands Linestrider talks about creatives and new ideas. Let's listen to your unconscious, follow your creative urge. Along with stubbornness, strength and balance, your vision can gradually define your work. The dragon in this card is a symbol of will, if you have motivation, all your efforts will be paid off someday. The dragon eggs in the woman's feet are a symbol of potential. The woman in this card holds a stick that is about to bloom. This image carries a sexual element. It sometimes heralds the arrival of a new lover or a new stage in a relationship.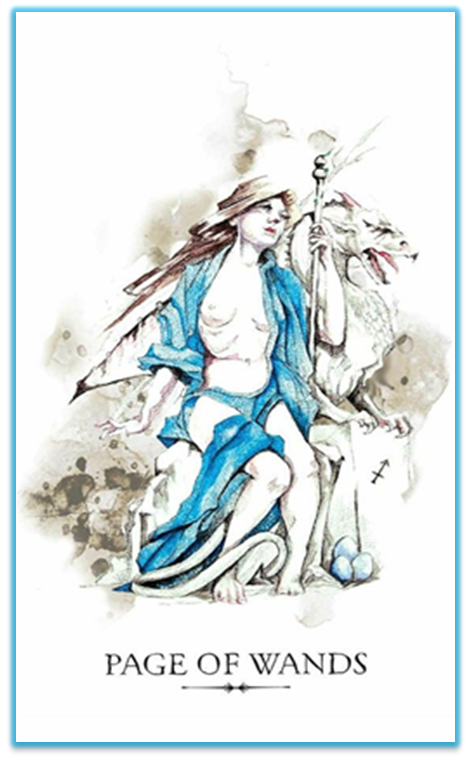 III. Page of Wands Linestrider in a Tarot spread
In a Tarot spread, the Page of Wands Linestrider often represents a new stage of life. It also means a small restart or a complete overhaul. All Page cards are associated with messages and messengers, so keep an eye on messages that are about to affect all aspects of your life (especially if accompanied by the Tower). For example, you may receive a rent increase warning letter that forces you to move to a new place or go on a journey.
This card can appear when someone young and energetic comes into your world and turns things upside down – for example, a new lover or an energetic colleague. Be open to change and find ways to generate positivity from the new opportunities you are presented with.
If Page of Wands Linestrider appears with the Royal cards, it could talk about love issues. If accompanied by the Death or Tower, it would refer to big changes and brand new beginnings.
In terms of work, this is a double-sided card. On the first side, difficult problems will happen unexpectedly in the near future. On the second side, it says that if you persevere, your obstacles will pass quickly. If you want to start a business, this card signals hardships you have to go through as well as reminds you to think more carefully. If you are about to start a new project or plan, what you need is support from colleagues, or advice from mentors. To some extent, it says that there's a woman who is willing to help you. That woman could be a little bit younger than you. If you are waiting for a job approval, this card always carries good news. Your job is getting better and more enjoyable than you expect.
In terms of love, messages of love and loved feelings are happening to you. If you are still single, you may find a very adventurous person as you're pursuing. Take that opportunity, but only when you're ready. If you are in a committed relationship but not happy, now is the time to decide if the relationship can be salvaged, and how long that you could try? Both sides need to build up the relationship together. If your partner doesn't, then it might be time to let him/her go.
In terms of finance, your financial situation is getting better. You're about to gain good profits, and returns on investment (good energy). This is a great chance to start planning for a long term future, even if you're only in your twenties. What do you want to achieve financially by the age of 30? How will you make those goals happen?
In terms of health, the Page of Wands Linestrider implies a need for action. You will have to make a little effort to improve your health. Consider exercise habits, do you need to learn about nutrition to make sure your diet is going well? Remember, there are tons of useful resources available out there. Nothing can be changed if you just sit still and wish things would go in a better direction. Take control of your life. It won't be easy at first, but you'll soon be able to make it.
In terms of spirituality, this can be a time of creativity, and also a good time to recall your childhood– the days when dreaming, playing, creating took away all your time. You never know how far your creativity will go, but either way, you'll have fun, and this game will enrich your life.
In terms of friends, Page of Wands Linestrider implies that your ease in friendships will be exploited by others. On the other hand, fears of losing relationships turn you silent sometimes, you avoid conflicts. However, avoiding problems does not mean that they will disappear, they're still existing and expanding. To some extent, the relationship will be broken. Regarding colleagues, you need to behave properly. If you are not satisfied with them, you should give them some suitable feedback.
In terms of family, this card represents a lack of harmony in your family. It's not about love, but ways of expressing it. Sometimes age differences could make it difficult for you and your family members to express feelings toward each other. On the other hand, all the worries, protections, and strict impositions of adults on children make things quite conflicted from the outside. You should love and respect their choices. Even if you love them more than your life, you cannot live and decide on behalf of them, as well as protect them forever.
The reversed meaning of Page of Wands Linestrider warns you about failed projects, creative ideas that do not have the endurance, or creative ideas which you don't carry out properly. This card also foretells negative influences from shallow social relationships or sexual relationships.
The reversed card also carries a message about some unpleasant news coming your way. This news is not too terrible or scary, but just something you don't want to happen. This card also implies that you need to be more focused and decisive.
In terms of work, the reversed Page of Wands Linestrider could be a warning about a woman who is going to cause you some trouble due to her reluctance. Maybe you are struggling to make certain decisions. If you're searching for a job, don't just focus on one. Be prepared that your application progress might be delayed a little longer.
In connection with love, you better get to know each other first, instead of making an immediate serious commitment. You are advised not to push your current relationship too far if you are still not deeply connected, it may not be the right time. If you're looking for love, someone may warn you to stay away from new interests. Let's make your own decision. Remember that gossip and "warnings" are not always true, but you should not completely ignore them.
Regarding finance, someone as knowledgeable as a financial expert can come to you and give you great financial advice. You may also receive positive financial news that you have never expected. As you become more affluent with money, consider what you can do to share your wealth, instead of just keeping it for yourself.
In terms of health, the reversed Page of Wands Linestrider implies that someone next to you is willing and able to help you a lot in terms of health. That person could be a medical professional, or simply a group of friends who are passionate about sport. Don't try to do everything alone. This card shows that you are more likely to open your heart and mind to new insights, positive influences, and expertise in other areas.
In terms of spirituality, this card asks you to respect and listen to your own intuition. Creativity can enrich your spiritual experiences at this point. Someone you know will probably share important spiritual reflections with you. Even if you usually keep your opinions personal and private, let's consider talking to your friends about their "reception" or spiritual experience. This can be incredibly inspiring.
IV. Message of Page of Wands Linestrider
The Page of Wands Linestrider is a message about opportunities for passion. The character in the card is offered real opportunities to experience the creativity, courage, passion and inspiration – magical features of the Wands suit. It suggests that an opportunity which excites you, fosters your talents, or challenges you to achieve greater goals is arising. When you see that opportunity, grab it!
The Page of Wands Linestrider can also represent a child or young adult whose interactions with you involve self-control, high energy, risky behavior, or shared enthusiasm. Sometimes this card means your whole situation is filled with excitement and adventure. In such situations, allow yourself to express your ego and abilities with complete detachment.
This card shows that what you have done lately is gradually coming to success. But you still need to and are determined to pursue it to the end. It also indicates a need for something new, such as an adventure, a new solution, or a new idea. The Page of Wands Linestrider gives us positive energy.
V. Corresponding Associations of Page of Wands Linestrider
Arithmetic: 26, 8;
Date of birth: November 22 to November 28;
Plant: cilantro, lavender, sage.