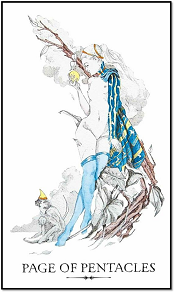 Page Of Pentacles – Linestrider Tarot Deck
I. Keyword by Page of Pentacles Linestrider
New beginnings, prosperity, good fortune, research, investments, aspirations, the beginning stages of long-term success.
II. Meaning of Page of Pentacles Linestrider
The Page of Pentacles Linestrider Tarot is a card of the beginning, inspiration, and birth stage of a certain business or creative project. The cards of the Pentacles suit are associated with the element of earth and wealth, which bodes well for material or financial success in a new business venture. The seeds you are sowing, with proper care, will grow sweet fruits. The Page of Pentacles wants you to manifest your dreams into the physical world. With focus and care, your new projects will flourish.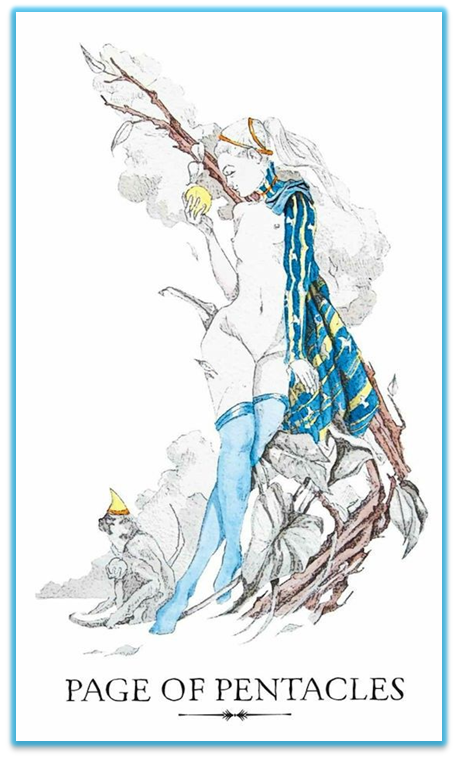 III. Page of Pentacles Linestrider in a Tarot spread
In a Tarot spread, the Page cards will often be the messengers. You may soon receive a letter about your finances and you should open the envelope, even if it is just a bill you want to throw away at first glance. This Page card represents the financial aspect of whatever is going on in the spread. A spread regarding love can tell you everything about a potential lover, but if the Page of Pentacles Linestrider Tarot appears, you can be sure that finances will be the first factor in the relationship. When combined with the Wheel of Fortune, you can see a "lucky" sum, and when combined with the Chariot, all your efforts will be rewarded in terms of cash, not just bragging rights or a nicer resume.
Since the Page of Pentacles belongs to the Court suit, a combination with another Court will emphasize other aspects of the Page. The Page of Pentacles when paired with the Knight of Pentacles means that you will have a positive outcome, no matter what decision you make in the current situation. The Queen of Pentacles emphasizes the creativity of the Page of Pentacles and encourages you to add some aesthetic qualities to your life. When combined with the King of Pentacles, the message here is that an inheritance or an offer will soon appear to you.
In terms of work, this card is a capital addition to the company. An amount of profit, capital, or cash that is transferred smoothly and unexpectedly. If you are still in school, a scholarship announcement or help may come to you tomorrow. The news about regulations and provisions can come unexpectedly before the anticipation of the company or project. If new information, especially government or superior regulations comes unexpectedly, it is not a good thing.
In terms of finance, if you have bad loans or mortgages, this is your chance to get it back. The amount can be refunded in short. The good news about money such as a rise in stocks or a favorable public policy is also likely to happen. On the contrary, the Page of Pentacles Linestrider Tarot also warns that the confluence of spending is pressuring you, the unexpected waste makes you spend quite unusual amounts. But the severity of this problem is not serious and only temporary.
In terms of friends and associates, the cooperation of you and your colleagues begins to work. If there are new initiatives or products, the card represents its benefit. This card is especially favorable if you shake hands with friends or colleagues to prepare for the new research or plans. Unexpected announcements are probably not a serious problem with friendships. The card also refers to the sponsors of your new project. The advice is to start looking for collaborations or proposing new ideas at this stage.
If you are in a committed relationship, the appearance of the Page of Pentacles Linestrider Tarot can be a sign that this love is a bit lacking in romance. Although not implying a wake-up call, the card still suggests you and your lover quickly act and discuss together to create change and improve this situation. You need to be very honest about how you feel. If you are not in a relationship right now and feel as though you don't have a chance to meet the right person, then consider carefully what you are holding on to. You may still linger on your previous relationship and may need to let go of old memories before you can expect things to get better.
In terms of family and loved ones, the card indicates a family member who is able to support you financially in general. This support can strengthen your relationship with your partner. However, this case is not entirely confirmed by the card. Maybe it is just short-term help, broker support, or something like that. The card also warns you to avoid excessively wasting your earnings on unnecessary household expenses.
In terms of spirituality, if you are feeling mentally unstable, then this is a good time to consider what might inspire you. What are you enjoying and experiencing? What are you interested in? What do you want to discover? Make sure you leave the old path and try new directions. Create your own energy and enthusiasm. Find the most mentally positive and optimistic people you know, and say things that encourage them. You will learn a lot of useful things.
Any health problems manifesting at the present time are the result of emotional disturbances. Do you think you need care at this time? Remember you don't have to be a patient to deserve care. Say what you need. However, make sure that any symptoms related to your health are properly and appropriately evaluated by a qualified healthcare professional. If they say there is nothing wrong with you, then consider adding mental and emotional states. Most of the time you still hold the key to abundant health and vitality.
When in the reversed position, the Page of Pentacles Linestrider Tarot can indicate that something is standing in the way of your ability to realize your goals and dreams. Perhaps you are lacking the skills, planning, or help needed for a project, and now is the time to build those foundations before moving on. The ground needs to be cultivated and fertilized before sowing seeds. Focus on the long-term potential of what you want to achieve and lay a solid foundation for it.
The reversed Page of Pentacles Linestrider Tarot can be a card that brings a message that requires focus. You may be easily distracted at the moment. Do your best to do one thing at a time, and keep your mind focused where it needs to be. In general, this reversed card can mean that you either have to work harder to prevent your energy and mind from being diverted into unproductive things, or you need to allow yourself a couple of breaks, get away from the daily routine. If possible, take a long weekend off to restore the energy needed to help you return to your daily life in a new and more productive way.
IV. Message of Page of Pentacles of Swords Linestrider
The Page is the last card in the Court family of each suit in the Minor Arcana. All Page cards feature a young man, holding an item related to each suit. The Page of Pentacles depicts a naked girl looking at a golden orb in her hand. She was curious, trying to find out what the meaning and value of that orb was. This card represents wealth and fulfillment, both in terms of money and in personal relationships. The girl was young, and she greeted the world with innocence and curiosity. This will mean different things to each person, and you need to figure out what you need to feel fulfilled in this life.
The Page of Pentacles Linestrider Tarot is the one who brings you the message of material opportunities. She translates practical opportunities into material wealth, prosperity, security, and solid results, which are great qualities of the Pentacles suit. In Tarot spreads, the Page of Pentacles means a new beginning that promises wealth, affluence, prosperity, full of faith, or the opportunity to make dreams come true. When you see such an opportunity, seize it.
The Page of Pentacles Linestrider Tarot can also represent a child or a childlike adult who has relationships with you regarding stability, trust, commitment, security, and material needs. Sometimes it implies that your current situation is filled with material enjoyment. At times like these, feel free to indulge in the pleasures associated with your physical health, skills, and possessions. Now live as you have never lived before.
Page of Pentacles Linestrider Tarot, in a way, can be a card about boredom. Maybe you have the urge to say or do something to stir people up, find some fun. But think again about that intention, it is better to spend your energy on more conventional use. Excitement and joy are entirely possible. In general, the Page of Pentacles card represents a great source of energy that will support you when you feel tired of not being able to complete your work. It can give you the focus, energy, and financial resources needed to pursue a boring or uninteresting task. Remember not to just try involuntarily, or you will taste failure.
V. Corresponding Associations of Page of Pentacles Linestrider
Arithmetic: 68, 5;
Date of birth: December 22 to December 28;
Plants: cashew, blue iris, cinnamon.