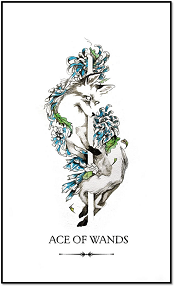 Ace of Wands – Linestrider Tarot Deck
I. Keyword by Ace of Wands Linestrider
Begins, energy, enthusiasm, intelligence, alertness, mobility, fertility.
II. Meaning of Ace of Wands Linestrider
The Ace of Wands Linestrider is the action card, seizing opportunities, and turning enthusiasm into action. There is a lot of positive energy all around you right now and it's a great time to make new plans, programs, or changes.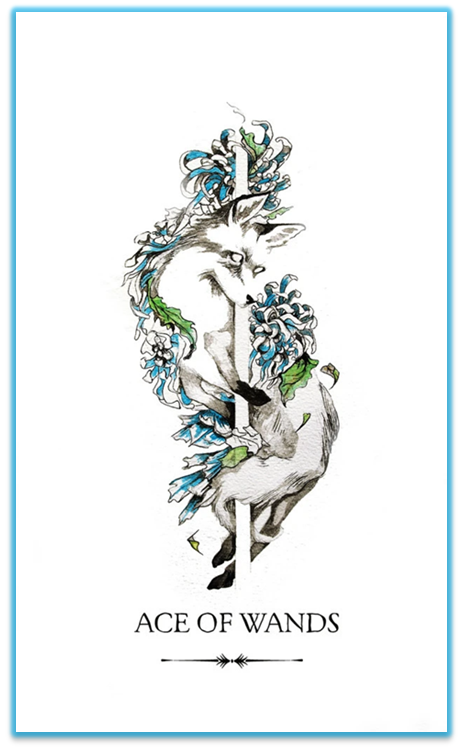 The Ace of Wands encourages you to follow your instincts and be brave. The fox is drawn on this card because they are active and cunning, cheerful and enthusiastic – that is the kind of energy of this card. The flowers and plants on the card will also remind the reader of the explosion of new opportunities and fertility.
The universe is facilitating your projects or business as well as your ideas right now, but beware: this card could also be about true physical fertility! This is not a weekend vacation for your contraceptive surprise moments (special note: if this card appears alongside the Empress or Three of Cups, it definitely signals pregnancy or news about pregnancy). Be alert to new opportunities, new ideas, lives, love or friendships, and new physical or mental adventures.
III. Ace of Wands Linestrider in a Tarot spread
In a Tarot spread, Ace of Wands Linestrider may appear in the current position when new projects or businesses, jobs, or the beginning of a project are mentioned. If you have ever thought of recklessly entering into a new situation, this card represents where you are, just do it! Ace of Wands is the best omen of the kind of energy and attitude a new project or business needs. If the card is in the future position, the great opportunity you are still hoping for is unfolding ahead. If you see two Ace cards in a spread, count your lucky stars – right now everything is really on your side.
An Ace pair presents great opportunities for success in new businesses, investments, and relationships. If there is the Tower, a big change in your life will give you the perfect opportunity to start something new. If accompanied by the Eight of Wands or Two of Wands, a journey can give you an incredible start. It is important to remember that this card is a call to action immediately. Capture this moment!
Ace of Wands can imply a beginning of a relationship. Prepare yourself mentally in any way that you feel ready to love and be loved. If you already have a very promising relationship, the card tells you that the relationship is about to undergo a "new beginning" and the two of you will get to know each other better. Express yourself to your partner.
The main idea of Ace of Wands Linestrider refers to fertility, wealth in terms of population and harvest, results and inheritance, lineage and origin are also key descriptions of the card.
In terms of work, the card shows strong creativity, a new direction, a new idea, or a visible reform. If during the startup, this card is a guarantee of success for that job. The card shows a rich source of money and strong support from the government or a higher level. It also mentions new ideas about services and products, which will be extremely convenient for businesses when launching a new product or service.
In terms of finances, this is an ambiguous card. On the one hand, Ace of Wands Linestrider shows the inheritance from family and relatives. You can be quite surprised by a lot of money growing on trees. Remember to thank loved ones for giving you that amount. If you are the one who wants to write a will or give gifts to your lineage, the card represents reconsideration. The recipient may spend the money you give without even thinking it through. It is a waste of decadent and wicked things. Keep an eye on the money and the things you intend to give away. The advice is that you should guide or give them meaningful and useful gifts rather than a meaningless sum of money.
Regarding friends and associates, the card states that you may meet some old friends or former colleagues and find out that they are in the same industry or have a deep relationship with your work or society. You will also find out that some friend or co-worker has an association with relatives, or even your parents and they used to have common interests. This is an opportunity for you to improve the connection between friends and co-workers and to strengthen the relationship.
Regarding family and relatives, Ace of Wands Linestrider directly refers to clan relationships. You may happen to find that some distant relatives have now been re-established or have been mended. Family breakdowns can easily be ignored or improved during this period. If you are in a career-oriented period, this card allows you to think more deeply about your ancestral career if you have one, and it is clear that you will get the greatest support from your family if you follow your ancestor's career. Think of kinship relationships, healing them if possible as the blood flowing in you that is always tied to your clan.
The reverse meaning of the Ace of Wands Linestrider can indicate that plans are in fragmentation, new opportunities or friendships are not progressing as you hope, or a false start or failure (a miscarriage or something physical, like a loan or promotion). It may also indicate an unsettling energy source or a "better safe than sorry" mistake.
The reversed Ace of Wands Linestrider is generally related to completion and job/career. When the card appears in reverse, it can be a bit difficult to stay focused and avoid becoming ineffective. Keep focusing on one thing at a time. In general, it still implies a reason why you feel happy and comfortable, but when in reverse, the card also carries the message that you may find it a little difficult to "feel" this reason. If you have something to worry about, try to find out what causes that concern and is upsetting you. It can be helpful to talk to someone new to how he or she handles such things; That person can inspire you to solve your problem.
The reversed Ace of Wands indicates the need to track – and limit or stop – cravings. It is very important to regulate your current routine. Digesting large amounts of food or alcohol (or even exercising or over-dieting) can seriously damage your body and long-term health. If you need help reaching equilibrium, don't hesitate to ask. There are many health-savvy people as well as lots of good health information that you can call for.
The reversed Ace of Wands may show that you are so tired of everything you undertake in your daily life that you cannot focus on your own mental problems. Take a few minutes for yourself to allow your spirit to recharge from the universe. This will help maintain a positive mindset and will give you more benefits than you can imagine.
IV. Message of Ace of Wands Linestrider
The Wands are generally associated with the element Fire, so astrologically they associate with the zodiac signs of Aries, Leo, and Sagittarius. In many Tarot decks, you will see depictions of fire on these cards. The Wands deals with career and work issues, both for the querent and for those around them. The Wands cards are also related to transformations and viability in our lives that are not always related to work or career.
In general, the human personality implied by the Wands is often oriented to life, dynamic, organized, methodical, logical, and compassionate. The Wands are also the energy of new beginnings. As in the Rider Waite Tarot, new leaves are sprouting on the Ace of Wands card. This is a positive and refreshing form of energy. There is also an element of intuition in the Wands, so the Wands type often has a very sharp intuition.
The season often associated with Wands is Spring. There is always a power inherent in the Wands that is not present in others. Think about Spring's hidden strength. There are almost no exceptions, no matter what humans do on this planet, with their money (Coins, Pentacles) or with their battles (Swords), Spring will still take place. So the Wands completely encompass aspects of strength, rebirth, and innovation.
Ace cards of any suit usually refer to new beginnings – generally a very positive card. The Wands are the suit of fulfillment and often tend to be career-related. If you are in a tough time and you draw the Ace of Wands Linestrider in your Tarot spread, then it is a sign for you to know for a while that things are likely to get a lot better in the meantime.
Remember that your mind and body have a much tighter bond than you might think. The body affects the soul and vice versa. This card implies a new spiritual influence on your life. Think about the types of roles that support your spirits. If you don't have it, find and apply one. Help is available to you if you are open to it.
This card describes your happiness, optimism, and hope for your future – with good roots! You will feel energized and a positive feeling, or soon realize this feeling. Ace of Wands Linestrider also said that this is a good time to start some new things. What will you start with?
V. Corresponding Associations of Ace of Wands Linestrider
Arithmetic: 1, 27, 9;
Date of birth: March 2 to March 27;
Plants: coffee beans, yarrows, tobacco, frangipani.