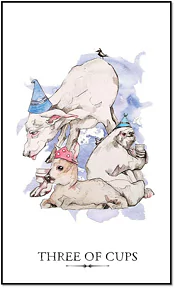 Three Of Cups – Linestrider Tarot Deck
I. Keyword by Three of Cups Linestrider
Celebrations, weddings, friendships, parties, joy, third wheel.
II. Meaning of Three of Cups Linestrider
The Three of Cups Linestrider is a lovely card about celebration, friendship, and connection. This card indicates a time when you are open to building and nurturing old friendships and forming new ones. Now is a good time to help people and create groups, spend time with beloved people, and enjoy the brotherhood as well as the love the universe has to offer.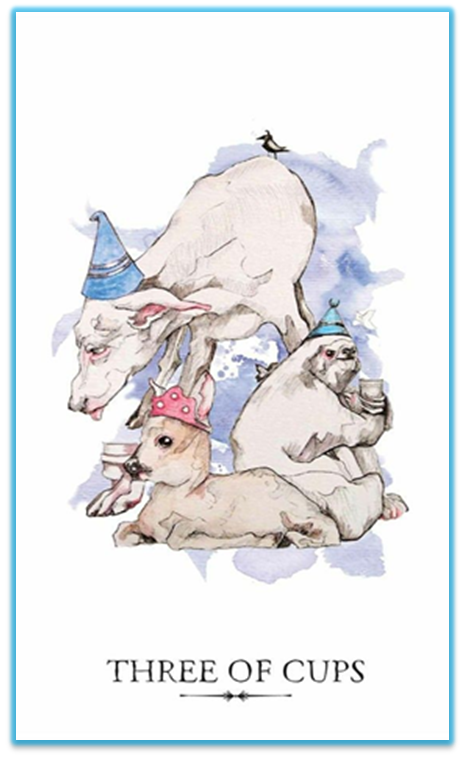 III. Three of Cups Linestrider in a Tarot spread
In a Tarot spread, the Three of Cups Linestrider shows that great benefits from many communities are coming together. If accompanied by the Page card, you may soon receive an invitation to an event or meeting. It is a card of wedding, wealth, and good fortune that can come from investing in your community. If this card appears next to the Hierophant card, it conveys a strong message that your greater involvement in an organization, professional or academic partnership can bring important benefits to you in the future.
In a spread, the Three of Cups Linestrider can represent a friend or an emotion associated with friendship. This card represents the community – the support network created when we interact with others. A community can be any group in which members feel connected. When you see this card, check your attachment within your groups from an emotional point of view. Consider reaching out to give or receive help. This card implies all forms of support, including counseling and other social services.
In terms of work, this is a good omen. Money may come to you, you may find a new job or get a promotion. You feel  relatively pleasant with it. If you're looking for a job, there's a pretty good chance you'll succeed (perhaps surprisingly high), and things will work out for you. Therefore, don't give up.
In terms of love, this card does not always announce a reunion with a lost love. You must carefully consider the rest of the spread in that context to decide if the solution is appropriate. If you are single, the chances are you will soon meet a love – someone who really fits the "type" you are looking for, and this person will be a new love, not someone you "used to" know.
In terms of finance, this is an important time to not depend too much on money. Money will come to you, but it will probably go away quickly. It is important to know that this is the abundant universe, and your needs (financial and otherwise) will be met, as long as you do your part well.
In terms of friends, you are in a team or group that is extremely efficient and has excellent coordination. You will be satisfied with the personnel changes. Close friends can be found during this period. Group games or extracurricular sessions with large participants will be a good opportunity to develop social relationships. Trust your close friends and colleagues as they will wholeheartedly protect you against danger.
Regarding family, this card is especially favorable when your family is in a broken period. Meetings will be smooth and calm. Should create many opportunities to talk and chat, all previous problems will be resolved quickly. If your family is getting along very well, creating opportunities for family fun and entertainment such as parties, events, or outings will leave you with many fond memories.
In terms of health, this is a great time to consider what you are doing – and perhaps what you need to do – in order to boost your health and vitality. Do you need to exercise more?Do you need to rest more? Think about it and come up with a plan. You can do better – even if only slightly better – compared to what you are doing right now.
In terms of spirituality, it can be important to reach out to others during this time, especially if you often pay attention to your spiritual life in solitude. This approach can lead to a spiritual awakening. Think about whether or not you have a need for a "spiritual mentor" (real person) and if you do, look for one! This can be any trusted mentor, not necessarily someone with the title of a "spiritual mentor".
The reversed Three of Cups Linestrider warns that something is not right in your relationships and friendships. Is there a third party stepping into your partnership, friendship, or love affair? Is there any tension between friends that makes it difficult for you to communicate? Are you partying too much? Are you caught up in the obligations of committees or communities? Take some time to assess where the imbalance is coming from, reassess your close relationships, and be honest with yourself about any attachments or negative behaviors that may cause you trouble.
The reversed Three of Cups Linestrider is still a very positive card, you can expect at least an interesting reunion with someone or something you have been away from for a while. You will feel supported by friends and family. Make sure you stay in touch with people at all times.
In terms of love, you may find that financial pressure is affecting your relationship. If you're single, you might be lucky enough to find love through your friendships, so make sure you're noticed and harmonized in groups.
Regarding health, this card indicates that you can learn a lot, and make some important steps in improving your health by looking at what your friends and family members have done to support and improve their health. Let's learn from the environment and people around you. Don't be too egotistic.
In terms of spirituality, this card indicates that you can take advantage of groups to dig deeper into your spiritual world. Even if you think your mental health problems are private and you don't like talking to others about it, this is a great time to consider and learn from other people's experiences and attitudes. Let's express yourself in any way you can.
IV. Message of Three of Cups Linestrider
This card is a very good omen of friendship and joy. It means a complete ending, a successful outcome and a perfect combination. It often refers to building and enhancing one's sense of community. When this card appears, you need to know that this is not the time to "go alone".
This card is about emotions. It answers questions like how does it feel to engage with others? What is friendship and community? It expresses joy and high spirits. It also represents a certain type of mood or experience that makes you feel like dancing and singing.
The Three of Cups Linestrider is often considered a card of "reunion". Things are going pretty well. You can expect at least an enjoyable reunion with someone or something. Remember that reunion here is not always a reunion of a man and a woman. It is exactly a reunion in the broad sense, like meeting (depending on the purpose) someone or something that has been away from you for a while. It is often considered a happy reunion, an optimistic card. It can also mean a celebration of your own or someone you care about – such as a full month, wedding, or other joyful occasion.
V. Corresponding Associations of Three of Cups Linestrider
Arithmetic: 3, 43, 7;
Date of birth: June 3 to June 8;
Plant: Trillium, clover.