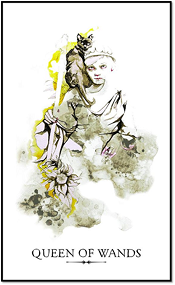 Queen Of Wands – Linestrider Tarot Deck
I. Keyword by Queen of Wands Linestrider
Charm, mystery, warmth, ability, darkness, energy, energy, magic.
II. Meaning of Queen of Wands Linestrider
The Queen of Wands Linestrider depicts a woman holding a stick. Yellow color and sunflowers represent a warm heart, strong personality, keen and generous, as well as creativity. There is a black cat sitting on her shoulder, it is an ancient symbol of femininity, with both seductive charm and primitive wilderness.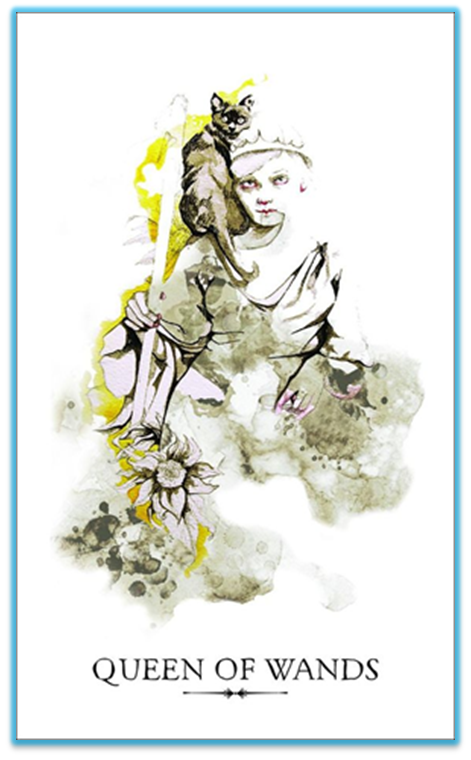 On the other hand, it is also associated with magic and occultism, it represents the Queen's independent nature as well as her interests and abilities to control magical energy. Also, dark clouds in this card convey dark elements. This card refers to a powerful ally and a strong leader who is sociable, resourceful and generous. She is energetic, busy and active.
This card represents warmth, loyalty, chivalry and feminine charm. The Queen is wise, imaginative and intuitive, as well as independent and confident. Although this Queen is chivalrous and warm, she is not an easy person to convince!
III. Queen of Wands Linestrider in a Tarot spread
In a Tarot spread, the Queen of Wands Linestrider indicates that you are reaching a new level of human development, an entry into a higher position. It can also mean a symbolic breakthrough in a relationship, a promotion at work, or a period of personal prosperity. If accompanied by the Magician, be aware of your superior power, you must use that power with compassion and good intentions. If you choose to be devious or autocratic, you will see striking results, but eventually you will see the consequences that dark magic carries.
This card could refer to a woman with a lot of fire energy, such as Aries, Leo and Sagittarius. To some extent, it symbolizes achievements related to the querer's job or career. The Queen of Wands Linestrider carries positive and superior energy. It represents a woman in your life, she can be a good friend who is always there for you, even if she seems a little too self-centered. In case you are trying to conceive, this is one of the most positive signs that it's going to happen.
The Queen of Wands Linestrider is best paired with the Star, Sun, Empress or Temperance cards – your charm and power will reach the highest point and everyone will be attracted to you. Usually, the Royal cards represent the acquaintances in your life. Are there any strong, attractive women in your life? To some extent, you should be aware of the dark side of this card, for example the black cat on the card means that there are claws that you rather avoid. At the same time you should try to handle conflicts tactfully.
In terms of work, this is a warning that some troubles may occur unexpectedly and repeatedly in your job. The advice for you is to be flexible so that you could handle these problems in various ways, depending on the situation. On a positive side, it could be a message that you are about to strike a remarkable deal in the short term. In case you are starting a new job, or a new project, it indicates that things will be good at first, then decline dramatically. You should not attach to initial advantages, but find continuous innovation. There might be a woman who will help you find a new position.
In terms of finance, this is not a good card. It signals a financial difficulty in the near future. You need to be careful with unexpected benefits. In case you need a loan to do the job, you should pay more attention to the documents. Also, this is not a good time to lend money to others because this problem can affect your relationships. This card advises you to rationally handle every money issue, don't let your emotions affect your decisions, so you can avoid troubles and disadvantages. Additionally, You may feel an urge to go shopping. Let's adjust it or you'll soon regret it. It doesn't mean money is bad, it just means that you haven't thought carefully before spending money. Therefore, you should start saving money on your home items, and use your money creatively.
In terms of love, Queen of Wands Linestrider carries a very positive sign. If you are looking for a lover, you will meet someone suitable through an acquaintance. If you don't feel confident with who you are right now, let's find a way out of this mess and harmful emotions. You should believe in yourself, then the universe will bring you the right love and the necessary support you have ever wanted or needed.
In terms of friends, this card reminds you to reconsider your relationships at this point, and adjust your behavior toward friends. Let's be sincere with sincere people, be in moderation with people who only care about benefits, and don't let them take advantage of you. Regarding colleagues, you should focus on your job, avoid factions and fights. Since it does not benefit you, but causes major problems affecting your work.
In terms of family and relatives, it advises you to treat each family member reasonably depending on their personality. Imposing attention and improper love can cause discord, conflict, and even create distances between members. Moreover, this card advises you to avoid arguing with the elders, because things can be complicated later on.
In terms of health, this is a very positive sign. Your energy and vitality are both good. The Queen of Wands Linestrider foreshadows that you will soon get pregnant, whether you are ready or not. Therefore, if you're not ready to be a parent right now, you know what you should do to avoid having a baby! You seem to worry when this Queen appears, let's take time to rest and relax  no matter what.
In terms of spirituality, you may suddenly be desperate for spiritual experiences. While there's nothing wrong with it, don't let yourself get caught in the idea that you'll suddenly find the "sacred" answer to all questions you're looking for in your life. Then you give up everything to join a spiritual/ religious community in another country. Let's take your time to read and reflect, talk to many people before making big changes in your life. Your discoveries are greatly appreciated. You should keep in mind that making big and life-changing decisions without careful consideration can be detrimental to yourself.
The reversed Queen of Wands Linestrider could be a warning of manipulative and bossy behavior, resentment, jealousy or anger. The darkness and capriciousness this character carries (like other powerful figures) can affect people and the environment around her. Therefore, we should not underestimate her influence on others.
In terms of work, the reversed Queen of Wands Linestrider says that you might encounter some obstacles and delays in a short term, then you become frustrated. However, you shouldn't deal with these problems impulsively, but simply solve them one by one. There will be an older female colleague (or a recruiter if you're looking for a job) making obstacles for you. Don't get discouraged, but prove to her why she should listen to you (or hire you). Let's do this and you may achieve more than you think.
In terms of love, an older woman is indirectly involved in your relationship. If that woman is your "mother-in-law," do your best to get on well with her, regardless of what you think about her. If you are looking for love, through an older woman you may meet an interesting person who is likely to marry you. Let every woman in your life know your intention to meet someone new, they will help you!
In terms of finance, the reversed Queen of Wands Linestrider can imply an overspend tendency. There's a reason why people say "money can't buy happiness". However,  you don't need to tighten your belt excessively and refuse to spend any money, or become a mean person to everyone…. Moderate spending is the key to balance your financial situation, as well as enrich your life.
In terms of health, it generally implies a healthy body and positive state. If you are not feeling well, consult a female health care professional as she can be the one to give you very important and useful advice. This card is generally connected with fertility. If you are trying to have a baby but still hopeless, then you should not give up, but take your time to seek more help, for example seeing an obstetrician, discussing your problems, and making efforts. Try to relax yourself mentally in order to relieve stress.
In terms of spirituality, an older woman who tends to be authoritarian and persuasive may try to convince you that she has all the answers related to your spiritual concerns. You may need to set limits with this woman so you don't get drawn into something that benefits her while you're not. She might be angry, but remember that no one has the right to tell you how to live your spiritual life. Your reflection and experience are more important.
IV. Message of Queen of Wands Linestrider
The Queen of Wands Linestrider usually refers to a real person in your life, a man or woman with a similar personality, especially a woman who is very kind and helpful to others. That woman could be you, or someone older than you, a very sympathetic and giving person. It could also refer to a joyful atmosphere, full of enthusiasm and confidence. The Queen's energy means a lot to you at this point. Let the Queen's presence inspire your life in whatever form. This card also represents fertility. It carries a good, positive energy.
In general, this card can imply that sooner or later you will need to help people who are having problems. The card also refers to the possibility that an older woman wants to help you deal with the difficult situation you are facing, but for some reason, her intentions cannot be fulfilled. However, her emotional support is still very helpful for you. If you are facing a difficult situation, let's call for help.
V. Corresponding Associations of Queen of Wands Linestrider
Arithmetic: 24, 6;
Date of birth: December 4 to December 10;
Plant: hemlock, raspberry leaves, honeysuckle.