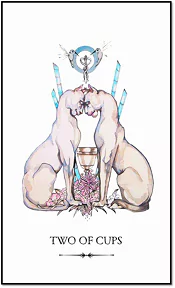 Two Of Cups – Linestrider Tarot Deck
I. Keyword by Two of Cups Linestrider
Collaboration, happiness, romance, business partners, friendship, mutual understanding.
II. Meaning of Two of Cups Linestrider
Two of Cups Linestrider is a cute card which represents the power and beauty created when two individuals unite in balance, respect and harmony. It represents relationships based on attraction, mutual support, and sincere exchange of true affection as well as respect.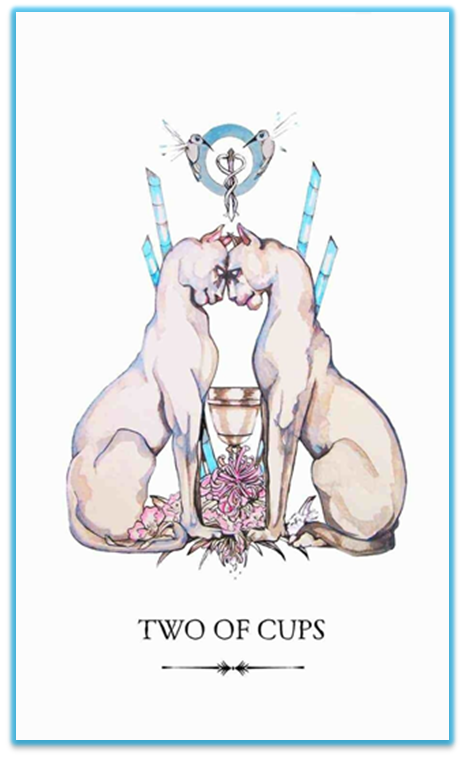 This card can refer to marriage, proposal, engagement, business partnerships or true friendships. It is a reflection of the commitment between two individuals who have chosen to be allies. In many cases, this card can even show a strong attachment to an animal. It represents a nurturing, creative, clearly focused, inspiring, and satisfying love.
III. Two of Cups Linestrider in a Tarot spread
The Two of Cups Linestrider has a deep meditative meaning. Whenever two parts come together, there is a possibility of existing cohesion, a link. This card can represent the union of two entities – people, groups, ideas, or talents. In a Tarot spread, it suggests you to look for connections in your life, especially personal relationships. This is not a time to isolate, but to mingle, and work together as partners. If you are in the midst of a conflicting argument, look for a truce and an opportunity to forgive and be forgiven. If you are struggling with two choices or tendencies within yourself, find a way to reconcile them.
In terms of work, this card indicates that a partnership can be successful or important at this point. Especially when accompanied by the Pentacles suit. There may be someone within your circle or about to appear in your life. You can build a meaningful relationship which brings trust and benefits with this person. This card also shows good results from cooperation and teamwork in general. If the Sword suit appears in this spread, it indicates an intellectual element in work, harmony, unity, or success in pursuing knowledge. Additionally, it shows that you are appreciated for your ability, you feel comfortable even if you don't like your job. In case you are about to start a new job or project, this card signals that this is a favorable time, and you will have more help from close relationships if you encounter problems or difficulties.
In terms of love, this card represents true love, a balanced relationship, responsibility, and what we usually want in any relationship. However, it doesn't mean that your relationship will be alright no matter what. The two of Cups Linestrider only shows the foundations, elements of reality, stability, and potential for true love and existing charm. If you're looking for love, you should relax, because love is about to knock on your door.
In terms of finance, this card implies balance and fairness. In everything there is a balance between interests and emotions. Excessive calculation will lead to emotional damage between partners, colleagues, relatives, etc. On the other hand, if you are having financial trouble, try looking at your relationship with co-workers. Is there something you can do to improve your relationship with colleagues? If you realize that, maybe you will improve your cash flow. It doesn't mean that you're "flooded with money" but in the near future you'll have more than enough to "meet your obligations", and that's just the beginning. You should not be too perfectionist, because sometimes short-term losses will bring long-term benefits.
In terms of friends, the card reminds you that this is a time when you should not confide easily, or share any secrets with friends, even very close. Because this will lead to troubles that cause the friendship rift. Regarding colleagues, be careful what you say now, and in the future. Because it is possible that a sentimental word in your anger will cause problems, not to mention bad people will use your words against you.
In terms of family, this is a good card. The relationship in your family is very strong, the troubles and conflicts in the family can be reconciled through deep affection. To some extent, this card also signals the arrival and debut of one or several new family members. In addition, the card also reminds you to put up with older relatives in arguments, or to be more tolerant with younger people, during this time.
In terms of health, if you are facing a health problem, then you may need to find a therapist, someone you trust and can work well with. They will help you "heal" the disease. This is also a pretty good omen when it comes to health – you should keep a positive attitude, which is so important (and supportive) for your health.
In terms of spirituality, you may feel your energy and the universe merging. This is one of the cards that represents the chakra and it is the gateway to the heart. You will love everyone and everything more than usual. Please share that good energy, because the world always needs more love!
The reversed Two of Cups Linestrider can show tension, deception, disrespect or lack of trust in an important relationship. You and your partner may be struggling with a lack of trust, or with hunting wounds from the past. It sometimes represents a potential separation or breakup if two parties don't make any moves to communicate and build trust. If there are a lot of unresolved tensions in the relationship, now is the time to take a long-term, persistent view instead of a forced "temporary" approach. This card appears when important relationships or partnerships are at risk. You should think seriously and cautiously.
In general, this card shows that things are likely to go well. However, be careful not to cause problems or troubles in your friendships simply by paying too much attention to your love life.
In terms of work, this is not a good card. It warns you that you are too complacent with the immediate advantages and lack of preparation for the risks that may come at any time. On the other hand, the card shows that you are handling things emotionally at work, you need to balance. Suddenly, you may find that you don't enjoy your job as much as you used to, and you may feel uncomfortable as if your co-workers are against you. First of all, don't panic. This is possibly a transient phase. However, if your current job really isn't right for you, then you may need to start thinking about changing your job. Trust your instincts.
In terms of love, you will need to make sure you don't pay too much attention to love and forget about other things in your life. If there were problems in your relationship, it may be time to forgive and forget the past. Let's start over fresh.
In terms of spirituality, this is the time to examine the emotions of the universe's energies as well as your own emotions. Find your joy, your happiness, and share it with everyone. No one can do these things for you but only yourself.
IV. Message of Two of Cups Linestrider
The Two of Cups Linestrider often refers to a love relationship between a man and a woman, but that is not the only meaning of this card. The Two of Cups also implies balance, friendship, joy, and sharing.
The Two of Cups Linestrider talks about a good beginning of a new relationship in which you will experience understanding, harmony, and real love. This card often refers to reconciliation and new opportunities to bond, repair, or strengthen existing relationships.
Although this card focuses on interpersonal relationships, it can indicate that you need to deal with internal affairs in order to achieve these types of relationships. To be loved and appreciated by others, you must find those feelings within yourself and for yourself first. Others will respond when you embrace your own happiness in a positive and respectful way.
This card gives a message that things are likely to go well. You will feel more loved, cared for, and satisfied than usual.
V. Corresponding Associations of Two of Cups Linestrider
Arithmetic: 2, 46, 6;
Date of birth: May 28 to Jun 2;
Plant: rose, evergreen climber, Spiraea ulmaria.