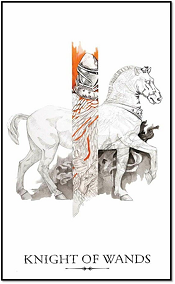 Knight of Wands – Linestrider Tarot Deck
I. Keyword by Knight of Wands Linestrider
Action, excitement, acceleration, activity, desire, travel, chivalry, adventure, communication, new ideas.
II. Meaning of Knight of Wands Linestrider
When the Knight of Wands Linestrider appears, you should stay calm! Many things are about to happen. This knight is the most active character, his feet don't touch the ground, he is depicted as a quick, youthful and enthusiastic person. The horse feathers and the bird motifs in general show the relationship between the ability to flight and the element of air.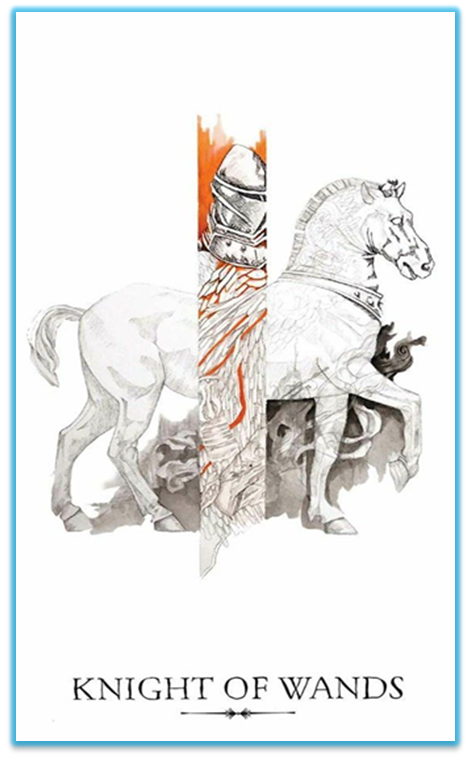 Knight of Wands is an ideal character for you to become and to have on your team when projects need enthusiasm, speed and action. However, all the grace and energy this character possesses are also the impulsiveness and disregard for the rules that can take you to trouble later. Therefore, be careful!
On the positive side, the Knight of Wands Linestrider is full of energy and life. He is never afraid to try new things and will reach for every passion he can. Others may be afraid of his madness, but they are still attracted by his courage and passion. The knight is charming, his irresistible attractiveness always captivates others.
On the negative side, the character in this card is a bit complacent about himself and his abilities. He tends to act shallow and thoughtless. Don't expect a strong commitment or loyalty from him. He is also reckless and irresponsible. He often acts without thinking and he is constantly in trouble because of his temperament.
III. Knight of Wands Linestrider in a Tarot spread
In a Tarot spread, the Knight of Wands Linestrider shows that the confidence and enthusiasm of the knight is related to your personal situation, someone else or the atmosphere in general. You need to ask yourself, "whether this knight's energy will benefit or hurt you?"
The Knight of Wands Linestrider usually represents someone in your life. If you think about that person, it's not hard to find – a dynamic, strong, keen, enthusiastic person, does it sound familiar to you?
In terms of love, this card shows that this guy is very difficult to refuse.  The feathered knight can raid and knock anyone down. You should remember, the faster someone appears, the faster he/she disappears. Let's enjoy but don't expect them to stay. On the other hand, you may meet a new person through your work. If you're currently in a committed relationship with someone, make sure your conversations with that person are as clear as possible. Let's date more and spend time talking to understand each other better. This will essentially improve your sense of belonging.
In terms of financial, this card could be the energy you need to gain success. For businesswomen, this card often appears in situations where the aggressive energy of a man is their most effective tool. This is especially true when accompanied by the Nine of Pentacles. To some extent, your financial situation will improve gradually. However, you should save some money, cut back on less important expenses if you can. It also indicates new trends in investing. You should  reconsider a  new investment direction or an adventure plan. If you are trading stocks, you should start looking at new trends or indicators that you used to be afraid of.
In terms of work, the card shows that your work is having rapid changes in a positive direction. Your company, factory or project activities are working with high speed and intensity, which requires you to be flexible as a leader. Changing plans flexibly can be a plus point for your work, but can be risky for your colleagues if they don't keep up with that flexibility. This card not only requires flexibility, but also requires solutions for all disagreements caused by that flexibility. You need to adjust accordingly. This card may also imply a new business direction, new product, and relocation of services.
In terms of friends and colleagues, the Knight of Wands Linestrider clearly indicates absence due to work or change of residence. This interruption is sometimes due to personal problems or living conditions. It often implies a disagreement between friends and colleagues. Specifically, you may move forward too fast or slow compared to your colleagues, you do your job too well or too excellent compared to your colleagues, these factors can hinder your relationships. You should pay more attention to harmony and coordination in the group, spend time helping colleagues or friends to advance with you.
In terms of family and relatives, this card clearly shows the relocation of your relatives. It can be caused by marriage, divorce or long-term business trips. It sometimes implies your residence directly. There are a number of circumstances that are favorable to relocate, and in some cases you are forced to do so. However, you should not worry too much, because this new situation is not too bad, but an opportunity to explore the world. Take advantage of it instead of wasting it.
In terms of health, everything is quite good at this point. However, you should be careful when exercising, as the Knight of Wands Linestrider can sometimes indicate a risk of minor injuries. If you're recovering from an illness, don't work too hard, or rush back to your normal routine. Please slow down and be patient.
In terms of spirituality, someone may introduce you to a method to see things in a spiritual way. However, you should take some time to learn and discover this "new method" before spending a lot of time or money on it. If possible, let's donate some money, time and energy to spiritual rituals that you believe. It is one of the good prayer options.
The reversed Knight of Wands Linestrider sometimes implies failure or delay in some way, it is generally still an optimistic and positive card. This card can also refer to someone in your life, usually a relatively cheerful, kind and energetic person. This person is generally trustworthy.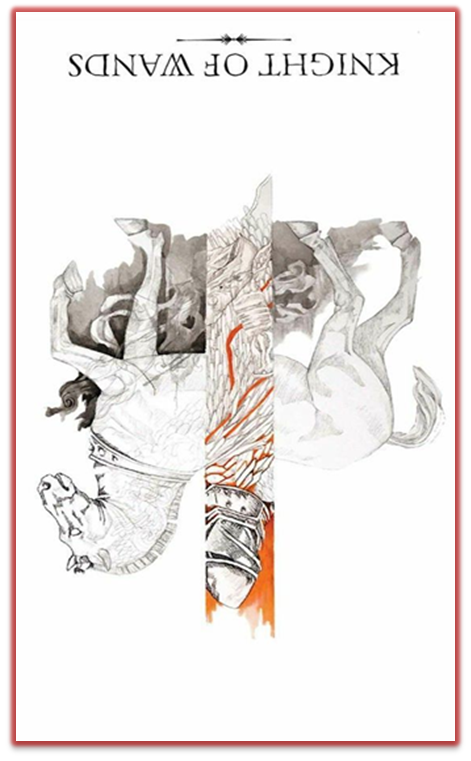 The reversed Knight of Wands Linestrider is often a sign that you will soon receive a message, whether the card appears upside down or forward in a tarot spread. Unfortunately, if you use the opposite meaning, it will imply "a delay", and "you will have to wait". If so, try to wait patiently.
The reversed Knight of Wands Linestrider shows that things are moving as fast as you want. You may face procrastination, restlessness, impatience, or a lack of foresight. Do you really want to move forward with something in life, but face unexpected challenges at the same time? Sometimes rushing your best forward  is not good. You should try to figure out what's holding you back and see how to turn it to your advantage.
This card sometimes mentions physical obstacles. Is there something pulling you out or affecting your ability to live the life you want? Let's look at other cards in the spread to figure out how to deal with obstacles you've been through.
IV. Message of Knight of Wands Linestrider
When the Knight of Wands Linestrider appears, this is a great time to travel if you can manage your work. You will feel energized, and mentally ready to get things done. Your confidence will increase and that will help you achieve your goals.
The Knight cards usually carry many messages, and in the Wands suit, this message is very positive and oriented towards the work and career of the querer. Your projects will be more likely to succeed than you expected or anticipated. You have many reasons to feel proud. Enjoy that feeling.
If the knight in this card is obviously relevant to your situation, then balance is essential. Are you confident or just complacent? Are you always irritable and impatient? Are you falling for someone that you know will break your heart? Is your company hastily investing without preparing for risk? This could be the right time to change.
If your situation does not correspond to the energy of the knight, it could imply that you're in  need of more passion and risk. Are you just dying slowly? You should consider trying something new. Do you always plan for everything carefully? You should be well prepared for next time. Are you overloaded? Let's go out there and enjoy life. Let the Knight of Wands transport you into his world of adventure, excitement and adventurous spirit.
V. Corresponding Associations of Knight of Wands Linestrider
Arithmetic: 25, 7;
Date of birth: November 29 to December 3;
Plant: juniper, mint.