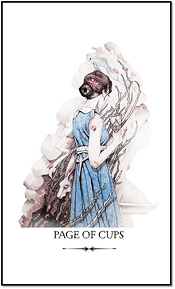 Page Of Cups – Linestrider Tarot Deck
I. Keyword by Page of Cups Linestrider
Creativity, new projects, inspiration, unconsciousness, introversion, intuition.
II. Meaning of Page of Cups Linestrider
The Page of Cups Linestrider is a good omen. It often talks about the beginning of creative projects, ventures or relationships. It shows that a new energy and potential is formed. Your unconsciousness is speaking, maybe through dreams, "coincidence" or current events. Let's be open to unexpected things, even the strange urges of creative spirit.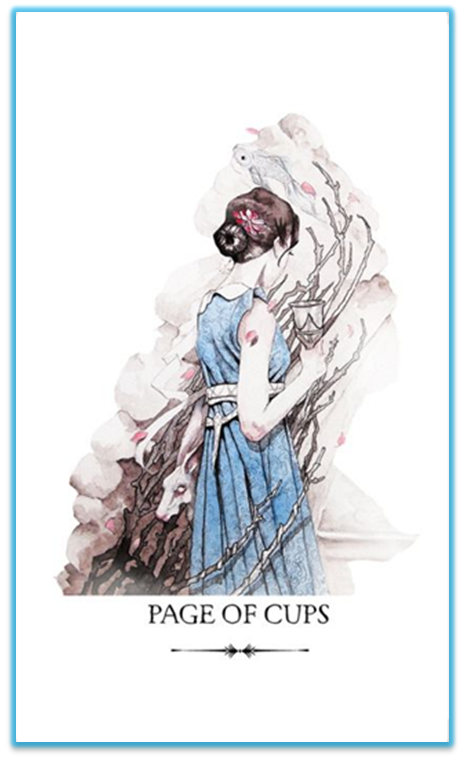 This card is an indication that your intuition is very sharp, and you can receive messages from your unconsciousness. If you have a hunch or intuition about something, let's listen carefully. It also means that you will receive good emotional news. In the card, the character turns her back to us, which symbolizes her need to look inward and listen to the soft voice of her unconscious world. The fish jumping out of the cup represents creativity and connection to the watery gulf of the unconsciousness.
III. Page of Cups Linestrider in a Tarot spread
In a Tarot spread, the Page of Cups Linestrider implies that you will receive a message that indicates the beginning of something – a betrothal, birth, new relationship, or positive news about new business opportunities. In addition, this card also foreshadows the arrival of a messenger, a gentle person who can bring many changes in your life. Let's look for the message or messenger within five days since this card appears.
In terms of work, this card shows that even if there are always difficulties happening with your 10 years job, you still have reason to hope and look forward to a positive future. Whoever you are, you have many career options ahead. Life can change quickly, and sometimes those changes are positive. If you're unhappy with your current job, know that you still hold the key to change it.
Regarding love, someone younger (perhaps just a few days younger than you) could be a part of your love vision. Age is not at all a matter of love, so don't take anyone lightly even if he or she is younger than you! If someone is trying to impress you, let's give them a chance.
In terms of finance, if you are tightening your belt just because of someone else's decisions, then it's about to be over. Your financial affairs may turn for the better. If you are thinking about buying one or more expensive things, don't be too frugal!
About friends, be careful with friends and colleagues who only care about their interests and careers. You should also pay attention to interns, or new colleagues at the company because there are strict warnings about deception or seduction attached to this card. The advice given is to find the right friends, but at the same time take care of your current friends and colleagues, because sometimes you are the ones who get promoted despite the tricks in their eyes.
In terms of family, your children's studiousness and hard work at school or at work can make your parents or yourself proud. On the contrary, it also shows that you or your descendants only care about career and pay little attention to family. The advice is that you should spend more time with family and your loved ones. Let's advise your children to balance between home and work life.
In terms of health, let's listen to your body gently. What is your body trying to tell you? For example, if you are suffering from back pain, are you carrying (literally or figuratively) too heavy?
Regarding spirituality, you may need to think about your spiritual practices if your traditions are waning. This can be helpful to allow yourself time and space to consider where you can pursue appealing spiritual information. Let's explore, read more from other belief systems/cultures instead of your own.
The reversed Page of Cups Linestrider implies that you have been overly introverted. It can represent defection, immaturity, or emotional trouble. It can also warn of upcoming unexpected messages or messengers. Be prepared for new opportunities that will appear within five days. Don't judge new projects and people by their looks. Let's follow your intuition and the inner warning voices even when everything seems perfect. Be especially careful with new young and immature people appearing in your life, because they can cause negative volatility.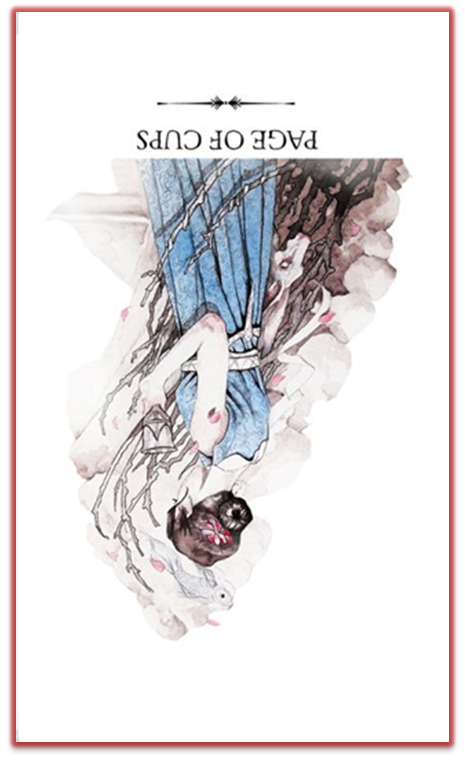 In terms of work, it shows that you are fundamentally valued at work. However, don't disregard the rules or be too sloppy even if you work for yourself. If you are unsure of what is going on, or why you are in trouble, let's seek advice from an experienced, trusted friend or family member.
In terms of love, you may fall for someone who isn't ready yet. Let's pay attention to the signs you are getting. Sometimes it's best to set a limit on how long you'll allow yourself to focus on someone – if that person doesn't want to be with you. Remember, you have more than one chance to find a soul mate and many more chances to be happy. Don't spend all your hope on one person.
In terms of finance, the reversed card says that this is a time to be very cautious with your expenses. You are shopping just to satisfy your own needs. However, think twice before pulling out your wallet, and think carefully about a valuable item before you buy it. There is a proverb, "buy things in a hurry, regret things leisurely".
Regarding health, you may engage in the most modern and refreshing activities in hope of improving your health. In fact, natural methods can still be good and effective. However, you need to make informed decisions, and ask for doctor's permission. Don't "burn" a bunch of money for "miracle cures", most of them are scams.
In terms of spirituality, you are confusing illusions with reality, and it affects your spiritual practice. Let's think clearly about what you're experiencing, and you can also benefit from it by discussing with people who are looking for spiritual solutions. If you are confused, or feel like you need help, let's ask for it. We are on the same journey.
IV. Message of Page of Cups Linestrider
The Page of Cups Linestrider card brings you opportunities for love. It conveys real opportunities to experience the romance, deep feelings and inner life that are the hallmarks of the Cups Suit. It shows an opening that can stir your emotions, draw you into deepest emotions, and bring you great joy. When you see such an opportunity, just grab it! The Page of Cups Linestrider can also refer to a child or childish adult that correlates with you in emotional need, status, love, intimacy, or spirituality. Sometimes this card indicates that your heart is completely filled with love and emotion. At those points, feel free to express and enjoy your feelings regardless of all.
Additionally, it represents a need to play, to dream and to have a little joy. When this card appears, it sometimes means that you are taking your life too seriously. Margot Fonteyn says "one important thing I've learned over the years is the difference between taking your work seriously and taking yourself seriously. Being serious at work is a must, but being too serious to yourself is a disaster". Remember that difference.
V. Corresponding Associations of Page of Cups Linestrider
Arithmetic: 40, 4;
Date of birth: January 22 to January 28;
Plant: Dasiphora fruticosa.