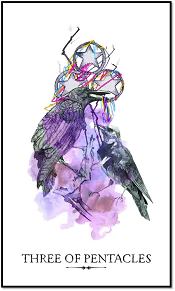 Three Of Pentacles – Linestrider Tarot Deck
I. Keyword by Three of Pentacles Linestrider
Perseverance, diligence, teamwork, youth, apprenticeship, future building.
II. Meaning of Three of Pentacles Linestrider
The Three of Pentacles Linestrider Tarot often depicts an apprentice or a young laborer doing the work of a stonemason or working in a church. The author uses the image of crows for this card because, according to him, he is always amazed at the cleverness and diligence of crows. This card talks about you having skills to help realize your plans.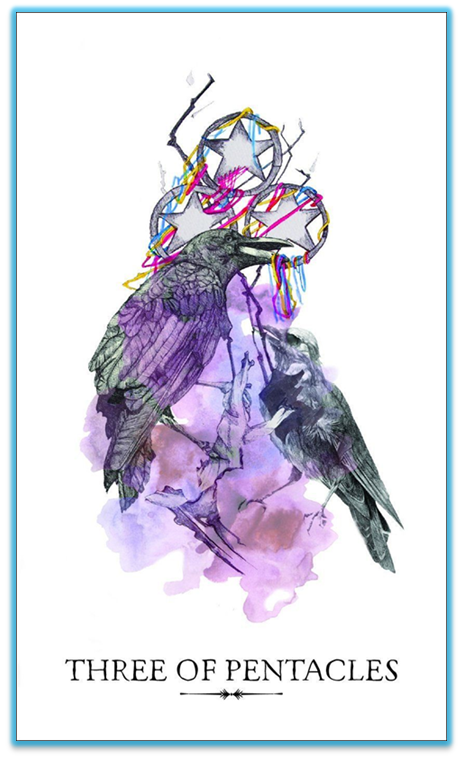 This is also a card that gives encouragement to those who are studying, learning a trade, or trying to build new skills. You will probably feel a bit bewildered and overwhelmed, but rest assured that you will be rested, your efforts will not be wasted. Just keep working hard and you will see results.
III. Three of Pentacles Linestrider in a Tarot spread
In a Tarot spread, the Three of Pentacles Linestrider Tarot represents the initial completion of a cycle or a goal and it encourages you to move forward with higher purposes. This card is especially associated with creativity and business projects. If you are a young member of a group, this card reminds you that you are an essential contributor and that your efforts are important and meaningful. Don't underestimate your worth! This card shows that your training, skills, and abilities should be applied to your goals; This is a great time to pursue the things you want to do. You may also find that people will notice what you can do and what you bring to the team, and that can lead to new opportunities! Remember to be open-minded, especially now, to comments from others. There will be mentors and people who can help you move forward.
In terms of work, you will advance to an important step in your work and career. The card shows a new level and a lately assigned position. If you have been waiting for a transformation at work, this is a good time. If there is a personnel change or a promotion, seize it. It is important to note that this promotion and change is based on your job stability, so it does not include quitting jobs, changing companies, or sudden changes.
In terms of finance, although the Three of Pentacles Linestrider Tarot does not imply much about money, it also shows good signs. Growth in awareness and qualifications as well as advancement in titles are all factors that benefit your financial situation. The investment, if any, is also favorable. Your borrowing is generally profitable as well. However, the card does not bring favorable factors if you change the direction of investment or change the way of borrowing. The card is only favorable when you increase capital or increase in volume, not guaranteeing a sudden change. Similarly, if you are looking for a job, then this card is a sign that you can fully expect success in the coming time.
In terms of friends and associates, the card brings auspicious messages. You have a good relationship with your co-workers. The card implies that you strengthen the support of colleagues and friends for your career. You should take the opportunity to develop new relationships through friends and colleagues. In case you encounter unkind competition from co-workers, then you just need to focus on your work. You should not be too upset, giving in a little will bring you many pleasant surprises
In a spread regarding love, the Three of Pentacles is also a good sign. Especially if you already have someone to love and care for, this card gives the message that that person sees in you pretty positive lights and that you are someone who meets the standards they are looking for, although this relationship has not yet developed to a deep level. So be patient. If you are still on a journey to find love, then this card indicates that you are more likely to meet that person in the process of work (yours or theirs). Stay alert and wide-awake in this quest!
In terms of family and relatives, the card signals the favorable development of family members in terms of work. The card also shows deep care but tends to be imposed by some family members, causing many internal disagreements. In the coming time, you should avoid arguing with the elders of your family or relatives about matters of personal thought. On the other hand, in difficult cases of work and love, you can look to family members for advice and sharing.
In terms of spirituality, try to look into ancient organizations, communities as well as ancient traditions, you will be able to experience a lot. You don't have to join certain organizations or communities unless you really want to. In fact, this knowledge and contemplation can be found simply by reading and meditating on the belief systems of those places. Learn about the rituals of the past, which will help you deepen your spiritual knowledge and experience. Besides, your health tends to improve in a positive way, not as a miracle, but as a result of what you are doing to train your body. Therefore, this card is a sign that you are on the right track, so continue to maintain and promote it.
When in the reversed position, the Three of Pentacles Linestrider Tarot can show you are in a position to let others take your advantage. While your internship and work to "assert yourself" is sometimes part of the "fee", when it becomes exploitation, be ready to speak up and let everyone know that your time and effort should be worth it. Sometimes, this card can imply that someone is secretly sabotaging you, making your image worse in the eyes of others.
The Three of Pentacles reversed, in general, is not a completely negative card, in a spread regarding work and partnership, it gives many good signals but at the same time, it also carries the message that this is not the time for you to distract yourself. Work is the most important aspect of this reversed card. This is an important time to do your best instead of looking for the simplest solutions. Once you do, you will have a better chance of achieving great success.
IV. Message of Three of Pentacles of Swords Linestrider
In the first part of the movie Mission Impossible, a group of specialists is on a dangerous mission. Team members strategize, gather resources, and use their members' skills and qualifications to complete missions. That is the spirit of the Three of Pentacles: teamwork, planning, and goal accomplishment.
The Three of Pentacles Linestrider Tarot is one of those Tarot cards that focus on teamwork or community (similar cards are the There of Cups and the Hierophant). The image of coins firmly linked to each other and used symbolizes a group of people doing a certain task, i.e. people working together towards a common goal. Not much work can be done alone. We need the support and help of others in order to achieve our goals. Sometimes the Three of Pentacles is a sign that you will be more productive if you know how to work with others. You don't have to do everything yourself.
This card can also be a sign of a need for planning and preparation. This is not the time to rush things or start a project while you are very vague about it. You need to think things through, consider every possibility and make sure you pay attention to every little detail. Be prepared in advance, what you do will reap the results.
Another characteristic of the Three of Pentacles Linestrider Tarot card is the ability to achieve (excellence), the ability to get things done. Nowadays it is very difficult to find a person who achieves this. The card tells you that you have all the skills and knowledge you need. You can attract talented people and create an environment of success. Keep in mind that while times are (or will be) very favorable, it is important to make sure you stay focused on getting your work done well. Be proud of what you do and how you do it. Then you will complete your "impossible" mission.
The Three of Pentacles Linestrider Tarot is a very positive card, especially when it comes to work and career matters, and in general, what you are doing is very favorable. It tells you that the people around you appreciate you and your efforts, and notice the quality of the work you do even if you don't get paid for it. This card reminds you to keep maintaining and promoting what you are doing because you are on the right track (although there is still room for further progress). You don't have to discard or terminate something and then start over.
V. Corresponding Associations of Three of Pentacles Linestrider
Arithmetic: 3, 71, 8;
Date of birth: May 3 to May 8;
Plant: Gentiana lutea, Giamaica pepper.