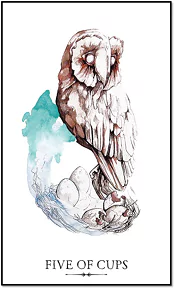 Five Of Cups – Linestrider Tarot Deck
I. Keyword by Five of Cups Linestrider
Negative thoughts, suffering, loss, focus on the positive.
II. Meaning of Five of Cups Linestrider
The Five of Cups Linestrider signals difficulties, loss and tendency to lean towards evil and no longer see the great things that still exist. The owl on this card is perched on the edge of its nest. It keeps looking at three broken and abandoned eggs below instead of two intact ones.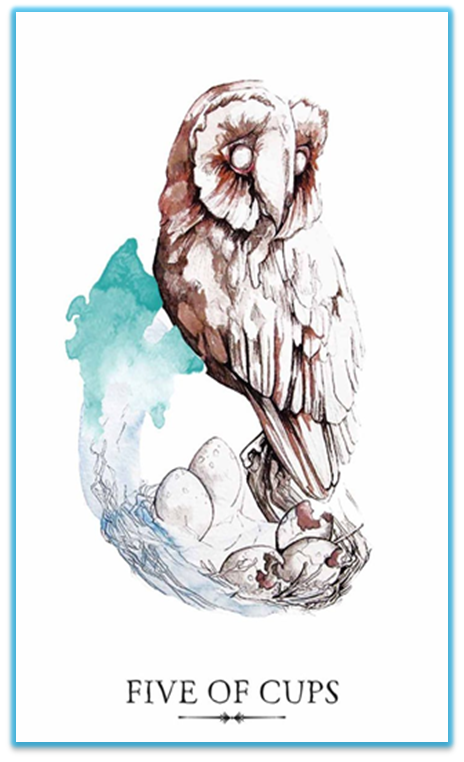 This card implies that you still focus on the past and unhappiness remains while ignoring the positive. It often reflects that you are trapped in the past and unable to move forward, then miss many new opportunities. Bitter memories from the past continue to hunt you, you get blame for your actions in the past all the time. The implication of this card is very clear. Will you choose to stay sad over the bad or unfortunate things that have happened? or will you focus on what you still have, and spend your time as well as energy moving forward? The point here is to consider what you are focusing on, and always make sure that your choice of focus direction is the best for you. It's time to forgive – not only for yourself but also for everyone else. Let's sweep away the broken pieces of pain and find new horizons. Pay attention to the positive things in your life.
III. Five of Cups Linestrider in a Tarot spread
In a Tarot spreading, if the Five of Cups Linestrider appears in the past context. It shows that hardship, pain or heartbreak that you have been through was the main factor that formed who you are today or created the situation that you are today. If this card appears in the future position, be optimistic because you have foresight. Let's find ways to lessen damages that a series of upcoming misfortunes may cause to you.
For example, save extra money, or get in touch with people who can support you. If this card is accompanied by the other Cups cards, it means the difficulty you or people around you are facing may have a strong emotional connection. For example, you may find out that your spouse has been dishonest or a family's friend has passed away. When it is combined with the Pentacles card, it implies bad financial news.
In terms of work, try not to be impatient even if the job opportunity comes slowly. Keep in mind that recruiters are often slow to process applications, resumes and something like that. Be proactive but don't be overhasty. To some extent, it could be an indication that you are actually choosing the wrong job. Let's take a look at what you want to do, and take steps towards making it happen.
In terms of love, your relationship may have just ended or may be about to end soon. You need to realize that "you don't lose everything". You may not be ready to start a new relationship right away, so give yourself more time and space. Let's get back to love later. Soon you will realize that the reason your current relationship is ending is to help you get what you "really want", it could be finding and keeping a new relationship that best suits you.
In terms of finances, worrying too much about money can actually have opposite effects to what you're trying to achieve, and this worry can affect your financial development. To solve this concern, let's allow yourself to be more generous. You may not be as "bad" as you think you are. Try giving something away, or make a small donation to somewhere you trust.
Regarding friends, the card implies disappointments in friendships expressed in quarrels, conflicts. In case this has happened, the card tells you that your friendship is still there, but maybe pain and ego makes it difficult to heal. On the contrary, this is a time for you to reflect and resolve potential conflicts. Regarding colleagues, you should be careful at this time, because colleagues may behave badly with you due to interest conflicts.
In terms of family, it describes the sufferings and sorrows related to family affection, benefits, financial issues, or even clan's disputes. The key issue is benefits, sometimes it would make loved ones turn into enemies. The card advises you not to do anything that would make you regret later on.
Regarding health, it is important to always maintain a positive attitude. If you can't get over the bad memories others did to you, or let go of what happened in your past, now is the time to seek help and deal with it. Stop locking yourself in the dark past. Let's focus on the present and the future because the past is gone.
In terms of spirituality, forgiveness is crucial at this point. You don't forgive others for their own good, or because they "deserve" forgiveness, but you need to do it for your own sake. Because repressed anger, and heartbreak will be extremely harmful and bad for yourself. Additionally, while you still have time to be angry and hurt, the person you're angry with is most likely in a pretty good mood! So now is the time to let go of the things that are still stuck in your soul.
The reversed Five of Cups Linestrider means that you (or someone around you) are experiencing pain, loss, chronic pain, or deep despair that cannot be stopped immediately. Our culture tends to emphasize getting over things, but there are few things that just can't be "passed". In this case, you just have to accept that suffering is a part of life, and also you have to accept the grief and believe that it is just temporary. Keep moving forward, don't let yourself "stuck" in the past. On the other hand, the card warns that you are focusing too much on the negative while abandoning the positive. Let's find ways to take care of things and people who need you.
The reversed Five of Cups Linestrider implies that there is a high chance that your life will see many new prospects as well as new projects. It is a good time to reach out to others if you are in need of something from them, such as work, attention, care, or anything else. Have faith in yourself and trust that your needs will be met.
In terms of work, although things may have been rough for you lately, you have started to realize that the only person you can really control or influence is none other than yourself. Keep thinking positive, and consider what is really right for you. Maintain a gratitude attitude and courtesy to everyone. Together with your best productivity, that is everything people expect from you.
In terms of love, the reversed Five of Cups Linestrider implies that you will be able to find a happy and meaningful relationship during this time. You don't have to accept being abused or try to plunge yourself into a love spiral with the wrong person. If you don't feel that way right now, be prepared, because you'll realize it soon enough. Trust your instincts.
In terms of finance, the reversed card reminds you to be grateful for what you already have. Also, you are entering a stage of finding yourself and realizing who you really are and what you can really do to bring more prosperity into your life. Think positive, and nurture your self-esteem.
IV. Message of Five of Cups Linestrider
The Five of Cups Linestrider brings a message about the possibility of a loss and emotion involved – sadness, regret, rejection. The loss can be big or small. It can be tangible (money, possessions, relationships, work), or intangible (dreams, opportunities, potential customers, prestige). You may already know who or what this card represents, but if you don't, it can be a warning to help you avoid loss, or at least minimize its consequences. This card also reminds us that what we pay most attention to will have a lot of influence on the quality of our lives.
You may feel discouraged by this card, but it still has a positive side. Every loss opens up new possibilities for growth because every loss initiates a change. Loss hurts because human emotions are resistant to change. No matter how much we intellectually accept it, we must conform to the natural flow of life. If that flow separates us from what we love, our emotions will say "no!".
V. Corresponding Associations of Five of Cups Linestrider
Arithmetic: 5, 45, 9;
Date of birth: June 15 to June 21;
Plant: horsetail grass, geranium, iteaceae.