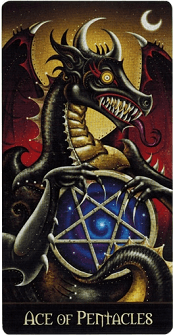 Ace of Pentacles – Deviant Moon Tarot Deck
I. The Description of Ace of Pentacles Deviant Moon Tarot
The Minor Arcana Pentacles in Deviant Moon Tarot comes in a different version. The author created 22 unique Pentacles to put his cards in the style of the ancient Greeks that he called "Deviant Ancestors". The Pentacles suit is practical, a manifestation of reassurance and material issues. They are bound to the element Earth and have clear requirements for operating with the matter.
In the Pentacles suit, we celebrate the beauty of nature, our relationships with plants and animals, and our physiological experiences. Pentacles also represent prosperity and abundance of all material forms. This suit is sometimes called Coins – an obvious symbol of the exchange of goods and services in the physical world.
Each suit in the Minor Arcana in Deviant Moon Tarot has its own unique quality. Our everyday adventures are a blend of these four qualities. Your card-readings will show you how various energies affect your life at a particular time.
In Ace of Pentacles Deviant Moon Tarot, there is a dragon gripping a mysterious star-shaped coin. Inside that five-pointed star contains the whole universe. The dragon itself is a creature representing absolute perfection, who creates harmony between the physical world and the spiritual realm.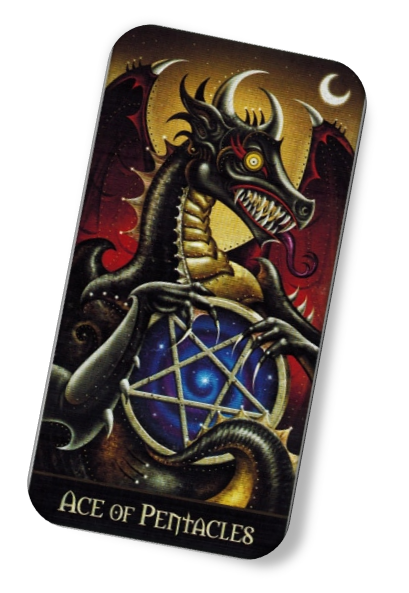 This Ace heralds a new beginning, new energy, and new inspiration. Pentacles suit symbolizes the Earth element in alchemy. Hence, it represents the visible and tangible world. Pentacles also signify money and current financial affairs. Thus, the Ace of Pentacles marks the beginnings of new potential and concerns about the physical or financial spheres of your life. This card denotes investment in a new business project. In addition, you can also inherit property or money growing in a tree. Ace of Pentacles indicates prosperity, abundance, and overall positive factors.
II. The general meaning of Ace of Pentacles Deviant Moon Tarot
Keywords and extensions: Perfection, The balance between the physical and spiritual world, Well-being, There is a will to succeed, Expression, New financial opportunities, Prosperity, Financial situation improved, An authentic start, The strength of solidity and assurance, The power of the Earth element, Convenience, Enjoyment of pleasure, Salary increase, Victory, Start a successful business or project, Advantages in terms of finance, Success, Recognition, Advancement, Career change, Reward for hard work, Fertility, Good things in life, Good health.
Ace of Pentacles Deviant Moon Tarot is a symbol of wealth. You find opportunities to bring in a new source of income, or the luck of receiving a financial gift or benefit. In addition, this card also shows abundance in all areas of life and signals that the god of luck is smiling brightly at you.
This Ace speaks about your ability to pursue your goals. You are ready to execute all your concepts. Thus, it explicates that you will succeed by creating a plan that targets your goals. Opportunities are available in the short term and you will realize your potential and create a steady stream of income.
It shows we need to come up with a novel idea for our plan. Everything that is included in your current plan cannot make a big difference. Let's look at things that you have never tried before.
Overall, the Ace of Pentacles Deviant Moon Tarot implies that you should enjoy a new start on several levels and that the new derivation is remarkably positive. Your energy and your vitality will likely reach their peak. The presentation of this card is often a sign that your life will turn into a better direction in terms of money and prosperity, or it may be a sign that you will receive gifts or money, even the right to inherit from places you did not expect.
III. The reversed meaning of Ace of Pentacles Deviant Moon Tarot
Keywords and extensions: False happiness, Sadness endures even though the material is full. Wasteful property, Loss of opportunity, Lack of planning and foresight, Stagnant income, Adequate payments, Material damage, Wealth or money used for the wrong purposes, Exhaustion, Investment, Unfulfilled promises, Uncertainties, Financial problems, Poor planning, An imperfect start of a project or business, Greed, Displeasure, Dissatisfaction, Possessiveness, Materialism, An unwise decision, Carelessness, Struggle to the last, Haste makes waste.
The reversed Ace of Pentacles Deviant Moon Tarot may be a sign that you are quite bothered about your property. We are all concerned about our financial situation but do not endure excessively to the point that you might lose the joy of living at the present time. You should be satisfied with what you have, do what you want, and leave everything else for the Universe to lead.
The reversed Ace of Pentacles Deviant Moon Tarot betokens a missed opportunity. Maybe you will lose a chance of getting a raise or getting a new job. In addition, it points out that you need to be careful about what you can afford. Do not accept too large a monthly debt and rely on the promise of a future financial opportunity. Save yourself in case something goes wrong.
Likewise, the reversed Ace of Pentacles Deviant Moon Tarot shows you tried to accomplish your goals but did not foresee obstacles in the plan. If the success is not as expected, you may need to completely re-evaluate and revise your plan and implementation method. You also need to redefine the performance of your plan.
The reversed Ace of Pentacles Deviant Moon Tarot can indicate corruption, greed, and that you take over what you did not earn on your own. Be careful, do not become too opportunistic, and take advantage of others for your own benefit. You can be blinded by money and minimize everyday expenses in your life.
If you are thinking about starting a new job or looking for a new job offer, the reversed Ace of Pentacles Deviant Moon Tarot warns of a threat stemming from a lack of planning and foresight. You may have overlooked the details of your business plan, and recklessly launched a new idea without thoroughly investigating the needs of the market. You can also rush in setting up a business, without implementing the necessary preparation. You need to have more careful planning, further vision, and attention to the financial aspects that fulfill your passion and career interests.
IV. The guideline of Ace of Pentacles Deviant Moon Tarot
This suit, often named "Coins", is a symbol of a spell that represents wealth or potential. The Pentacles suit symbolizes something of support available to you – whether it is health, some sort of talent, material, or financial.
The Ace of Pentacles Deviant Moon Tarot is like a seed in an industrial garden, if planted and cared for carefully, it will sprout and reward great crops. Think of it as a seed for your future fulfillment. An Ace outlines the first step towards achieving the goal and if that step is repeated, it will cover great distances. In general, the Pentacles suit refers to tangible realities in everyday life, but in the case of an Ace, it can describe a winning idea, game plan, or blueprint for final completion.
Mystical traditions sometimes interpret this The Ace of Pentacles Deviant Moon Tarot as the alchemist – light within matter, the third eye of the energy entity. This advises you to meditate on the inner light, and direct yourself towards the original of the enlightened man. By practicing such meditation, one eventually becomes able to control the celestial aura to heal the body, untangle the emotions and complete the maturity of the soul.
Ace of Pentacles Deviant Moon Tarot recommends that you take the lessons of nature's compounding and grow your project gradually. Slow and steady buildup, whether visible or invisible, makes change and growth inevitable. Similar to the change of the seasons, you don't notice this trend from day by day. However, when the year comes full, you cannot miss the changes.
This card advises that if you work a little each day towards your long-term goals, someday in the future, you will find that you have accumulated exceptional results. The secret to success is not in exaggerating your dreams; instead, it comes by choosing your course wisely, at the same time humbly and faithfully taking each step.