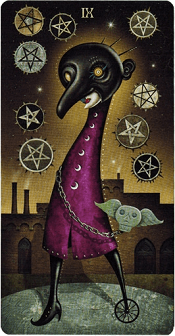 Nine Of Pentacles – Deviant Moon Tarot Deck
I. The Description of Nine of Pentacles Deviant Moon Tarot
The wealthy woman walking through the streets of the city with her little pet. Nine coins slide down from the sky surrounding her, representing material wealth. We feel peace and a sense of satisfaction that the Nine of Pentacles Deviant Moon Tarot is the result of your long efforts.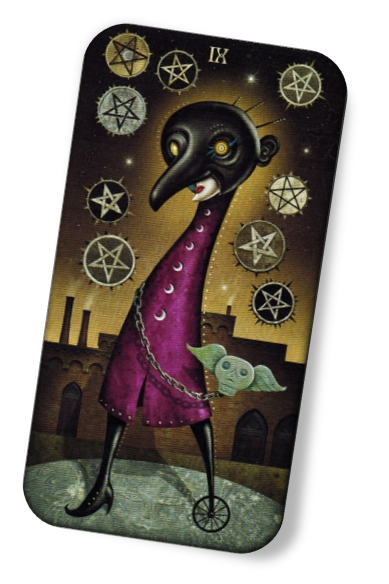 While the Pentacles usually focuses on wealth and matter, Nine of Pentacles also shows that you are mingling with nature and surroundings. You appreciate the beauty and richness of nature and see it as an inspiration to bring joy into your life. You may enjoy gardening or planting flowers, or simply spend your time in the beauty of nature.
The woman in this card is very feminine and delicate. She lives comfortably, with a luxurious lifestyle, and can make people fall in love with her. Therefore, take advantage of this time and expand your communication. Sometimes, Nine of Pentacles Deviant Moon Tarot says you are about to accomplish your goal, but you still have not done it yet. So as a result, you want to keep chasing your plan and working hard until you reach that goal.
II. The general meaning of Nine of Pentacles Deviant Moon Tarot
Keywords and extensions: The material property, A rich and independent woman, Pet lover, Grateful gratitude, Luxury, Self-sufficiency, Supreme success, Self-control, Attainment, Money, Success, Material comfort, Leisure time, Achievement, Harvest, Self-esteem, Happiness, Pleasure, Elegance, Prosperity that comes from the previous effort, Advantageous of real estate and property, Inheritance, Manna from heaven, Dividends, Ownership, Refurbishment, Material safety, Extra income, Satisfy, Use your talents and potential wisely, Take good care of yourself, Benefit materially, Love nature and animals, Enjoy the outdoors, Gardening, Care about the environment, Solitary.
This card speaks of happiness and achievement, considering both your material and spiritual life. You can be proud of many tasks achieved and expect the best will happen. You will be in a position to help those less fortunate than you. You should focus not only on the materialistic aspect but also on the spiritual one.
Nine of Pentacles Deviant Moon Tarot shows you have reached a point in your life where you feel confident, self-sufficient, and independent. You have been successful on your own and now is the time to enjoy money, relaxation, and material possessions. You appreciate what you have because they come from your sweat and tears. You can get any job done through confidence, discipline, and patience.
Nine of Pentacles Deviant Moon Tarot addresses your enjoyment of a good life and the fruits of your labor. You have worked hard to get everything, and now is the time to relax. Don't feel like you are wasting your accumulation or indulging yourself as this is a worthy reward for your endeavors. You are about to be prosperous, note this, and at the same time, don't forget to prepare for the next challenge.
The management of real estate or assets is gaining effectiveness. Outdoor activities also bring lots of fun to you. The plan to upgrade and redecorate your house goes smoothly. When this card appears in a Tarot spread, you should reexamine how you spend personal time.
III. The reversed meaning of Nine of Pentacles Deviant Moon Tarot
Keywords and extensions: Loss of wealth, Stealing someone's belongings, Overinvest, Financial failure, Sufficient financial profits, Unwise decisions, Dependence, Loss, Deprivation, Waste, Theft, Hasty decisions, Foolish action, Entanglement, Consequences of those wrong choice, Guilty conscience, Illegal money, Pollution, Property or land trouble, Financial failure, Trouble with animals or pets, Property burden.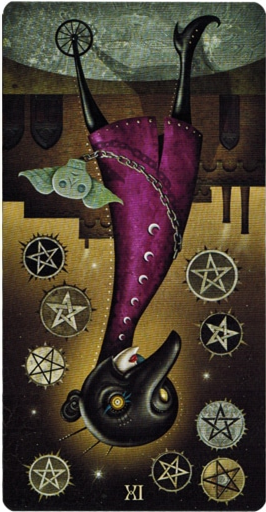 The Nine of Pentacles Deviant Moon Tarot in reverse indicates that you are failing or experiencing a loss due to unwise decisions or irresponsible actions. Next time, try to build a solid foundation for your plan. It can also indicate an overinvestment in your work and negatively affect your private life. This is the time to immerse yourself in nature and get back to your root.
The success that was built on a shaky foundation is about to collapse. You may suffer the consequences of your mistakes or bad behavior. You should be cautious about shady transactions that can sacrifice your integrity. There may be property problems. Sometimes, this reversed card is also a sign that you should care and show lots of love for your pets and plants.
Similarly, it suggests that you should skip a few tasks to focus on caring for and building your personal relationships. Nothing can replace your loved ones and family. In addition, you should also take the time to nourish your body with hearty meals as a hungry belly has no ears.
The reversed Nine of Pentacles Deviant Moon Tarot can also say that you want to enjoy a luxurious life, but your financial ability makes you think twice. This reversed card shows that you have the ability to develop a strong spirit but you are lacking in inspiration to take advantage of many opportunities. You should do what you can in your ability; even a little time of research and meditation can bring you important and positive thoughts that are worth your effort.
Its advice is that it takes a period of time of self-discipline to restore your energy and vitality. You may become overly dependent or reliant, even a little sloppy, without all of your energy, alertness, and concentration. The remedy is austerity and willpower. You will be healthier and much happier after you have been candid about your actions.
IV. The guideline of Nine of Pentacles Deviant Moon Tarot
Nine of Pentacles Deviant Moon Tarot implies a person who is financially secure enough to live comfortably. This is about a person supported by her own business, heritage, or property. She is one of a kind.
This lucky individual turned a historic accident into a personal opportunity. This is the one with the vision and strength to stay profitable before all odds. Don't be fooled by the apparent ease shown on this card – this person is at the end of a long and intense process of gaining rights to be taken seriously. All of these favors have been paid many times.
Nine of Pentacles Deviant Moon Tarot suggests that you should prepare yourself for greater resources flowing in your direction. If you pay attention and keep your faith, you can transit smoothly into a state of well-being and peace of mind. Hard work has brought you to a place where you can earn and receive grace, comfort, and freedom – whether it be personal, emotional, or financial.
Practice your imagination and create a rich, sustainable, and enjoyable lifestyle or relationship for yourself. Acknowledge that friends and others have been loyal to you during tough times. Get your dreams together and get ready. You deserve this happiness.