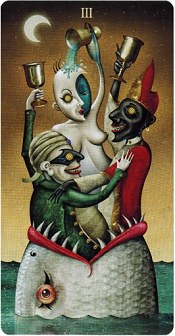 Three Of Cups – Deviant Moon Tarot Deck
I. The Description of Three of Cups Deviant Moon Tarot
The three souls rejoice when they are freed from a terrifying sea creature. Despite their different personalities, the trio still congratulates each other for the luck that the three have received. Together, they have overcome an inherently obscure situation. Three of Cups Deviant Moon Tarot is a very beautiful card in relationships, emotions, and reunion. The author describes that despite their differences in personality, the trio still toasts and congratulates each other on their good fortune.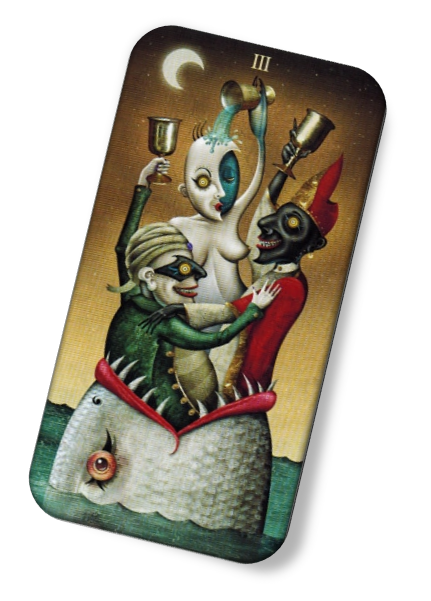 Three of Cups Deviant Moon Tarot shows three people holding a cup to congratulate each other, meaning friendship, happy community, harmony, and solutions to problems. However, it is crazy when all are standing in the mouth of a giant fish sinking gradually into the sea. There are two possible scenarios here: either the fish has died under the defeat of the fight with the three or the fish is still alive due to the subjectivity of those who are celebrating. But whatever it is, the fish is sinking into the deep sea. The obvious message here is to not be reckless and neglect even in seemingly most favorable situations. The joy lessens when looking closely at every detail of the card.
II. The general meaning of Three of Cups Deviant Moon Tarot
Keywords and extensions: A solution to the problem, Celebrate the victory over the difficulties and challenges, Happiness, Friendship, Creativity, Community, Delight, A joyful occasion, Satisfaction, Reunion, Unite with others, Family gatherings, Peaceful times, Hobbies, Everything has finished to enjoy, Satisfaction on the completion of the first step, A feast, Prosperous family life, Good fortune, Happiness and prosperity to every family, Playful, Hospitable, Not lacking, Awards ceremony, Harvest, Share beautiful moments, Conception, Gestation, Achievements, Healing, Recovery, Upcoming thing.
The Three of Cups Deviant Moon Tarot represents friendship, partnership, and harmonious relationships. This is when you are willing to help people around, and receive help from them. You may find that, right now, you are very much loved, supported, and sympathetic by others. Your best friends could be a woman, an old classmate, or a longtime friend. There is a similarity between you and them so you always sympathize and care about each other.
The Three of Cups Deviant Moon Tarot heralds a very sociable time. You will find a balance between your commitments and spend more time with friends and family. This is a great time to let go of the burden and have fun! You can meet up at bars or restaurants to enjoy delicious cuisine and beverages. You can also celebrate something special, such as an engagement, wedding, reunion, or birthday.
At this point, even though your life struggles continue, you can also take time to forget everything and enjoy some time with friends and loved ones. Such moments of relaxation are essential before and after a period of high pressure, to prevent you from being exhausted as well as emotional disturbances. When this card comes out and you are facing a high level of stress, just pause to rest and seek support and encouragement from friends and family before continuing with work in progress.
More broadly, the Three of Cups Deviant Moon Tarot shows the end of any troubles you have experienced, especially those related to your interactions with others. A compromise will be agreed upon, benefiting everyone involved and creating a more harmonious atmosphere. You can accelerate this process by changing yourself as well as your attitude and how you react to or cope with what is happening. Try to handle everything with compassion and generosity as most as possible.
The Three of Cups Deviant Moon Tarot represents people cooperating for the common good of the community. By shaking hands with the people around you, you are thriving and give your all to society. This is a sign that you should look for companions to enjoy your triumphs. Beside, it is a productive card, suggesting that you can pursue a creative business in a team environment, such as an art class or a dance class. This is a great way to connect with others and harness your creativity.
III. The reversed meaning of Three of Cups Deviant Moon Tarot
Keywords and extensions: Disease, Lose the joy of life, Mess things up way too much, Dissipation, Betray, Unwanted romance, Excess harmful, Addicted, Drunken, No chance to join with people, Enjoy pleasure, Obesity, Negligence, Promiscuity, Whining, Selfish, Problems in marriage, Difficulties in pregnancy, Infertility, Inability to have children, Exploitation, Take advantage of others, Immerse yourself in the emotions, There is no reason to celebrate, The invitation is withdrawn, Cancellation, A sad event, The unhappy ending, Sickness, Poor health, Abuse.
The reversed Three of Cups Deviant Moon Tarot usually says that you are the third person and may have interrupted anyone's relationship, or you are dating an unfaithful person. When this card appears in a spread, try to look at the other cards for more details about this relationship. If you see the Seven of Swords, it is a betrayal or adultery. If you see the Five of Swords, maybe you already know about adultery, but pretend you didn't. If you see The Devil, think carefully about the nature of the relationship as it can be just sexual pleasure and unhealthy.
More broadly, the reversed Three of Cups Deviant Moon Tarot may show that your creativity is being crushed and you are forced to adapt instead to the group's activities. You can be part of a group that is very tight, organized, and unwilling to open and learn new methods. You should consider sacrificing your creativity to accomplish the team's goal.
The reversed Three of Cups Deviant Moon Tarot may reflect the isolation from the others. It also points out that you can discourage the best efforts of those who love you most. You need to ask yourself what is so important that you will place it above loving and supportive relationships. If that is the case, now is the time to take responsibility for the situation and reconnect with the community around you. Consider joining a group or organization. If necessary, seek their support. Likewise, it may indicate that you have lost connection with your best friend, perhaps because you are putting other aspects of your life like work and family first. This card in reverse as a reminder of reconnecting with your friends, loosening and relaxing.
On the other hand, the reversed Three of Cups Deviant Moon Tarot may imply passion and pleasure in the party scene. You may spend most of your time at bars and nightclubs, indulging in drugs and alcohol. Maybe, you are blinded by the viewpoint of "work hard, play hard" when looking for a time to rest and relax. Pay attention to the long-term consequences and ask yourself whether this really is a sustainable lifestyle. Get rid of your toxic and meaningless social relationships and spend more time resting and meditating.
IV. The guideline of Three of Cups Deviant Moon Tarot
The Three of Cups Deviant Moon Tarot usually describes the agreement. This card resonates with the spirit of consensus, mutual support, encouragement, and teamwork. Often depicted as the image of three women celebrating their relationship in a dance with raised cups, it can also be called a "sisterhood", a society of mutual admiration. It shows all the benefits of a harmonious relationship.
The Three of Cups Deviant Moon Tarot advises getting along with your family and fully informing them of what is going on with you. Let them add substance to your idea with their talents and imagination. Think of it as an anniversary, where their support helps you find success at work. There may be something here for everyone to contribute. Put yourself in the tender embrace of family bonds and your trust will be rewarded. The synergy among you can enhance your individual talent and creativity. You will enjoy the results.