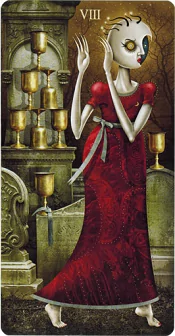 Eight Of Cups – Deviant Moon Tarot Deck
I. The Description of Eight of Cups Deviant Moon Tarot
The woman in the red dress gives up on her past paths in the Eight of Cups Deviant Moon Tarot when they no longer suit her. She looks forward to the future with a new and brighter perspective, completely unwilling to involve anything from the past.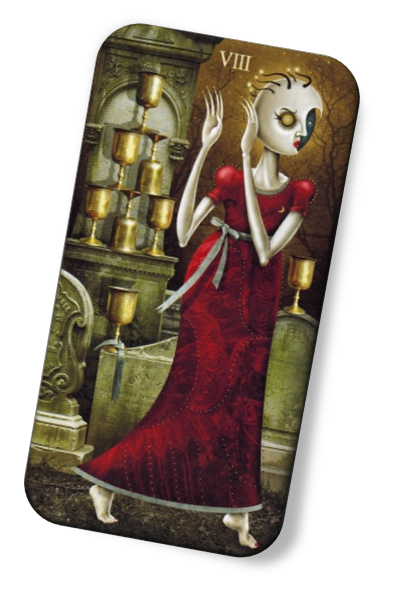 The Eight of Cups is a card about change and transition. The card immediately evokes sadness and a feeling of loneliness when looking at it. The woman turns her back on everything she had accumulated or had done in the past. She runs in the night on a barren and quiet road. She lives and experiences the joys and sorrows of life. Her journey is made because of a feeling of restlessness and frustration at what had been planned, but still not feeling truly satisfied. She chooses to give up her familiarity and comfort at work in pursuit of a higher goal. She decides to go on a spiritual journey because she is not satisfied with things that are too familiar.
II. The general meaning of Eight of Cups Deviant Moon Tarot
Keywords and extensions: Change of plan, Stop someone's efforts, Give up the old way, Look for the better, Abandon, Escape from the uncertainty, A turning point, Withdraw, Break up, Lose interest in a past situation, Despair, Break the dependency relationship, Look into the inner, Find the reason for living, Oppose a backward lifestyle, Turn energy into a new concern, Abandon previous fears, Leave the homeland, Become independent and walk on your own feet, Look for a new relationship, Seek mental satisfaction, Leave behind those emotional problems, A change of job, Relocation, Farewell, Seek the Holy Grail.
With Eight of Cups Deviant Moon Tarot, this is the time to ask yourself what you can do to bring satisfaction and joy to your life, in addition to things related to money and matter. You are looking for the meaning of life and focus on finding out your true color. You want to get rid of the crowds of life and pursue a higher spiritual goal. You are willing to give material possessions in return for something more purposeful. Thus, it reflects the beginning of a journey of discovery, especially the spiritual aspect.
Eight of Cups Deviant Moon Tarot also points out that you are so frustrated that you can give up everything you have built up so far. Be it in your relationship or in the matter. It can also indicate that you have exceeded your limits and become emotionally exhausted. You may have tried your best until now, but you don't feel the energy to move on so the only option is to give up. You feel disappointed with yourself but this is the right thing to do before you become completely drained. You may also feel that you are giving too much but not being well compensated.
III. The reversed meaning of Eight of Cups Deviant Moon Tarot
Keywords and extensions: Comprehension, Perseverance, Take risks, Hopelessness, Incompetency, Give up, Feel satisfied and happy, In a good situation, Socialization, A long-term relationship, Difficult period is gradually ending, Enjoy the pleasures, To find happiness, A new love, Flirting, Friendship, Celebration, A return to an old relationship, Refuse to move forward, Cling to the past, Afraid of the unknown thing, Make a wrong decision, Avoid personal development, Hard to make a commitment, Fail to develop outdated relationships and attachments, Accept mediocrity, Pursue a false ideal, Abandon a valid relationship, Afraid of the intimacy, Turn away from an important emotional bond, Make a change that later you will regret, The grass is always greener on the other side of the fence.
The reversed Eight of Cups Deviant Moon Tarot says that you are confused about your choice. You want to explore new horizons and new possibilities, but on the other hand, you are scared to miss out on what you have. You know when to stop in time because what you are doing is not going to pay off. While there are still some fundamentals left unresolved, you know for sure that no matter how hard you try, you will fail. It may be painful to give up everything, but this is the wisest decision. Sometimes, however, there is no guarantee that you will leave, maybe today you want to, but maybe you will think again tomorrow.
The reversed Eight of Cups Deviant Moon Tarot can reflect hopelessness, drifting from one place to another without a clear purpose just because you cannot stay someplace for too long or cannot stand someone forever. You may be afraid of intimacy, attachment, and have difficulty making promises and keeping your commitments. When things get too difficult, you quickly get out and leave your troubles behind rather than confront them directly.
The reversed Eight of Cups Deviant Moon Tarot suggests that you may have had a terrible experience, but on a positive side, you are not allowing it to ruin your life somehow. You don't like the kind of painful emotions this card represents, which can be a sign that you are more resilient than others; you come back from setbacks. Under the circumstances, you are doing well. You are learning how to convert your frustrations into a will to change. Your resilience converts adversity into positive.
IV. The guideline of Eight of Cups Deviant Moon Tarot
Eight of Cups Deviant Moon Tarot denotes disappointment, emotional failure, betrayal, or heart damage. Several Tarot decks illustrate this view showing a young woman who has just been sexually harassed and then pushed aside by a stranger passing through her village. His careless actions hurt her, with possible consequences. This is a tough card to interpret, but a practical one so far as it warns against misplaced trust and unprotected protective flaws.
With the Eight of Cups Deviant Moon Tarot, look inside and realize what part of you still holds the old grudge from a past injury or trauma. For the most part, your future self has stood up and moved forward. You are moving on with your life. However, there may still be part of you that holds out and resists the healing. Are you nurturing old wounds from painful losses of belief and trust? If so, now might be a good time to take a close look at your current engine.
Take note if you are still influenced by a part of yourself that makes you less interested or optimistic. Do not deny this pessimistic tendency. Not realizing the truth only causes repression to blow up in another part of our soul. Instead, find ways to recognize and accept the hesitations and fears you might feel, and pamper them. Then you can put some old emotions in their right place – far in distance.