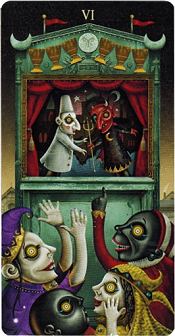 Six Of Cups – Deviant Moon Tarot Deck
I. The Description of Six of Cups Deviant Moon Tarot
For a long time, children gather in the capital center and enjoy the impressive performances. People today crave the past which is gone, but time is always coming. The six cups on the tangled courtyard veil act like old memories in a tangible but inaccessible form.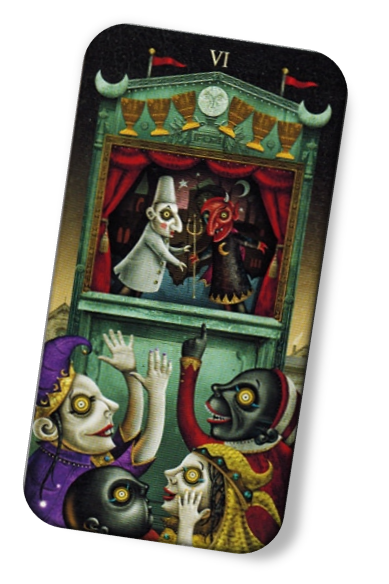 The small child represents the past while the taller child represents the future, and the image of them gathering depicts the happiness of reuniting with past friends or lovers. They share past joys and a lot of nostalgia. In this scene, there are two characters performing on stage, describing each person's worries. The house symbolizes comfort and safety but its faded paint depicts happier times that have been lost in the past. The bright yellow and aquamarine occupy most of the scene, implying great happiness and freshness as a whole for the Six of Cups Deviant Moon Tarot.
II. The general meaning of Six of Cups Deviant Moon Tarot
Keywords and extensions: Childhood memories, Nostalgia, Past, Longing for the past, Reunion, Innocence, Reminisce the scene of childhood, Sharing, A sincere talk, Reconnect the old love, Restoration of the old relationships, Get together again, Think about the past, A lover from the past, The old person, Old friends, Cause and effect, Happy fantasies, Anniversaries, Restore feelings, Rekindle precious emotions, Warm reunion, Praise, Gifts, Sentimentality, Family values, The joy of home and family, An offer to work, Moving, Inheritance, Deal with children.
Six of Cups Deviant Moon Tarot is a card of childhood, nostalgia, innocent happiness, and generosity. You want to go back to your past happy memories, whether as a child, a teenager or an adult. However, memories inherently belong to the past and they reflect aspects of your life. You may feel that the only way to connect with this happiness is to escape the past, where you can think about bright and wonderful memories, instead of dealing with current challenges. It is important that you live in the present and accept it, not daydreaming about yesterday.
Usually, there is nothing wrong with reflecting on old good times to regain confidence when the present is not as expected. In the context of change and crisis, the Six of Cups Deviant Moon Tarot shows that it is also a good idea to look back on what you have suffered as you will encounter the same things and get through them as you did. After a loss like the Five of Cups, Six of Cup points out that you need to take time to heal, reexamine the past and all that was good before. During this stage, you don't need to focus on the negative sides. Instead, bring all the positive energies from the past into your present and future. Unlike the Five of Cups, the cups are now full, neat and decorated elegantly. Looking back now, the road will be much brighter and more forward-looking.
Six of Cups Deviant Moon Tarot can represent going back to a familiar environment or going to a place that emphasizes childhood memories. You can go back to your hometown, to your parents' homes, to your previous schools at all levels, and even kindergartens. You can go to a reunion and rejoin with a childhood acquaintance, such as your crush in high school. If possible, spend time with people younger than you.
Six of Cups Deviant Moon Tarot also refers to your inner self and indicates a child's desire to experience joy. The childlike personality is still alive within you and must be cared for. People suffering from long-term dilemmas such as addiction, depression, emotional disorders, etc., can transform their lives by exposing their inner childs and finding new laughter and energy in life. The inner soul still has child and adolescent aspects that cover all the experiences and emotions that we have encountered. This can lead to the inner child reacting strongly to certain experiences, situations, and current feelings, based on what has happened in the past. Feeling the different aspects of your soul and knowing the emotions that come from them can change and enhance your choices in magical ways.
Six of Cups Deviant Moon Tarot can also talk about the children in your life. It may denote the period of pregnancy, childbirth, or adoption, depending on the combination of the other cards in the spread. Or, it may indicate that you want to spend time playing, laughing, and learning with children. Children play an important role in your present life, and they can be great mentors. They see the world as a perfect place and their hearts are always open to experiencing the pleasures of the environment around them.
Six of Cups Deviant Moon Tarot almost emits an aura of enjoyment because it implies the past with all its memories, the present with all its gifts, and the future with all its magical opportunities. Six of Cups, therefore, can signal a gift you have been given or some other similar deed. You can be inspired to perform a selfless good deed or to be a role model for others. You are more open to sharing what you have with a willingness to help others.
III. The reversed meaning of Six of Cups Deviant Moon Tarot
Keywords and extensions: Future events, The imminent situation, Do not want or cannot adapt to the present situation, Drowned in the past, Cannot live independently, Vain nostalgia, Seek the safety of the past, Frivolous, Distressed when recalled, The effort is not recognized, The ghost from the past exists in the present, Fear from childhood, Clinging to the old customs and belief, Do not want to try something new, Need to look at the future, Naive.
The reversed Six of Cups Deviant Moon Tarot implies you are clinging to the past. There may still be some stagnant problems that you have not resolved yet. It is important to ponder and decode memories of the past but do not let them become a burden. Ideas and beliefs that you have created before can reverse your progress. Use them as a guide to the future, and focus on living in the present.
The Six of Cups Deviant Moon Tarot is a card of nostalgia, childhood love, generosity, carefree, and innocent dreams about life as well. On the reverse, it shows that you may have unrealistic ideas about a particular stage in your life, based on your dreams and ideas from a young age. Or you may be disappointed at reaching a certain age but unable to fulfill your childhood dreams.
The reversed Six of Cups Deviant Moon Tarot can indicate fertility difficulties or problems with children. If you already have children, you may be trying to educate them in a framework. At times, it may mean child abuse. You are still trying to overcome these problems and free yourself from negative memories. Besides, you may be working with people who have had problems with repressed memories from their childhood.
IV. The guideline of Six of Cups Deviant Moon Tarot
Six of Cups Deviant Moon Tarot represents openness and fresh innocence, a willingness to learn, and the optimism that things will get better as we progress together in thought. The traditional title, The Past, reminds us of our original nature when we are young and energetic and when everything is possible and the future is an open book. We must remember that this very freshness, those new possibilities, is always available to us, even now.
When drawing Six of Cups Deviant Moon Tarot in a Tarot spread, see what is repeated or cyclical in your life and what associates the present situation with such ultimate experience. A new start requires new energy and focus. Until you examine the past, you will continue to drift with its present. Take everything worthwhile from your memories and get as much value as possible. Then use this as the impetus for change. Make the best use of perceptions, adopt new strategies, and apply new perspectives on these repetitive issues.