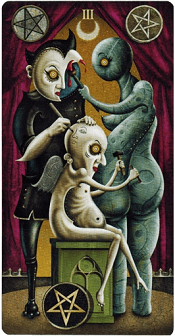 Three Of Pentacles – Deviant Moon Tarot Deck
I. The Description of Three of Pentacles Deviant Moon Tarot
Three artisans work in the workshop. Although they often work as a unified team, each individual's unique characteristics are depicted from their own creation. The three coins represent each person's personality.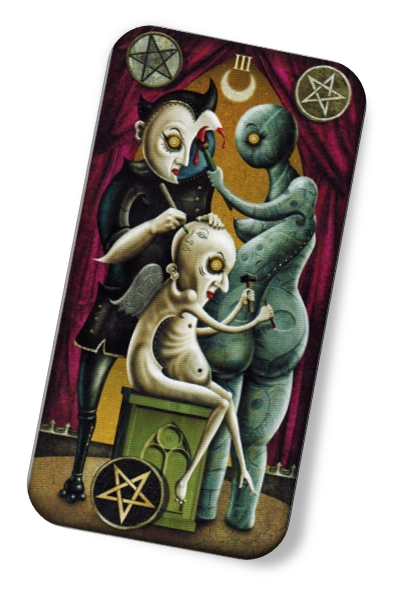 Three of Pentacles Deviant Moon Tarot represents the initial completion of a goal or plan. In this case, the number 3 implies the realization and rendering of a creative business project or project construction. Personal inspiration is beginning to pour concrete into the physical world, and the decisions of the other two workers have been successfully implemented. An initial satisfaction is being appreciated and the project is well underway. You have all the skills you need to achieve your goals in life so you have the ability to be prosperous in all of your projects. You are interested in improving the quality of your life or job.
The message of Three of Pentacles Deviant Moon Tarot is a word of encouragement. If you continue to work towards your dreams and don't allow disillusionment to diminish your enthusiasm, you will experience prosperity and success in your goal. You need to do it because it makes you fulfilled and really proud. What new beginnings are you experiencing in the physical realm? Do you miss any projects out of fear of failure? Three of Pentacles shows that dreams can come true with perseverance, determination, and effort.
II. The general meaning of Three of Pentacles Deviant Moon Tarot
Keywords and extensions: Artistic ability, Working together in a creative environment, Experienced and skillful, Co-operate, Teamwork, Meet demands, Cooperation, Learning, Early stages of achievements, First bonuses, Recruitment, Jobs related to the status, A chance to make money, Professional development, Competitiveness, Capacity, Real effort, High standards, Hard work, Attention to details, Improved working conditions, Progress, Recognition, Approval, Enhancement of social status, Honor, High scores at school, Certification, Confidence, Get a salary or get a job, Requires social status or recognition from others, Diplomas, Assistance from others, Housing and property improvements, A good start.
Three of Pentacles Deviant Moon Tarot may also say that you need help getting the job done and can draw on the knowledge and experience of others. Share your work with others, but only if they really want to help.
At the core of Three of Pentacles are teamwork and collaboration. We can see on the card, although three sculpture artists' backgrounds, experiences, and knowledge vary widely, they can still come together to share experiences to create strength and improve results. Everyone should have something unique to share and be willing to learn from others. This is a positive card that when working in teams, collaboration is a must.
Effective planning, management, and organization are also key concepts of Three of Pentacles. To accomplish important goals, you must plan in detail to ensure that all parts are going well. Hence, this card reflects the need for a blueprint, following a strict schedule.
Three of Pentacles Deviant Moon Tarot is a card of material development. This situation involves money, profession, education, physicality, property, or a project that brings tangible results. You will be compensated for working proficiently and using experiences, knowledge, and talents. You can have a good start and be recognized as an expert in the field you pursue.
You will have the opportunity to earn money for what you apprehend. You yearn for status, recognition and approval from others, and the feeling of enjoying achievements when completing the job well. Promotion is likely to happen. You can use your talent to improve your accommodation by repainting or refurbishing it. If you are a student, you will get high scores and a degree. In terms of love, this card rarely mentions emotions, instead, it emphasizes materialism, status, social judgment, and family pressure.
III. The reversed meaning of Three of Pentacles Deviant Moon Tarot
Keywords and extensions: Ordinary people, Poor workmanship or quality, Lack of teamwork, Unskilled, Trouble with work/at the workplace, The lazy person, The unskilled worker, Who is new in the job but arrogant, The social climber, Clumsiness, Carelessness, Superficiality, Perfunctory, Go through the motions, To blot out.
In reverse, Three of Pentacles Deviant Moon Tarot can indicate a lack of teamwork. People compete with each other and try to stand out. You can try to work collaboratively with others, but there is always a strain because everyone wants to be in control. If you are relying on the cooperation of others, now is the time to leave your current group and join another. Lack of team harmony is a negative impact on your performance. It is best to leave.
The reversed Three of Pentacles Deviant Moon Tarot shows you are seeking respect at work. You have politely listened to your supervisor's opinions and feedback, but no one listened to you. You need an environment where you have the opportunity to express your opinion and be heard with respect. You are looking for new colleagues to gain new experiences.
The reversed Three of Pentacles Deviant Moon Tarot can also indicate that you are taking a pretty boring job and that your experience is not being recognized or valued. You feel your abilities are not being used effectively. It is time to move and find a new job.
In addition, it may indicate that you need to focus more energy on your work. If you don't have a clear view of how you will accomplish your goal, stop and make a clearer, more specific plan.
In a Tarot spread, Three of Pentacles is also a sign of a need for planning and preparation. This is not the time to rush things up or start a project while you are quite unsure about it. You need to think completely about everything, consider all possibilities, and make sure you pay attention to every little detail. You will reap the rewards for what you do if you are fully equipped yourself.
IV. The guideline of Three of Pentacles Deviant Moon Tarot
Three of Pentacles is traditionally the card of genius. We usually see a master craftsman conferring with his masons on the installation of a beautiful stained-glass window in the cathedral. This designer is often likened to Leonardo da Vinci or Michelangelo, a multi-talented visionary who has no peers in talent or productivity.
The masterpiece is being proudly exhibited for future generations, as an object of individual and collective pride. On some cards, the genius is depicted at his studio, alone and burning oil at midnight, in a passion for creation – motivated to draw, sketch, invent, or whatever work. Geniuses want to bring in creativity. As an implication of the reward of genius is the days and weeks of intense focus on solving the problems facing great buildings.
Three of Pentacles Deviant Moon Tarot suggest that you should show off your unique abilities. Let the world know who you really are. This is a good time to seek recognition. Once you get the appreciation you deserve, accept and enjoy the acknowledgment. Expect new and interesting offers. When they arrive, welcome them with consideration. Practice saying to yourself, "Thank you, I accept praise" until you learn to fully take this kind of affirmative grace.