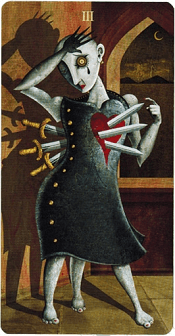 Three Of Swords – Deviant Moon Tarot Deck
I. The Description of Three of Swords Deviant Moon Tarot
The sad woman in Three of Swords Deviant Moon Tarot stands quietly in the room as a great storm is approaching from afar. Her heart wounds from being betrayed. The Three of Swords is the card of the broken heart. The woman sheds tears, putting one hand on her forehead and standing in a very artistic position with three swords piercing through her heart. The image of her other arm is quite worth considering. She touches one of the swords, trying to determine whether the pain is real or just imaginary. But her face averts as she does not dare believe what she verifies. Or as if she is pointing at herself as a painful self-perception that this pain is her, of her, and because of her.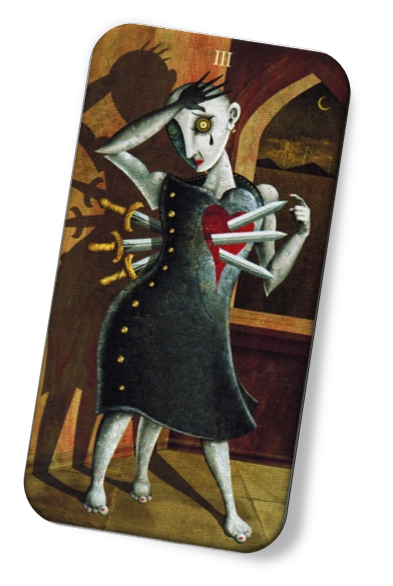 After Two of Swords Deviant Moon Tarot's confusion and dilemma, we suffer (in a sense) no matter what. This is the time when we need to understand that everything is arranged and it is temporary, we have to forget and accept it to recover and move on.
II. The general meaning of Three of Swords Deviant Moon Tarot
Keywords and extensions: Suffering, Broken heart, Set apart, Toxic relationship, The desire for a needy love, Separation, Sadness, Rejection, Problems with emotion, Loss, Emotional pain, Feelings of chaos, Self-harm, Irritable, Controversial, Contradictory, Misunderstanding, Alienation, Dissonance, Upheaval, Hypersensitivity, Sorrow, Injury, Unhappiness, An operation interruptions/cutting off, Disturbing changes, Feeling unwell, Stressed, Sickness, Mourning, Harrow, Darkness before dawn, Deep emotion, Cracking, Divorce, Rejection, Abandonment, Tears, Failure, Trouble in the heart, Premature failure, Annoyance, Obituary, Death, Painful news, Chill to the bone.
The heart is a symbol of affection and beauty, while the swords reflect words and thoughts that can harm one's physique and emotions. Three of Swords Deviant Moon Tarot is rejection, sadness, loneliness, despair, betrayal, separation, and grief. This makes the woman in the card feel very painful because it happened so suddenly. Prepare yourself mentally and rationally so that you won't be too shocked when the incident comes.
Suffering and sadness are somehow essential things in life. Without pain, there will be no challenge and experience. Pain is a huge motivator because it encourages you to overcome obstacles and learn from your mistakes. Each challenge becomes an opportunity for you to thrive and change your life as a result of your lessons. Pain can obscure your vision for a certain amount of time, but it will eventually allow you to see clearly and leave the past behind. Although life seems meaningless at that time, causing you to lose your trust, love, forgiveness, and time, things will gradually pass.
Three of Swords Deviant Moon Tarot is a reminder that if you accept pain and challenge as a valuable lesson, the pain will subside. Hence, this card states that you have the ability to conquer any pain in your own way. Understand how pain can help you develop. If someone has betrayed you and you believe you can never love again, examine that belief. When your heart comes out of darkness, your love will be much stronger than before.
Likewise, Three of Swords Deviant Moon Tarot is about loss, hardship, sacrifice, and broken relationships. It follows the struggles of Two of Swords. In this card, the choice was made, and now you have to bear the consequences of those decisions. It is usually a choice between good and bad, A and B, and after making decision A, you regret not choosing B. However, the pain of loss makes you value it more and will withdraw experience in the future.
Three of Swords Deviant Moon Tarot also talks about liberation. After a big hurdle or loss, it is time to forget it all and move on to a better stage. However, please continue to focus on the future path ahead. You have been gnawing at your sadness for so long that you forget you have to put everything down to continue moving forward. Loss becomes your focus, not recovery. It is time to accept your loss and move forward with your life.
III. The reversed meaning of Three of Swords Deviant Moon Tarot
Keywords and extensions: Emotional pain, Relieve pain, Optimism, Forgiveness, Recovery, The worst is over, The separation is over but the pain will be persistent, Iterate the previous pain, Regret and sorrow left, Small operations, Lost the one you love.
In the reversed position, Three of Swords Deviant Moon Tarot says that you have just recovered from the suffering caused by a relationship that has ended or your loved one has gone away, or a situation where you have been deeply affected. Thankfully, everything has passed. Your wounds are recovering, and you realize that after the rain comes a rainbow. You are able to accept the pain and ready to move forward.
In addition, the reversed Three of Swords Deviant Moon Tarot also assumes that you are having trouble trying to overcome a loss or suffering. This card shows that you are still emotionally distressed and need to go through a process of emotional purification to set yourself free from past obsessions. You are doing your best to forget everything and start a new life but the road ahead is still long. Be careful not to get stuck in grief, instead, focus on leaving the past and pursuing new opportunities.
It is not easy to endure the pain of separation without understanding why it has turned so bad. Learn to accept the truth so that the emotional and psychological recovery process will not be hindered. Allow yourself to undergo the pain, to be able to free your heart from sadness. Let it pass, and then, when the discomfort, pain, and tears are over, open your heart to new experiences.
The reversed Three of Swords Deviant Moon Tarot shows that a storm is dissipating, emotions are healing, communication skills are improving, accusations and paranoia are diminishing. The need for conflict seems to be slowly running out, a grateful change, although some challenges may still arise from this episode.
If you are encountering challenges in your relationship, the reversed Three of Swords reminds that a bad compromise is still better than a good lawsuit. Don't be afraid to apologize. Always think before you speak so you don't have to regret it later. When you see the reversed Three of Swords Deviant Moon Tarot, ask yourself, in what direction are you suffering, positive or negative? What makes you most miserable? What can you do to relieve this pain and learn from it?
IV. The guideline of Three of Swords Deviant Moon Tarot
Three of Swords Deviant Moon Tarot denotes the breakup or breakdown of an important relationship, including the tragic emotions that accompany such an event. The positive side of this card is to put an end to exhausted or frustrated associations, to become free again. One message this card delivers is to cut back on some insecure things. Despite fond memories and affectionate ties, we need to give up relationships that cannot live up to their promises or have outlived the joy and support we have ever found in them.
Three of Swords Deviant Moon Tarot advise you to fend for yourselves. Become more independent. Detach yourself from people and forces you don't feel are compatible. Use your creativity and imagination and find situations where the way you see things makes sense to those around you. Aim for people who can welcome and appreciate your talent and all you have to contribute.