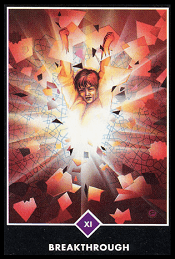 The Breakthrough – Osho Zen Tarot Deck
I. The commentary of The Breakthrough Osho Zen
Eye-catching at first sight and the red color of the Breakthrough Osho Zen indicates its theme is energy, power, and strength. Bright light is created from the solar network – the focal point of the character's power is extremely excited and determined. Sometimes, we all reach a level called "that's enough". At such times, we seem to need to do something, anything, even making mistakes, to lift off the burden and barriers that restrict us. If not so, they will be threatened to suffocate and destroy our own life energy.
If you now feel "that's enough", allow yourself to break the old patterns dangerously and limits that blocked your flow of energy. At that time, you will be amazed at the vitality and ability that this "Breakthrough" can bring to your life.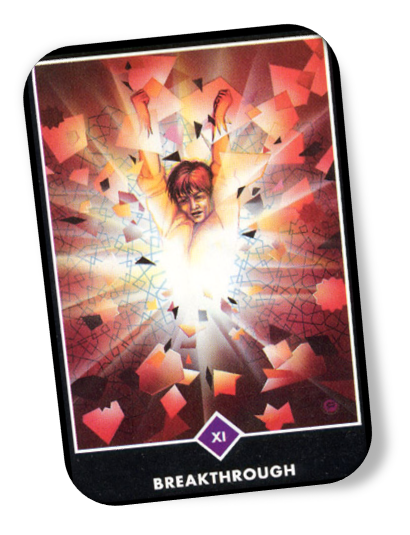 II. The meaning of The Breakthrough Osho Zen
Converting disruptions into breakthroughs is a master's comprehensive function. Psychologists simply patch you up and that is- the function. He is not there to transform you. You need meta-psychology, the psychology of the buddhas.
The Breakthrough Osho Zen is a great adventure in life to overcome an accidental breakup. It is the greatest risk as there is no guarantee that the breakup will become a breakthrough. It does become, but these cannot be guaranteed. Your chaos has been around for a long time – in many previous lives, you were in turmoil- thick and layered. It is almost an inner universe itself. So when you step into it with your small power, it is definitely dangerous. But without facing this danger, no one will become integrated, no one becomes an individual, individually.
Meditation, or thinking, is a method that will help you overcome chaos, overcome the darkness of the soul, balance, order, and warnings. Dawn is not far away, but before you can get to dawn, the night must be over. And as dawn dawned, the night would become darker.
More The Justice Cards from Famous Tarot Decks
1. The Justice Rider Waite Tarot
The Justice Rider Waite Tarot card is the embodiment of the law of cause and effect, which states that every event, every human being is linked together. It's important to remember that not everything you face comes directly from your actions.
<< See More >> The Justice Rider Waite Tarot Card Meanings
2. The Stag Wildwood Tarot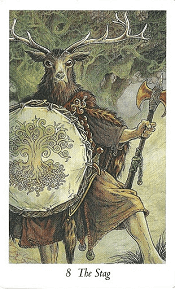 The Stag Wildwood Tarot is the king and guardian of the forest. He is half-human and half-animal, surrounded by greenery. His gaze is very steady and calm. He holds a shiny hatchet and a shield in his hand. 
<< See More >> The Stag Wildwood Tarot Card Meanings
3. The Justice Deviant Moon Tarot
Justice Deviant Moon Tarot involves moral sensitivities and that gives rise to empathy, compassion, and a sense of justice. Since Solomon's time, this image has represented a standard for humane and equitable treatment of other living beings.
<< See More >> The Justice Deviant Moon Tarot Card Meanings