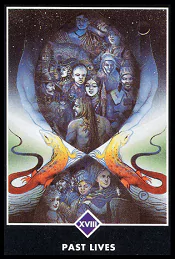 The Past Lives – Osho Zen Tarot Deck
I. The commentary of The Past Lives Osho Zen
According to the Past Lives Osho Zen, the hand of the creator appears in the shape of the female vulva, the opening of the cosmic mother. Inside, there are many images, faces of the times revealed. It is interesting when it comes to picturing the famous faces of past lives, but this is just a distraction. Indeed, what we need to focus on and understand is the karma of life and their roots in an endless repetitive cycle that leaves us trapped by unconscious acts.
The two rainbow-colored lizards on both sides represent for understanding and not understanding. They are guardians of the unconsciousness, they guarantee that we have a vision, which is soon could be able to vanish. A vague idea in the eternity about our existence is a gift, in order to understand the effect of karma in our lives, we could not learn by reason. This is a wake-up call; every event in life is trying to show us an ancient pattern as the journey of our own soul.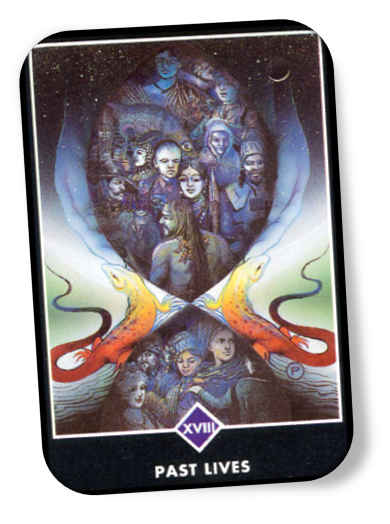 II. The Meaning of Osho Teaching In The Past Lives Osho Zen
A child could become intelligent only when he or she has contemplated enough in the Past Lives Osho Zen, created enough contemplative energy to confront the darkness of death. He or she just simply gets lost and then suddenly finds a new life and completely forgets about the previous life. There is a interruption. This darkness and unconsciousness create an intermission.
Easterners have tried to invade this hidden part. Additionally, a ten thousand year project is not a myth. Everyone can enter into their previous live or past lives. However, in order to achieve that, you have to approach deeply into meditation because of 2 reasons: firstly, unless you concentrate deeper, you cannot find the door to another life; secondly, you have to sink in meditation, since when you find the door to another life, a stream of events will flood your mind suddenly.
Therefore, it is hard to carry many lives at the same time …
More The Moon Cards from Famous Tarot Decks
1. The Moon Rider Waite Tarot
The Moon Rider Waite Tarot is a card intended for intuition, dreams, and subconscious. In this card, there is a human face hanging above. As we all know, the moon provides light due to the sun's reflection, but its light is very blurry and unclear..
<< See More >> The Moon Thoth Tarot Card Meanings
2. The Moon On Water Wildwood Tarot Deck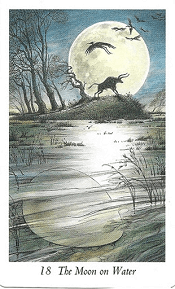 The Moon on Water Wildwood Tarot is located at the center of The Wheel, at the winter solstice – December 21. The card is tied to the image of the dark sun. The element of the card is Earth. 
<< See More >> The Moon on Water Wildwood Tarot Card Meanings
3. The Moon Deviant Moon Tarot Deck
The Moon Deviant Moon Tarot card warns of lies, dishonesty, confusion, threatening situations, self-deceit and fantasies away from reality. Some of these meanings have already existed in the astrological relationship
<< See More >> The Moon Deviant Moon Tarot Card Meanings