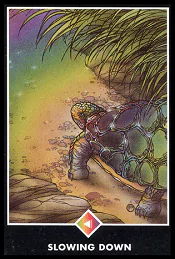 Knight Of Rainbows – Osho Zen Tarot Deck
I. The Explanation of Knight of Rainbows Osho Zen Tarot
Knight of Rainbows Osho Zen is a reminder that: like this tortoise, we bring our homes wherever we go. No need to rush, no need to search for any other shelter. Even when we are engulfed in emotional water, we can still be in control and avoid temptations.
This is the time when you're willing to let go of any expectations about yourself or others and take responsibility for whatever illusion you're carrying. There is nothing to do but rest in your fullness right now. If desires and hopes and dreams are fading away, so much the better. Their disappearance creates space for a new virtue – stillness. Accept it whatever it is, and you can welcome it in a way you've never experienced it before. Enjoy the virtue of slowing down, of coming to rest, and recognizing that you are already at home.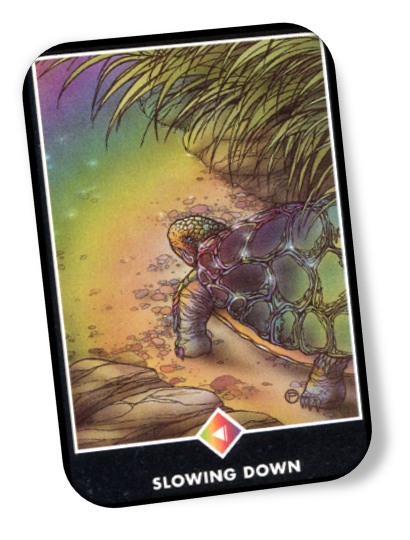 II. The Energy of Knight of Rainbows Osho Zen Tarot Based on Osho's Teachings
Meditation is a kind of medicine – its use is only for the time being. Once you have learned the quality, then you need not do any particular meditation; then the meditation has to spread all over your life. Walking is Zen, sitting is Zen. 
Then what will be the quality? Watchfully, alert, joyously, unmotivated, centered, loving, flowing, one walks. And the walking is sauntering. Loving, alert, watchful, one sits, unmotivated – not sitting for anything in particular, just enjoying how beautiful just sitting doing nothing is, how relaxing, how restful… After a long walk, you sit under a tree and the breeze comes and cools you. Each moment one has to be at ease with oneself – not trying to improve, not cultivating anything, not practicing anything. Walking is Zen, sitting is Zen. Talking or silent, moving, unmoving, the essence is at ease.
The essence is at ease: that is the keyword. The essence is at ease: that is the key statement. Do whatsoever you are doing, but at the deepest core remain at ease, cool, calm, centered.  
Source: Osho The Sun Rises in the Evening Chapter 7