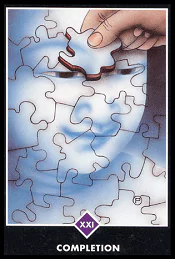 The Completion – Osho Zen Tarot Deck
I. The commentary of Completion Osho Zen
Firstly, this last piece of a jigsaw puzzle is being put into its right place, the position of the third eye, which represents the inner perception. Even in the ever-changing flow of life, there are moments when we reach the status quo of completion.
When the Completion Osho Zen appears, we could be able to perceive the whole picture, the combination of small pieces that have caught our attention for so long. While completing it, we may either feel despaired since we d not want things to come to an end, or we may feel thankful and accept the fact that life is full of new ends and beginnings.
Whatever takes your time and energy away, is coming to an end now. In the finishing process, you may make yourself a room in order to welcome something new. Stand a chance to celebrate both – the end of the old and the coming of the new.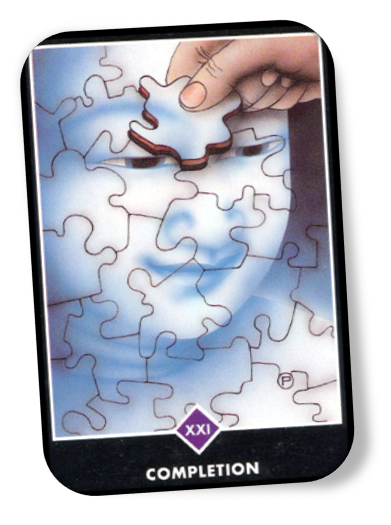 II. The meaning of Completion Osho Zen
This is a method of Zen, it does not literally show the way that could take us to the completion. Therefore, it has to be understood; it is a very important methodology. Not saying everything means giving audiences a chance to finish it. All the answers are incomplete. A teacher could only show you the directions … When you reach the limit, you will know what are the next steps.
In this way, if someone is logically trying to understand Zen deeply, they will fail. Since it is not the answer to a question, but something much wider than the answer itself. It indicates the reality…Buddha-nature is not something out of reach – your consciousness is Buddha-nature. Moreover, your consciousness could witness the things that reconstruct the world. The world could come to an end, but the stories remain, reflect on nowhere.
More The World Cards from Famous Tarot Decks
1. The World Rider Waite Tarot
The World Rider Waite Tarot Card can signal that you are really feeling the weight of this world over your shoulders, which means it is not a pleasant state. This is the best time to see how well you get help when you need it. Remember that you do not have to do everything yourself.
<< See More >> The World Rider Waite Tarot Card Meanings
2. The World Tree Wildwood Tarot Deck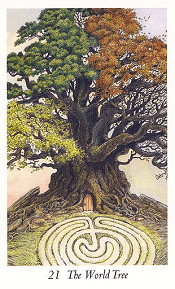 The World Tree Wildwood Tarot is located at the center of the cycle and belongs to the element of Fire. It summarizes all the different aspects of The Wheel and human being in the Major Arcana.
<< See More >> The World Tree Wildwood Tarot Card Meanings
3. The World Deviant Moon Tarot Deck
The World Deviant Moon Tarot manifests the supervising wisdom which sustains life on this and all worlds. In most Tarot decks, the image of a woman has become our standard World image. 
<< See More >> The World Deviant Moon Tarot Card Meanings