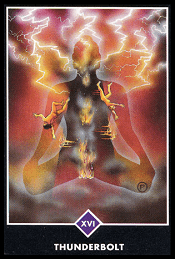 The Thunderbolt – Osho Zen Tarot Deck
I. The commentary of The Thunderbolt Osho Zen
The Thunderbolt Osho Zen describes a tower being burned, destroyed and collapsed. There are a man and a woman jumping out of the tower, not because they want to but because they have no choice. There is a pure figure in meditative gesture appearing in the background, represents the witnessing mind.
Right now you may feel a little shaky as if the Earth is quaking right beneath your feet. Your safety is being challenged, as a natural reflex, you will tend to stick to whatever you can. However, this inner tremor is extremely necessary and important – if you allow it to happen, you will rise from the ashes much stronger and be ready to face new upcoming experiences. After the fire, the ground will become more fertile; after the storm, the air will be clearer. Let's consider the devastation as forgiveness as if it is happening to someone else. Accept this process by compromising.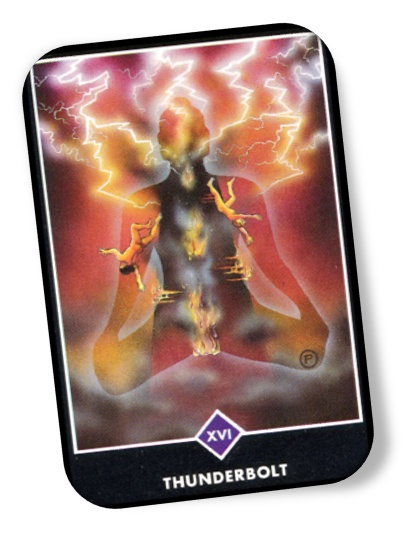 II. The Meaning of Osho's Teaching in The Thunderbolt Osho Zen
Meditation works very slowly, leisurely. The Master shout loudly, a disciple is surprised when being asked unexpectedly, the master is exploded with discontent, or hit and throw pupil out the door, jump over the student… These are all unknown methods of preaching. They were originally created by the Zen master Mazu Daoyi, who enlightened many practitioners.
Sometimes he acts so hilariously: when a man came to ask him how to meditate, he threw him from the window upstairs. Moreover, after throwing the man away, Ma master fell behind him, sat on his chest and asked, "do you understand?". The miserable man answered "Yes", because if he said "No, I don't", Ma master will continue to hit or do other tricks on him. That was enough – his body was wounded, but the master kept sitting on his chest and asked, "Do you understand?"
In fact, he understood, because it was so sudden and completely unexpected. In a way that he probably could have never imagined.
More The Tower Cards from Famous Tarot Decks
1. The Tower Rider Waite Tarot
The Tower Rider Waite Tarot card represents a picture of a high tower at the top of a rugged mountain. Spotlights and flames are burning from the windows of this tower. We can see people jumping out of this card in despair, craving to escape from the destruction and chaos. 
<< See More >> The Tower Rider Waite Tarot Card Meanings
2. The Blasted Oak Wildwood Tarot Deck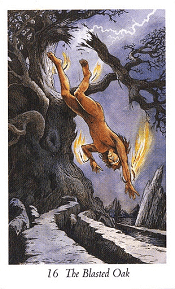 The Blasted Oak Wildwood is located at Lammas point, August 1, next to The Woodward at the inner circle of The Wheel.
<< See More >> The Blasted Oak Wildwood Tarot Card Meanings
3. The Tower Deviant Moon Tarot Deck
With the Tower Deviant Moon tarot card, just think that you are an agent of transformation. This self-sacrificing role has the potential to create stressful situations. 
<< See More >> The Tower Deviant Moon Tarot Card Meanings