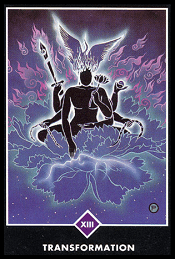 The Transformation – Osho Zen Tarot Deck
I. The Commentary Of The Transformation Osho Zen
The central character of the Transformation Osho Zen sits on a large flower of No-thingness, and holding those transformation items – the illusionary cross-sword, the serpent to rejuvenate itself, the bounded chain is severed, the symbol Yin and Yang as the symbol of the superior opposition. A character's armrests in his heart, wide open and accepting. The other hand stretches down to touch the mouth of a sleepy face, indicating the silence when we are resting.
It is time to give up deeply. You can leave suffering, sorrow or difficulty, and accept its "feature". Meanwhile, this is very similar to the experience of the Tathagata after many years of searching, he gave up as he knew: He could do nothing more. That night, he enlightened that transformation appears as the death, at its right time. And, like death, it takes you from one dimension to another dimension.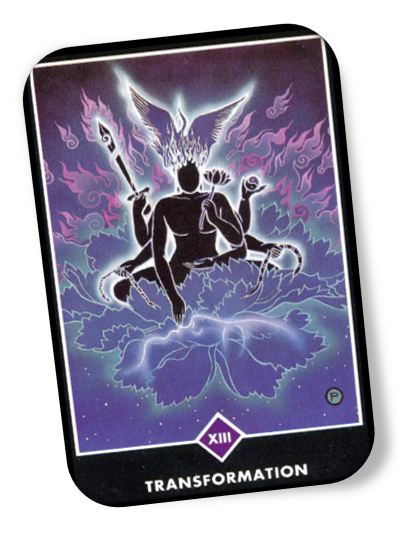 The meaning of The Transformation Osho Zen
A Zen master is not just a teacher since all religions have only their teachers. They teach you about disciplines that you do not know, then they ask you to trust because that's the only way to bring the experience of the discipline into objective reality. No teacher knows about the dharma – they only believe; and convey your beliefs to others only.
Meditation is not a world of believers, not for loyal people; but for bold souls to let go of the belief, disbelief, doubt, reason, and the mind; From there, step into their own pure existence without any barriers and meditation will bring tremendous transformation. So let me say: while philosophers think: Zen involves transformation – a form of transformation. It is true alchemy: transforms you from ordinary metal into gold.
However, the language of Zen must be understood, not by theoretical knowledge but with your loving heart; or even you just listen, do not bother to see whether it is right or wrong. And you see it immediately, which has eluded you all your life. Suddenly, what Tathagata once called "eighty-four thousand dharma disciplines" is opened.
More The Death Cards from Famous Tarot Decks
1. The Death Rider Waite Tarot Deck
In the card, The Death Rider Waite is riding on a white horse, holding a flag with two main colors, white and black. He appears as a skeleton because it is the rest of the body after death. The armor he wore symbolizes invincible and indomitable.
<< See More >> The Death Rider Waite Tarot Card Meanings
2. The Journey Wildwood Tarot Deck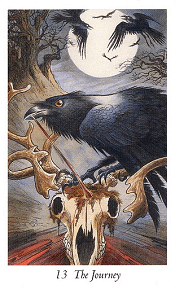 The Journey Wildwood Tarot is located on Samhain day, the holy November 1st after Halloween. The card is intimately linked to the crescent moon, belongs to the Water and Earth elements.
<< See More >> The Journey Wildwood Tarot Card Meanings
3. The Death Deviant Moon Tarot Deck
The Death Deviant Moon Tarot card is not about the literal death of anyone. It could represent the death of something else, like a project, plan, or relationship.
<< See More >> The Death Deviant Moon Tarot Card Meanings