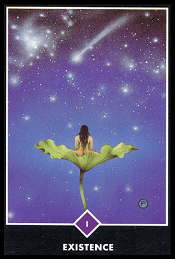 The Existence – Osho Zen Tarot Deck
I. The Commentary Of The Existence
The Existence Osho Zen Tarot is clearly a naked character sitting on lotus leaves, which shows the perfection of the leaves and stares at the sky with the beauty of the night. The lady in the card understands that "home" is barely a physical place in the outside universe; however, it is the state of relaxation and approbation, which is all included by the inner beauty. Stars, rocky mountains, trees, flowers, fish and birds – all of its is our brothers and sisters in the dance of life and humans mainly deliberate to forget this. Since we both pursue our own problems and we strongly believe to fight for whatever we demand. Finally, the feeling of separation is just an illusion, which is created by the narrow concerns of the mind.
Currently, it is the time to look back on whether you are allowing yourself to receive the extraordinary gifts of feeling "at home" even though wherever you are. Then, you ensure to take the opportunity to enjoy and it can dig deep and keep it for yourself. When you have the feeling that the world is out of your reach, it is the time to rest. Let's go out at night and look up at those beautiful stars above the sky.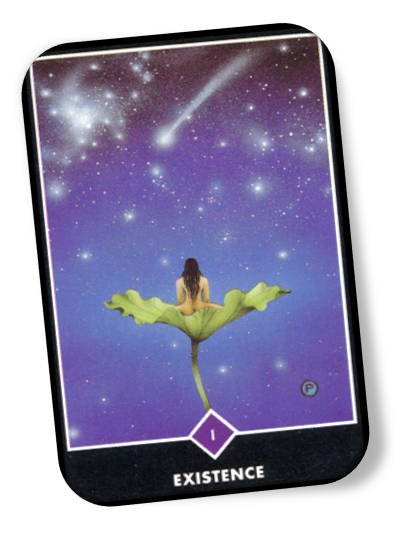 II. Meaning Of The Existence Card
You are not random because the existence needs you. Without you, something will be missing in that existence and no one can replace it. Therefore, it will create your core value. Stars and suns, moons, trees, birds, and the earth – everything in the universe will seemingly feel a tiny flaw that cannot be filled by anyone other than you.
Existence Osho Zen will send you great joy, happiness, and the fulfillment relationship between you and existence. Once you have thoroughly and clearly understood, you can see a massive love pouring out on you from every aspect.
More The Magician Cards from Famous Tarot Decks
1. The Shaman Wildwood Tarot
The Shaman Wildwood looks out of the card with his eyes wide open and clear. It seems something ancient and erudite shines in his steadfast gaze. He wears a bearskin, adorned with a painting of the souls of animals, inspired by paintings on La Cavern des Trois Freres, Ariege Province, France. 
<< See More >>The Shaman Wildwood Tarot Card Meanings
2. The Magician Rider Waite Tarot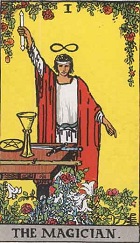 The Magician Rider Waite will create a higher use – and better – for all the power of a person, including spirit, emotion, and other powers. This is another card that often shows new beginnings and great expectations. This is a strong, positive omen in the spreading.
<< See More >> The Magician Rider Waite Tarot Card Meanings
3. The Magician Deviant Moon
The box placed at the feet of The Magician Deviant Moon Tarot is likened to Pandora's box. Greek legend has it that, Zeus gave a box to the Pandora woman on his wedding day and had told her not to open the box under any circumstances.
<< See More >> The Magician Deviant Moon Tarot Card Meanings