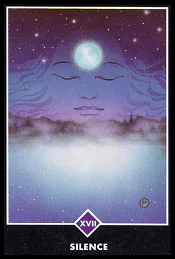 The Silence – Osho Zen Tarot Deck
I. The commentary of The Silence Osho Zen
The Silence Osho Zen describes night sky is full of stars and a beautiful round moon reflected on the below misty lake. The face in the sky is immersed into a meditative state, as a goddess of the night sky showing depth, peace, and understanding.
The present is a valuable time. It will leave your soul an easy rest. From there, you can explore the depth of inner silence, where it meets the silence of the universe.
Nothing to do, no place to go, your inner silence is observing into everything you do. It can annoy someone because they are used to all the world's noise and activities. Never mind; Let's find someone who can sympathize with your silence or enjoy your loneliness. Now, it is time to return to yourself. The understanding and self-enlightenment that happening to you at this point, will be revealed later, in the easier stages of your life.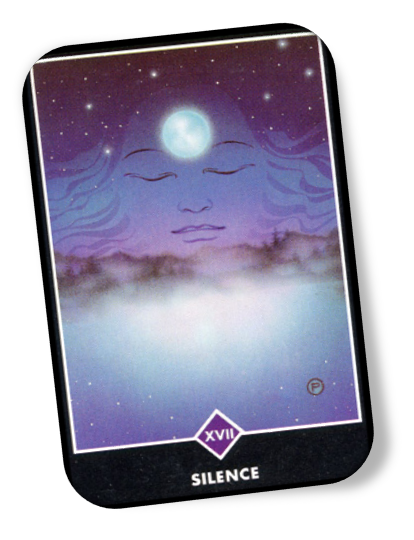 II. The Meaning of Osho Teaching In The Silence Osho Zen
The abundant energy of the universe has possessed you. You are owned, you are no longer yourself, the universe is you. At this moment, when the silence osho zen invades you, you can experience its meaning, because it is the silence that The Buddha experienced. It is also the silence that Zhuangzi, Bodhidharma, and Zen master Nanquan Puyuan once experienced, these silences are the same.  
Time changes, the world continues to change, but the experience and the joy of silence still remain the same. That is the only thing you can rely on, the only thing that never turns wrong, and the only thing you can assume as your existence.
More The Star Cards from Famous Tarot Decks
1. The Star Rider Waite Tarot
The Star Rider Waite Tarot has a picture of a naked woman kneeling beside a small pond. The woman holds two jugs of water. She pours water to provide nourishment for the soil and also to continue a reproductive cycle which manifested in the freshness of the surrounding leafy plants. 
<< See More >> The Star Rider Waite Tarot Card Meanings
2. The Pole Star Wildwood Tarot Deck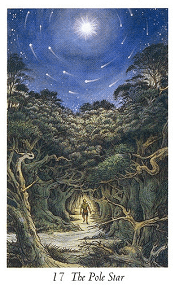 The Pole Star Wildwood symbolizes universal law and sacred, powerful rituals. The first breath of creation has created the stars and tied them together forever in the universe.
<< See More >> The Pole Star Wildwood Tarot Card Meanings
3. The Star Deviant Moon Tarot Deck
The Star Deviant Moon Tarot is about reconnecting one's soul with the divine – the transcendence of personality, family, community, and reputation. In the end, it has to do with being free to be ourselves.
<< See More >> The Star Deviant Moon Tarot Card Meanings